Statistics
Date - 11/27/2009
Elevation - 11,400'
Route - Northwest Face Route (Thatchtop Mountain)
Miles - 5.0
Elevation Gain - 2,200'
ACME Mapper - Link
CalTopo - Link
Description
This route is on the northwest face of Thatchtop Mountain in Rocky Mountain National Park. Jeff invited John and I to join him for this climb since it was Thanksgiving weekend and the forecast looked reasonable. Two friends of ours had completed the climb a few weeks ago and reported a couple of ice climbing pitches were in.
We left the Glacier Gorge Trailhead shortly after 6:00 and made our way to the Loch Vale on a well packed trail. We hiked to the west end of the lake and broke trail for a short distance to the talus slope leading to the deep gully cutting left into the side of the face. We scrambled up snow and rock a couple hundred feet up the gully until the first ice pitch appeared on the right wall. We geared up and I led getting four or five good ice screws in on the way. John had never been ice climbing before, but did a great job as Jeff coached him up his first pitch of ice.
I built a rock anchor at the top of the ice next to an old rappel station. When Jeff and John reached me, they continued up the gully for approximately three pitches of snow/WI1 ice that we simul-climbed to the base of the final pitch. We took a quick break so I could check my blood sugar level and reorganize. The final section has several options and is mostly WI2 climbing; however, I stayed left at the end of the pitch to increase the difficulty to WI3 for a short period. I slung a large boulder and brought John and Jeff up.
We packed up the gear and started traversing left towards the descent gully farther east on the face. The scrambling was relatively easy, and you simply do a descending traverse to the northeast above cliffs back to tree line. We made a switchback to skier's left, down-climbed some class 3 rock, and then followed a snow gully back to the Loch Vale. The hike out went quickly and we stopped for some fish tacos on the way home.
Photo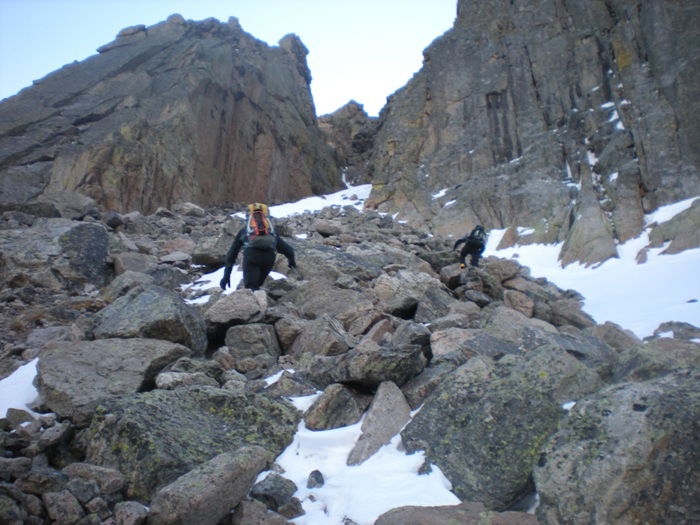 Approach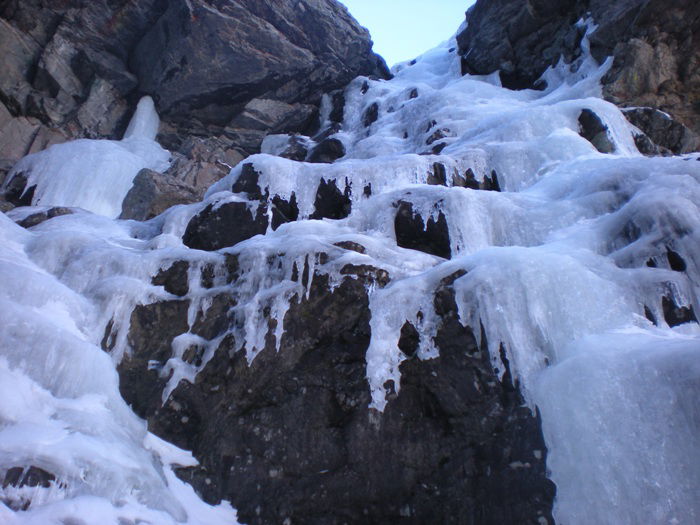 Pitch 1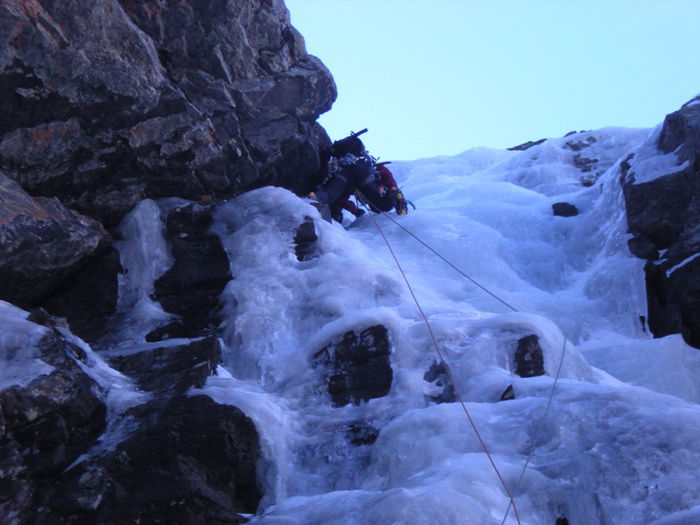 James leading pitch 1.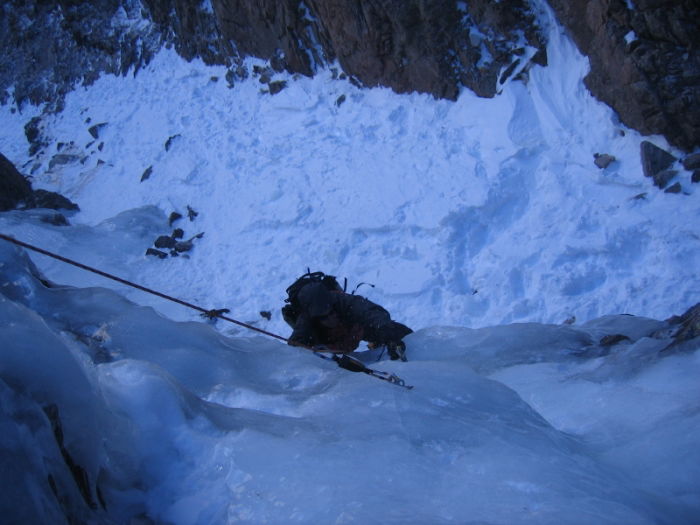 John following pitch 1.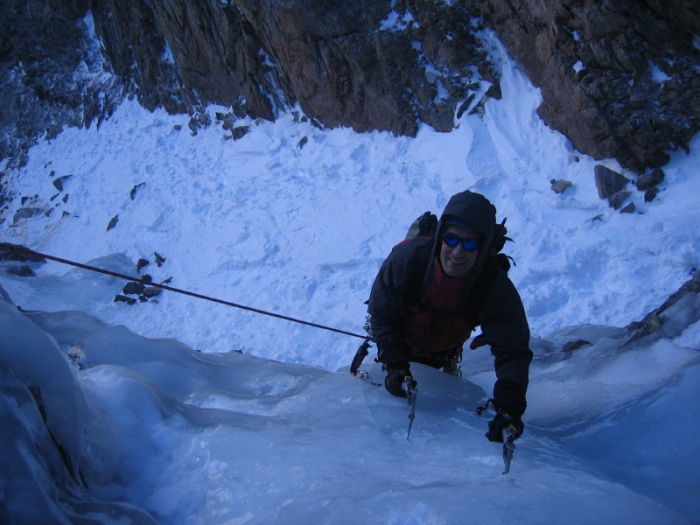 John following pitch 1.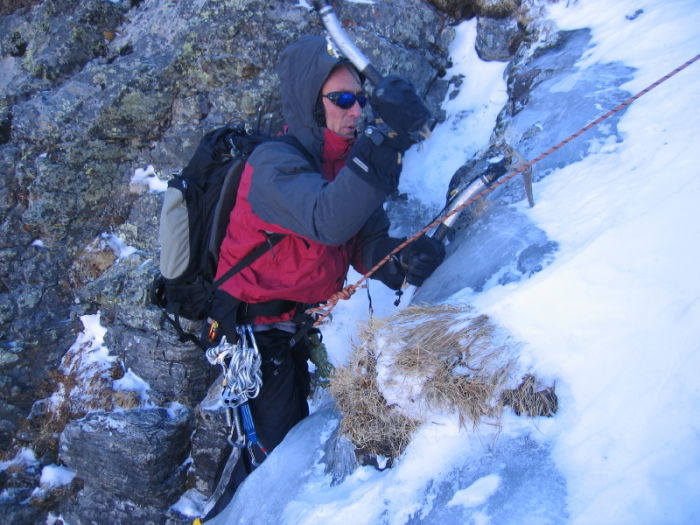 John following pitch 1.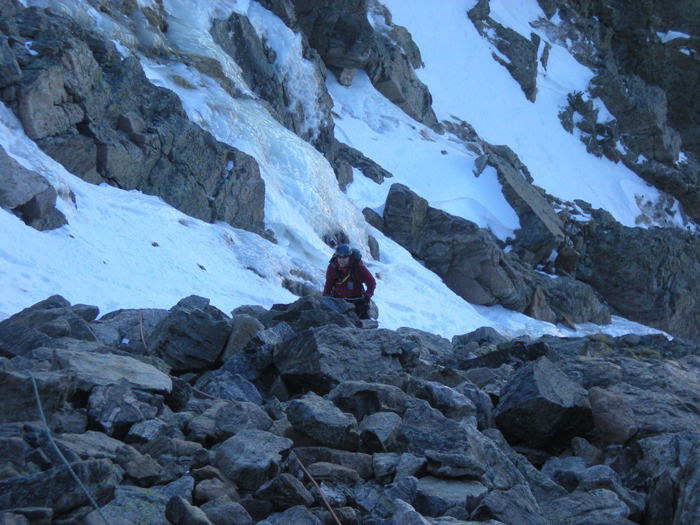 The terrain between the ice pitches.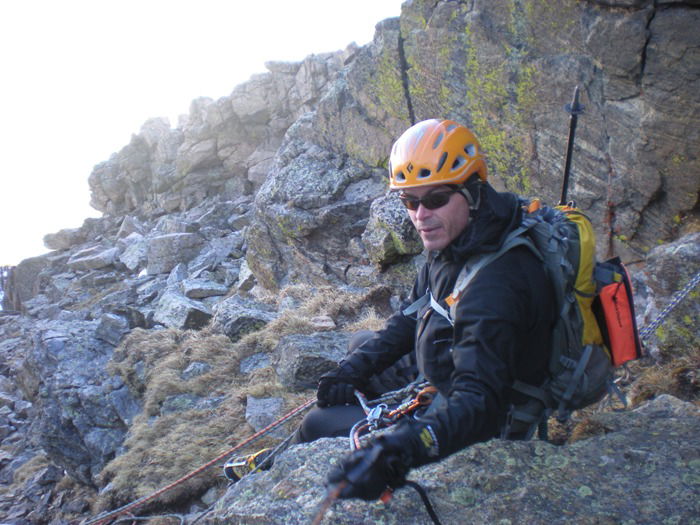 Jeff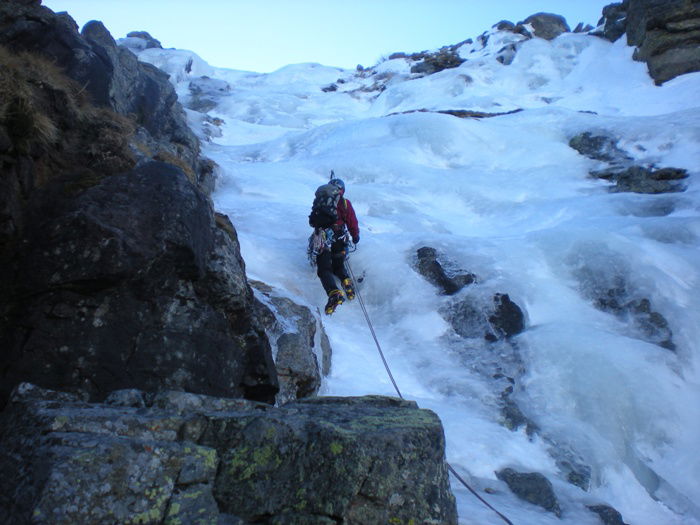 Upper Ice Pitch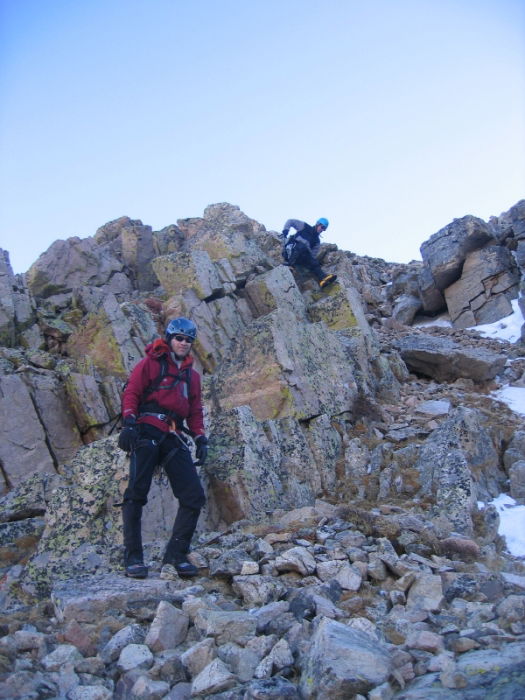 Descent Gully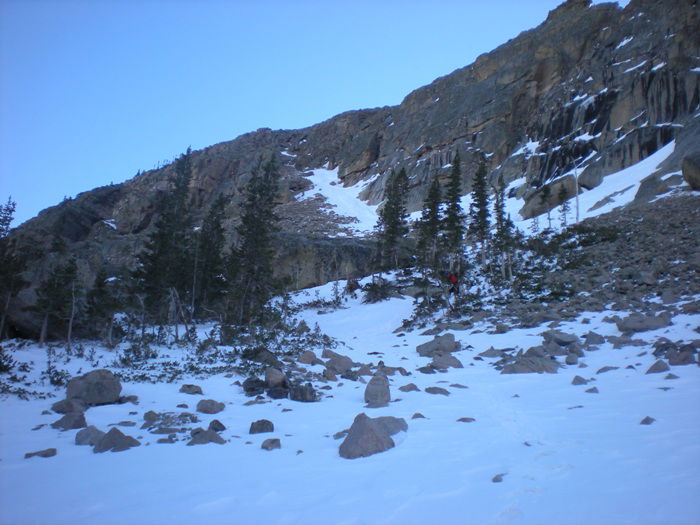 Descent Route