Statistics
Date - 02/16/2004
Elevation - 14,265'
Route - East Slopes
Miles - 5.4
Elevation Gain - 3,370'
ACME Mapper - Link
CalTopo - Link
Description
I went hiking since I had Presidents Day off. I watched the weather all week and wasn't very optimistic. Breckenridge, Colorado, and Leadville, Colorado, were both showing snow, so I decided just to make a last minute decision. When I woke up Monday morning, the forecast had changed to a few snow showers in the morning with things clearing up around noon. As a result, I decided to try Quandary Peak. I left my home at 6:00 and was at the trailhead by 7:45. The roads were icy, snow was falling, and I wasn't certain what the day would bring. I decided to go as far as I felt comfortable and at least get some exercise since made the drive. I strapped on the MSR snowshoes that I rented from REI and headed up CR 851. After a couple of hundred yards, I made a sharp left and followed some steep tracks to the west. The tracks had a couple of inches of fresh snow on them, but were easy to follow. I gained a couple of hundred feet in elevation when the tracks I was following tied in to what appeared to be the main trail. This trail intersected a couple of spur routes, but I simply took the westerly route that gained elevation.
The snow continued to fall and snowshoeing in the trees was actually very pleasant. I didn't notice the wind, and was having a good time. As I got to tree line, I decided to take a break and see how things would develop. I ate, drank, and put on another layer as the wind was stronger. At this point, I heard some noise from the south. Another snow shoer appeared and I asked him if he thought the weather was going to hold. He laughed and simply stated that at this elevation you never know. Seeing someone else gave me a boost of confidence so I gathered my gear and began to follow him. Despite the wind and cold, it didn't take long before I had to shed a layer due to overheating. The MSR's I rented had a descent crampon and also traction blades for traversing, I thought they worked well on the steeper terrain.
The weather didn't clear and the wind remained strong. My visibility varied greatly depending on wind gusts. At times I thought it was going to clear, and the next minute it was less than a quarter of a mile. I tried to hang with the solo climber, but he slowly pulled away from me. At times, I could barely tell where his tracks were. I caught my last glimpse of the other hiker as I sat at 13,200' just before the final steepest 1,000' of the hike. On this shelf at 13,200', I decided to trade in the trekking poles and snow shoes for an ice axe and crampons. The snow on this final section of the ridge was wind-packed and hard. After climbing for only a few hundred feet, I was happy with my decision.
Given the increasing grade, unrelenting weather, fatigue, and elevation, my pace slowed considerably. I finally passed the other hiker as he descended. We introduced each other and visited for 5 to 10 minutes. It turns out that he has his own business in Breckenridge, Colorado, as an adventure guide. After learning this, I didn't feel as bad for not being able to keep up with him. We said goodbye and I was on the summit in another 30 minutes. My time on top of Quandary Peak was short and miserable. The views were limited and it was very cold. I took a few photos, put on my shell, ate a PowerGel, drank some water, and started my descent. At approximately 13,400', I ran into a pair of hikers making their summit bid. I found my cached snowshoes and trekking poles and continued my hike out. By the time I was back at tree line, the skies had cleared and I imagine that the second group I ran into had a pleasant hike down. Although the statistics on this trail aren't too impressive, and Quandary Peak is considered an easy 14er, this was a difficult hike for me. A winter ascent of a tall mountain is much different than going in July or August. It took me 4 hours to reach the summit and 2 hours and 15 minutes to return.
Photos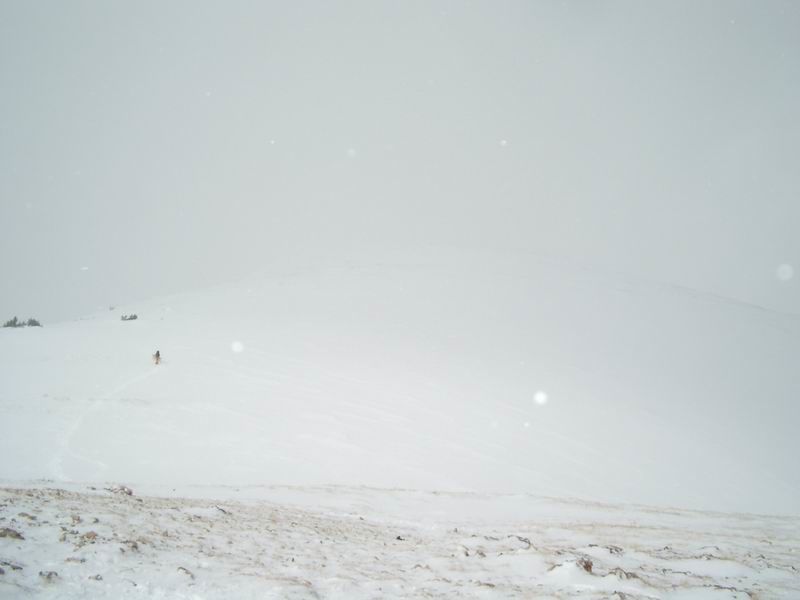 Quandary Peak East Ridge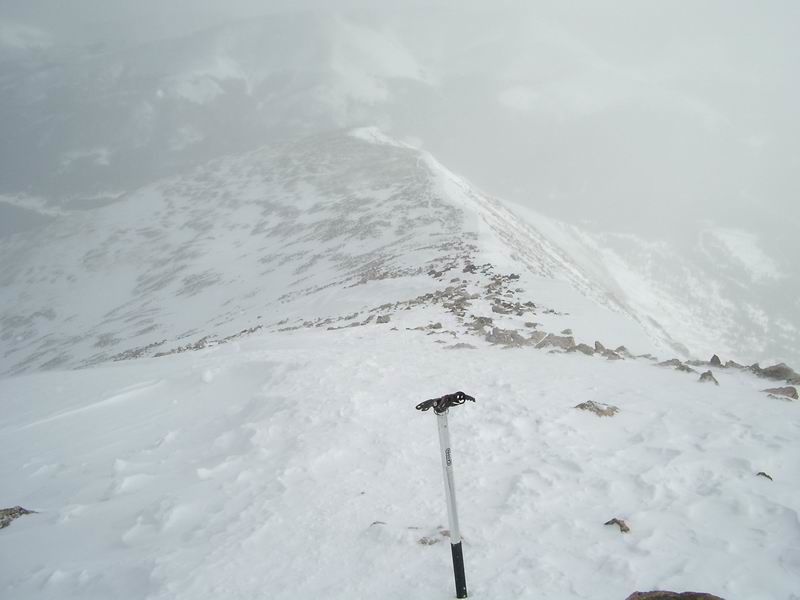 Looking down the east ridge of Quandary Peak.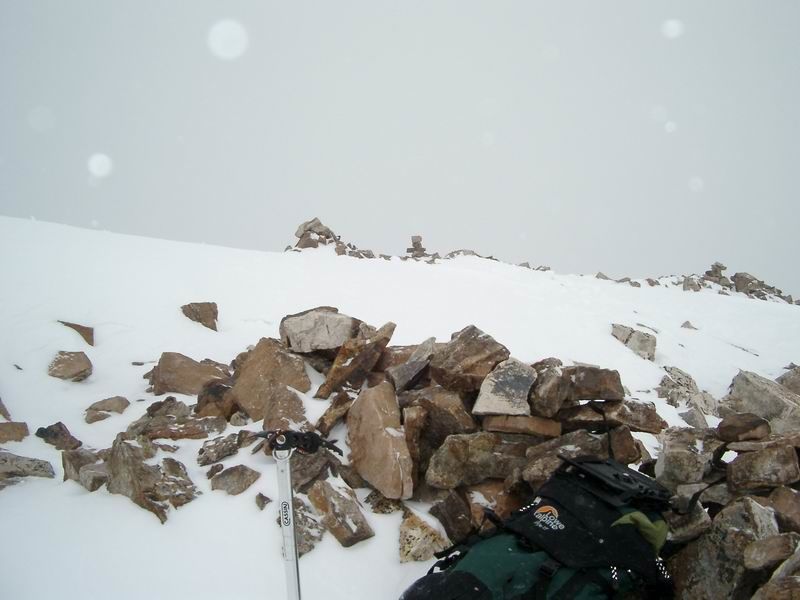 Summit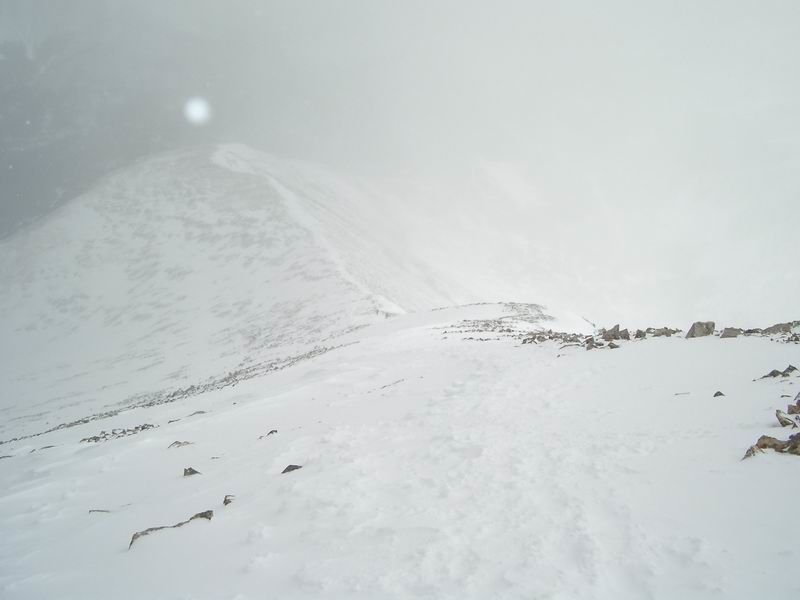 Looking down the east ridge of Quandary Peak.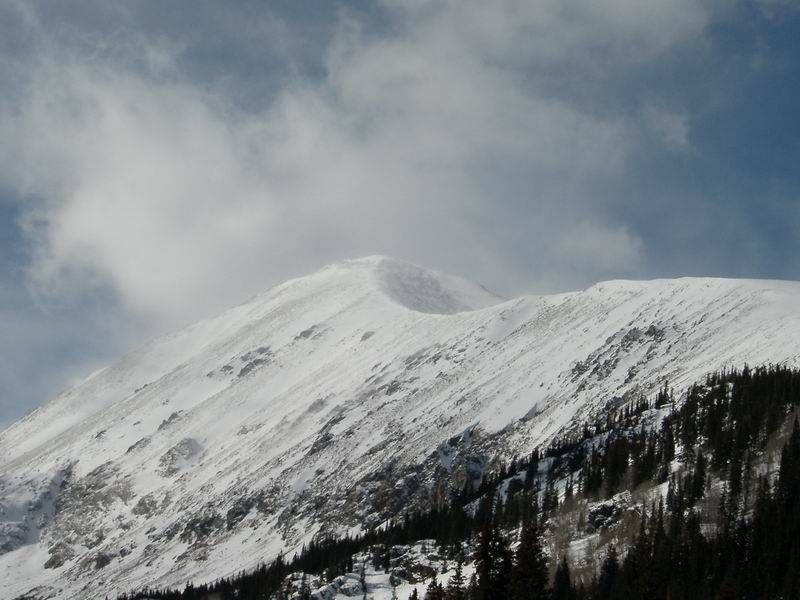 Quandary Peak from near the trailhead.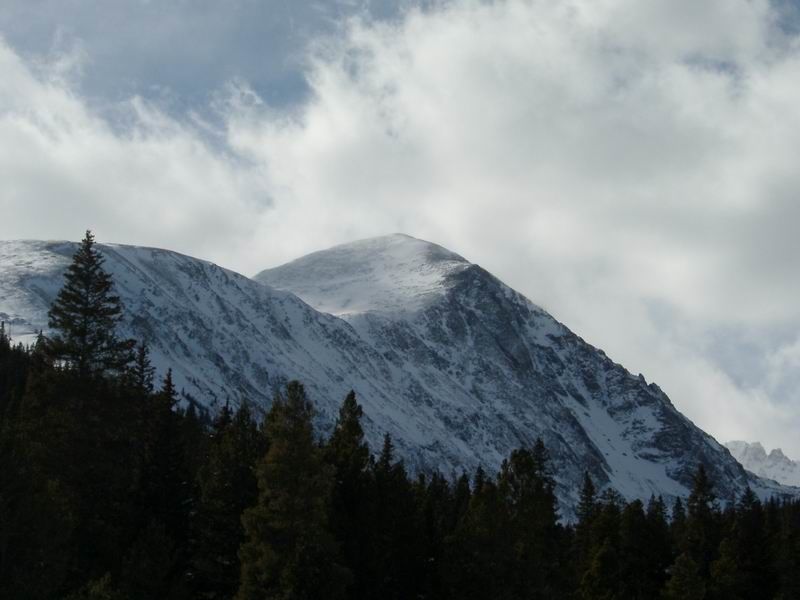 Quandary Peak from Highway 9.