Statistics
Date - 04/24/2004
Elevation - 11,800'
Route - Denny Creek Trail
Miles - 4.0
Elevation Gain - 1,900'
ACME Mapper - Link
CalTopo - Link
Description
Last Veterans Day I drove up to Guanella Pass to check out Mount Bierstadt, knowing full well that a chance at the summit was not possible. Because of this, I decided to name that short trip Scott Gomer Creek and not Mount Bierstadt Attempt. Denny Creek is a similar situation, and to call this a Mount Yale Attempt would be an exaggeration. We knew from the onset that this was a scouting trip and not a summit attempt. After posting for partners online earlier in the week, I was contacted by Carl and Greg to join me on a trip to Buena Vista, Colorado, and attempt of Mount Yale. I was optimistic about the hike until Thursday and Friday when Colorado received a significant amount of snowfall. Because of our groups lack of knowledge reading avalanches, and several new feet of snow, the trip was almost called off late Friday night. After a flurry of emails, we decided to head over and check out the mountains regardless of weather and snow conditions.
We met at the Colorado Springs, Colorado, REI at 6:00 and made our way to the Denny Creek Trailhead. Upon arrival, we were greeted by the sound and smell of snowmobiles. The snowshoes were strapped on from the start as the trail was initially covered with approximately 6 to 12 inches of snow depending on tree cover. We took turns breaking trail in 15 to 20 minute increments and found ourselves at the Browns Pass/Mount Yale intersection after an hour of hiking. We made a right turn and headed up into Delaney Gulch. We were able to interpret the trail to approximately 11,000' when we simple started climbing northeast towards Yale Peak's southwest shoulder. The pace slowed considerable here as the grade increased and footing was difficult. In addition, the snow level increased to approximately 18 to 24 inches of powder. Because of the new snow, steep grade, and avalanche potential, it was decided that we would continue until noon and remain close to the trees when possible. The timing was perfect as we popped above tree line with the opportunity to enter a clearing and get a view of the west ridge and southwest shoulder of Mount Yale.
We had a snack, drank some water, and visited while enjoying the late April winter conditions. Although strenuous, we were all glad to have made the trip to get into the mountains, get a good workout, and get an alpine snowshoe hike in. It took us four hours to get to 11,800', and two hours to return to the trailhead.
Photos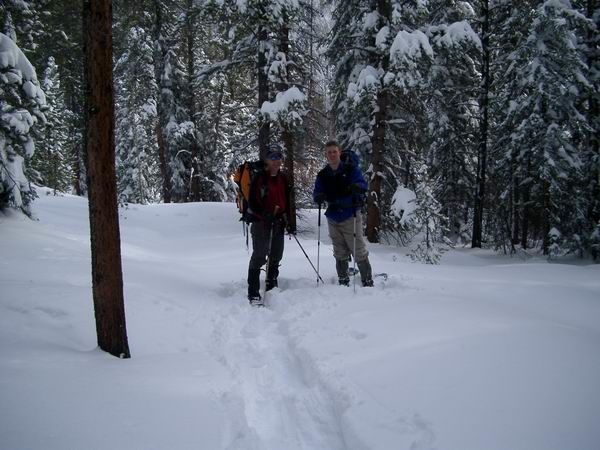 Greg and Carl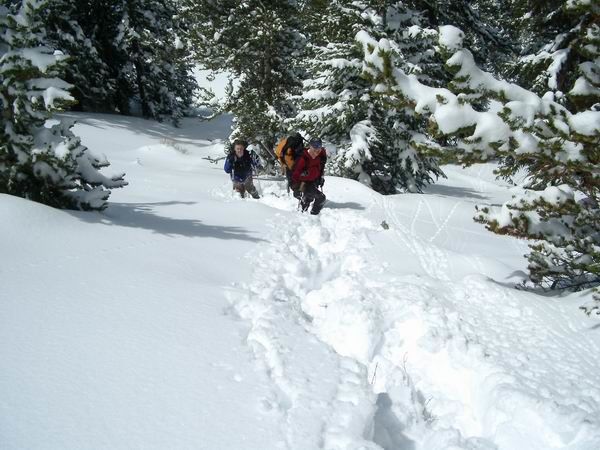 Carl and Greg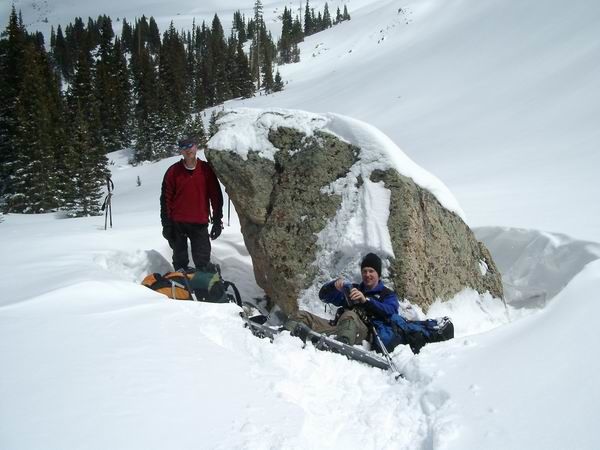 Greg and Carl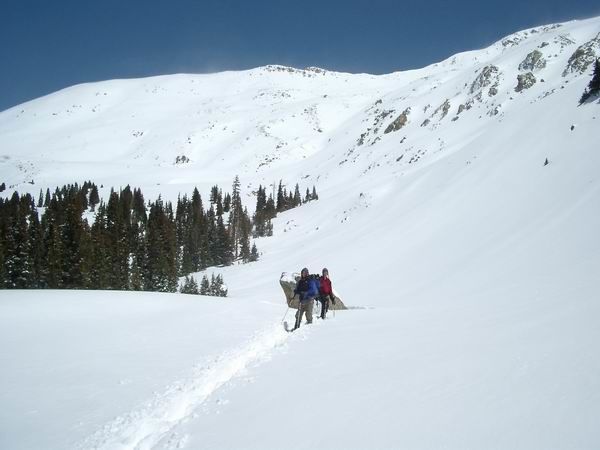 Carl and Greg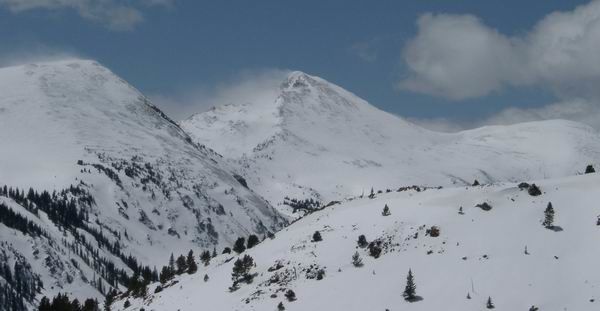 Turner Peak