Statistics
Date - 07/23/2022
Elevation - 13,803'/13,805'
Route - Northeast Face/Southeast Face
Miles - 22.0
Elevation Gain - 9,028'
ACME Mapper - Link
CalTopo - Link
Description
My two primary hiking/climbing partners (Kevin Smith/Brian Kooienga) and I are down to our final few Colorado Centennial Peaks. Kevin needed Trinity Peak and I needed both Trinity and Arrow Peaks so we drove to Montrose, Colorado, on Thursday evening and stayed with my friend Daniel Robbins for the night. We grabbed a coffee and sandwich in the morning and then finished our drive to the Molas Pass Trailhead south of Silverton, Colorado, on Friday morning.
The backpack into Vestal Basin was relatively uneventful. We left the trailhead at 11:00 am and were stopped briefly on the Elk Creek Trail due to blasting away the downfall and debris that was blocking the trail from the heavy snow in 2019. We had a quick lunch at 2:00 pm at the beaver pond turnoff and then started the slog up Vestal Creek. Despite the relatively well-defined trail, this portion of the hike has a fair amount of elevation gain and slowed me down quite a bit. We reached the meadows in the basin at 4:30 pm, found a great camp spot, set up our tent, and were in bed around 8:00 pm.
After a fitful night of sleep, we were hiking at 4:45 am Saturday morning. We decided our first objective should be Arrow Peak since the ramp to access the peak is no place to be in bad weather. We thought it would be better to knock of the more technically difficult peak in the morning, and then it wouldn't matter as much if we got rained on in class 2/2+ terrain. The scramble up Arrow's ramping northeast face was really fun with just a bit of route-finding. It is a steep scramble and we were on the summit at 7:15 am after just 2.5 hours of hiking. At this point the day was going great.
We descended the route, but didn't have to go all the way back down to the meadows to get to Trinity Peak. We dropped to 12,100', traversed below Wham Ridge on Vestal Peak, and then hiked up to Vestal Lake. We made the lake at 9:30 am where we took a short break, filtered water, and had a quick brunch. From Vestal Lake we worked our way southeast to the 12,860' saddle between Vestal Peak and West Trinity. This is when the "fun" started. We dropped a few hundred feet off the south side of the saddle and began a mile long traverse below West Trinity and Trinity Peak. The talus slope was loose and miserable. In hind site, we should have just did the Trinity Traverse, but we were concerned about the weather.
We dropped to 12,550' at the base of a narrow gully on the southeast side of Trinity Peak and started a long scramble up towards the saddle around 13,200' between Trinity Peak and East Trinity. Here we tied into the Trinity Traverse route and finished off the final 600' to the summit of Trinity Peak by 1:35 pm. The final section to the summit from the saddle consisted of three steps of approximately 200' each. The traverse on the south side of the peak and the gully scramble were more difficult than we anticipated. The gully certainly has several class 3 moves. Nevertheless, we accomplished our goal but didn't stay long due to threatening weather.
We reversed our route back to the saddle, down the gully, and then made the traverse back west to the saddle between Vestal Peak and West Trinity. From here we turned north and it was all downhill back to camp. However, we did get entirely soaked from the on and off rain and bushwhacking through grass and willows. We made it back to our campsite at 6:45 pm for a 14 hour day. We were totally exhausted but happy with the day. The plan was to have a quick dinner, go to sleep, and then pack up and hike out the next morning before driving back to Denver, Colorado. Unfortunately, this didn't happen.
At about 7:30 pm, my insulin pump malfunctioned. I had a contingency plan and supples if I needed to change the vial and insertion site associated with my pump, but I never thought the entire pump would just fail on me. I did not have another delivery method for insulin. I knew the situation was fairly serious and immediately packed up my gear and started hiking out. Kevin put his gear up also and was 30 minutes behind me. I can't go for an extended period of time without insulin or I will go into diabetic ketoacidosis, which can be life threatening.
I was able to communicate through text with my wife once I connected my inReach Mini to my phone. I explained the situation and she began the drive to Montrose, Colorado, with insulin pens and needles. Despite the grueling day that Kevin and I already had, we made the 8.2 mile/1,760' gain from Vestal Creek to Molas Pass by 2:00 am. We drove to Montrose, Colorado, to meet my wife and get some insulin in my body. Kevin and I were able to view two sunrises in a row without any sleep in between! We all fell asleep around 5:00 am, woke up around 9:00 am, and then drove back to Denver, Colorado, after having a shower and getting some breakfast.
Photos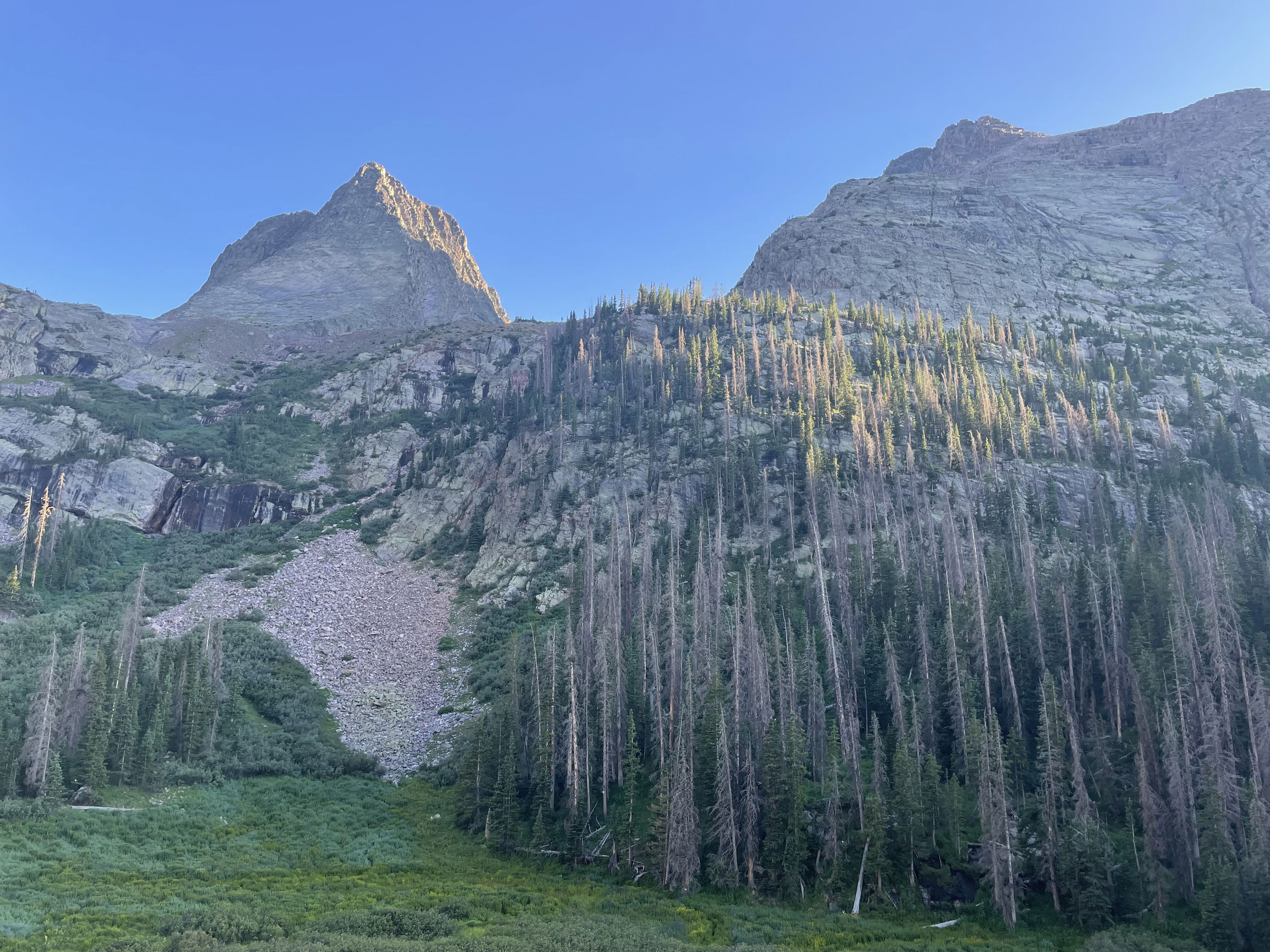 Vestal Peak and Arrow Peak from our campsite at 11,400'.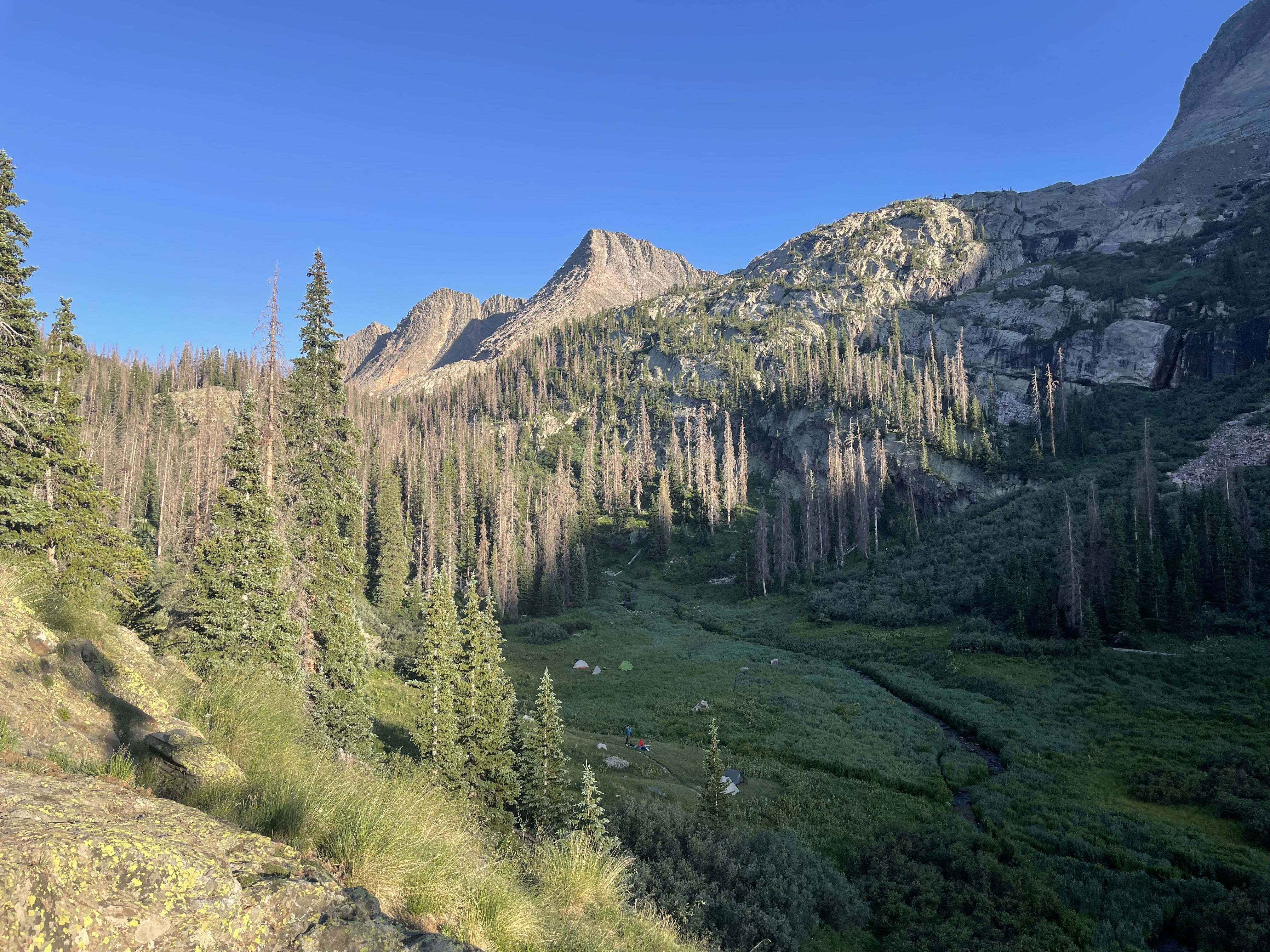 East Trinity, Trinity Peak, and West Trinity from our campsite.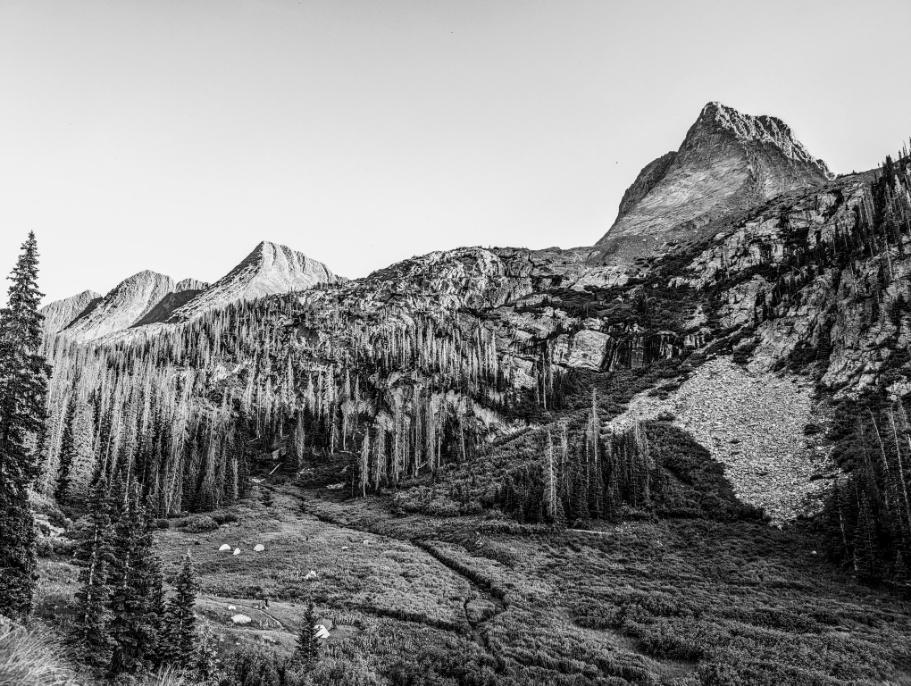 Grenadier Range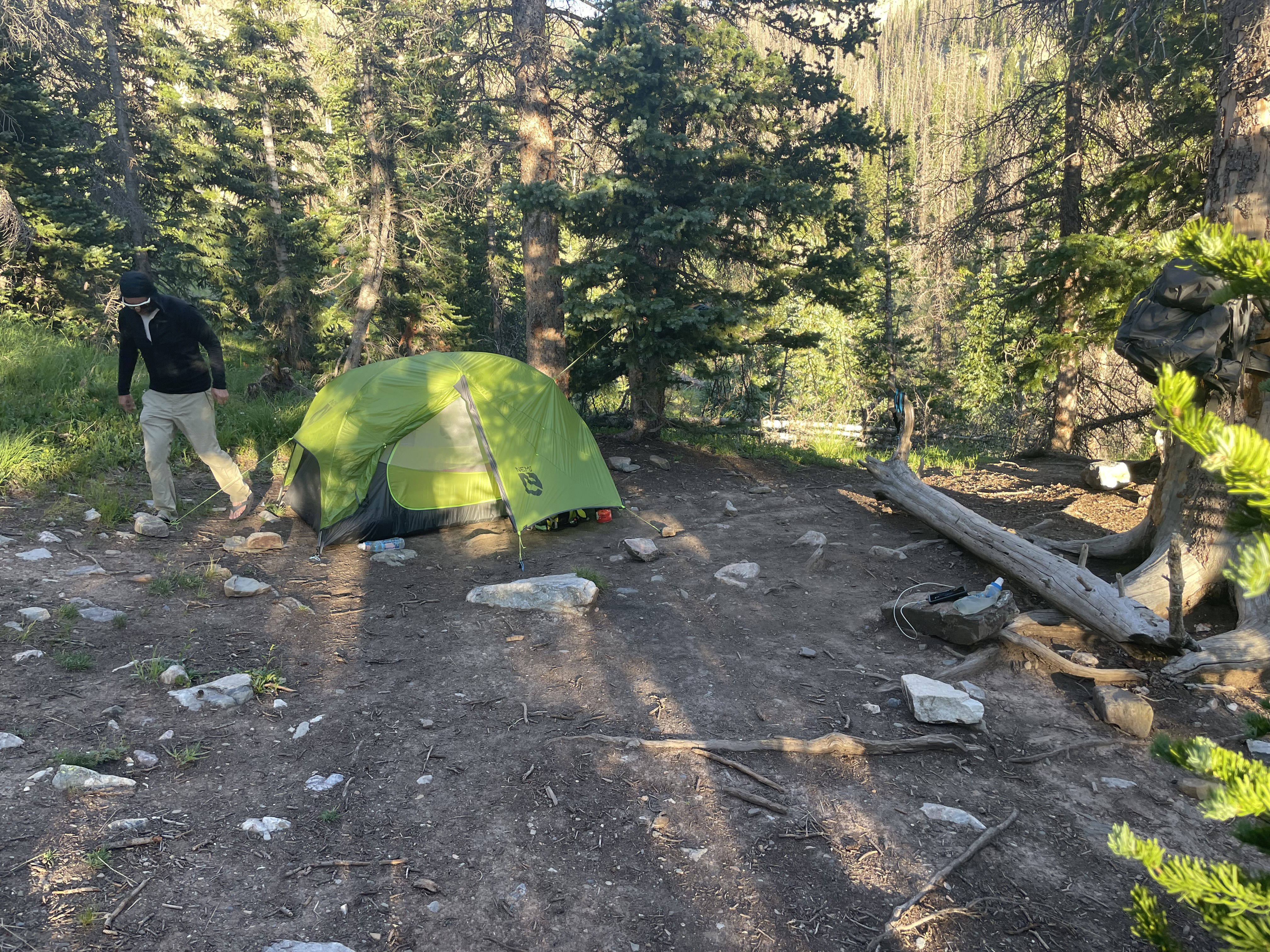 Kevin and I camped about 50' above the meadow on a flat spot in the trees.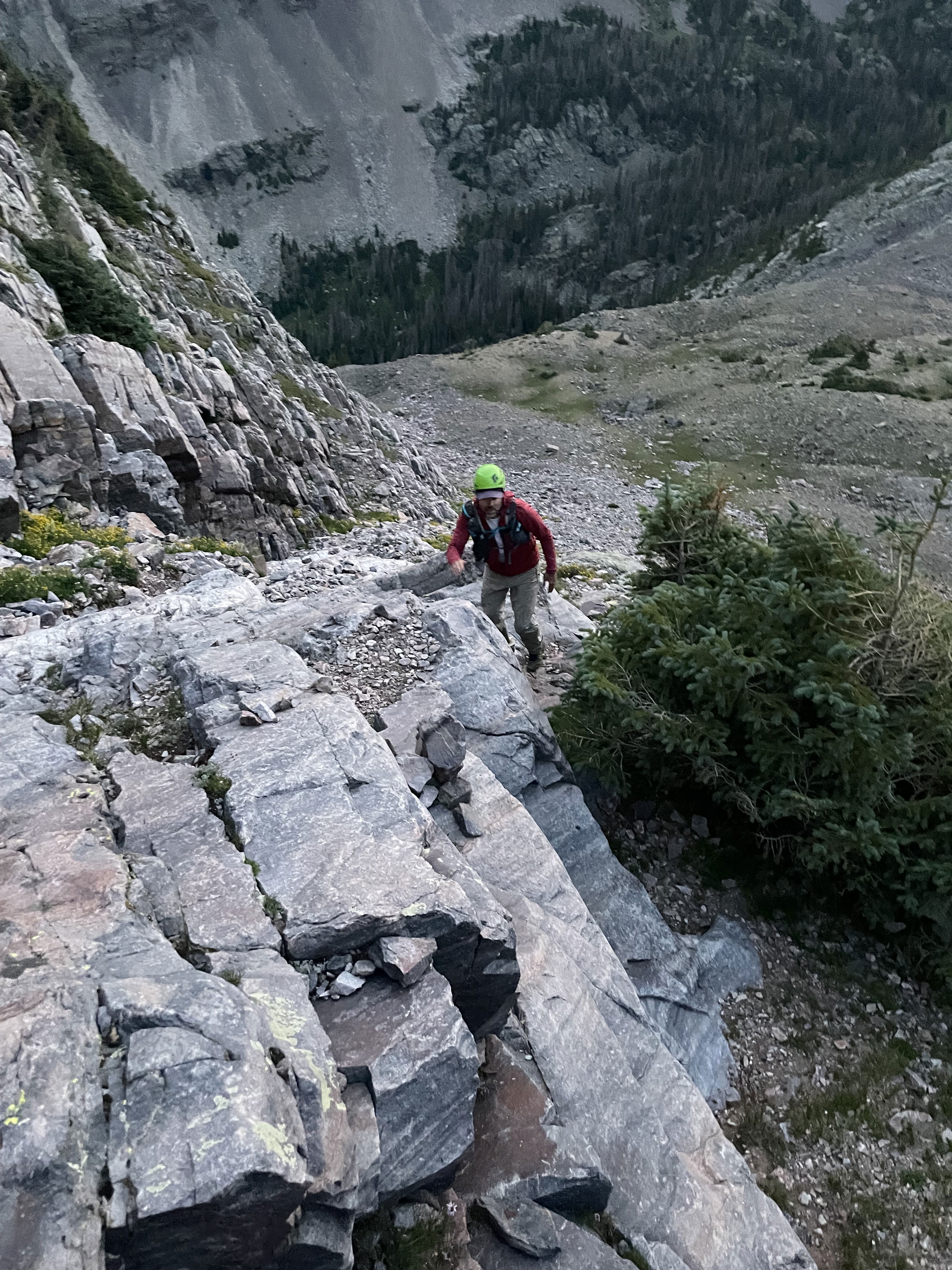 Kevin scrambling up Arrow Peak's northeast ramp route.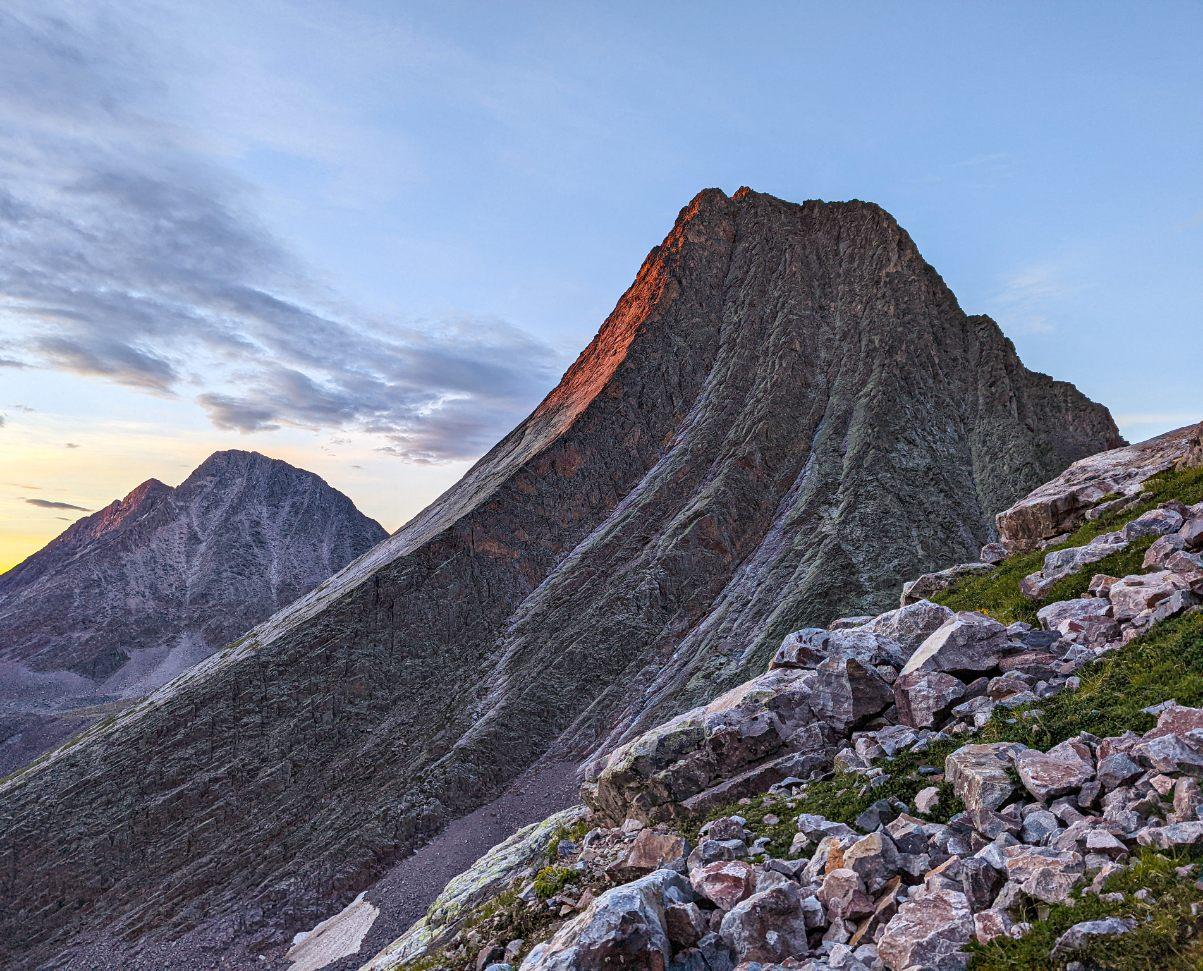 Alpenglow on Vestal Peak.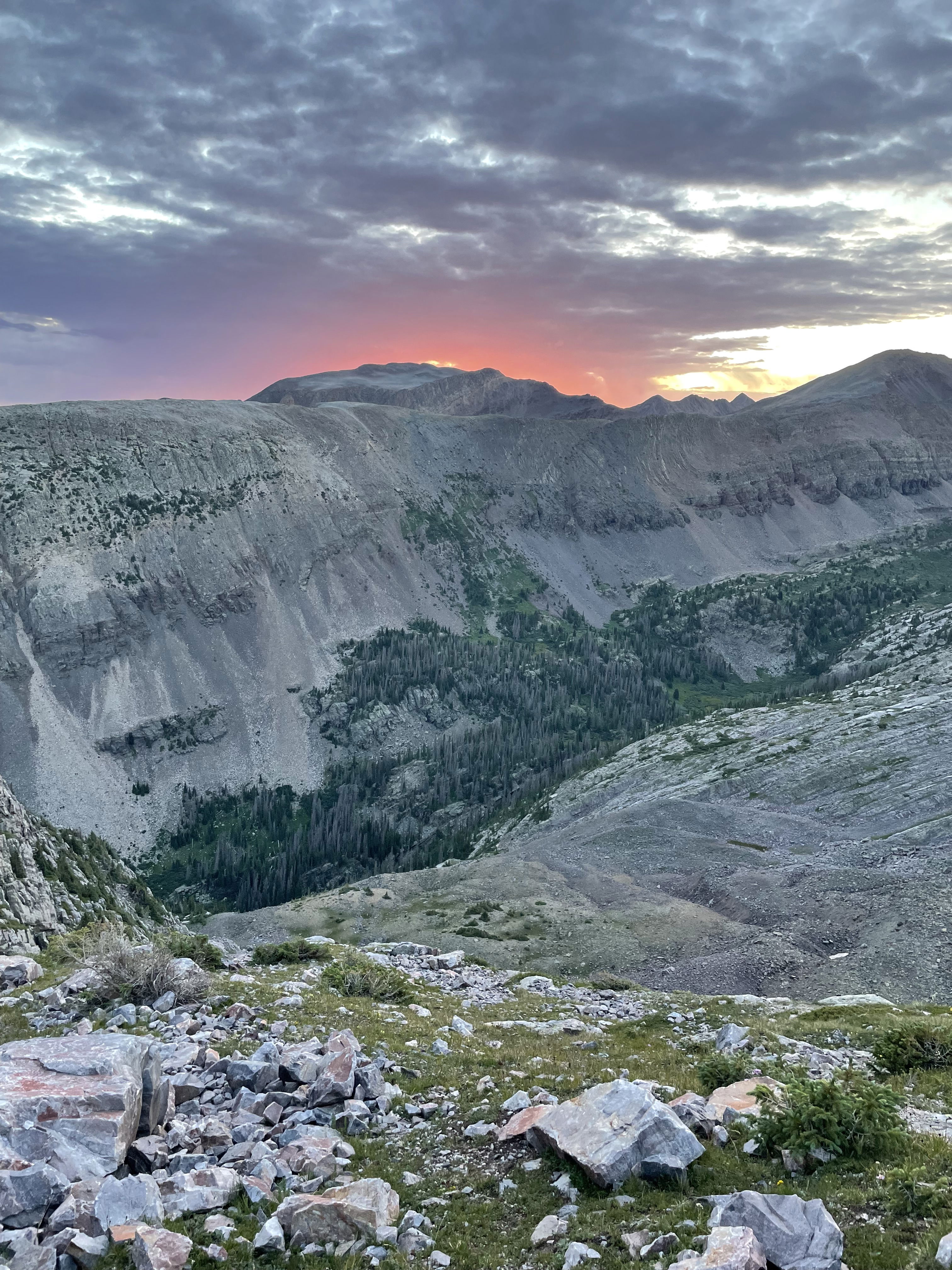 Sunrise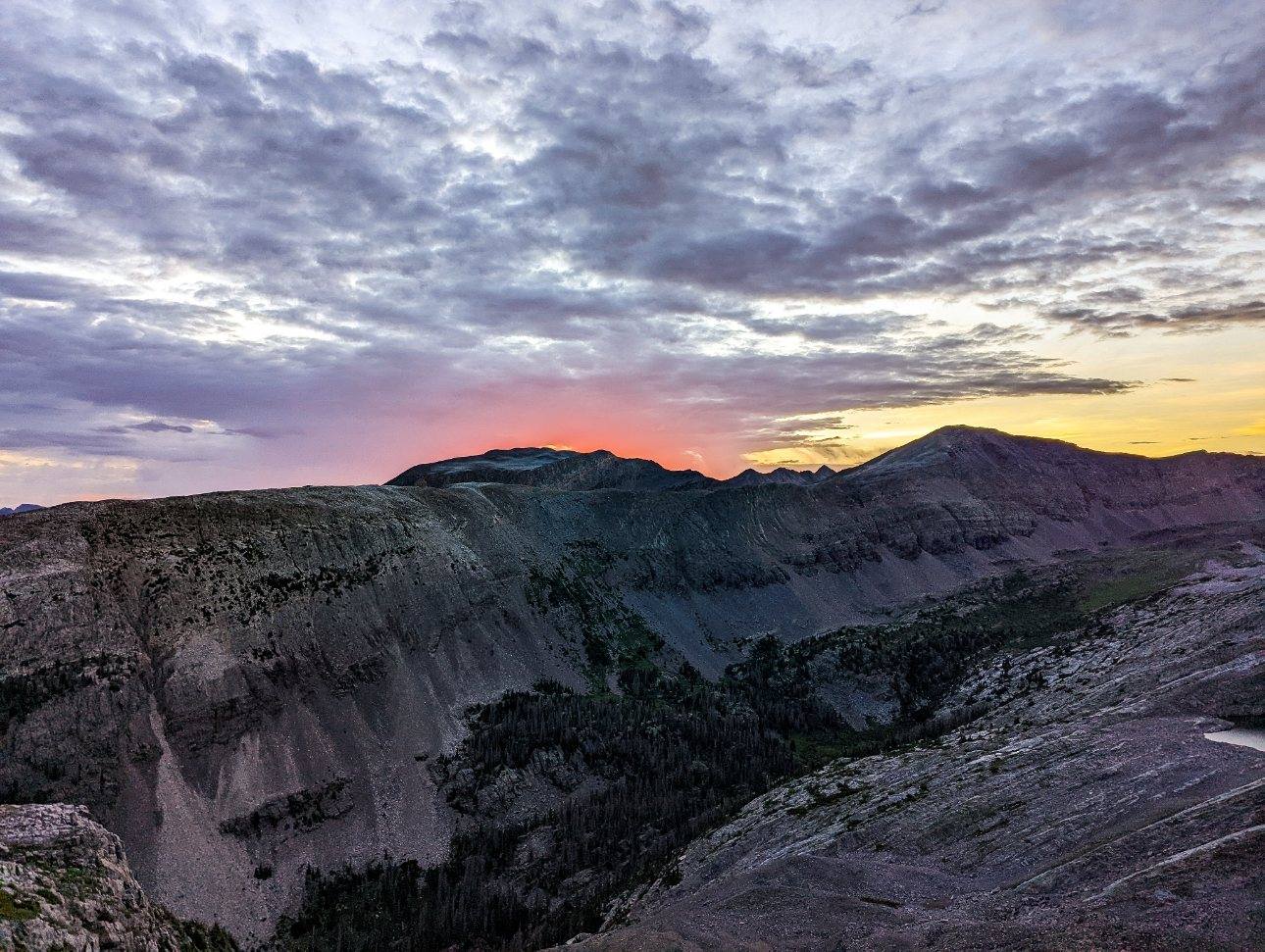 Sunrise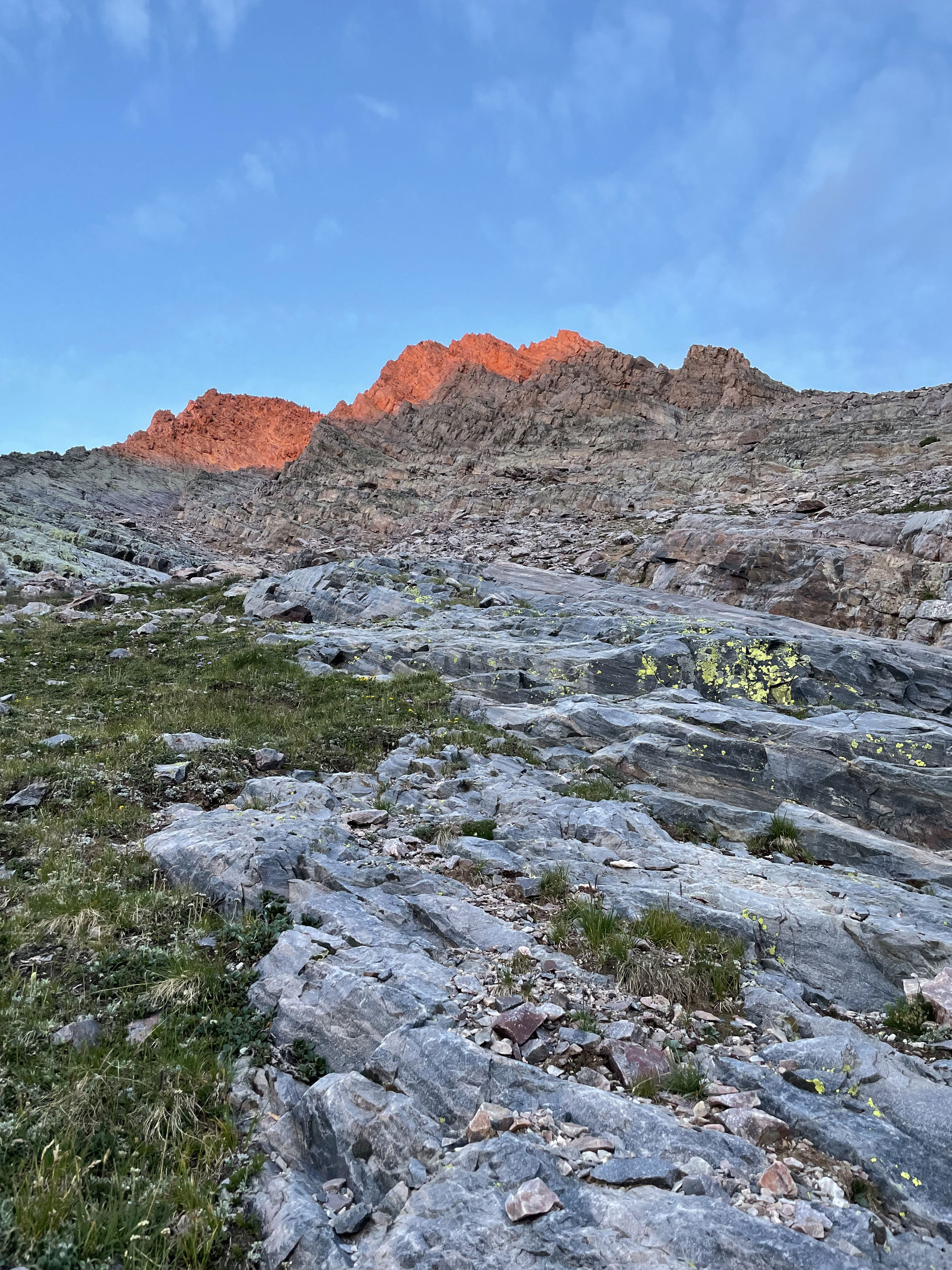 Alpenglow on Arrow Peak.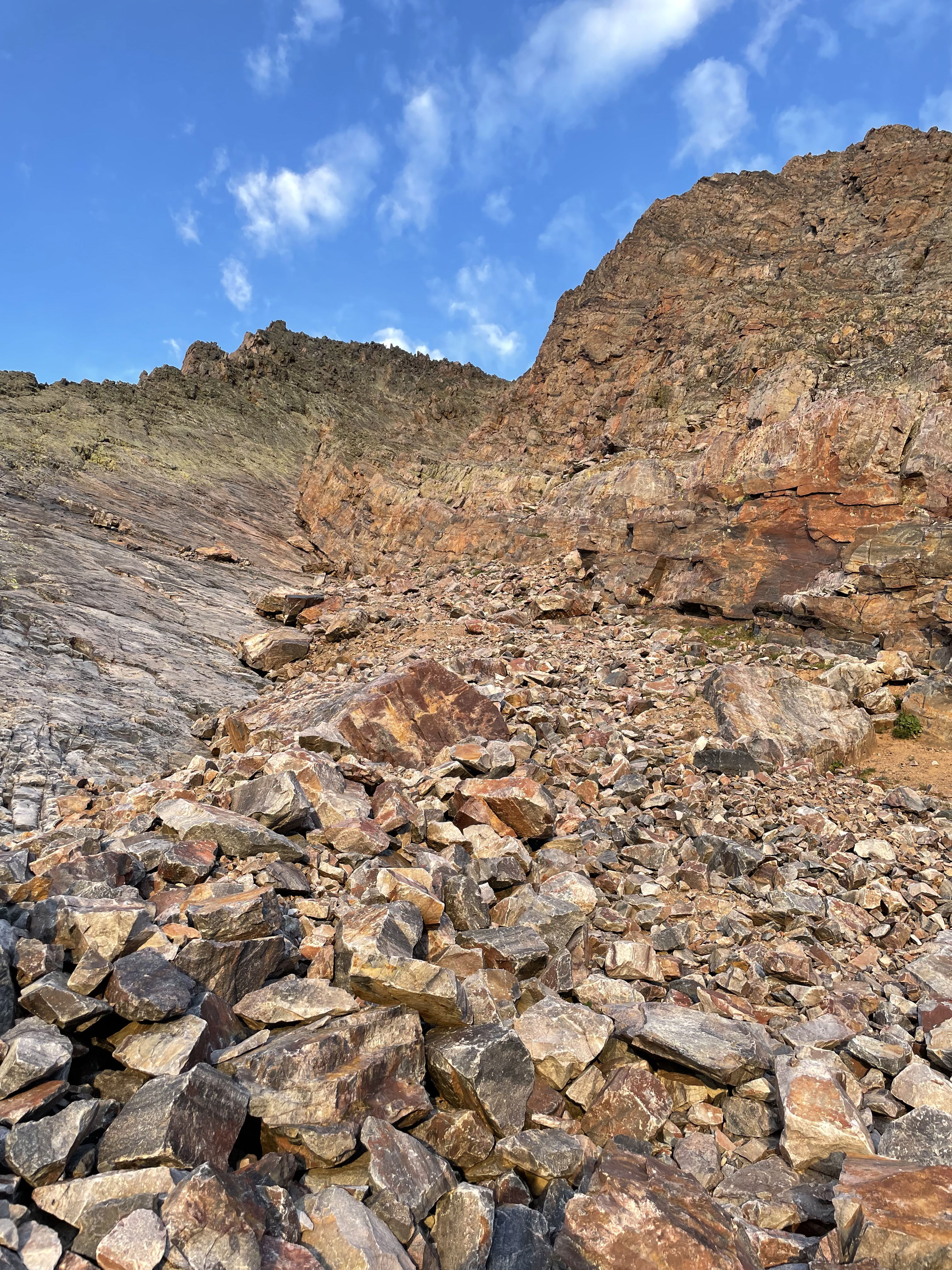 Looking up the route where the ramp splits in two and you traverse to the right side.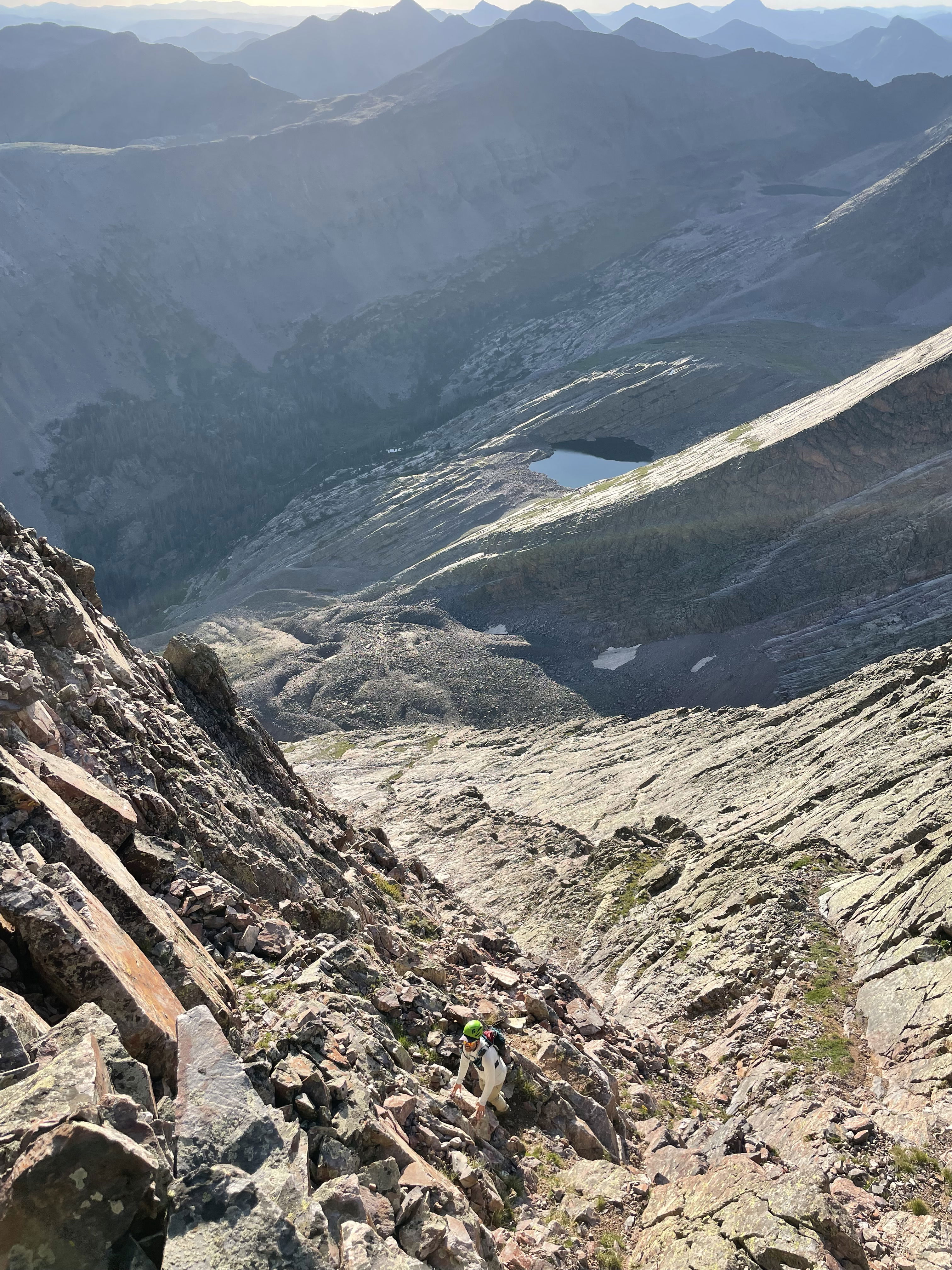 Kevin scrambling up the route with Vestal Lake in the background.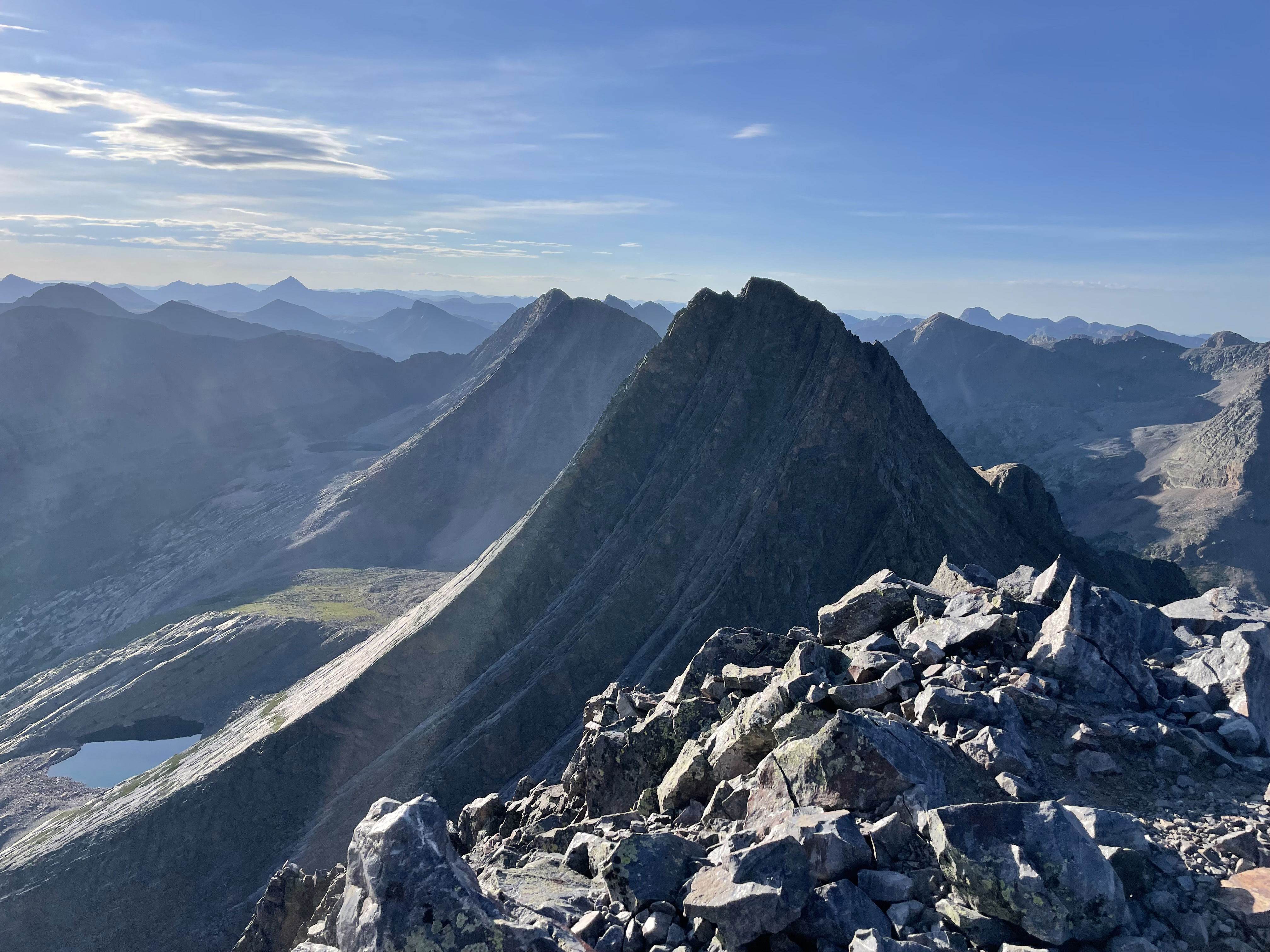 Trinity Peak and Vestal Peak from the summit of Arrow Peak.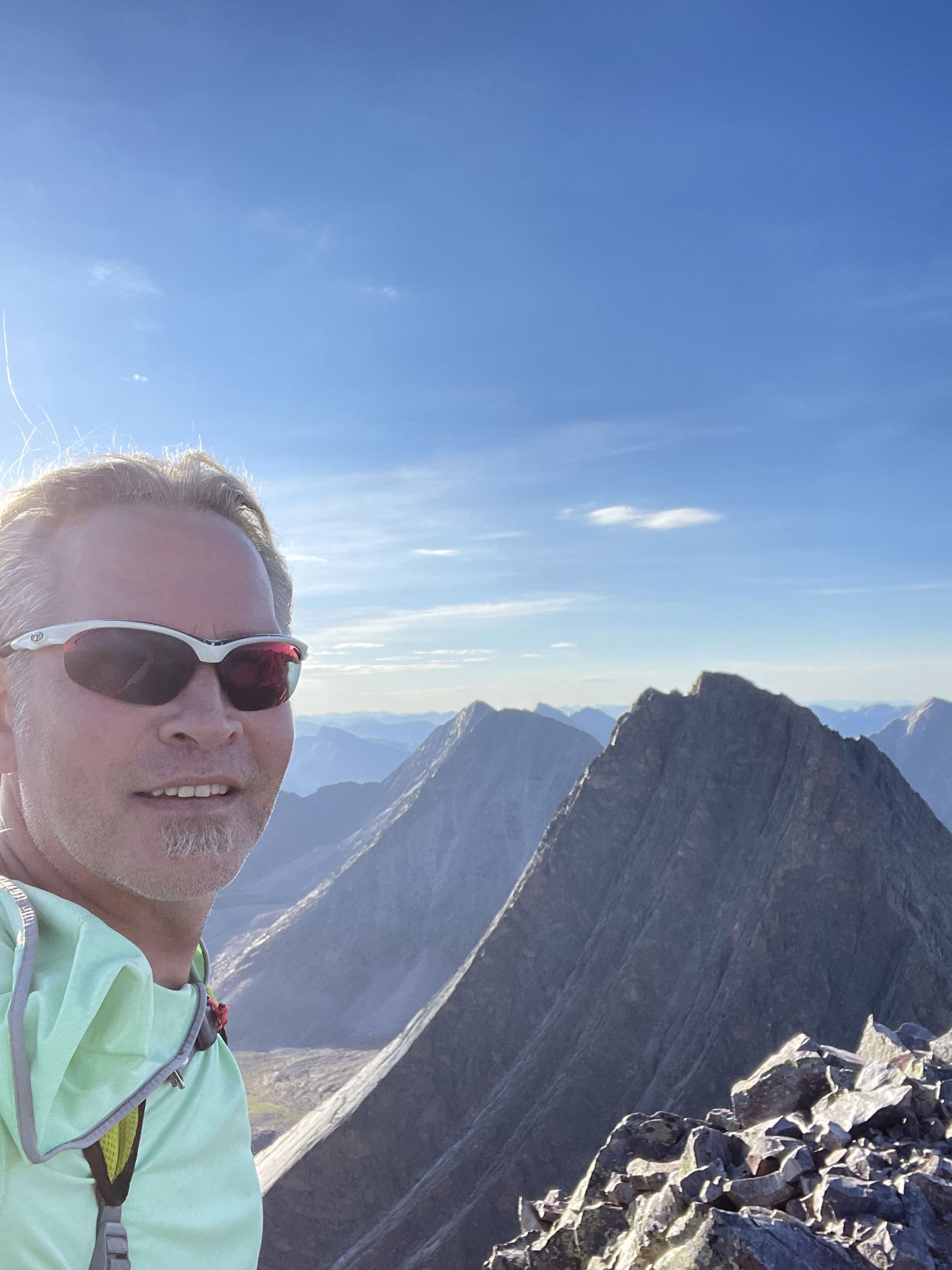 Summit Photo (Arrow Peak)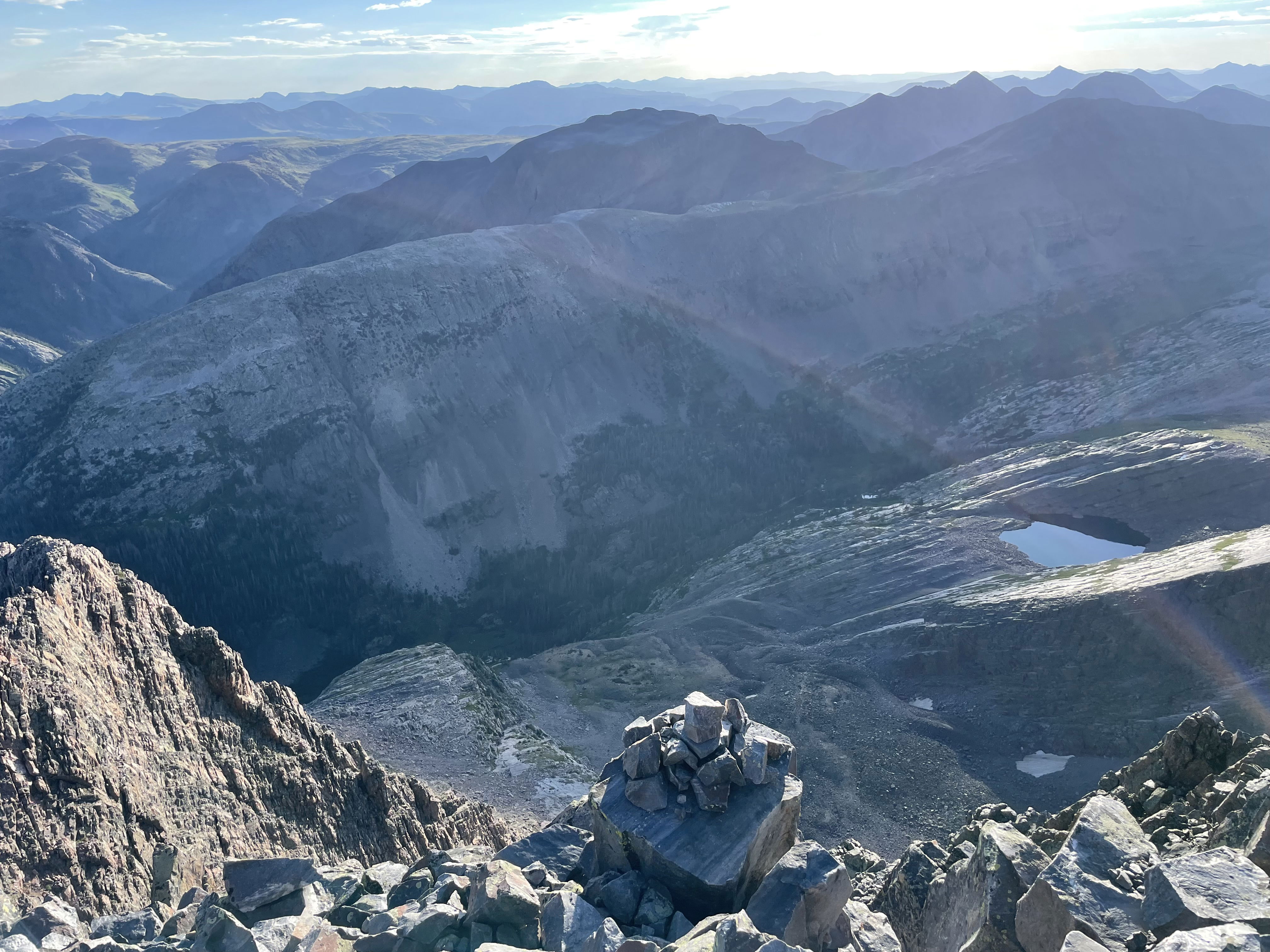 Vestal Basin and Vestal Lake from Arrow Peak.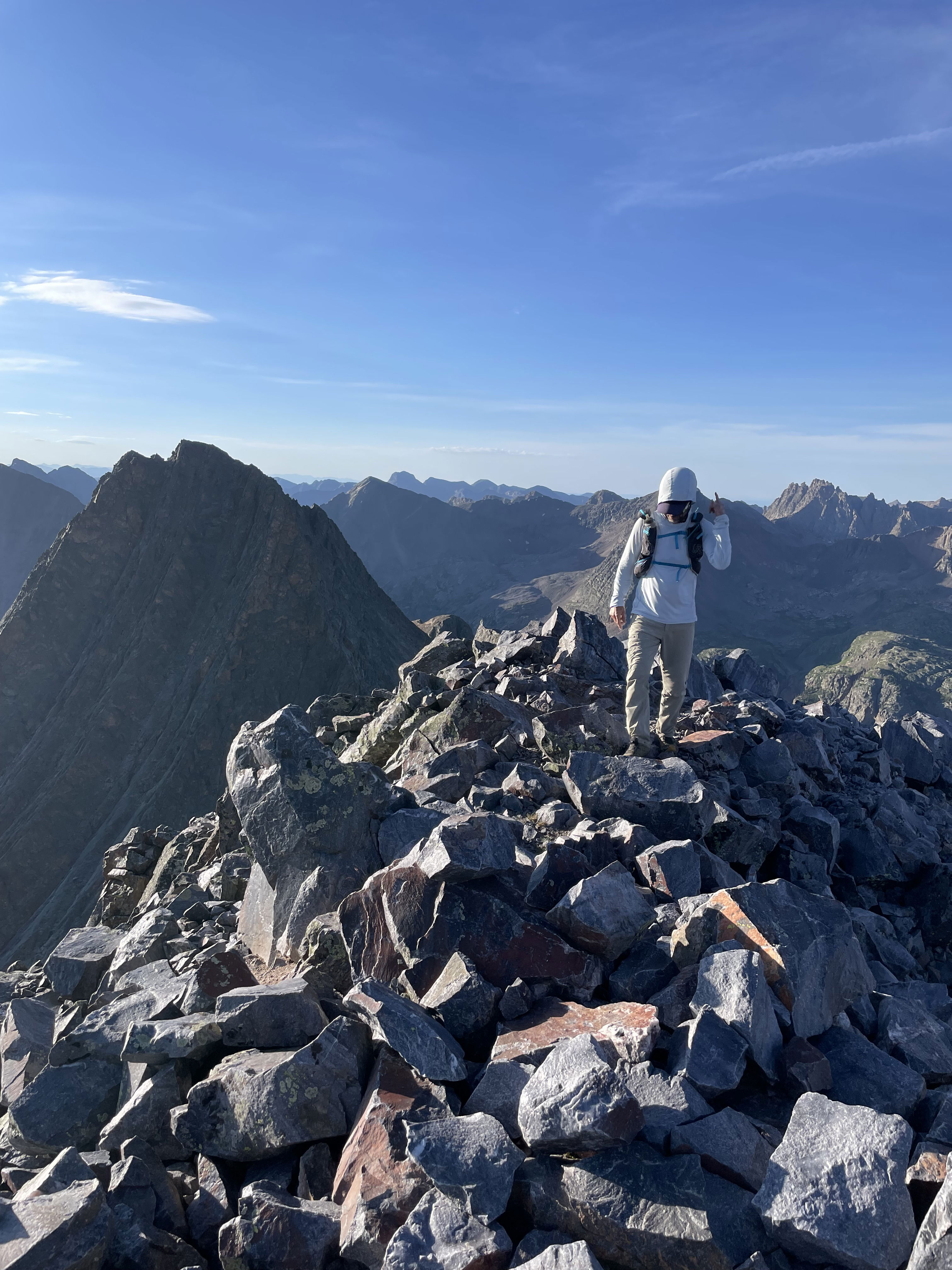 Kevin making his final steps to the summit of Arrow Peak.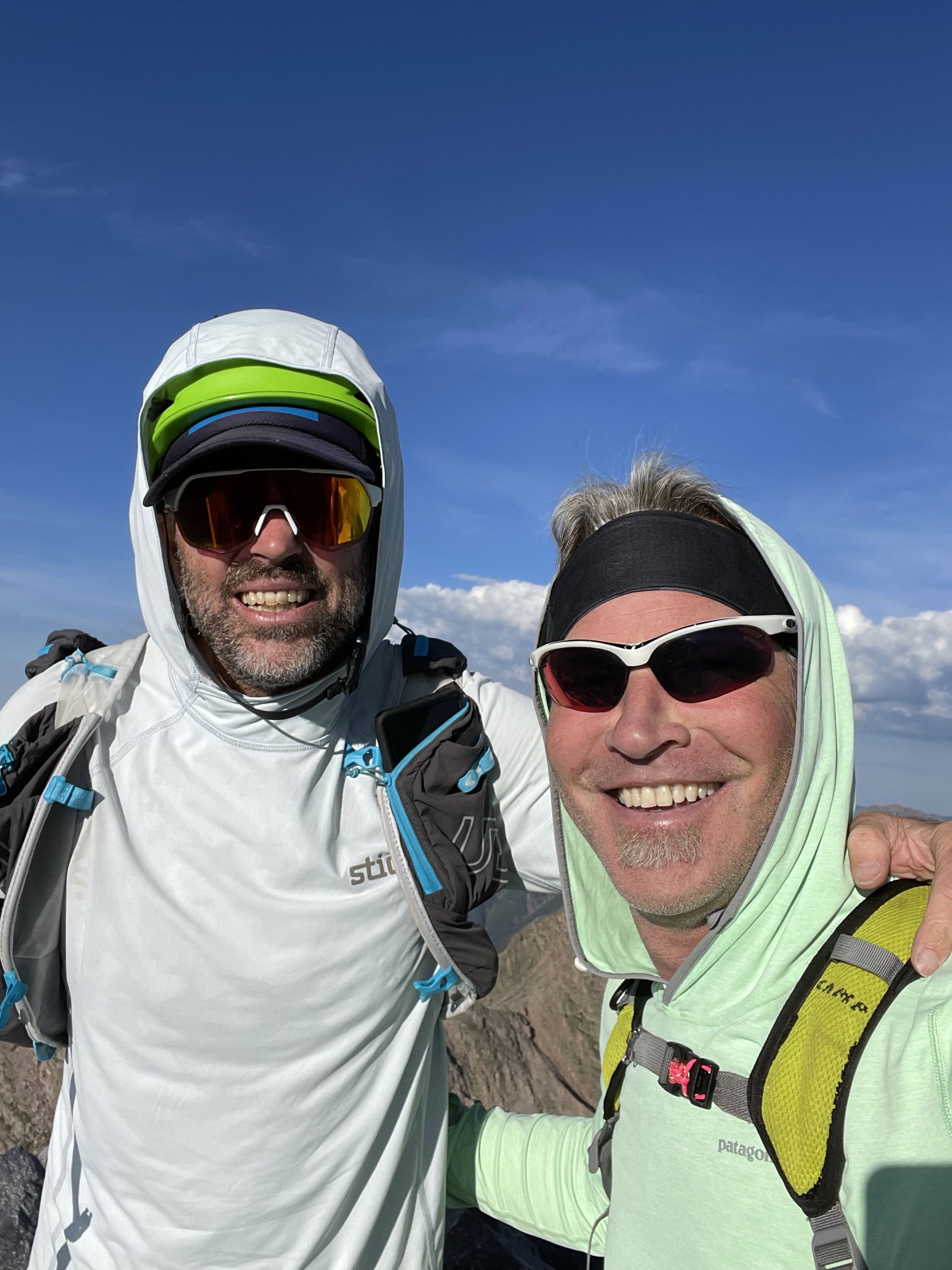 We made it!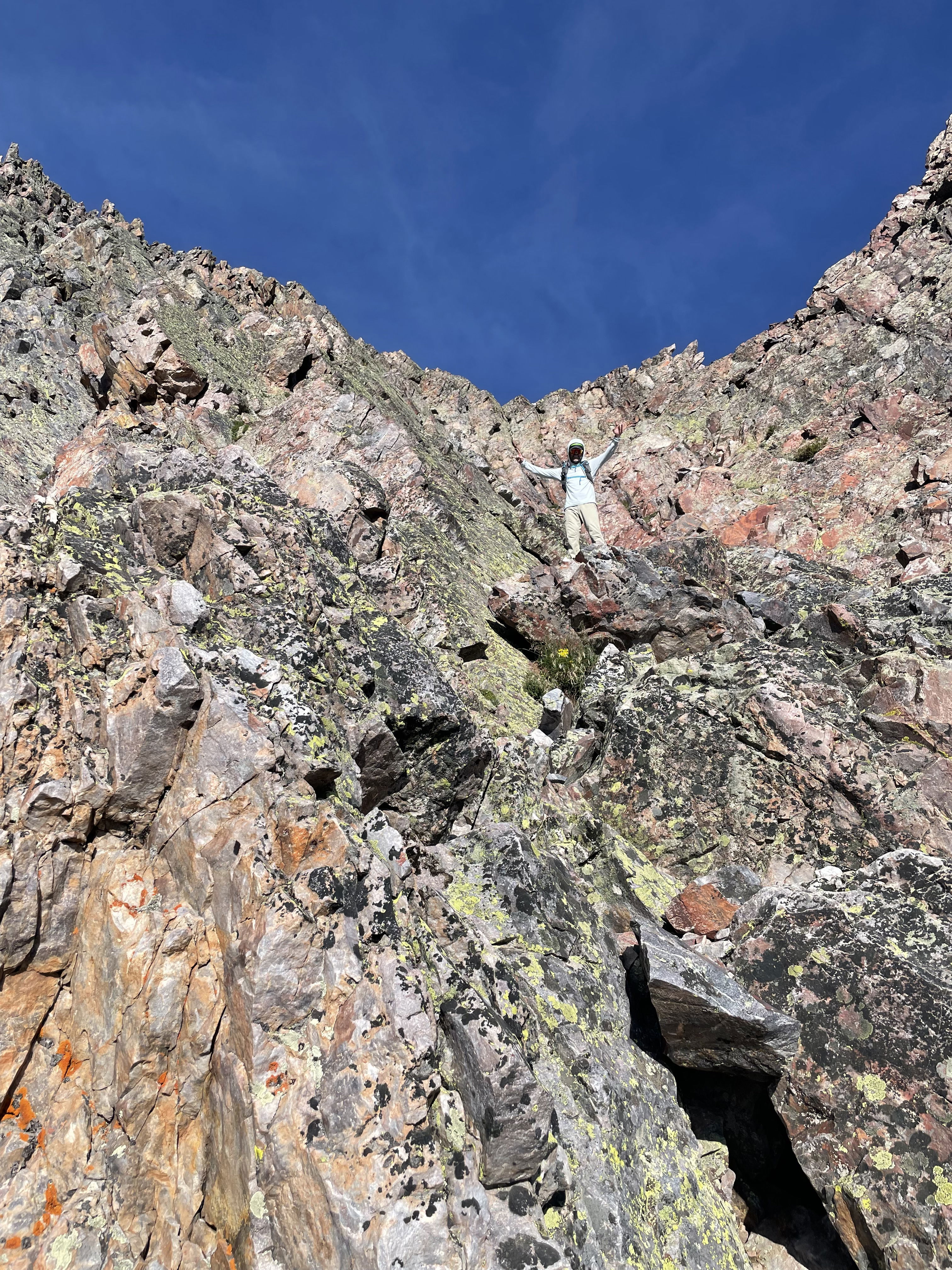 Kevin scrambling back down from Arrow Peak.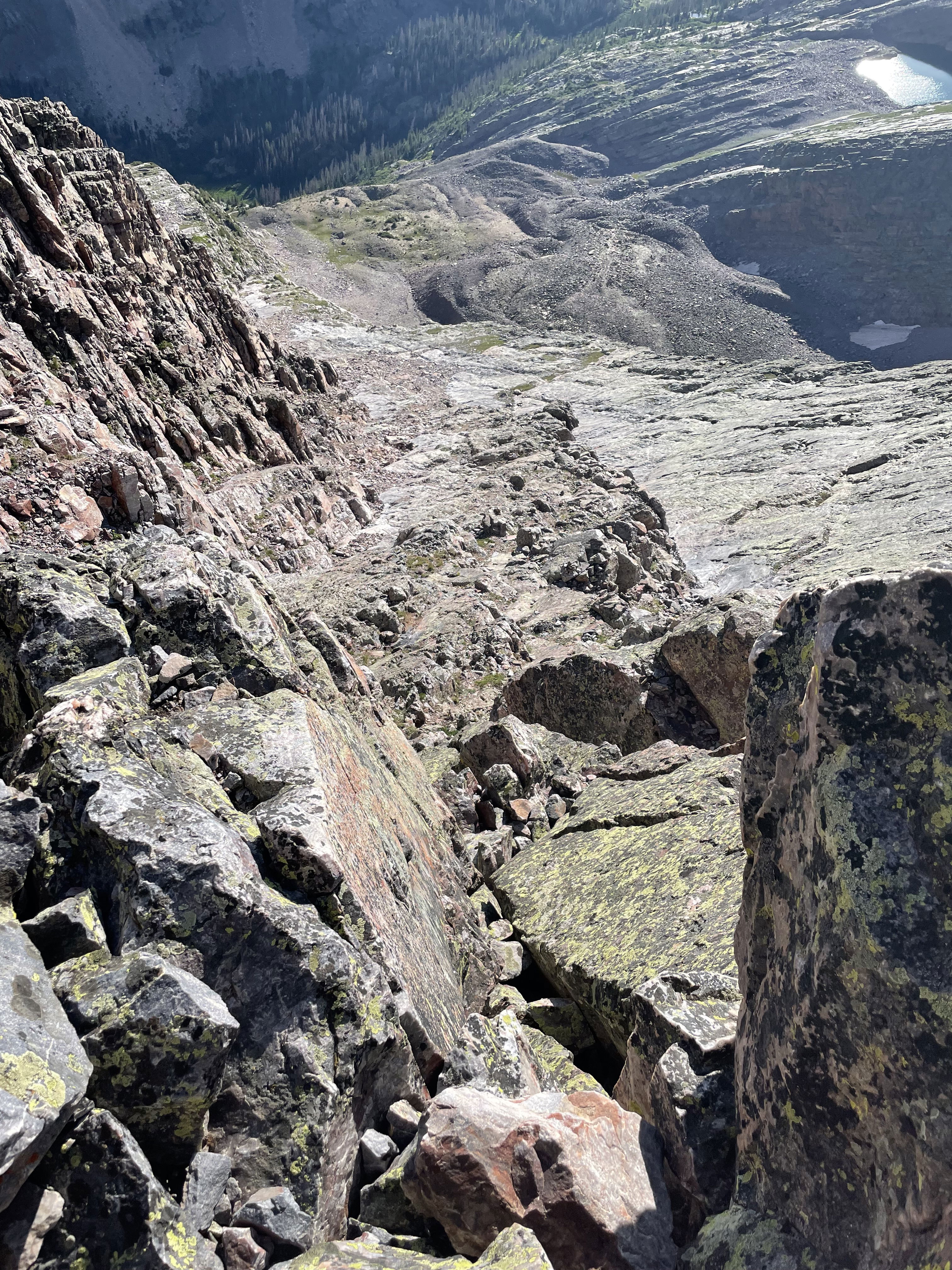 Looking down Arrow Peak's northeast face route.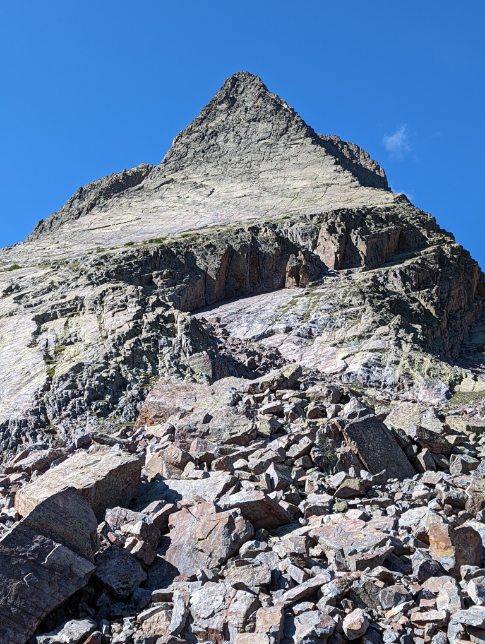 Wham Ridge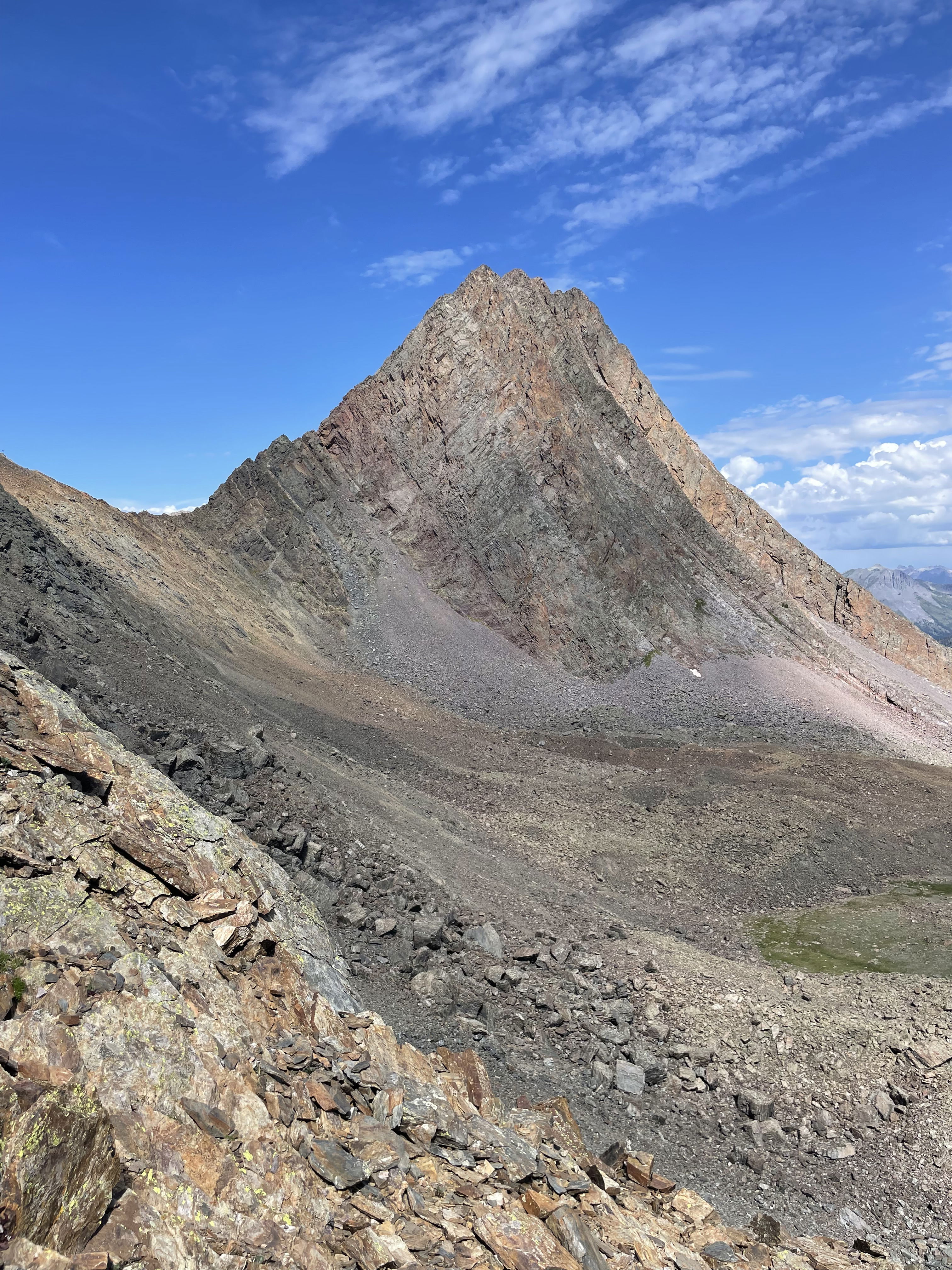 Vestal Peak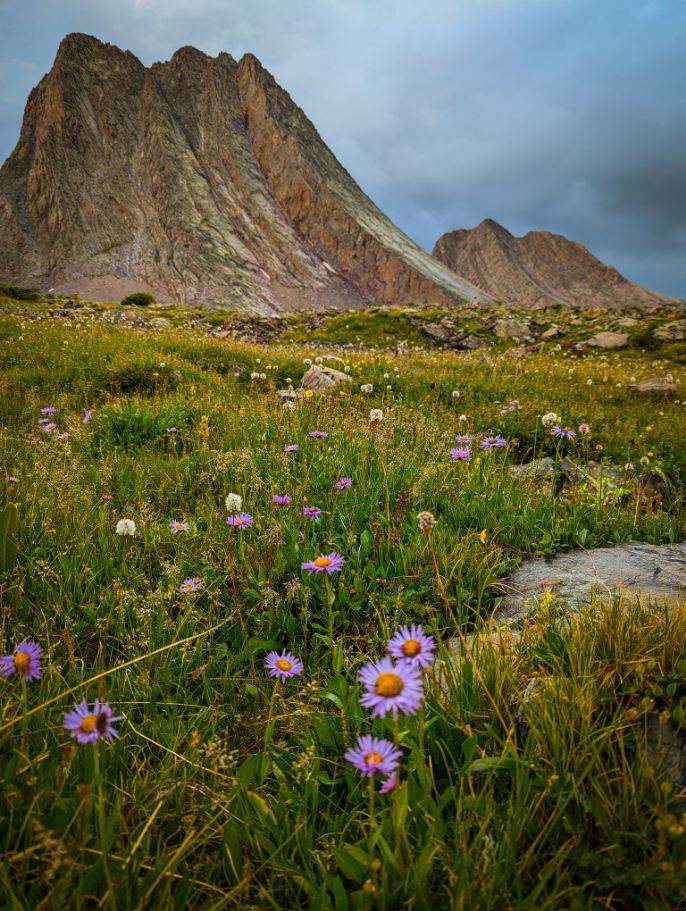 Wild Flowers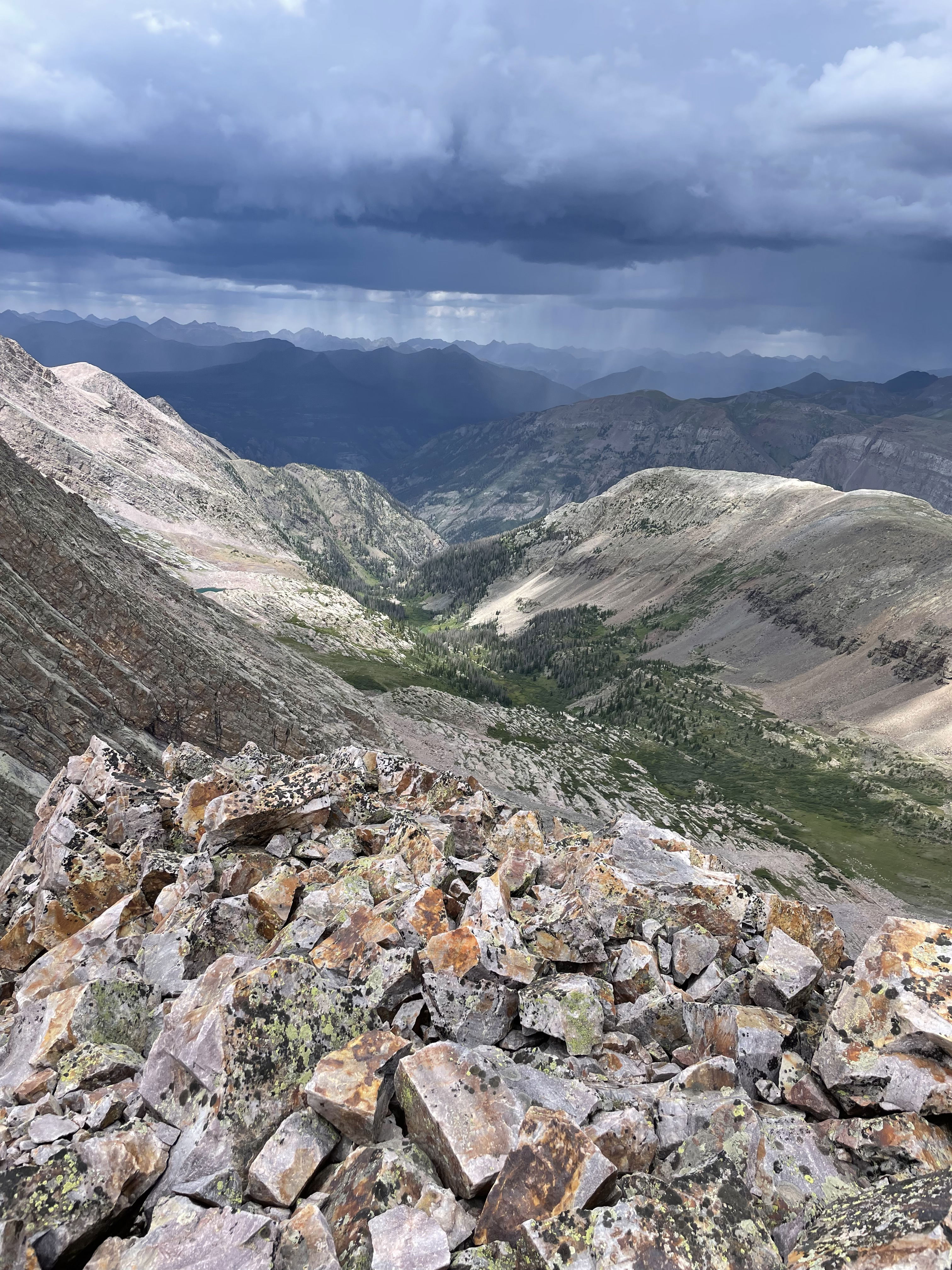 Vestal Basin from the summit of Trinity Peak.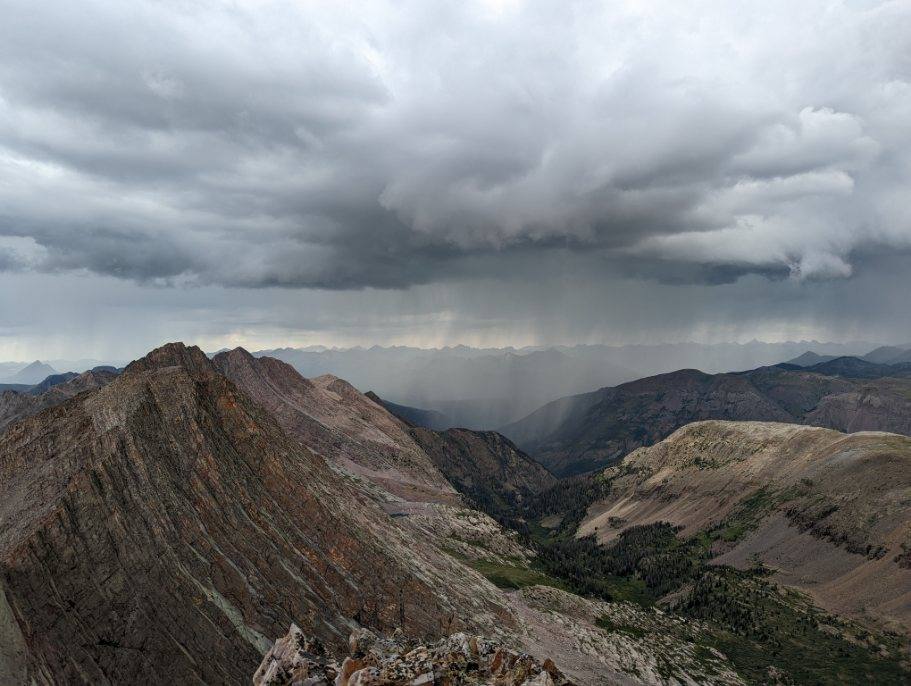 Weather moving in.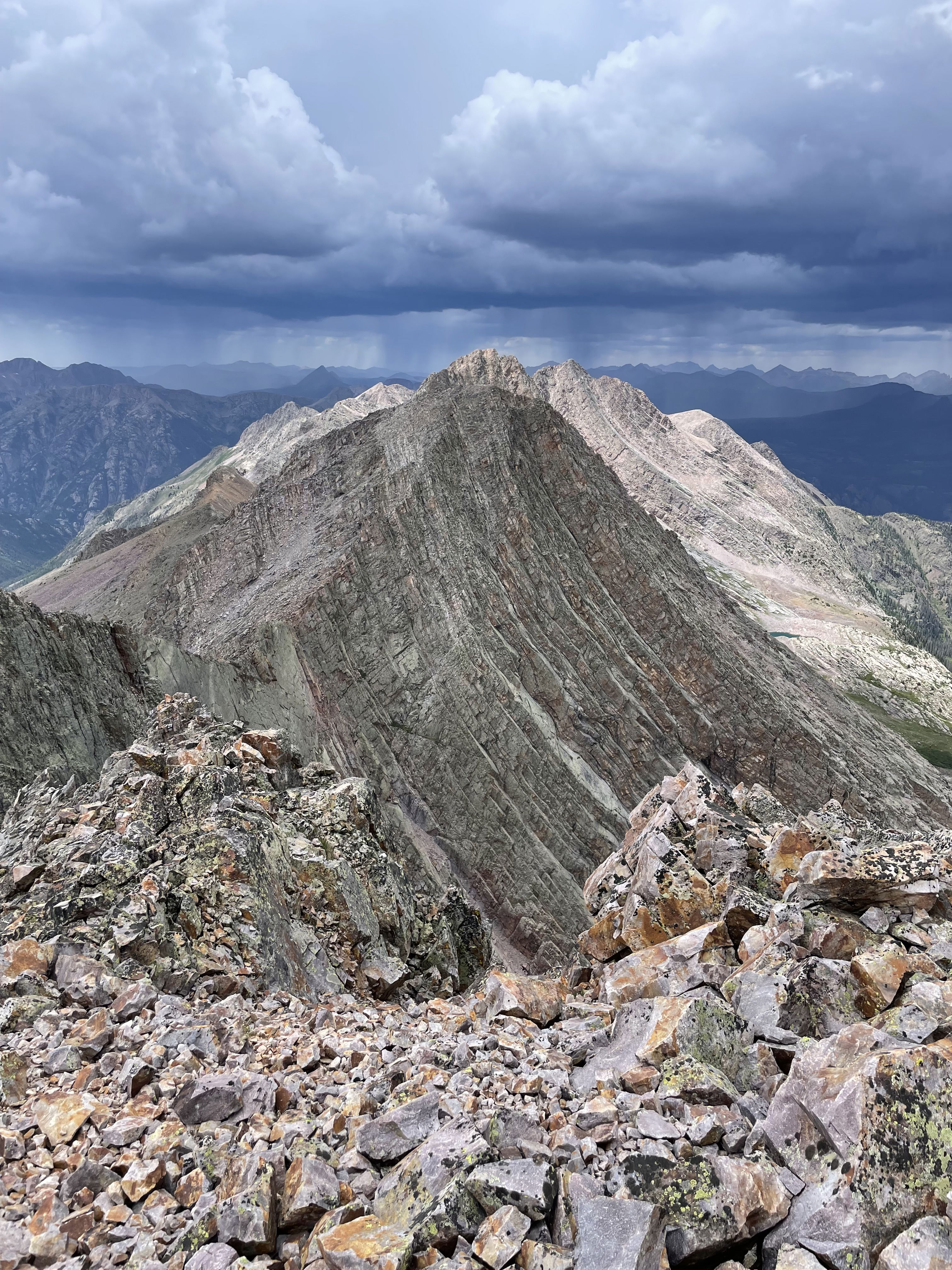 West Trinity from Trinity Peak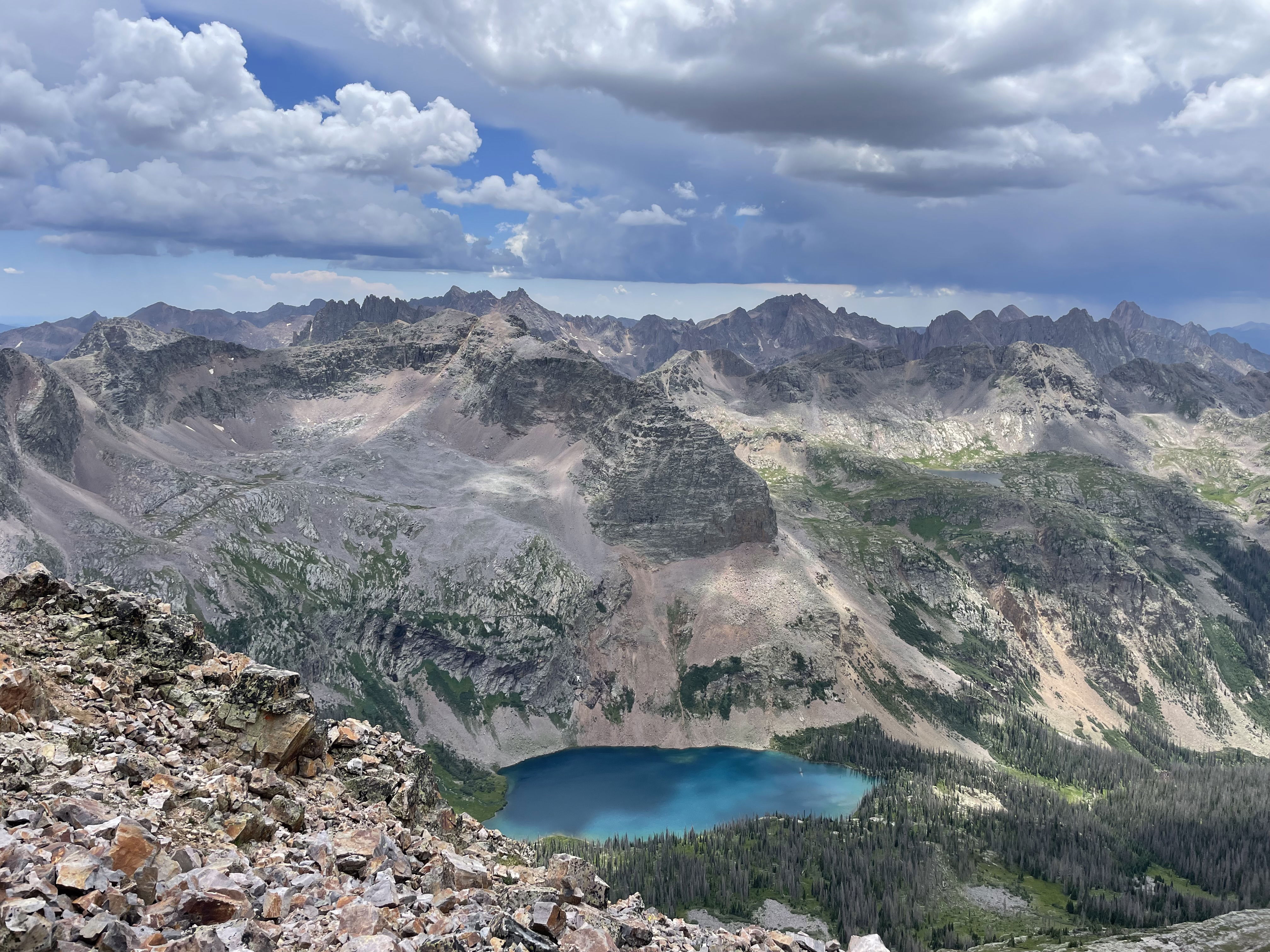 Balsam Lake from the summit of Trinity Peak.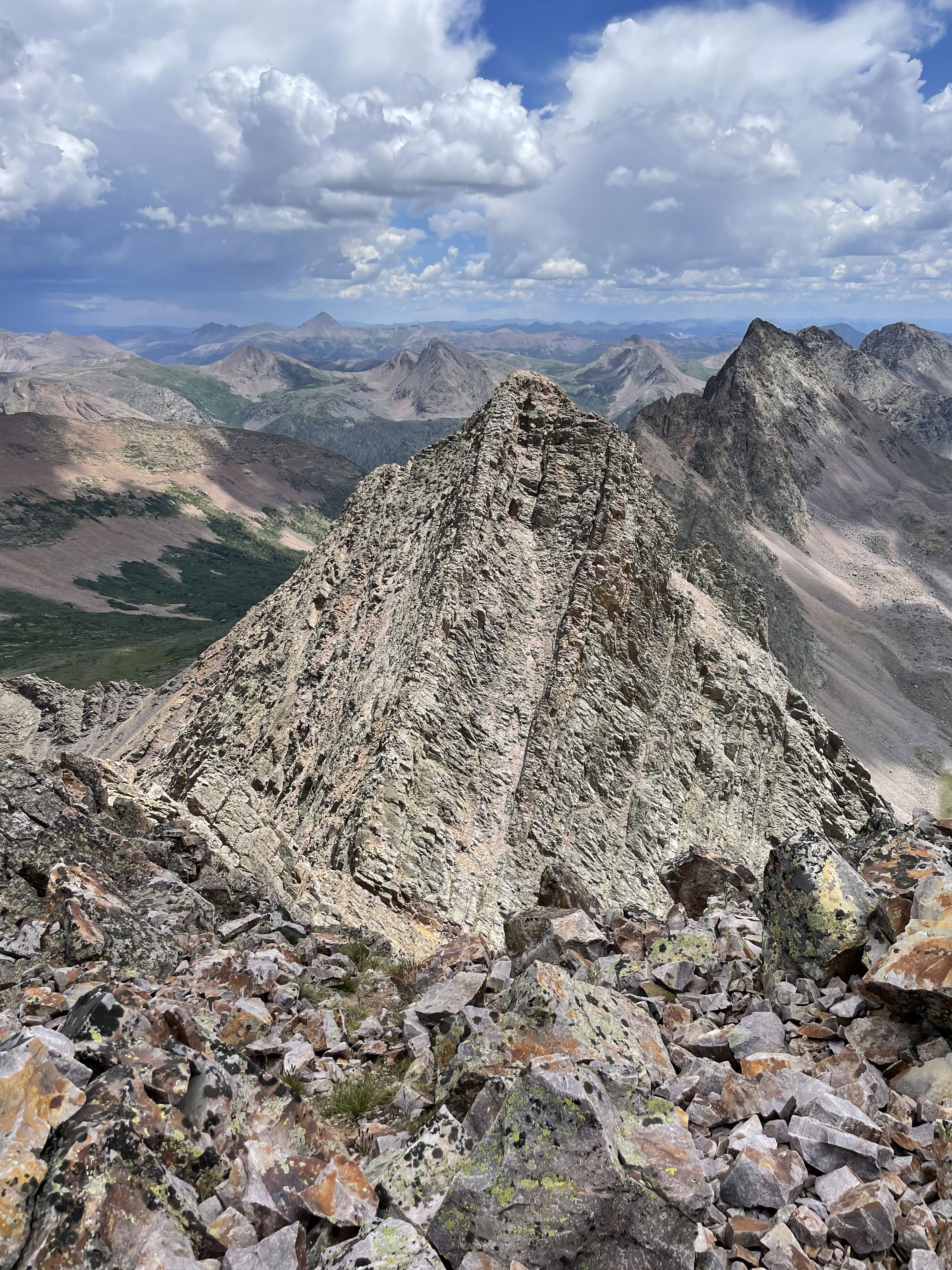 East Trinity from Trinity Peak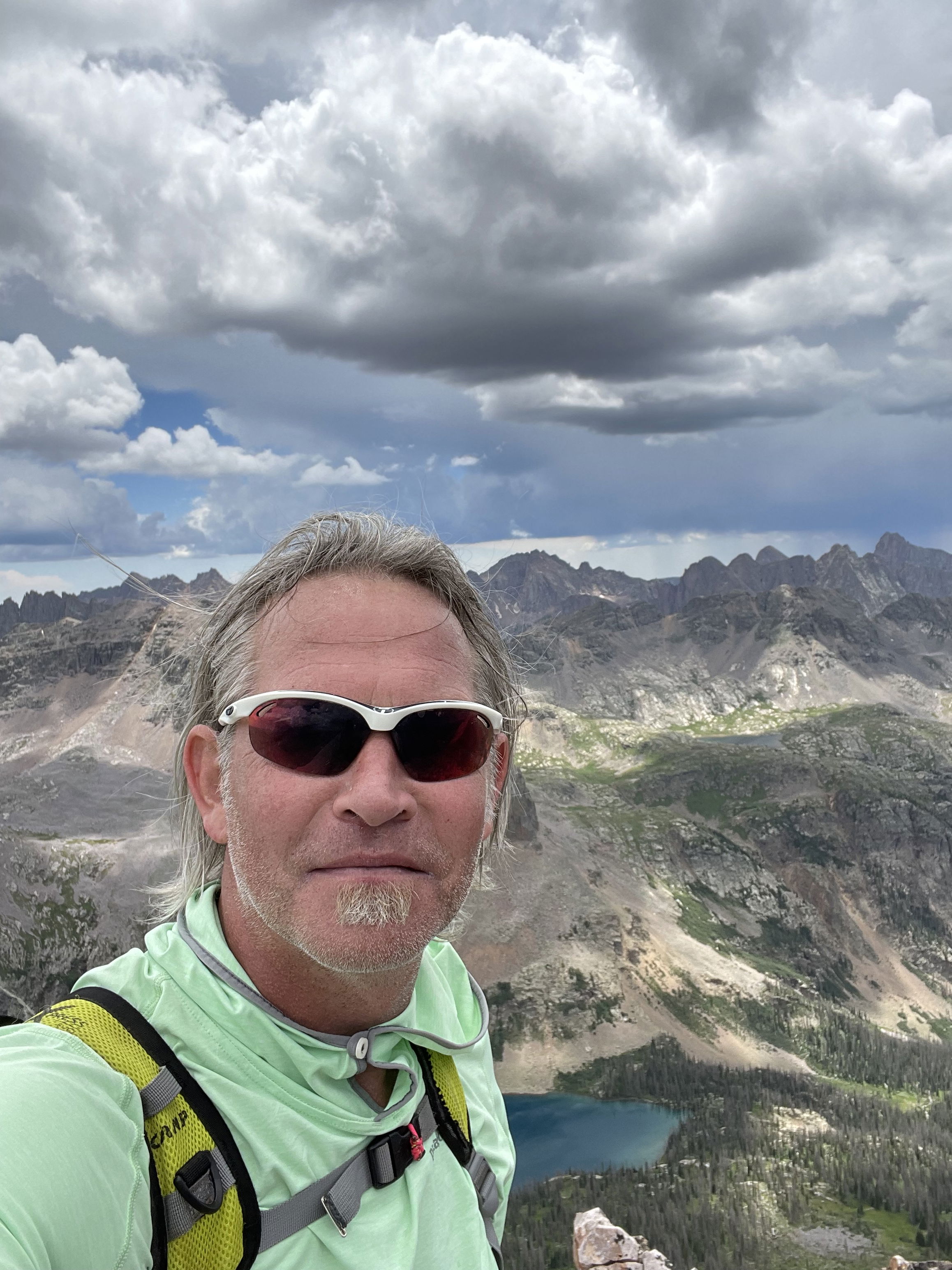 Summit Photo (Trinity Peak)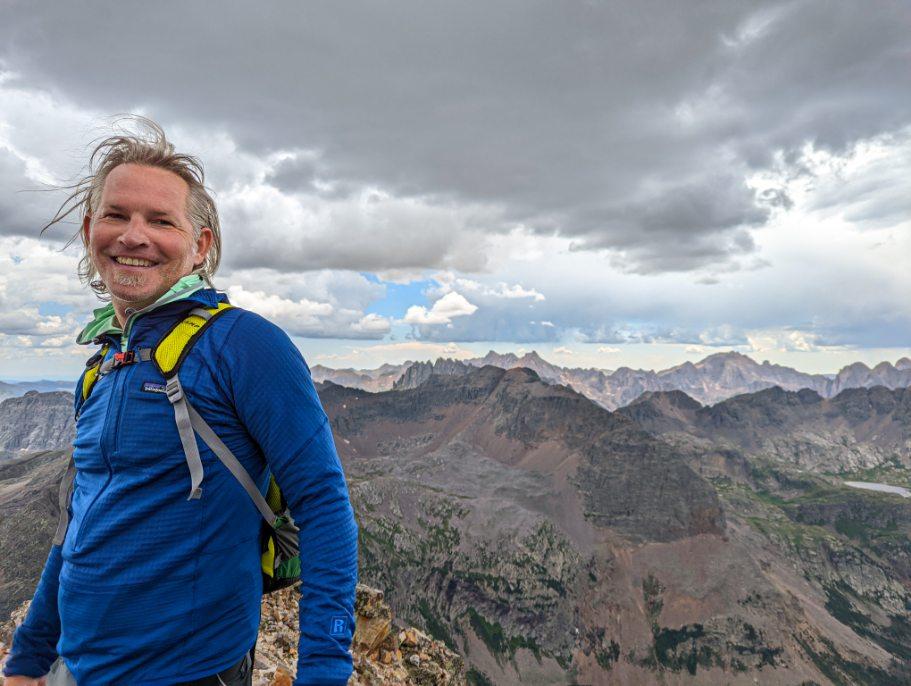 Mad Scientist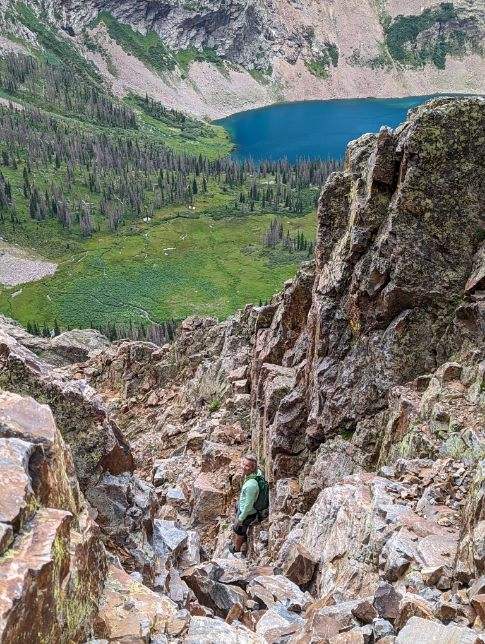 Down-climbing the gully on the southeast face of Trinity Peak.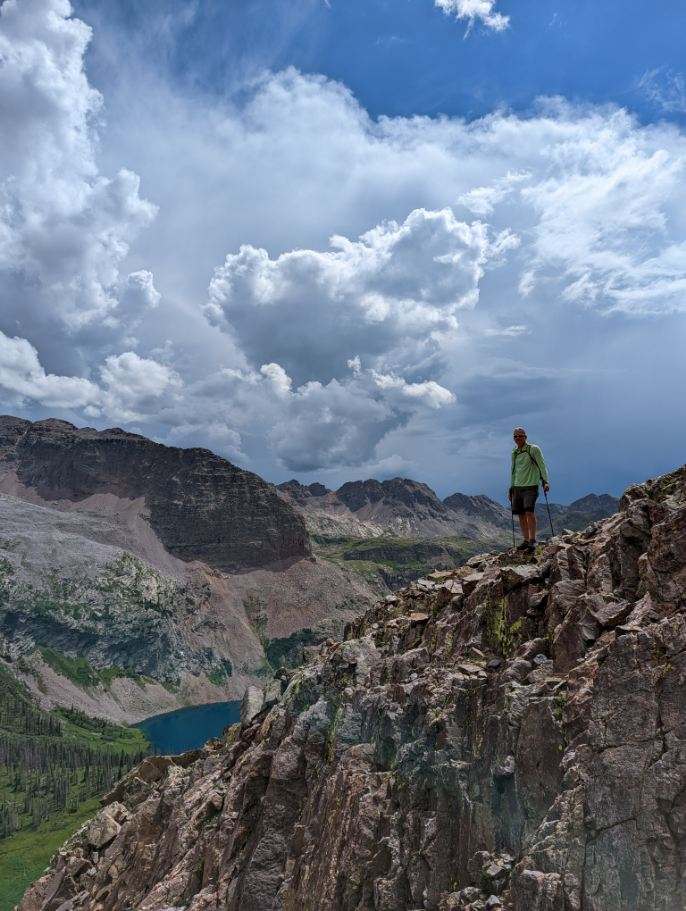 Starting the traverse back west after exiting the gully.