Statistics
Date - 08/06/2011
Elevation - 14,255'
Route - Stettner's Ledges
Miles - 11.0
Elevation Gain - 5,000'
ACME Mapper - Link
CalTopo - Link
Description
I was up at 1:10 and Jeff and I were on the road 20 minutes later. We were hiking at 3:20 and started off weaving through the multitude of people heading up the Longs Peak Trail. Conversation made the approach go quickly and we were at Chasm Lake after two hours. We scrambled around the north side of the lake and made our way to the base of Lambs Slide. We geared up at this point and prepared for the climb. Our objective was to climb Stettners Ledges to Broadway and then traverse over to Kieners to reach the summit. In order to save weight, we only brought one pair of strap on crampons and no axes since the snow field to cross to get to the base of Stettner's Ledges is relatively short. After Jeff cruised up the snow, he belayed me up the snow in my trail runners. This worked well as we watched no less than 10 climbers struggle greatly to reach the base of the North Chimney in order to get on the Diamond.
I led the first pitch up relatively easy ground with a fair amount of scrambling before getting to the last section of the pitch where there were a couple of 5.4 moves. As I led out on the second pitch, I ended up down-climbing a bit and then making a cool layback move on a thin flake before crossing from the left to the right side of the main ledges. There may have been one or two 5.6 moves as I worked my way up and right past another rappel station. I ran out of rope just below the crux piton ladder pitch and built an anchor to bring Jeff up on. Jeff started up the piton ladder pitch having climbed a slight variation of the line several years ago. He worked the pitch calmly and carefully letting out the occasional grunt just to let the rock know who was in charge. Essentially, the entire first half of this pitch is a sport climb with a piton to clip in at well placed locations. Just when you feel like you need to get some gear in, you can find a piton waiting for your quick draw.
Near the middle of the pitch it eases up slightly and Jeff even skipped a couple of pitons before getting back to some more difficult layback and hand crack climbing. I actually thought this was the hardest part of the pitch. There was some sustained 5.7 climbing with more than a few 5.8 moves thrown in for good measure on the entire pitch. I took off on pitch four and immediately got slightly off route into some more difficult terrain. I backed off and found the easier correct line. I thought most of this climbing was 5.4 or easier with the second half of the pitch containing more scrambling so I simply continued until I ran out of rope. At this point, we ran into another party finishing a different route on the Hornsby Direct. Jeff continued traversing left on generally easier ground until he was about 50 feet below Broadway and then simply found a fun crack to top out on. It was a great way to finish the route with a couple of 5.8 moves.
Similar to Sharkstooth where we were able to complete the climb in four instead of five pitches, and we were able to finish Stettners in five instead of the standard six pitches. We both climbed until we ran out of rope instead of stopping at easier large belay ledges. As a result my description and ratings of the pitches may not match other information about the route. We were generally on route, but climbed where we felt comfortable. We decided to eat some lunch at the top of the route and then traverse Broadway across the base of the Notch Couloir to the base of Kieners. After completing the Broadway step around move without protection a few years ago, I vowed never to do it again so I executed a belly crawl to get under the protruding rock as did Jeff.
After building a quick anchor, I took off up the first technical pitch of Kieners which Jeff followed quickly. We moved my anchor to the base of the second technical pitch which Jeff led and I followed. We passed a party of four here who were completing Kieners after coming up Lambs Slide. We coiled the rope and packed up the gear for the fun scrambling on upper Kieners. I was tired from the day and the elevation was effecting me a little so I was struggling a bit.
We finally topped out around 1:30 and spent five minutes on the summit before heading down the North Face. There was a party preparing to rappel with a single rope which is all we had. We asked if they wanted to tie the ropes together and scramble down to the next eye bolt so we could complete the descent together in one rappel. They obliged and we were scrambling down to the Boulder Field in no time. The hike out varied between fast walking and slow jogging. We got from the summit to the trailhead in 2 hours and 45 minutes for a 13 hour day. This was my ninth summit of Longs Peak by the eighth route. This was also coincidentally my 100th Colorado 14er.
Photos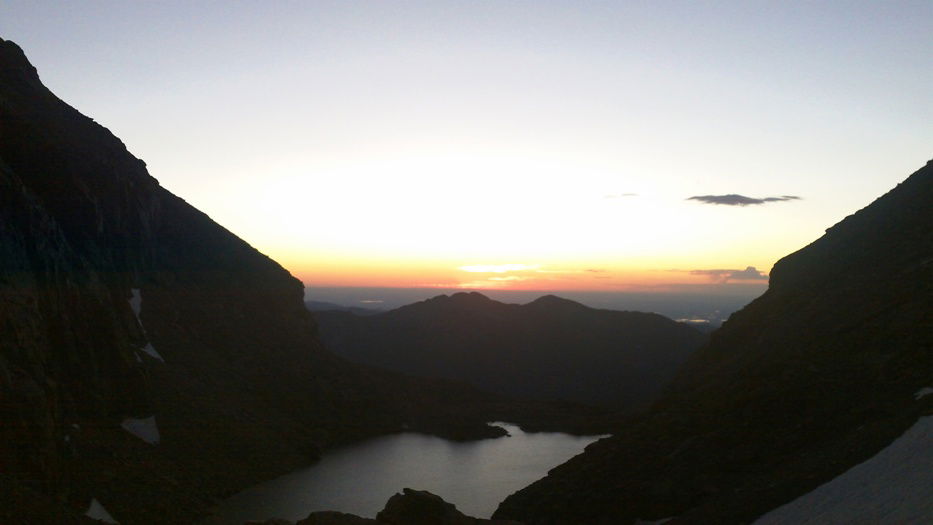 Sunrise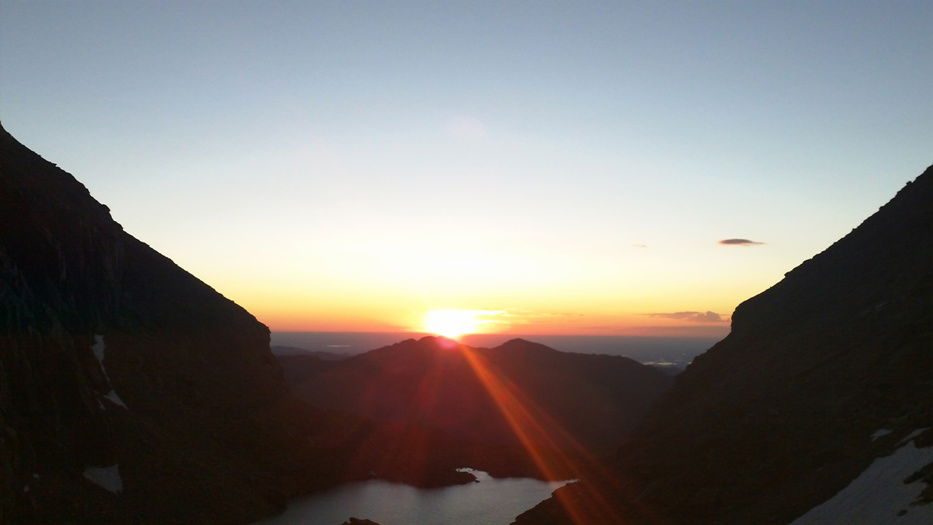 Sunrise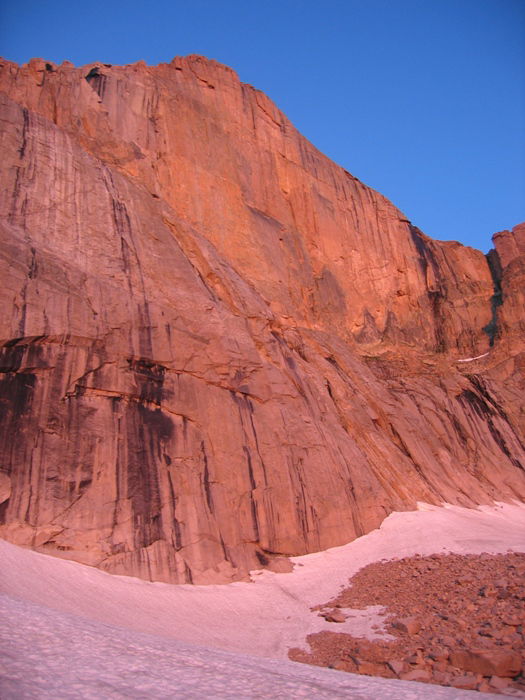 Diamond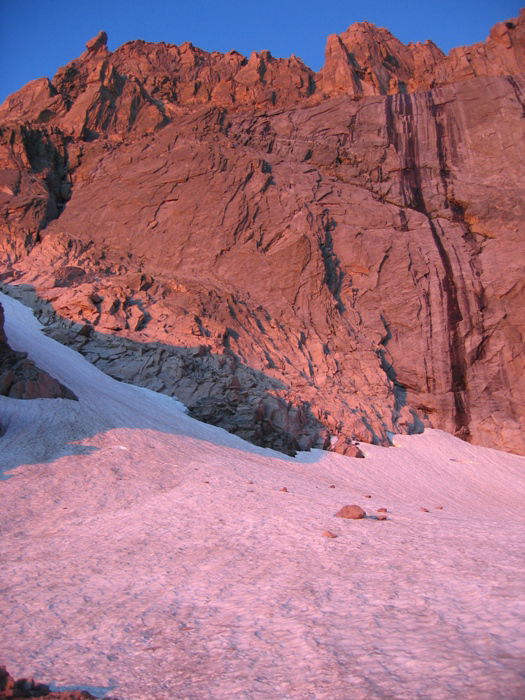 Stetners Ledges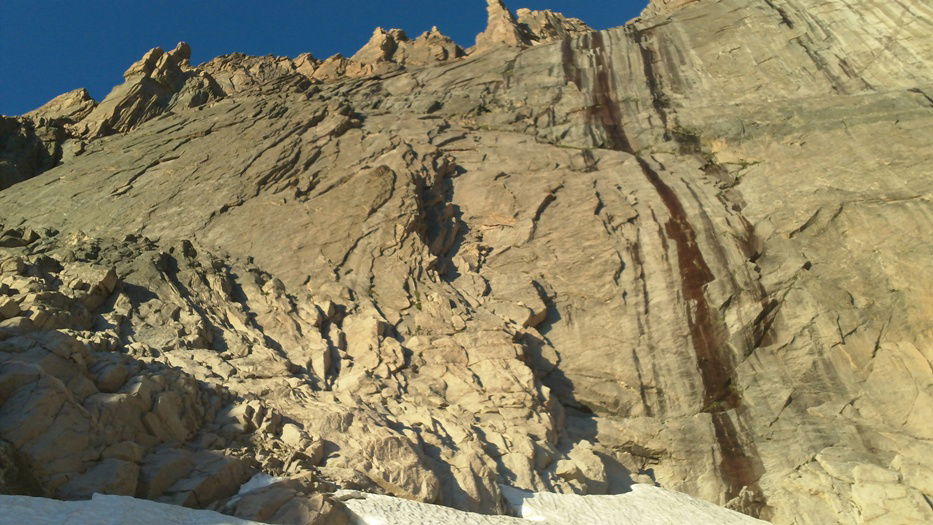 Stetners Ledges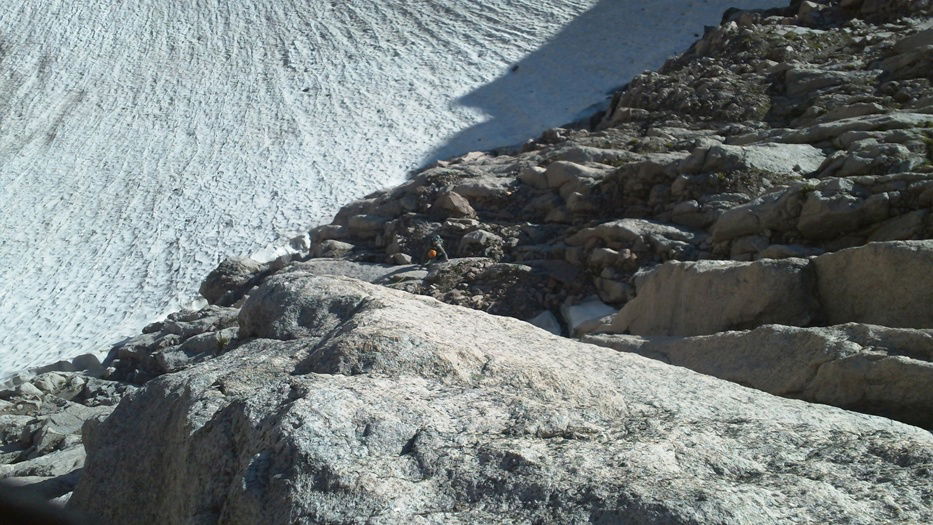 Jeff following pitch 1.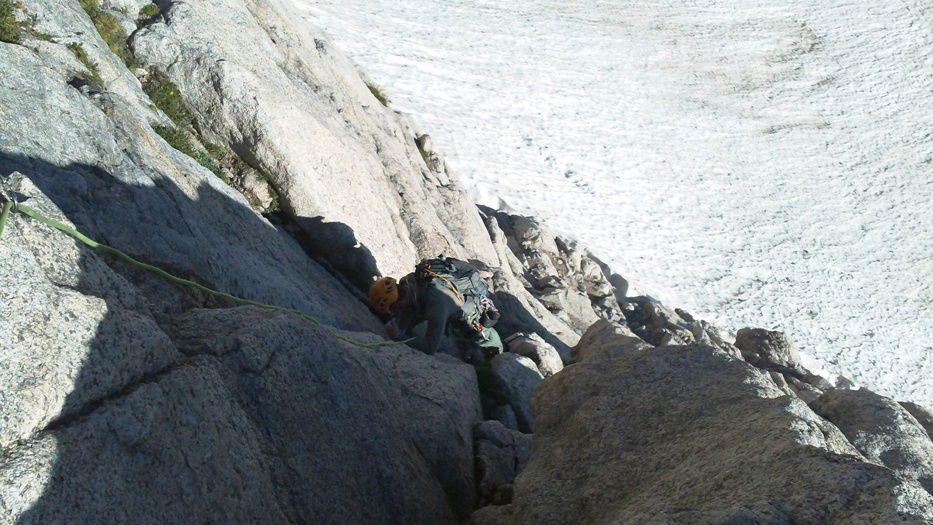 Jeff finishing pitch 1.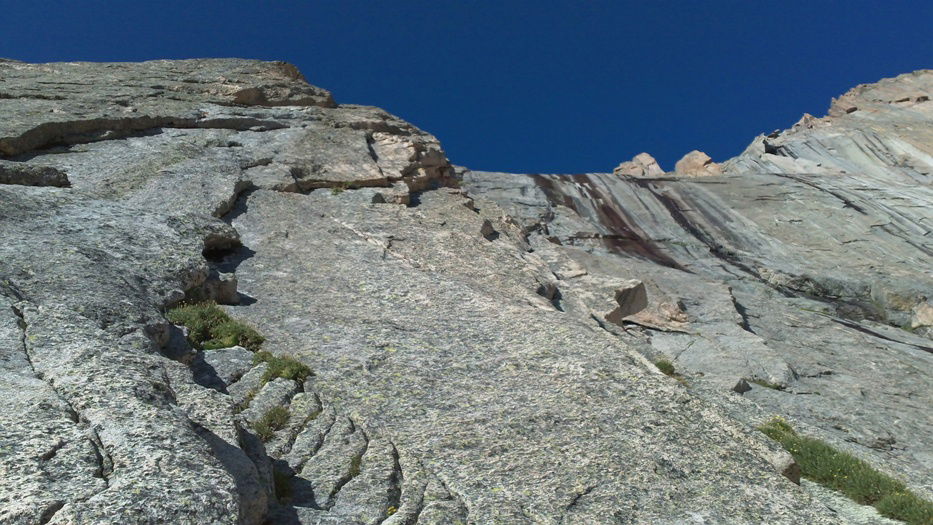 Looking up pitch 2.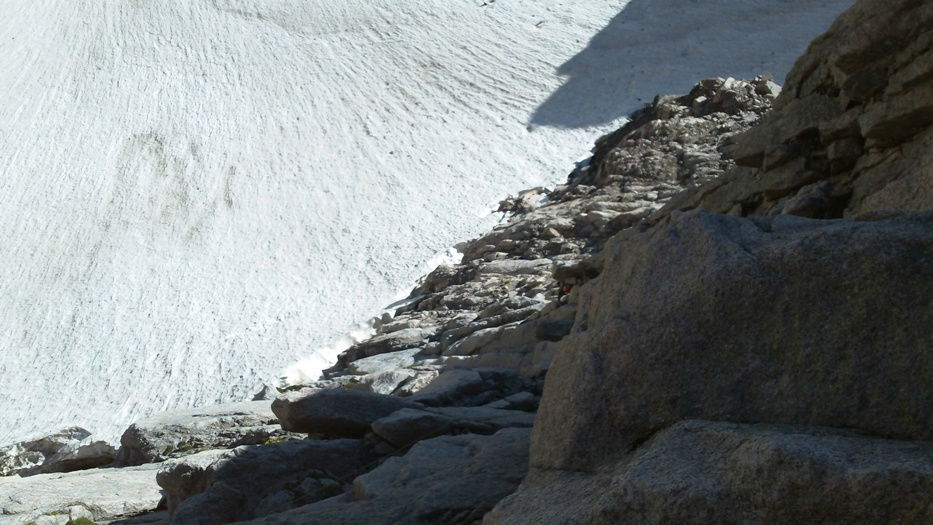 Jeff following pitch 2.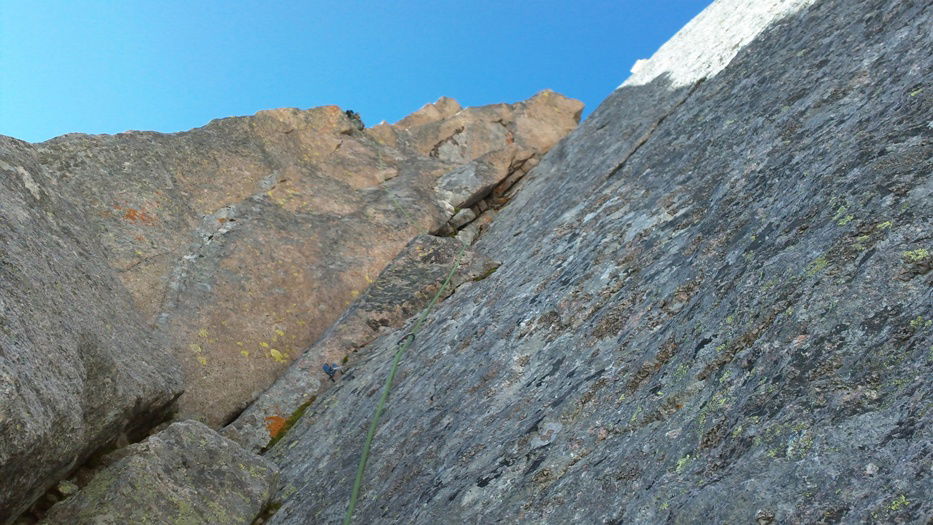 The first half of pitch 3.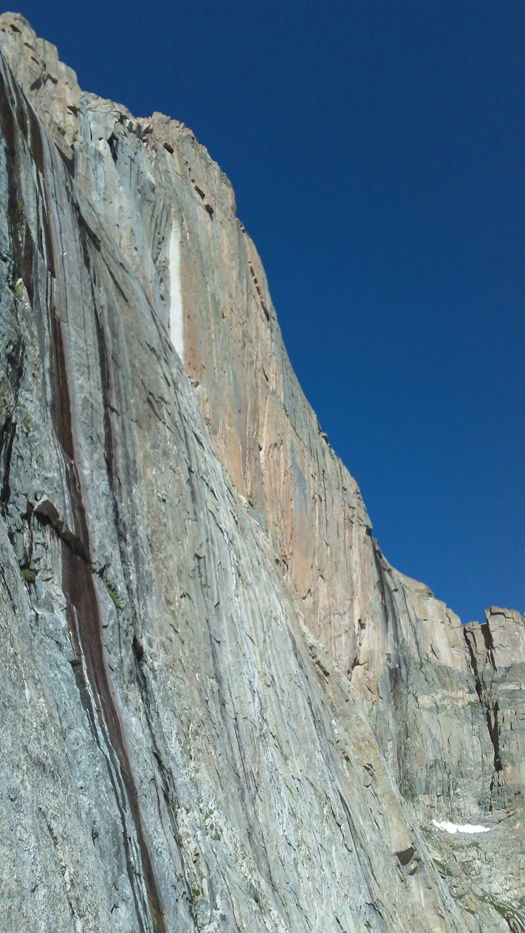 Diamond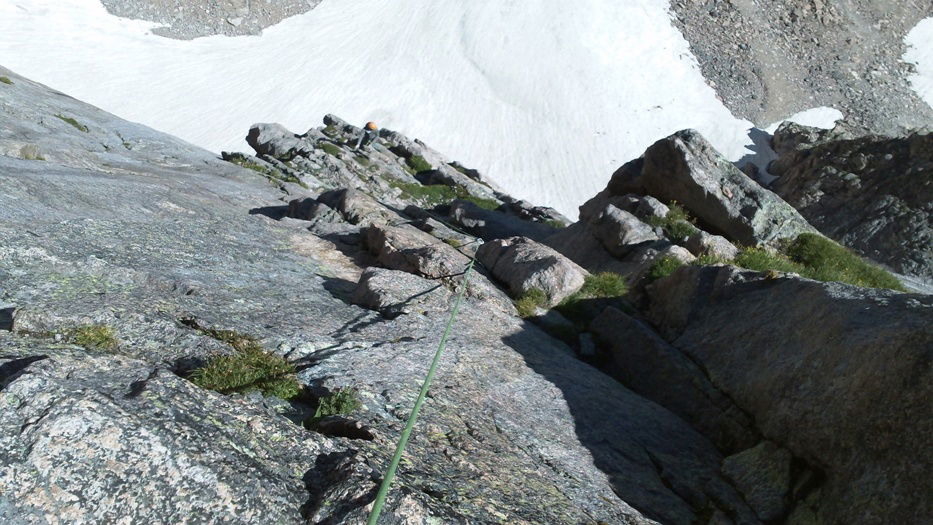 Looking down pitch 4.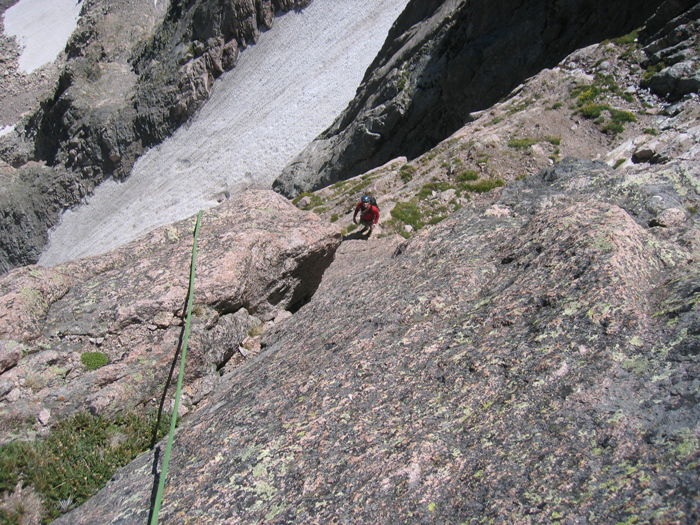 Looking down pitch 5.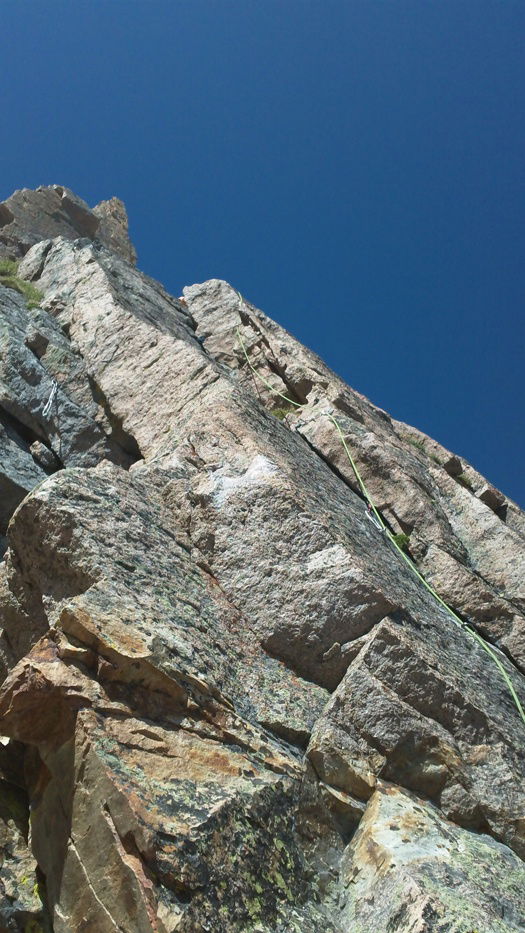 Looking up pitch 5.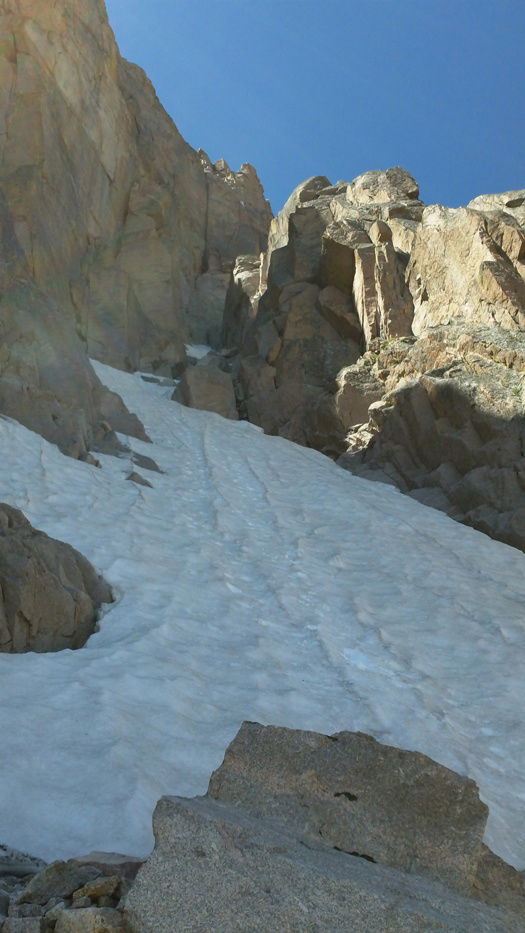 Notch Couloir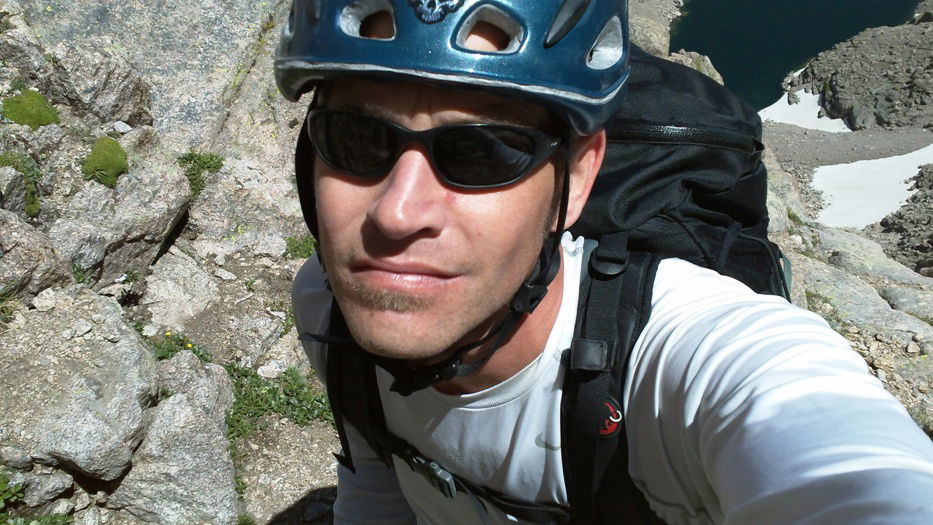 James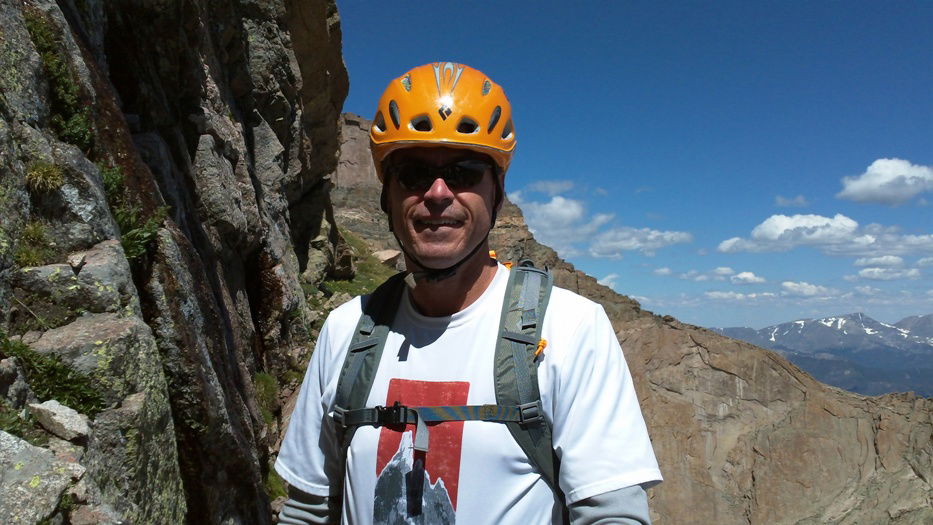 Jeff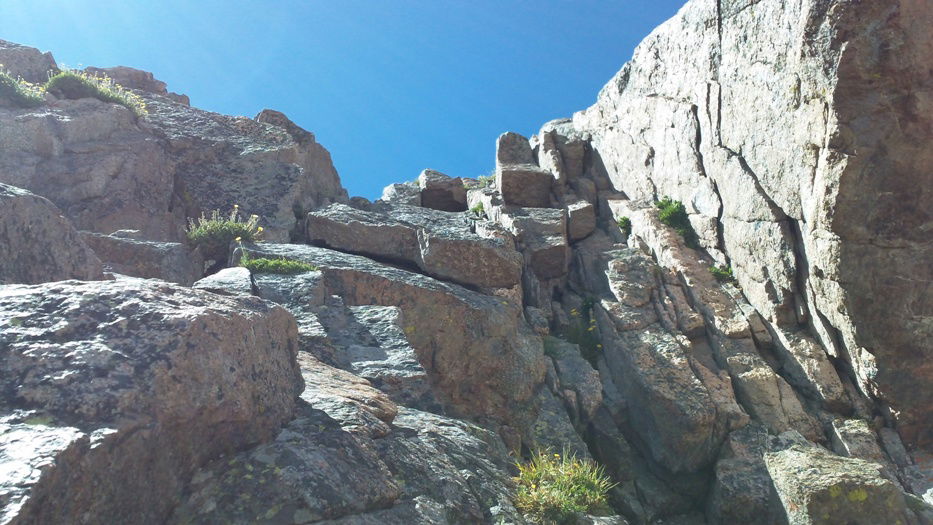 Looking up the first pitch of Kieners.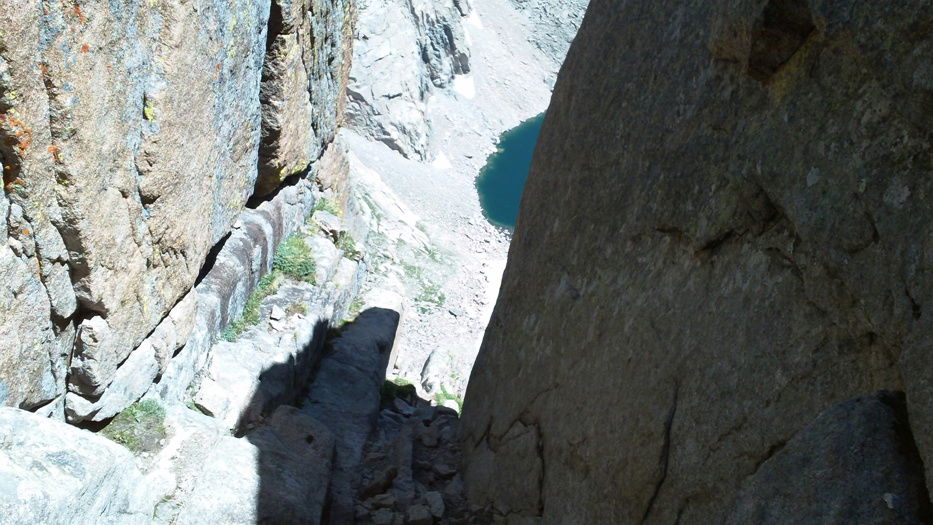 Looking down the second pitch of Kieners.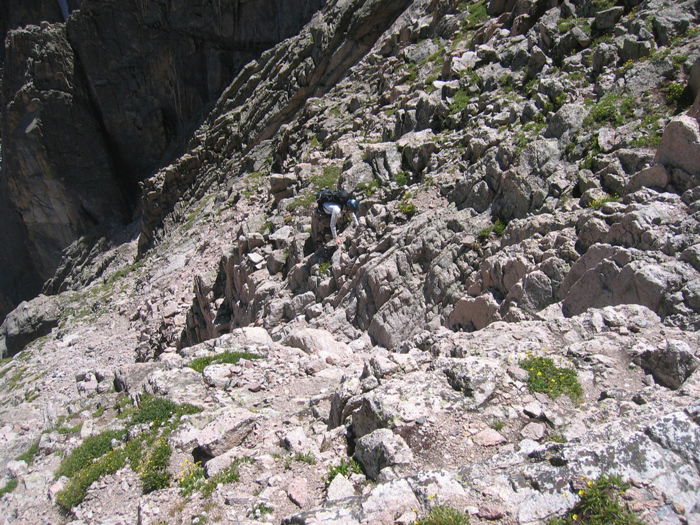 James scrambling upper Kieners.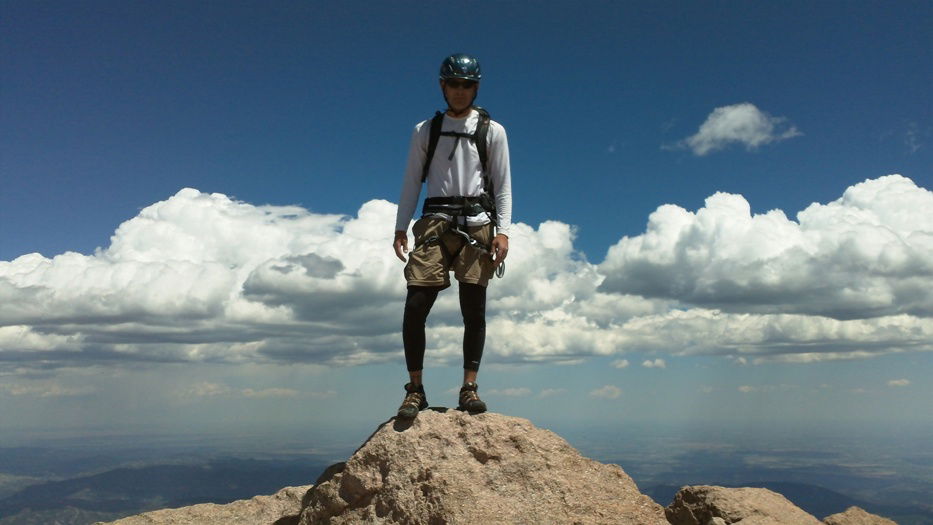 Summit Photo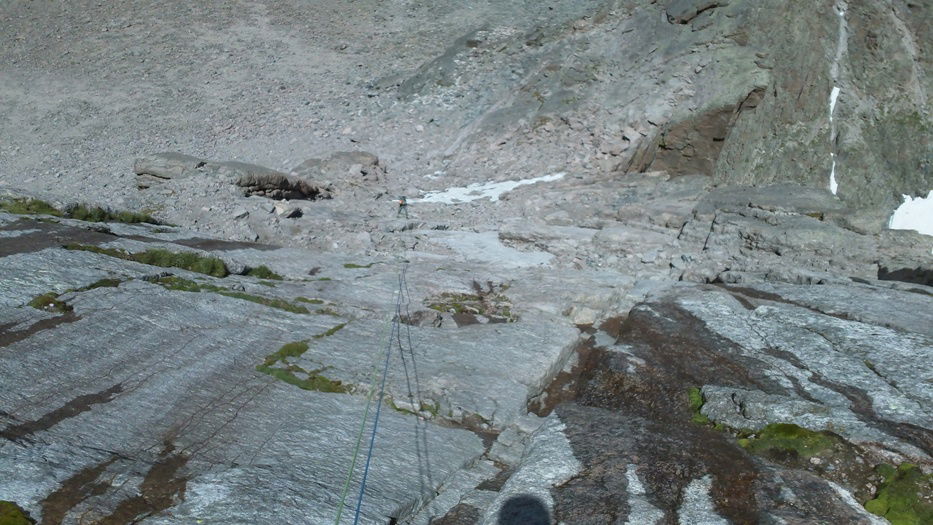 Jeff rappelling the north face.