Statistics
Date - 03/14/2010
Elevation - 10,900'
Route - Second Gully
Miles - 2.0
Elevation Gain - 1,000'
ACME Mapper - Link
CalTopo - Link
Description
After an unsuccessful climb in the First Gully the day before, we moved over to Second Gully. Our information from the previous day indicated that the Second Gully was fat, and in fact we saw a team of climbers rapping the route as we checked it out. Unfortunately, the weather wasn't as cooperative as Saturday but we still managed to top out and get some fun climbing in. I lead the first pitch, and it took me a bit to get my climbing feet underneath me. I reached a set of bolts after a rope stretching pitch of ice and snow. The bolts are directly in the middle of the flow and would generally get covered if climbers weren't regularly on the route keeping them visible.
Jeff lead the second rolling pitch which I thought was more ice than snow. This was another fun, full, rope stretching pitch. Jeff anchored to an existing V-thread and two ice screws. Just after starting up the third pitch, I noticed the second set of bolts at the top of pitch two. This set of chains was placed well, high on the side of the route where ice doesn't form. However, they are too far from the first set of bolts to be used as an anchor unless you simul-climb some or have a long rope. Anyway, I lead the third pitch which was fatter than my previous trip up this route. I chose a slightly harder line which definitely kept me on my toes. I placed a screw at the top of the ice and then snow-climbed to a small shrub which I used to bring Jeff up on. I probably should have shortened the pitch and built and ice screw anchor at the top of the ice instead of trying to stretch the rope out again.
After trying to hide the anchor I used from Jeff, I broke trail up a snow pitch to the final ice pitch. After getting a couple screws in, Jeff finished the climb to the top of the Second Gully on a final stepped pitch of ice. We rapped off a shrub at the top of the route that had chord. We down-climbed some snow and then rapped of the shrub I used on the way up leaving a piece of our V-thread chord. From here, we used the upper set of bolts to rap just above the first set of bolts and then used the lower set to get us to the bottom.
Photos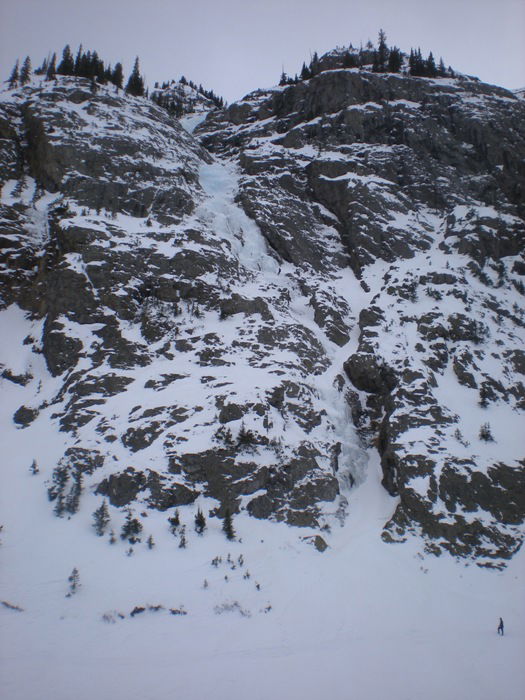 Second Gully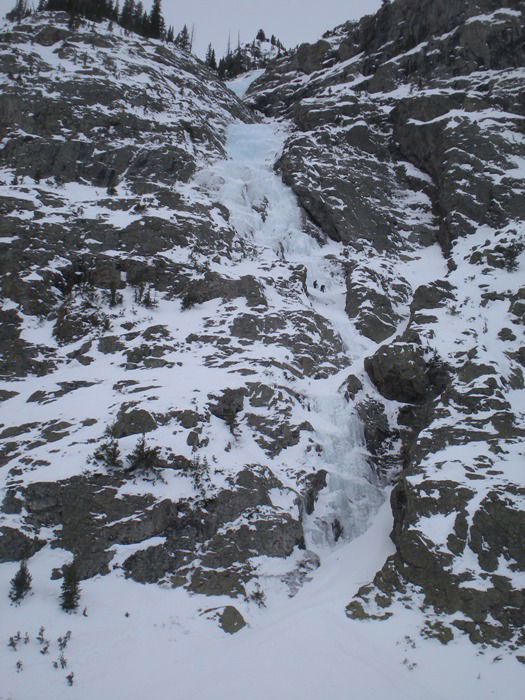 Second Gully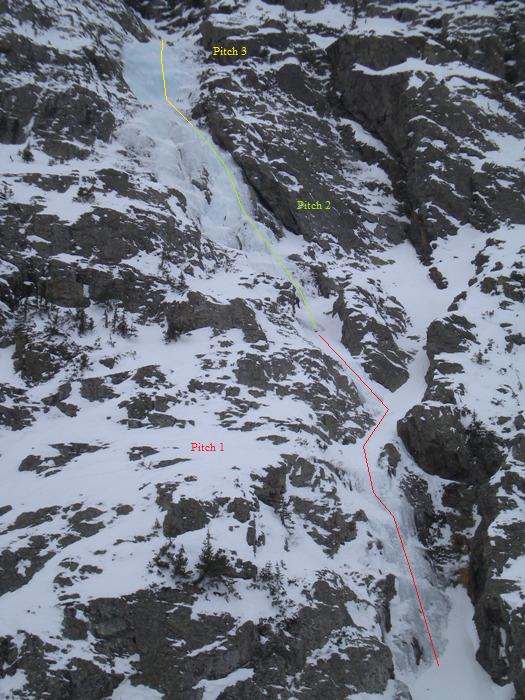 Pitches 1/2/3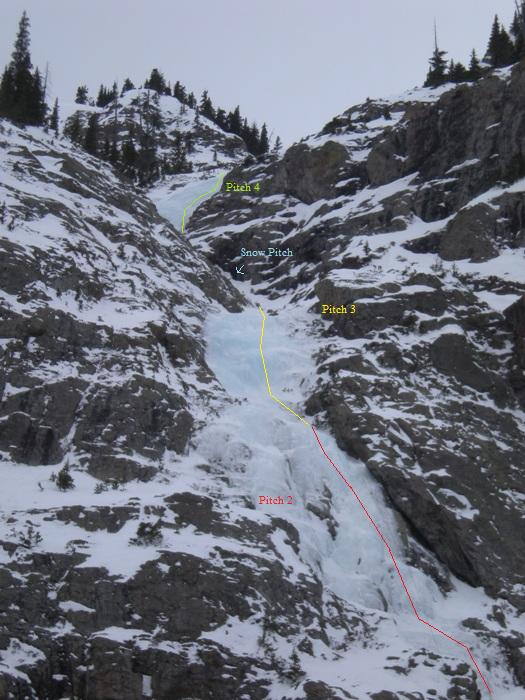 Pitches 2/3/4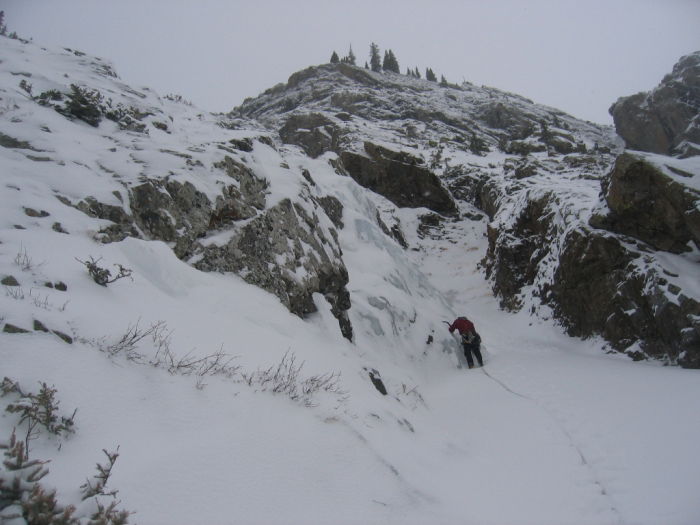 James starting up pitch 1.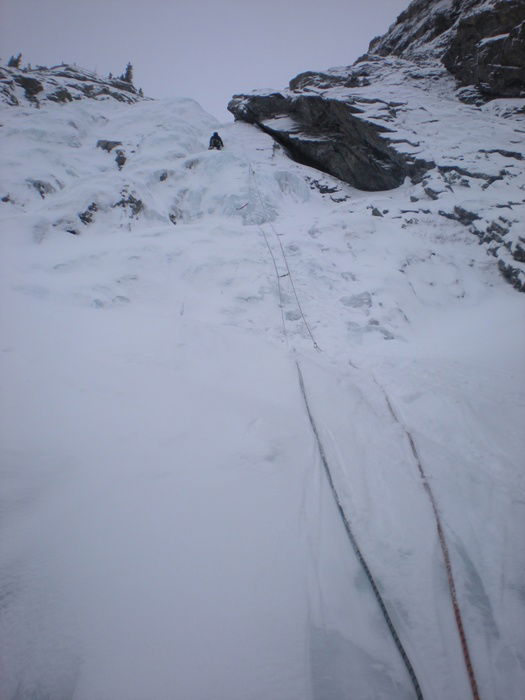 Jeff leading pitch 2.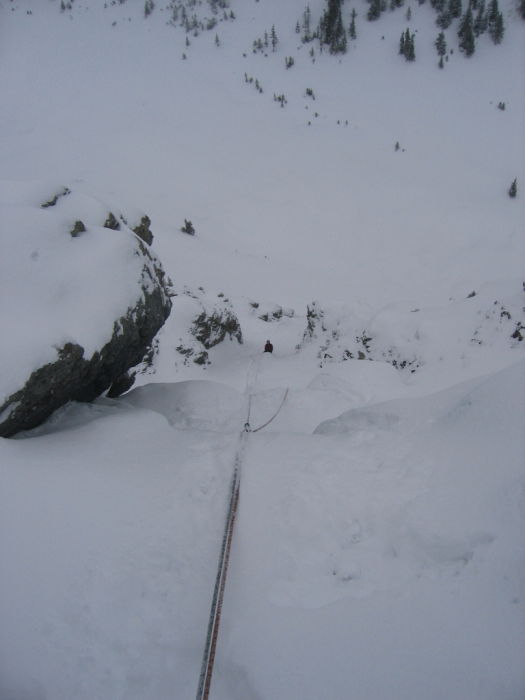 James following pitch 2.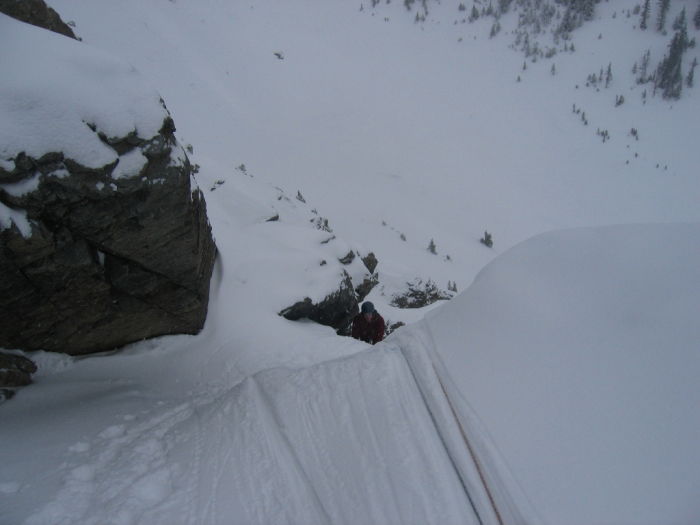 James following pitch 2.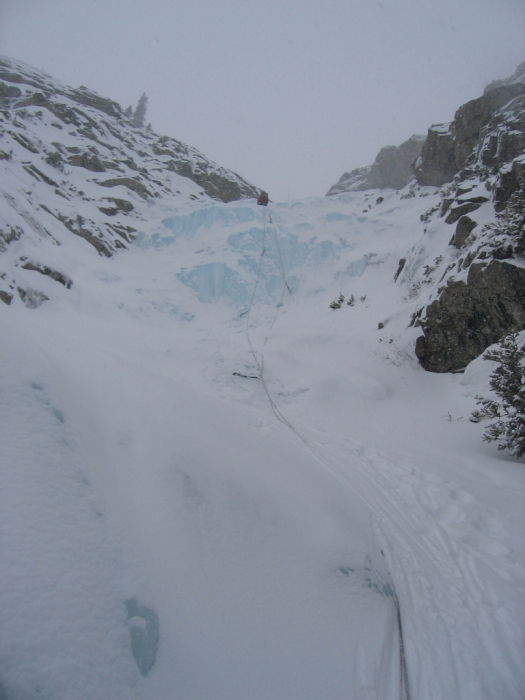 James leading pitch 3.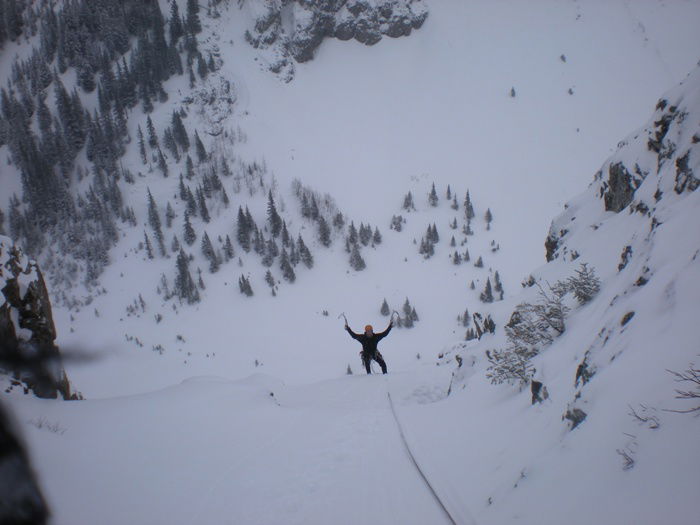 Jeff following pitch 3.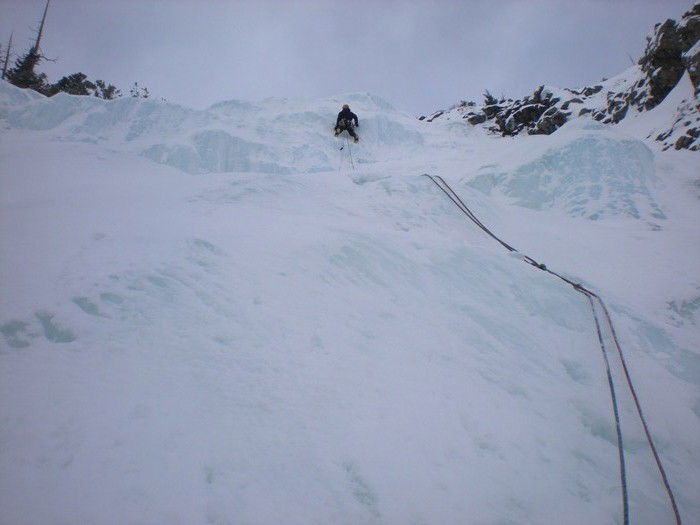 Jeff leading pitch 4.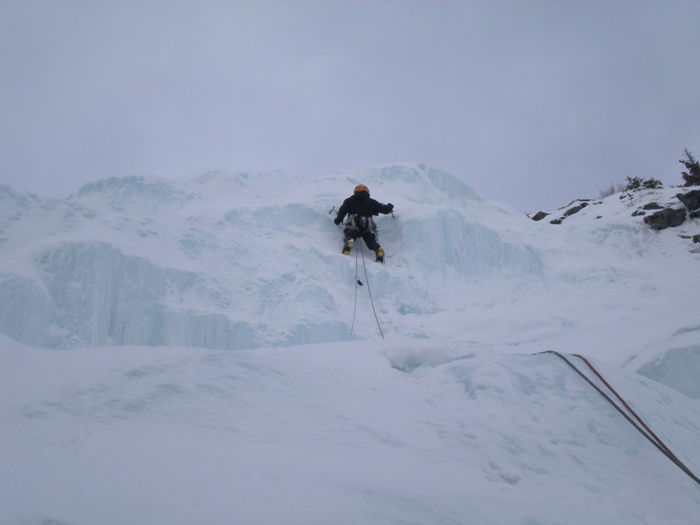 Jeff leading pitch 4.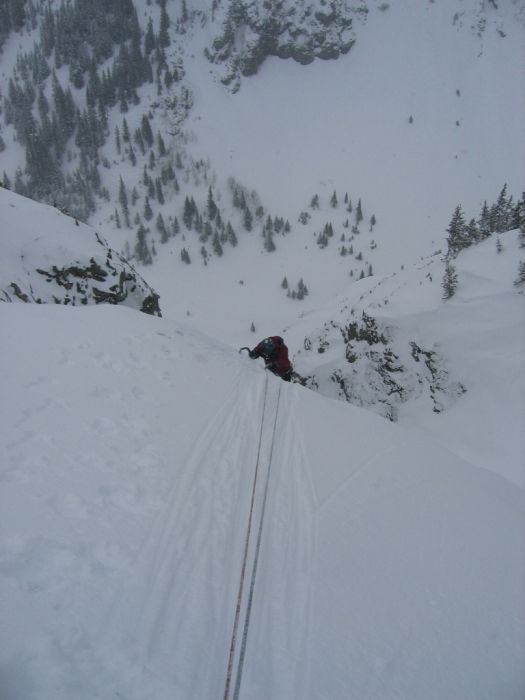 James following pitch 4.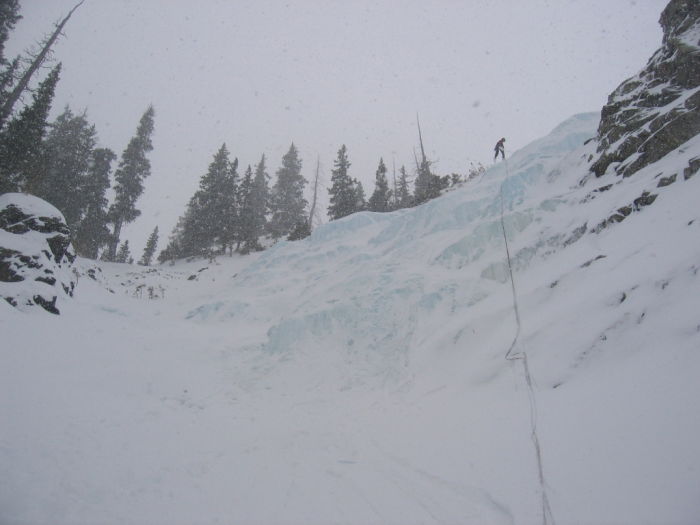 Rappelling pitch 4.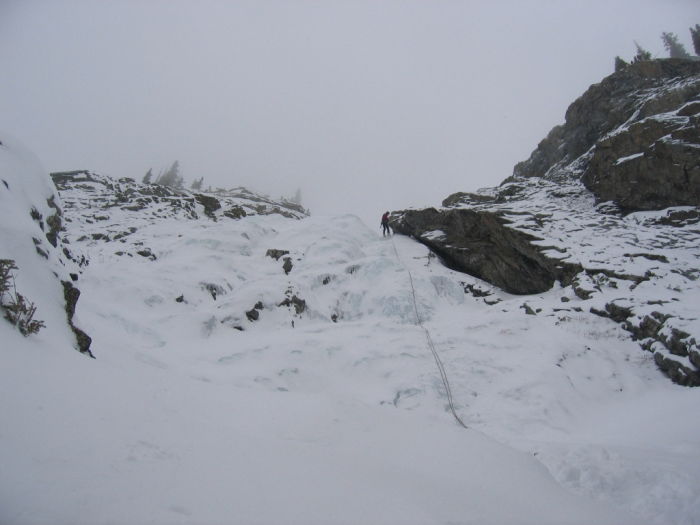 Rappelling pitch 2.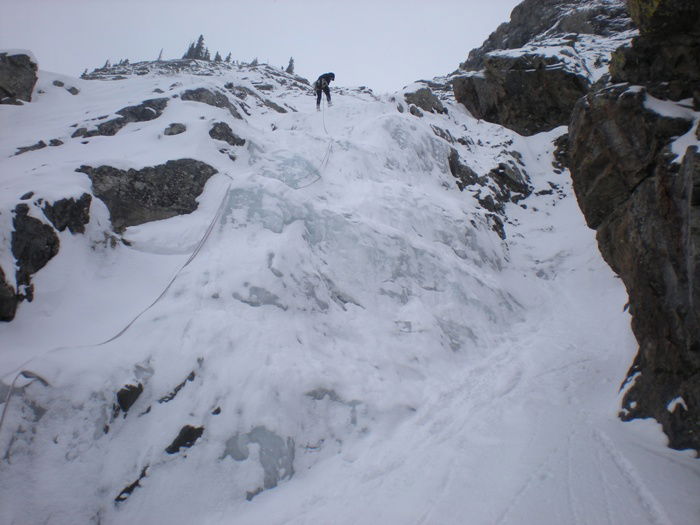 Rappelling pitch 1.