Statistics
Date - 04/26/2010
Elevation - 14,265'
Route - East Slopes
Miles - 5.4
Elevation Gain - 3,370'
ACME Mapper - Link
CalTopo - Link
Description
Dan wrote this trip report.
I was headed to Denver, Colorado, for a three day conference. I needed to be in town on Monday night. So the peak bagger in me thought I should fly in early on Monday to climb a peak. As plans firmed, I contacted my old hiking friend, James Just. James was in within minutes of hearing the voice mail I left him. Part of the plans included good weather in the Colorado mountains. The chance of snow on Monday varied between 10 to 40 percent, but no with no big storms predicted. The plan was on.
When I called James, I was thinking Quandary Peak near Breckenridge, Colorado. That was the same peak James picked as well. The only thing I hadn't thought of is how hard would it be to go from 2,600' in Boise, Idaho, to 14,265'. Later I would find out it's not that easy.
Quandary Peak is the highpoint of the Tenmile Range. It is a very popular peak due to its proximity to Denver, Colorado, winter access, and 14er status. Climbing it in the winter makes it tougher, but certainly doable with only 3,500' of gain and a decent trail.
So on Monday morning, I left Boise, Idaho, at 7:00. I arrived in Denver, Colorado, at 8:49. After picking up bags and my rental, I was on the road at 9:30 and meeting James at a park-n-ride at 10:00. We seemed to be on pace to get to the trailhead at noon. We actually arrived much earlier, but it took me a while to get into my climbing clothes and get a pack ready. At 11:45, we left the trailhead in partly cloudy skies and warm temps. Although we could tell that it was full-on winter up high.
After a quarter mile hike, we reached the summer trailhead. This trail was nice, as it weaved through snow-covered trees. We were without snowshoes and having a good time in the windless forest. After one hour and a 1,000' of gain, we stopped near the tree line and took a break. We had done a bit of post-holing just before this section and I was starting to feel a bit winded. But I still figured I could make it.
The next section was steep, but took us from mixed trees and deep snow to a wind-blown, rocky ridge with patchy snow. When we reached the east ridge proper, the wind was blowing, but it wasn't miserable. We plowed up the next 900', reaching a saddle at around 13,000'. Here the wind was roaring, the snow drifting, and clouds creating low visibility. We took a long break, both donning our down jackets and hydrating for the summit push. We incorrectly thought we were only 500' from the summit.
From the saddle, we basically had 100' pushes through powdery snow between wind-exposed rock piles. As I climbed, my pace slowed dramatically. I just couldn't catch my breath. I probably should have turned back, but the weather was not a threat and James seemed accepting of me getting to the top no matter how long it took. So I plugged on until I reached the final summit ridge. Here the wind was knocking me around pretty badly. With only 100' to go, I had to push harder so we could get out of there.
At the top, James snapped a photo of me and warned me that my face was colorless on the right side. I checked out the summit area briefly, noticed the rugged west ridge, then turned and got out of there.
A few hundred feet down and out of the ferocious summit wind, James had noticed my face had already started turning red again. I then warned him that his face was showing some frostbite signs too. We continued down, planning to stop at 13,000', but not stopping until almost 12,000' behind a tree. After that break and a miserable section of post-holing, we were back on solid trail and making good time, all while enjoying the lack of wind and thicker air down low.
The day was topped off with a large burger in Dillon, Colorado. Big thanks to James for being patient with me. It was also fun to catch up with him again after several years. Three days after hiking the peak, I am now showing a large patch of dead skin on my right cheek. James also has some signs of frost nip too, with an area of blistering skin on his nose.
Photos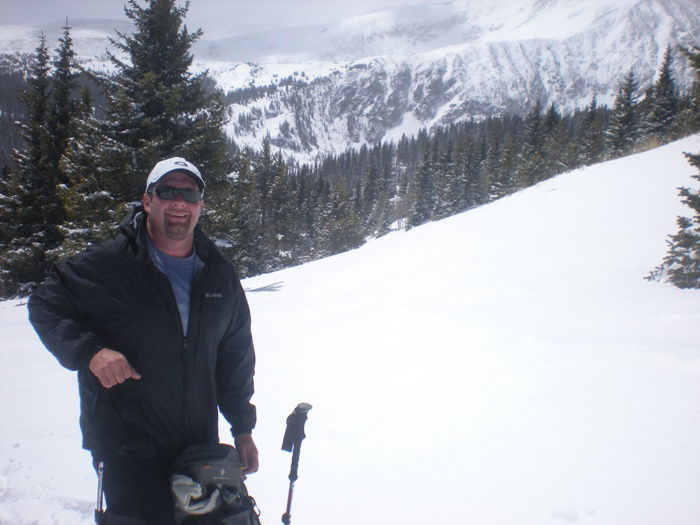 Approach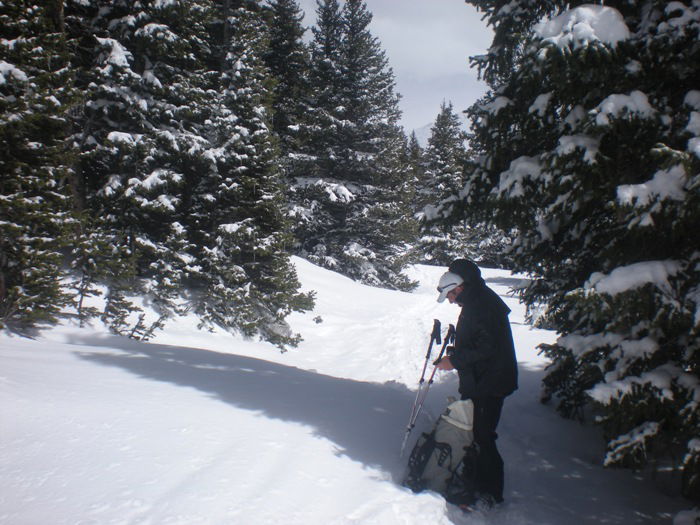 Approach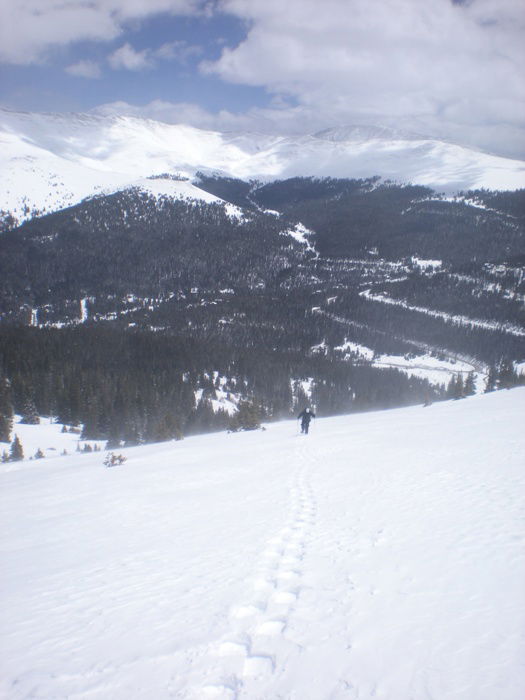 Above Treeline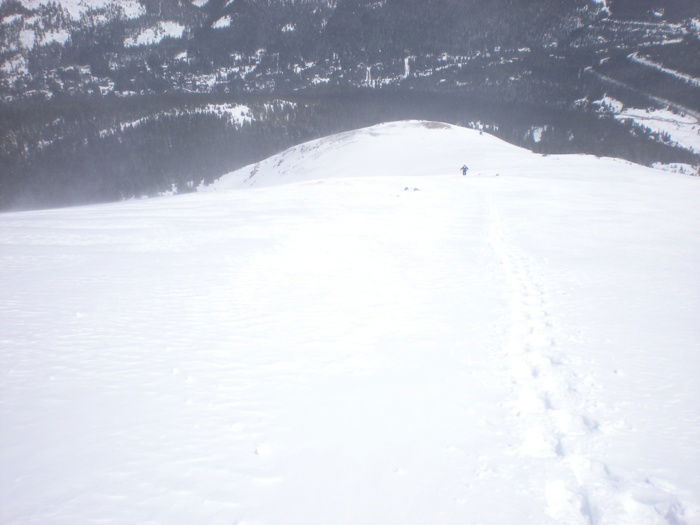 East Ridge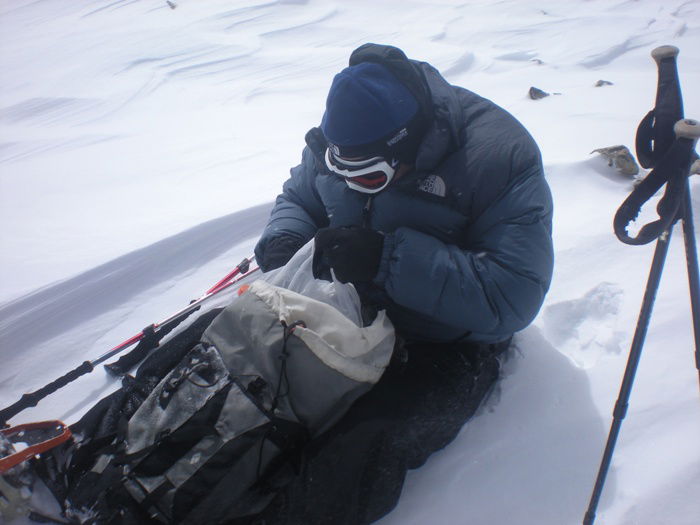 Breaktime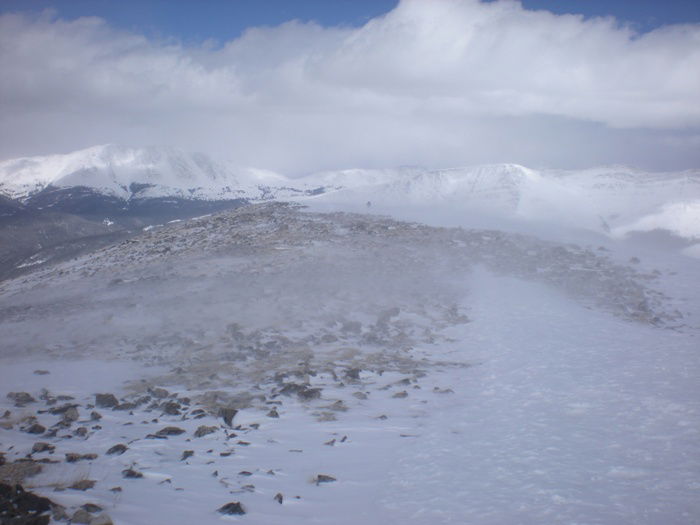 Windswept Ridge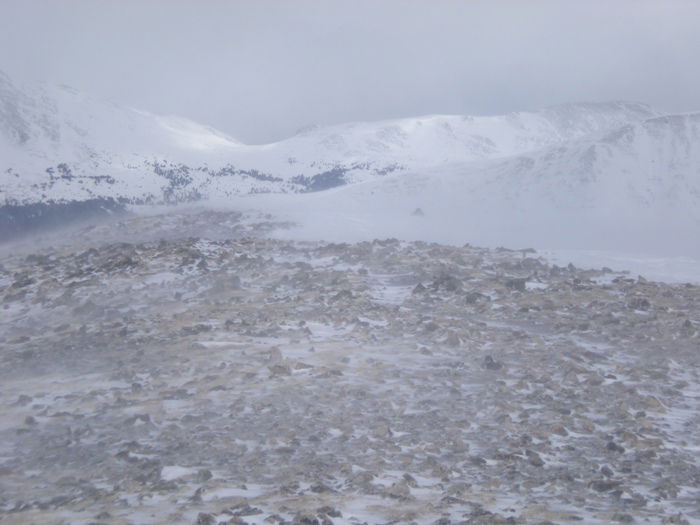 Poor Weather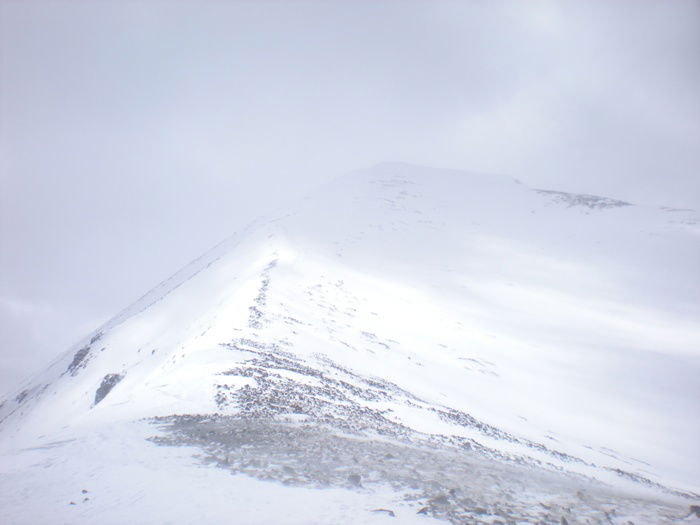 Quandary Peak East Ridge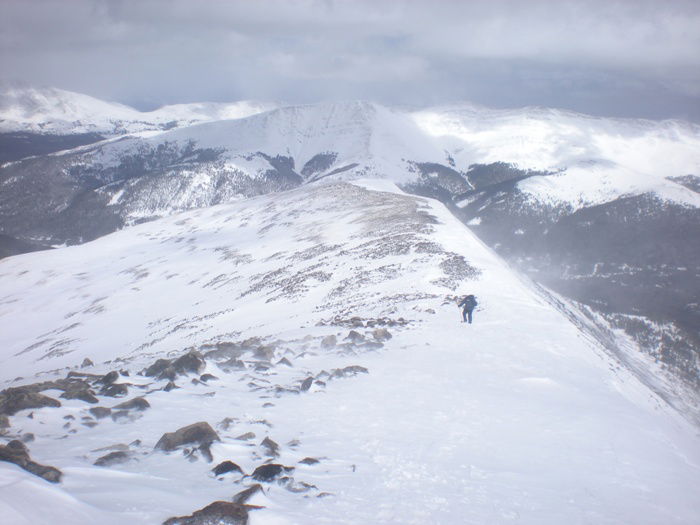 Dan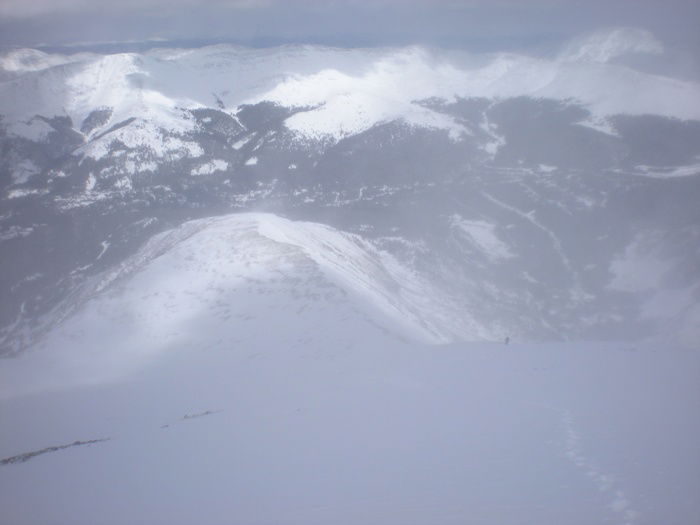 Dan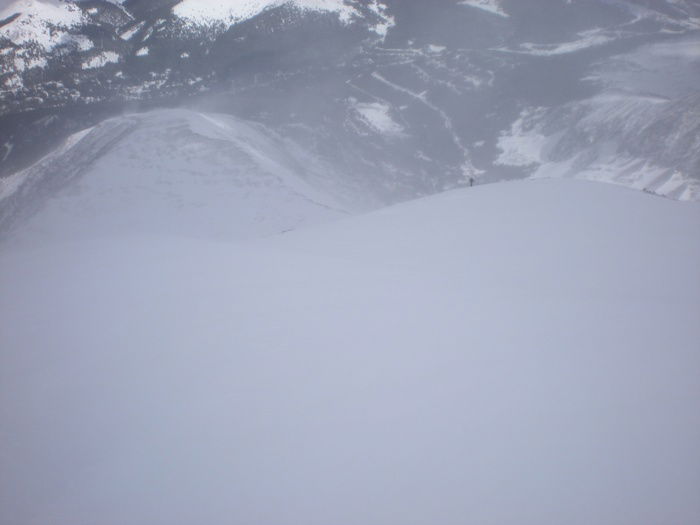 Dan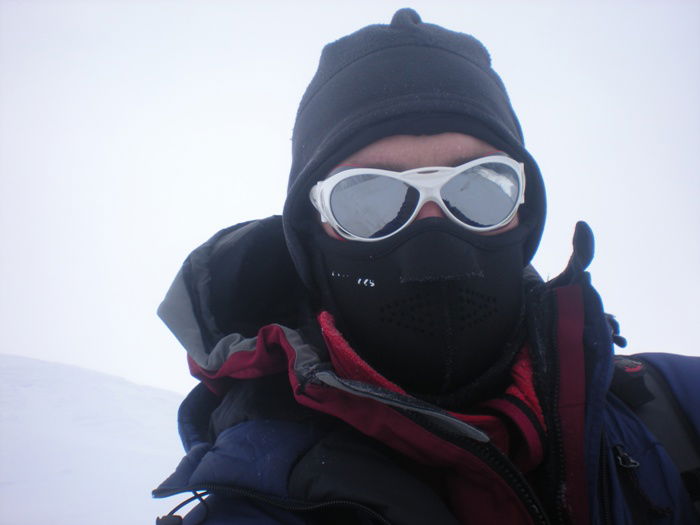 Summit Photo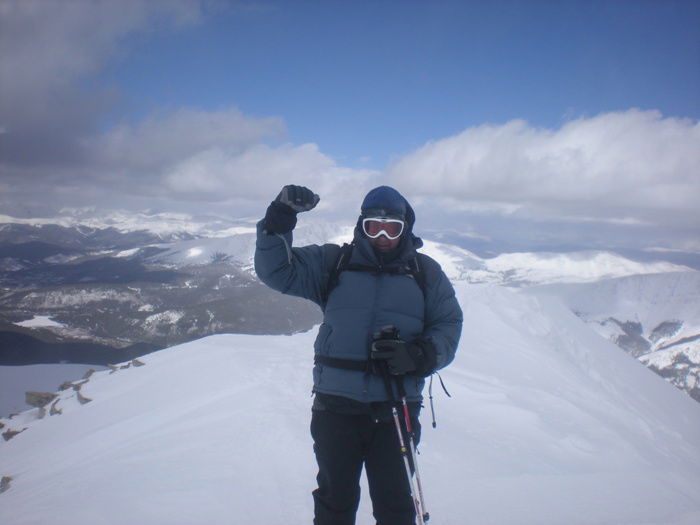 Dan on the summit of Quandary Peak.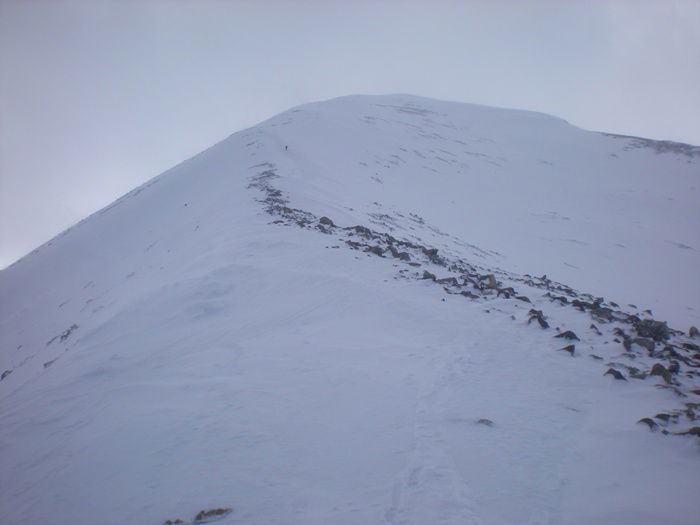 Descent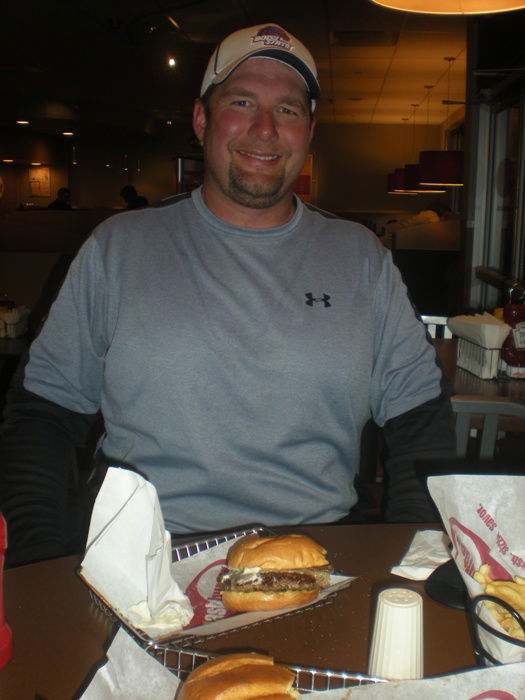 Burger