Statistics
Date - 07/15/2009
Elevation - 12,575'
Route - North Ridge
Miles - 6.0
Elevation Gain - 3,375'
ACME Mapper - Link
CalTopo - Link
Description
I've always considered myself a mountaineer or alpinist rather than a rock or ice climber. I guess to me a mountaineer is a jack of all trades, master of none type of climber. I can lead some easy to moderate rock and ice, but I'll never lead sustained WI4 or any 5.10. Fortunately, I've easily reconciled that with myself which wasn't difficult considering I have a family, full time job, I like to ride bike, and drink beer. I also prefer to be at elevation in the mountains in an alpine setting rather than cragging. I favor snow and ice climbing over rock climbing as opposed to Jeff who is a rock climber. However, since Jeff generally entertains my snow and ice climbing trip requests, I couldn't decline his invitation to attempt some alpine rock climbing and further expand my mountaineering skills.
We left the Glacier Gorge Trailhead around 6:00 with 55 pound packs on our backs. The backpack to Mills Lake and Black Lake went quickly and soon we were looking at a waterfall coming down West Gully, the last ice route we climbed of the season on March 21, 2009. We finished our hike to the base of Spearhead in 3 hours and 50 minutes. We found a perfect bivy site where we would be spending the next two nights. Jeff and I quickly dug out our climbing gear, had a quick bite to eat, and headed for the north ridge of Spearhead. We ended up climbing the route in six pitches over three hours with a few minutes on the actual summit and an hour of descending.
Jeff lead pitch 1 which for us was a slabby scramble to a tight right angling chimney. I lead the second relatively fun pitch up a vertical chimney, through a lower angled large crack, and then up a right facing dihedral to a flat belay station. Jeff then lead pitch 3 up a large V with a chockstone in it to easier ground above. I started pitch 4 which was simply low angled slab climbing. We opted to stay in the center of the slabs rather than move further left toward the ridge crest. Since I knew Jeff wanted to lead the last crux pitch, and pitch 5 above me looked very similar to the one I just lead, I didn't build and anchor and we simul-climbed pitch 5. I found a comfortable belay station on a piano sized death block below our sixth and final pitch. Jeff finished the climb going right of the detached piano block which could be 5.7.
We scrambled to the actual summit for a photo and then scrambled down the northwest face back to our bivy site at the base of the route. After dropping off our gear, we hiked over to Frozen Lake and soaked our feet while enjoying some sausage, cheese, and crackers. We returned to camp and set up our bivys and had a big bowl of macaroni and cheese. Unfortunately, this was the beginning of a trend of us eating all of Jeff's food on this trip while I packed out about 85 percent of what I took in. Since Jeff lead the hardest pitch of the day, he was rewarded with our only pair of camp booties. After sipping on some Knob Creek, we retired to our sleeping bags for the evening.
Photos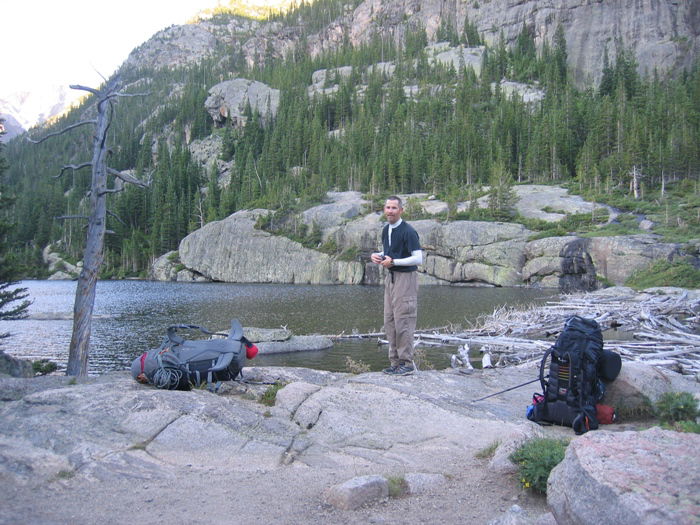 Mills Lake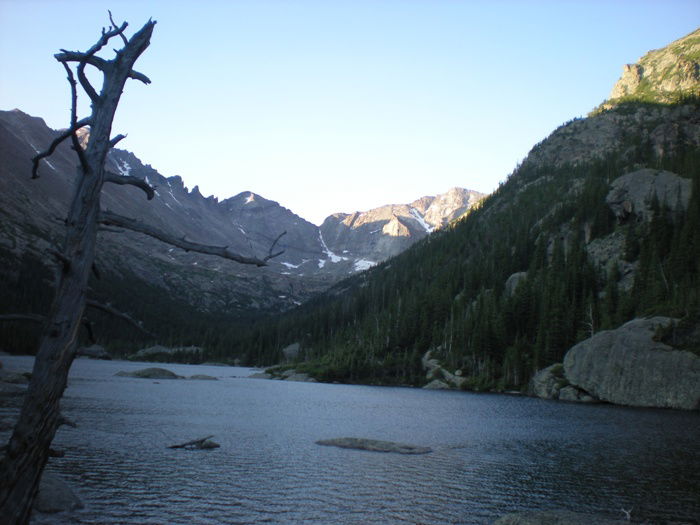 Glacier Gorge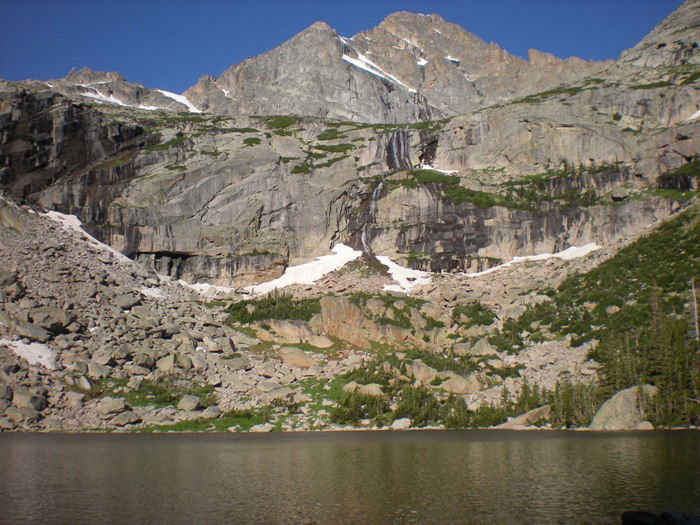 Black Lake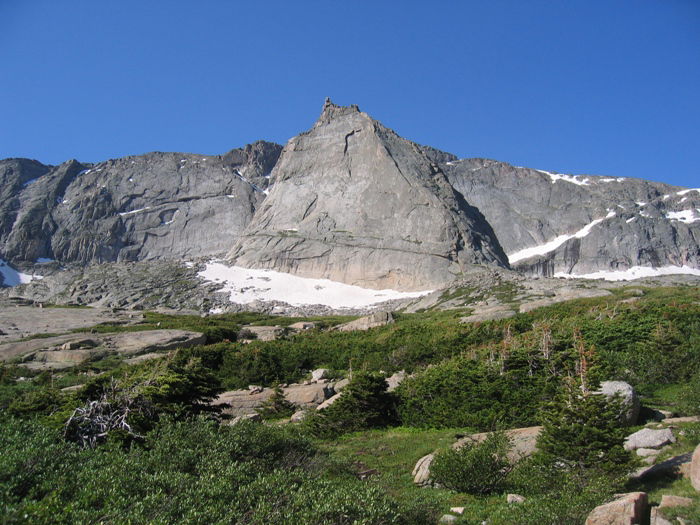 Spearhead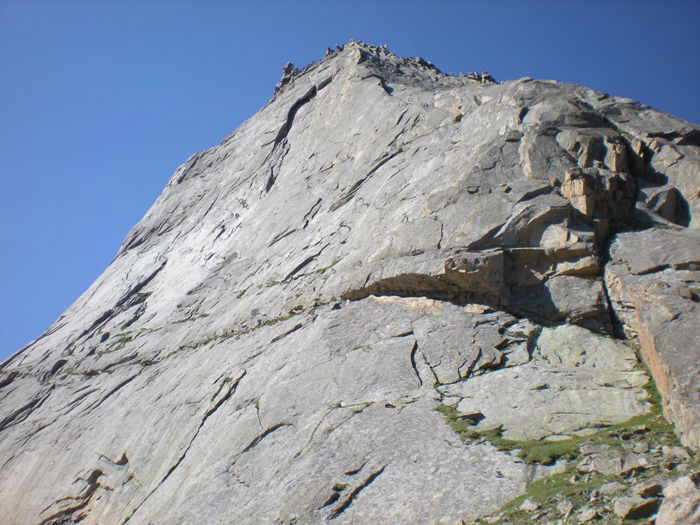 Spearhead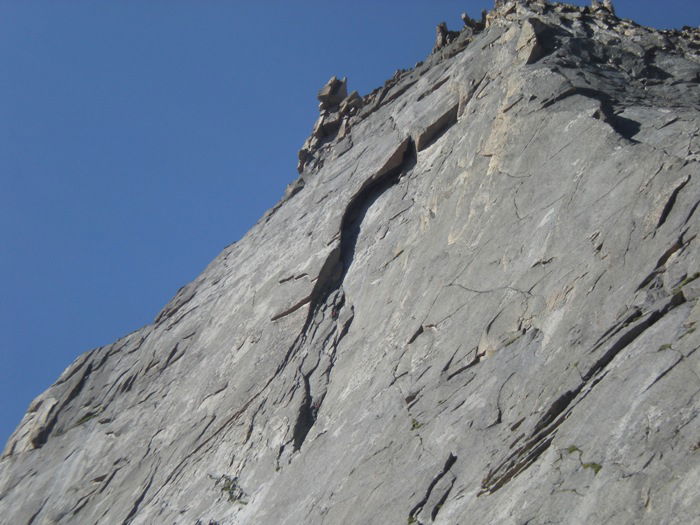 Sykes Sickle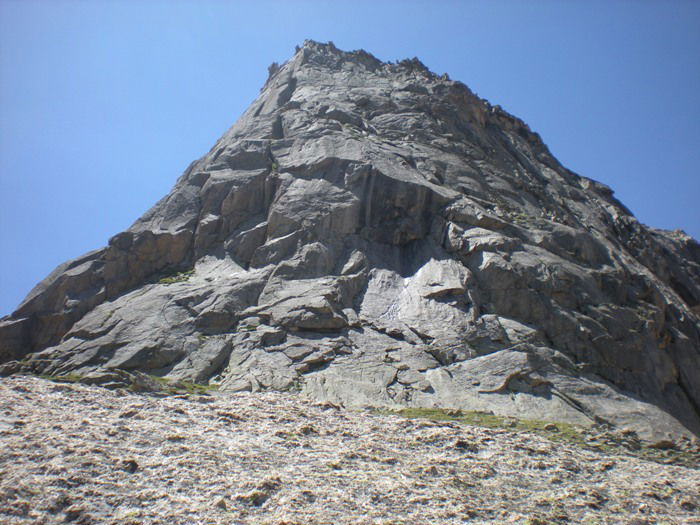 Spearhead North Ridge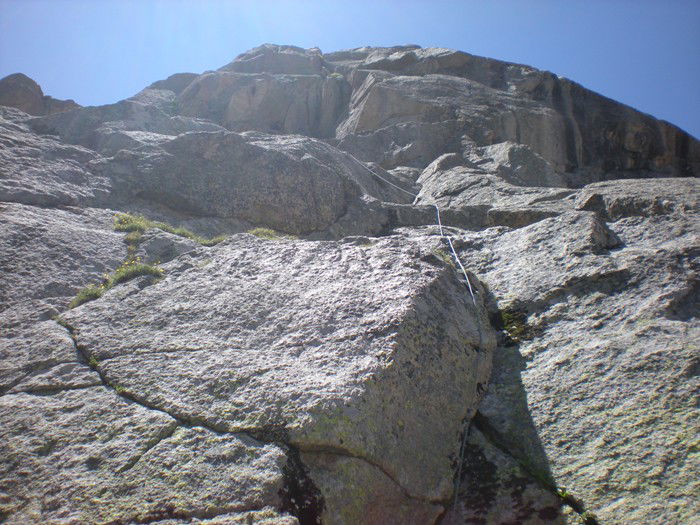 Jeff leading pitch 1.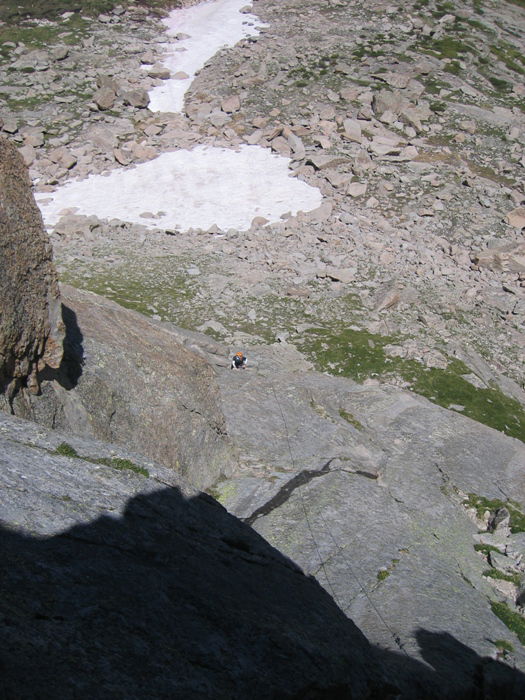 James following pitch 1.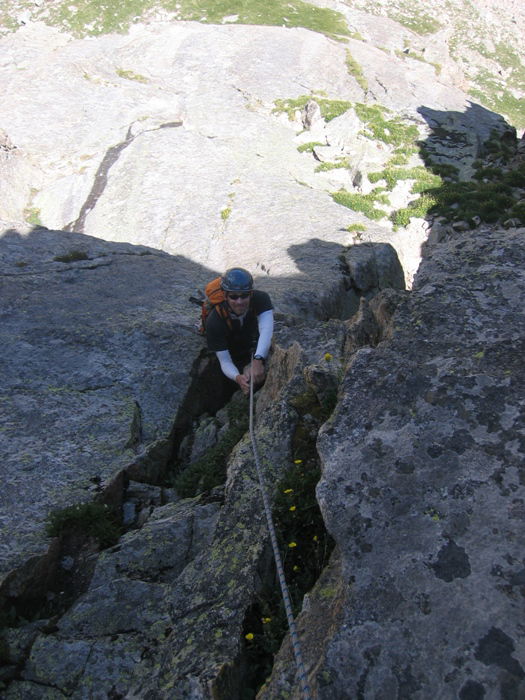 James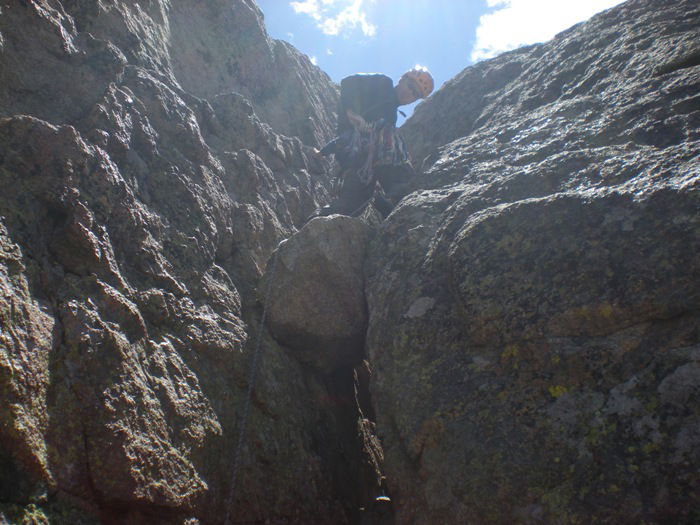 Jeff leading pitch 3.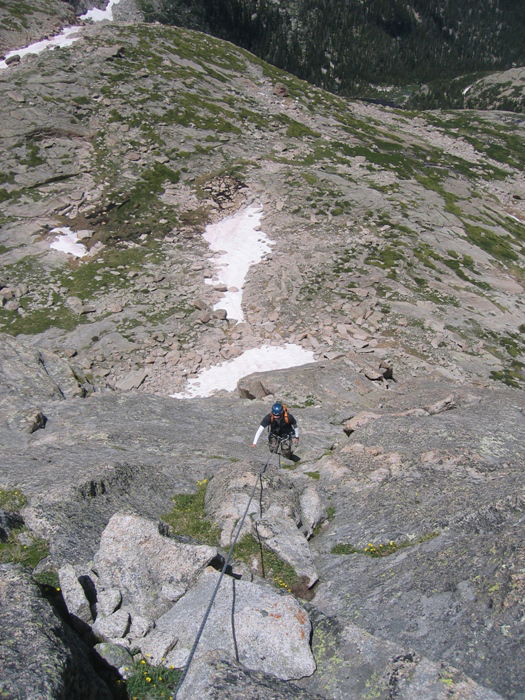 James following pitch 3.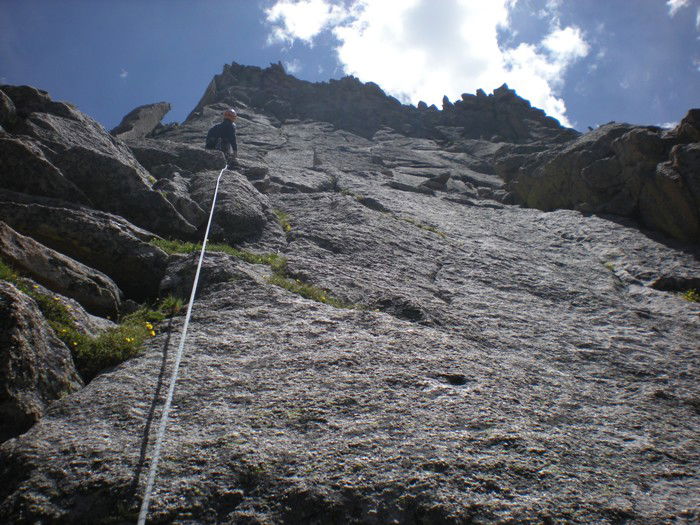 Jeff looking up the north ridge of Spearhead.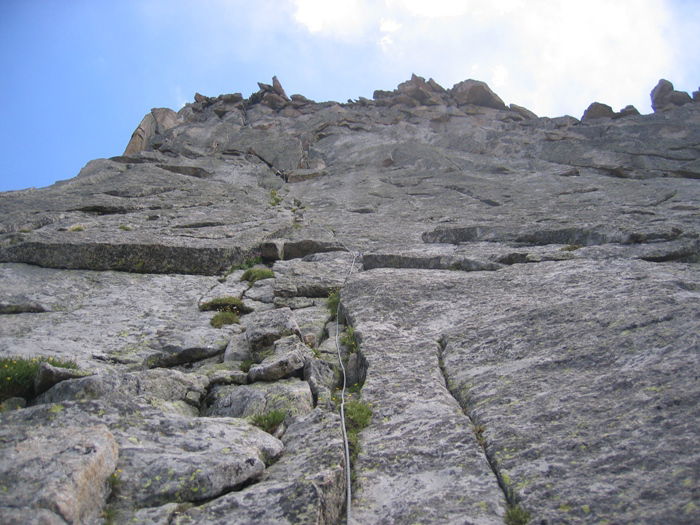 Looking up pitch 5.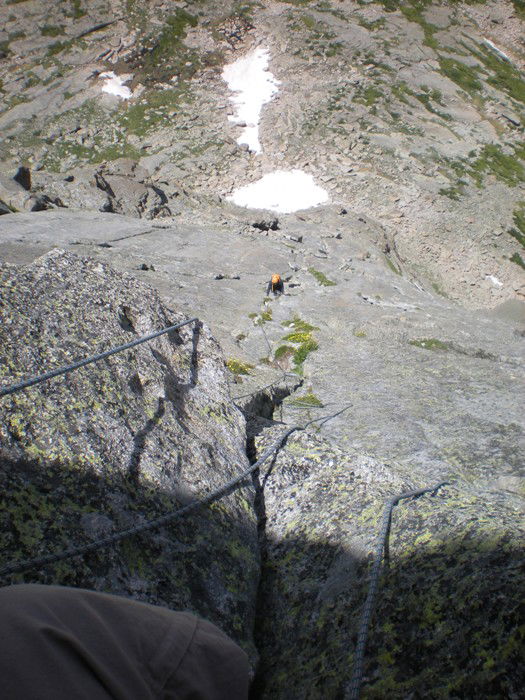 Looking down pitch 5.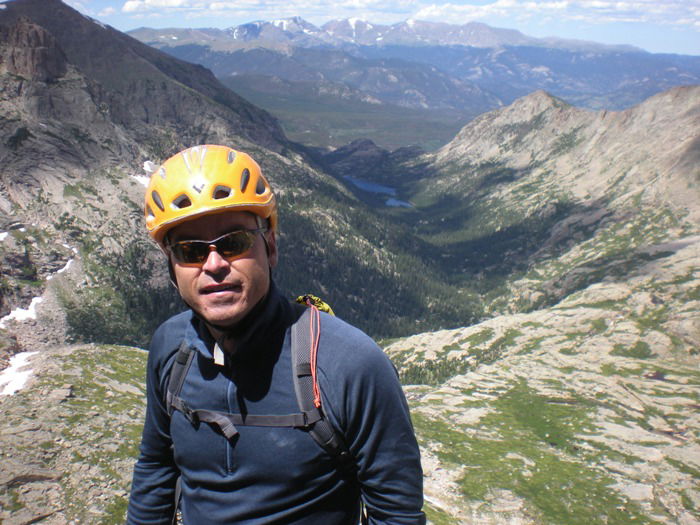 Jeff and Glacier Gorge.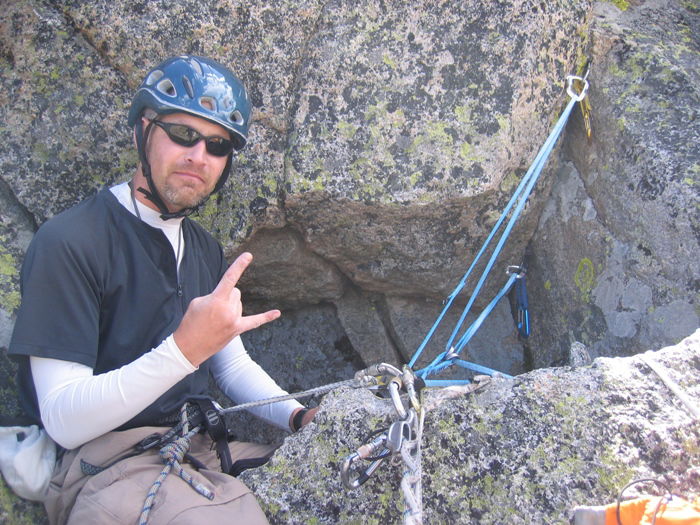 Anchor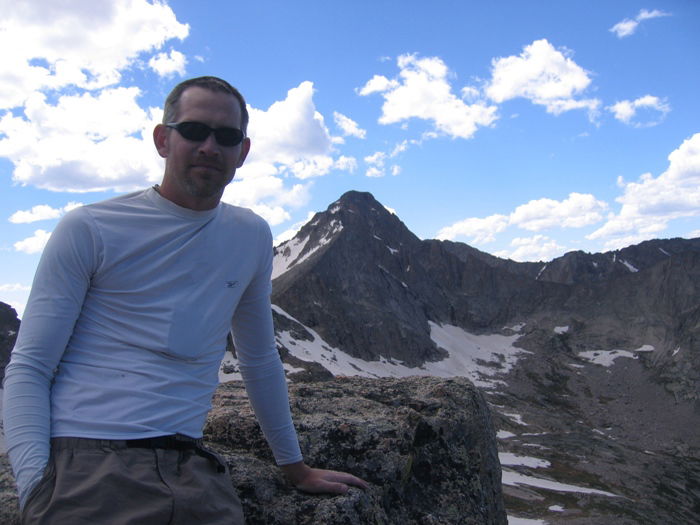 Summit Photo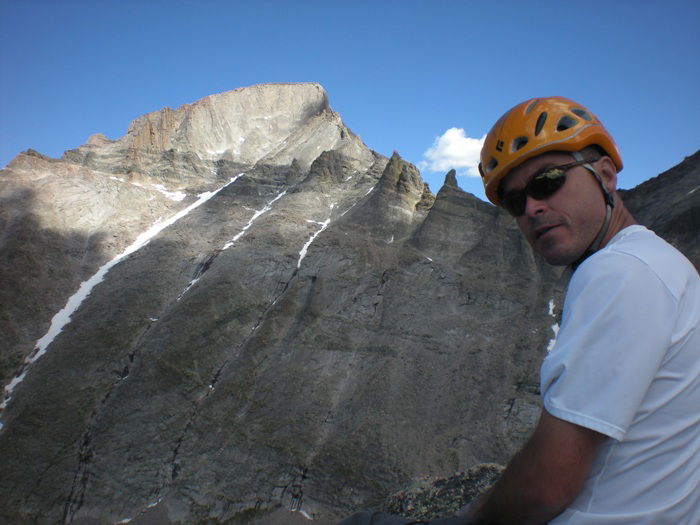 Longs Peak and Jeff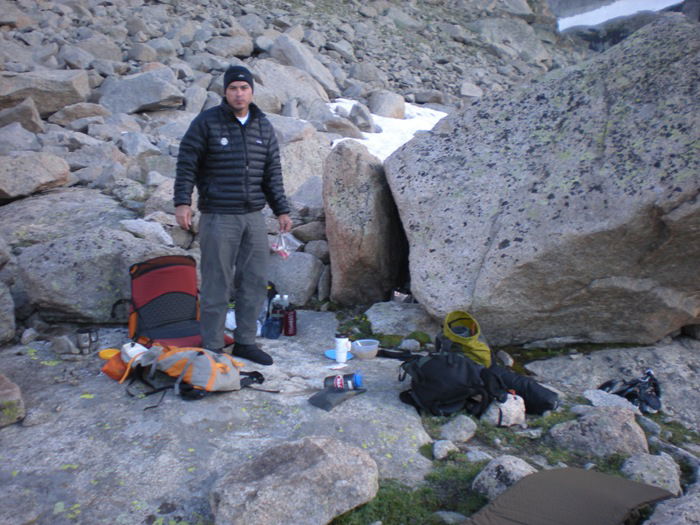 Base Camp
Base Camp