Statistics
Date - 01/17/2009
Elevation - 10,900'
Route - Second Gully
Miles - 2.0
Elevation Gain - 1,000'
ACME Mapper - Link
CalTopo - Link
Description
After a short stint in the ice park Friday afternoon, we were ready to head back into the backcountry. Two years ago, Brian and I made an attempt at the First Gully across from Stairway to Heaven. We got off route because of snow conditions, and the weather was much colder. We climbed a few pitches and then bailed after running out of ice. This year we decided to climb the Second Gully.
The four of us arrived at the trailhead shortly before 9:00 to zero degree temperatures. The hike to the base of the Second Gully went quickly and warmed us up nicely. We started out climbing as two separate teams of two. Brian and I simultaneously led the first pitch and then brought Kevin and Matt up. Brian led the second pitch, and Matt started leading the second pitch. Kevin followed Brian, but Matt was having an off day and anchored in half way up the pitch. He brought me up and then I finished leading the second pitch behind Kevin. As I belayed Matt up the second half of the second pitch, Kevin started out leading the third pitch. As Kevin ran into snow, he and Brian simul-climbed for a while until Kevin found some ice to set up an anchor. Since Matt wasn't feeling well, he decided not to continue on.
As a result, I led the third pitch until I ran out of rope and was on safe ground then I had Matt take me off belay. I snow-climbed up to Kevin and Brian dragging the second rope behind me. I thought we could complete the climb as a team of three while Matt waited for us below. I gave Brian the other end of my rope, and he led the fourth pitch and brought Kevin and I up on a tree anchor. We rappelled off a tree with no incident. I then started digging through the snow near some bushes to try to find our next rappel anchor. We could have walked off had Matt finished the third pitch, but we had to get back down to him for all of us to rap out together. I found a solid tree to rappel down, but I wasn't sure if it would get us down to Matt. I went first and sure enough, it didn't. Fortunately, I looked to my right with about 20' feet of rope left and spotted another rappel station within reach that I could swing over to.
Brian and Kevin rappelled down next to me, although we kept as much weight off the rappel station as possible as it appeared a little suspect. I rappelled the third pitch back down to Matt as I cleaned the gear I had placed on the way up before Matt took me off belay. Kevin and Brian followed and we were all back down with Matt who had started to get cold as we finished the climb above him. There were existing V-threads at the top of pitch one and two that we used to rappel from. We knew the last one was going to be a rope stretcher, but fortunately we were able to reach a snow ramp to the right of the beginning of pitch 1.
We hiked back to the trailhead, drove back to Ouray, Colorado, and then sat in the hot tub again. After cleaning up, we went to the Outlaw for some dinner. Conversation was limited as we were all tired from the day. We had a night cap at the Pub and then retired for the evening.
Photos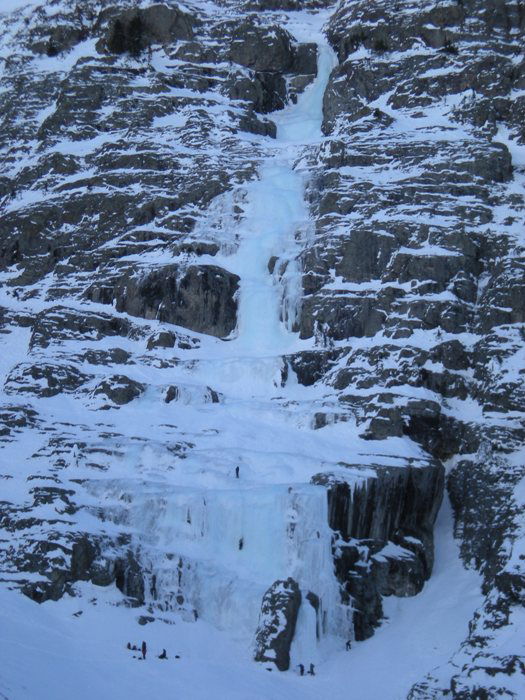 Stairway to Heaven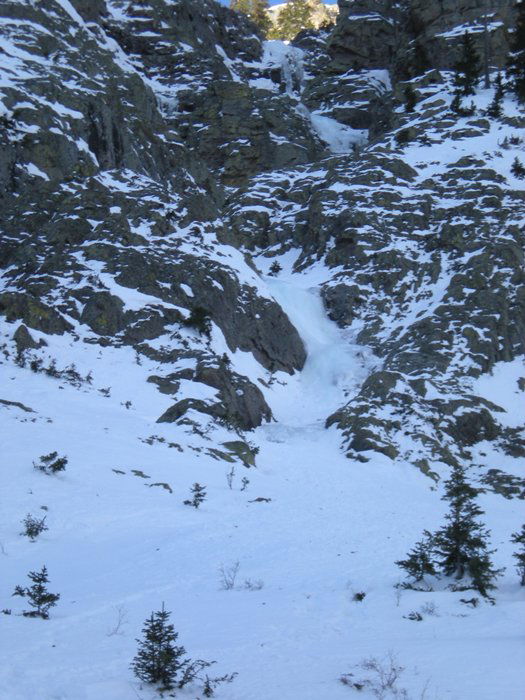 First Gully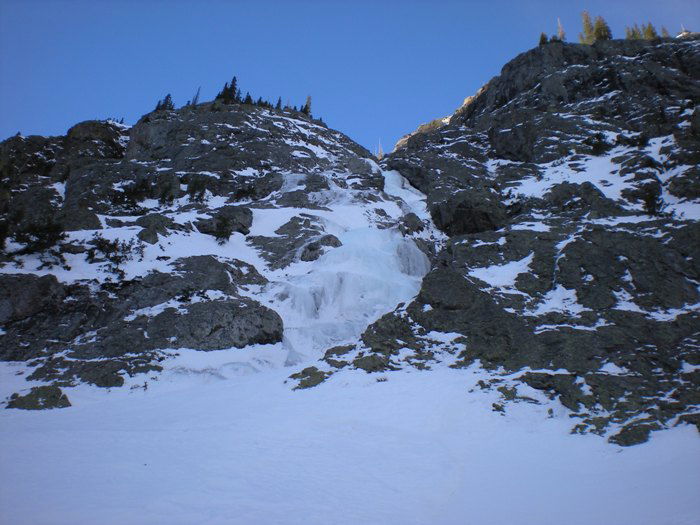 Second Gully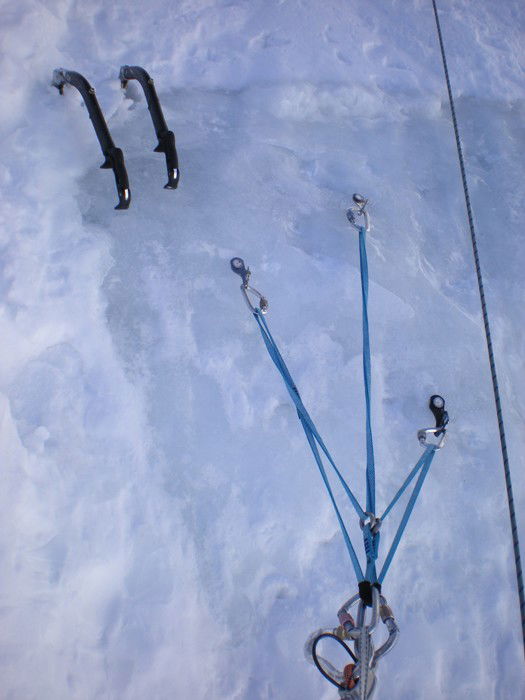 Anchor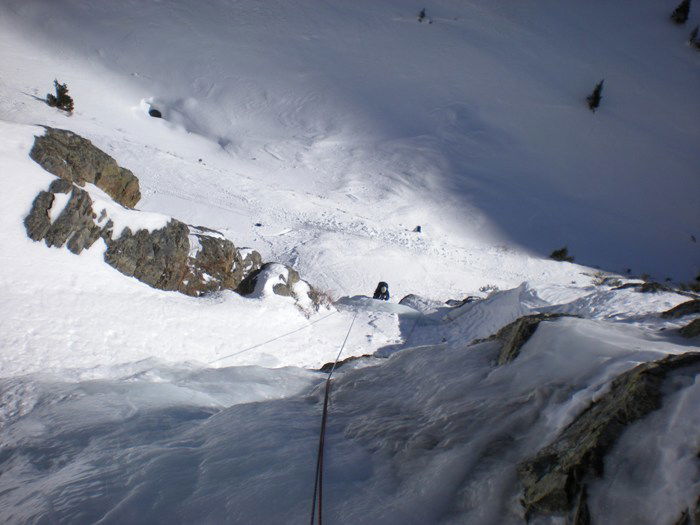 Matt following pitch 1.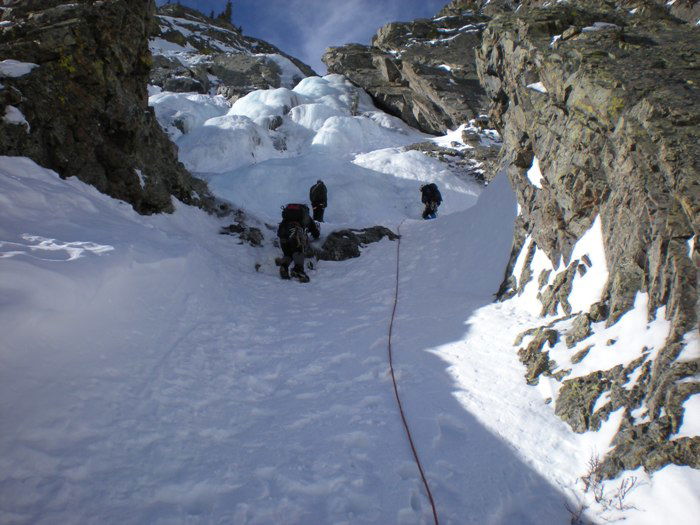 Pitch 2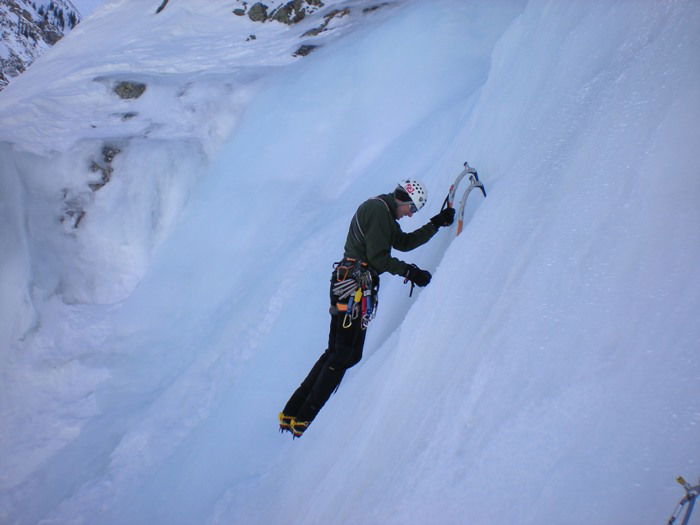 Brian leading pitch 2.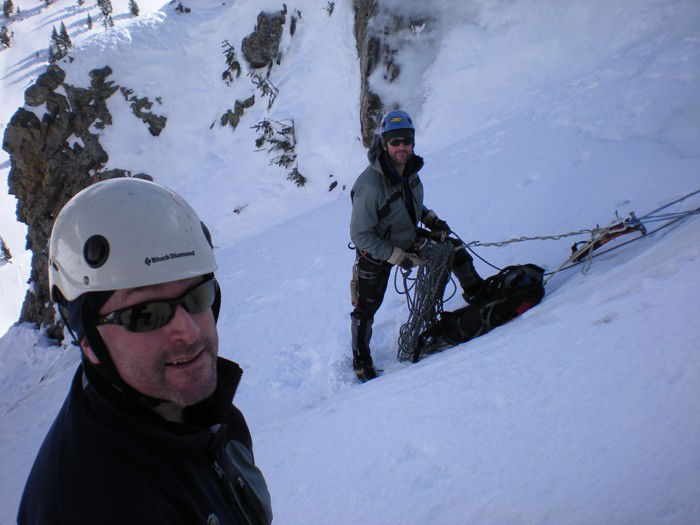 Matt and Kevin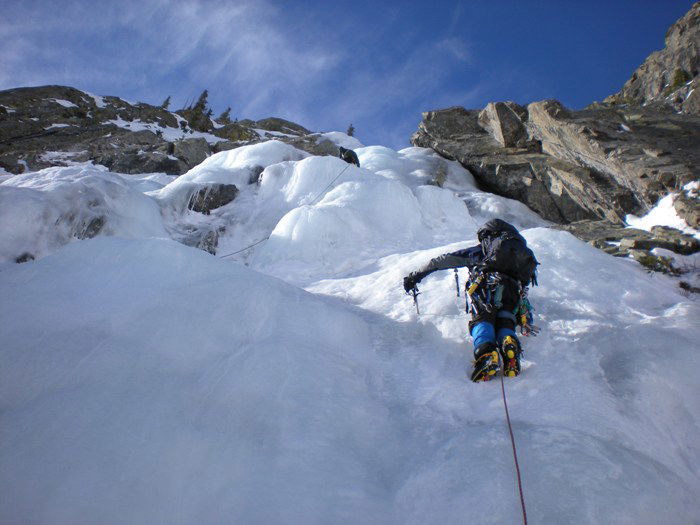 Brian and Matt leading pitch 2.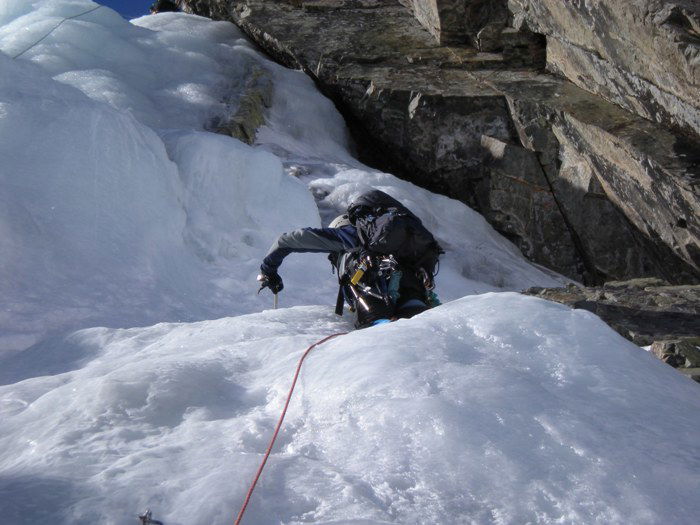 Matt leading pitch 2.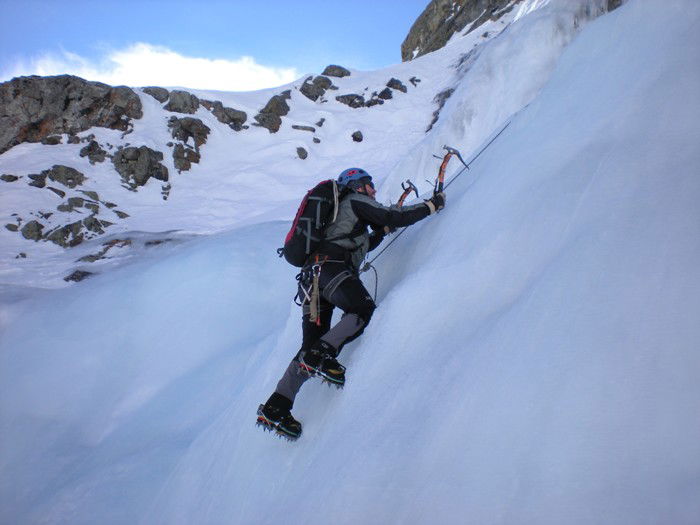 Kevin following pitch 2.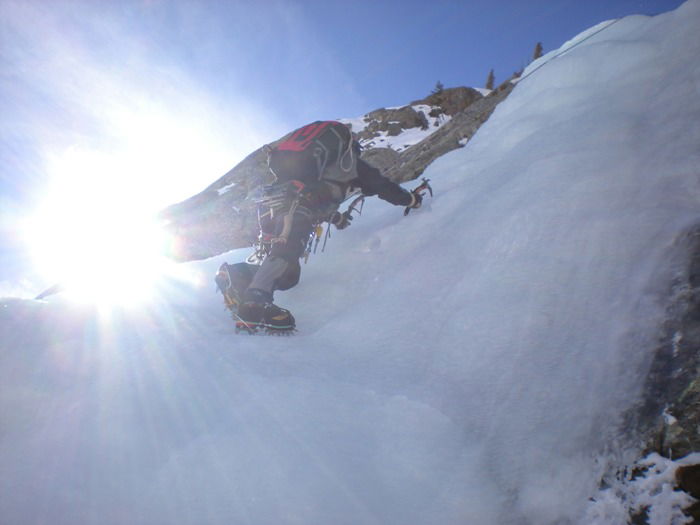 Kevin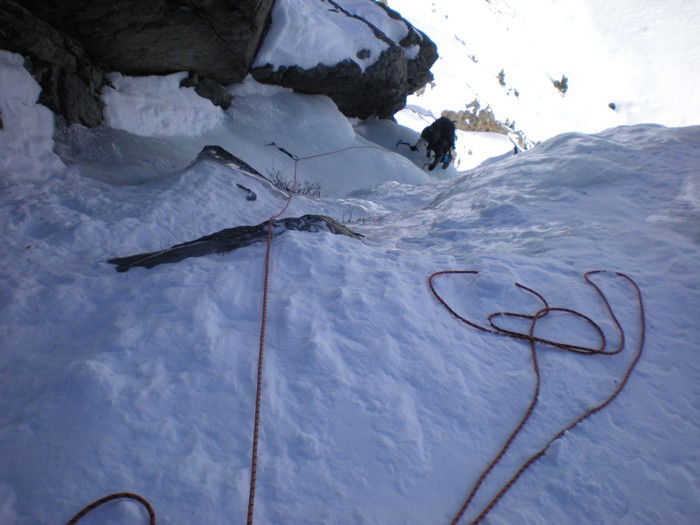 Matt following the second half of pitch 2.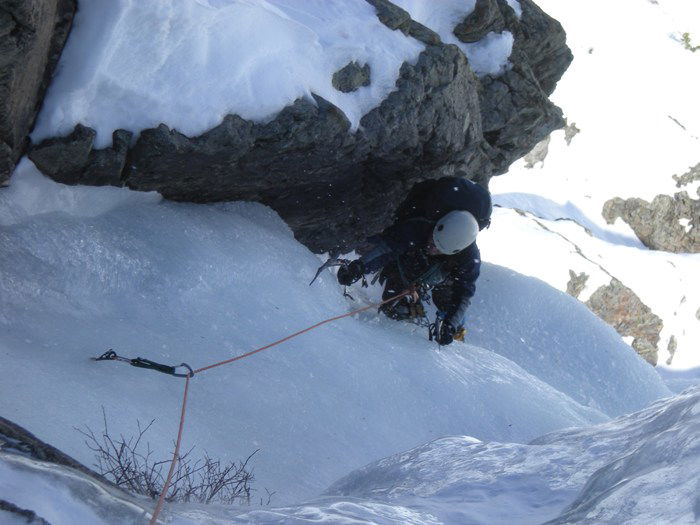 Matt following pitch 2.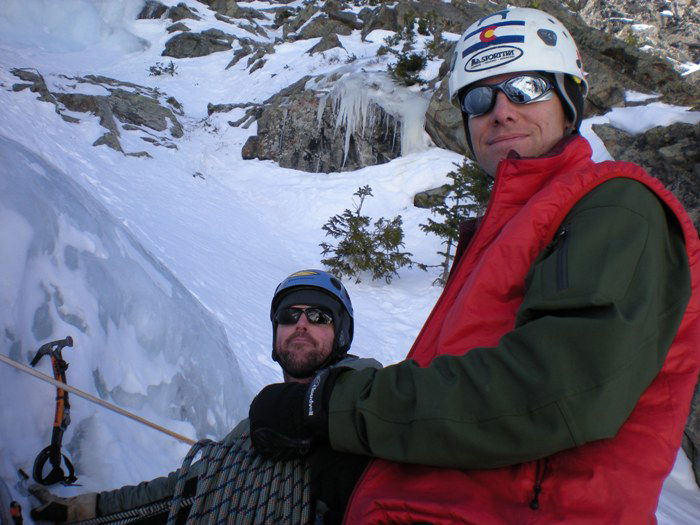 Kevin and Brian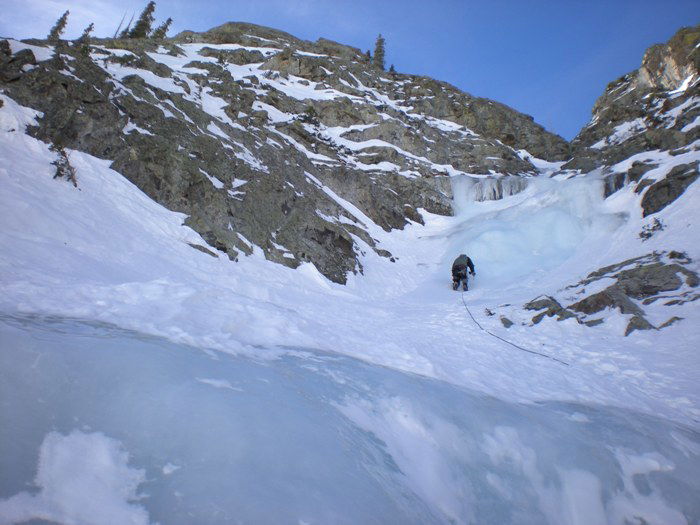 Kevin leading pitch 3.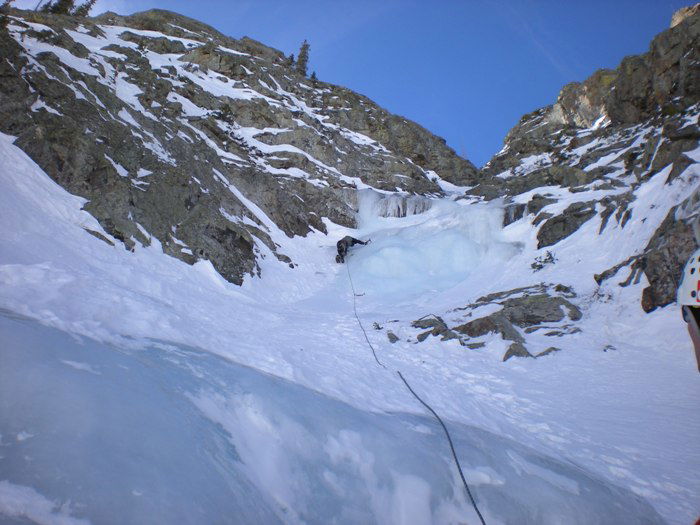 Kevin leading pitch 3.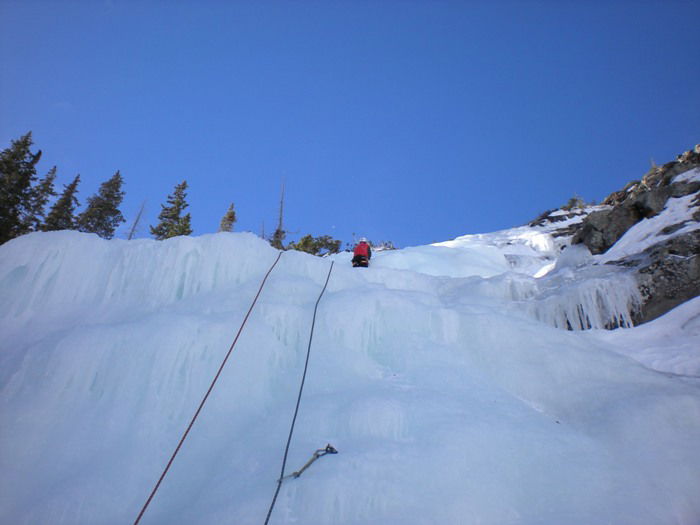 Brian leading pitch 4.