Statistics
Date - 06/19/2009
Elevation - 13,281'
Route - Martha
Miles - 8.0
Elevation Gain - 3,940'
ACME Mapper - Link
CalTopo - Link
Description
After getting questionable beta on our initially intended route and good information regarding the Martha Couloir on Mount Lady Washington, Jeff and I decided to head up the Longs Peak Trail again. Although we ended up climbing the route, we didn't feel that the Martha Couloir was in good condition. We woke up at 2:30 and were on the road at 3:00. After passing a group of 20 people also headed for Mount Lady Washington, Jeff set a fairly fast pace and we were standing on Chasm Lake at the base of the route in two hours.
We geared up on the rocks at the base of the route and climbed a small snow ramp to the start of the couloir. The running water at the base Martha was our first clue that we might be having a wet day. We scrambled up some rocks back onto steeper snow before the couloir narrows for two technical pitches. Jeff and I climbed it similarly to how Brian Kraus and I climbed it last year roping up for one longer pitch and another shorter crux pitch. Despite the lack of snow and ice on the first pitch, Jeff did a good job leading and got 5 pieces of rock gear in before anchoring in at the base of the final rock step. Once he got a view of the upper section, he radioed down to me and said he thought it would go but I was going to take a shower.
I climbed up to his anchor and couldn't have agreed more. The ice was thin and manky making the pitch a mixed climb with a fair amount of water running primarily down the left side. I was glad to have dusted off my Rambos and Nomics for the trip. Although last year Brian climbed the left side of the pitch and stemmed across the rock on the left wall and the center ice, I wasn't going to be able to do this without getting totally soaked. I ended up climbing the right side sewing it up because of the terrible ice and snow. I slung three rocks, clipped into a fixed piece of gear on the left side of the route, and placed two cams in the very short pitch. I still managed to get fairly wet, but staying totally dry was impossible. After climbing in less than ideal conditions in the southwest couloir on Shoshoni Peak and Martha, Jeff and I dubbed ourselves the Manky Brothers.
I slung a boulder, and Jeff finished the climb after peeling off the wall cleaning a high piece of gear I placed. He said he dropped about 5 feet from rope stretch, but I didn't even notice as I had him on an auto-block. We huffed and puffed our way to the summit and beat the team of 20 hikers by five minutes. Although I've climbed Dreamweaver, the Notch Couloir, and Martha all twice now, I still can't say I've had enough of this area. We completed the round trip hike in 8 hours and 15 minutes.
Photos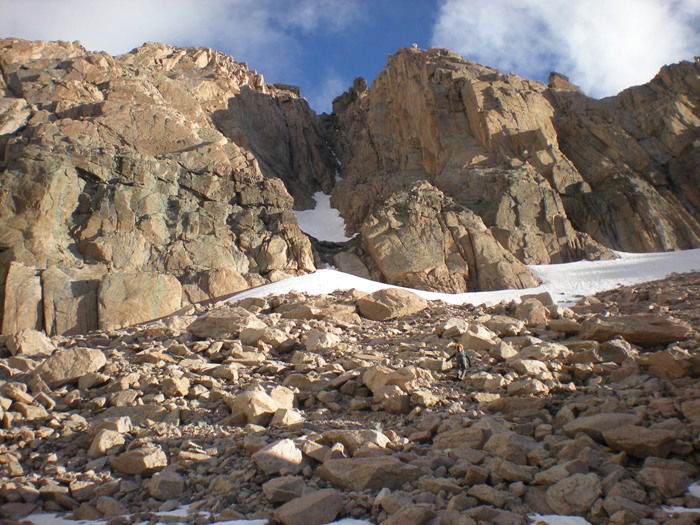 Entrance of Martha Couloir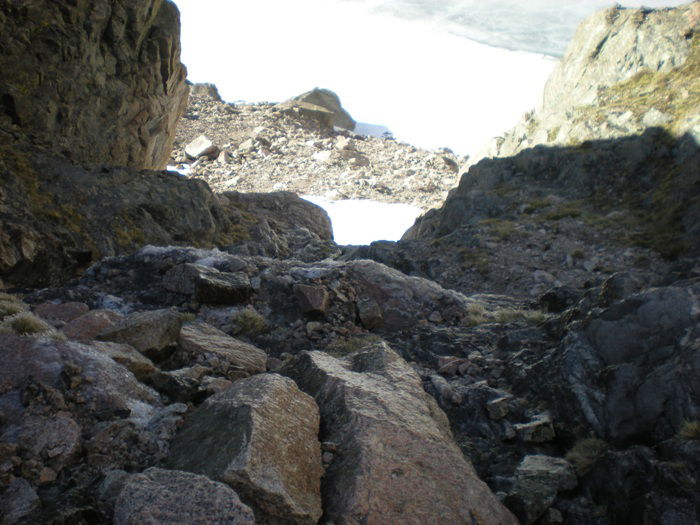 Looking back down at Chasm Lake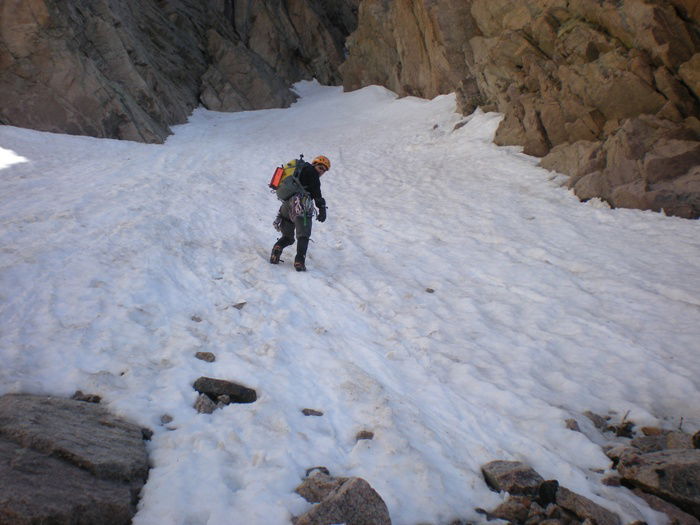 Apron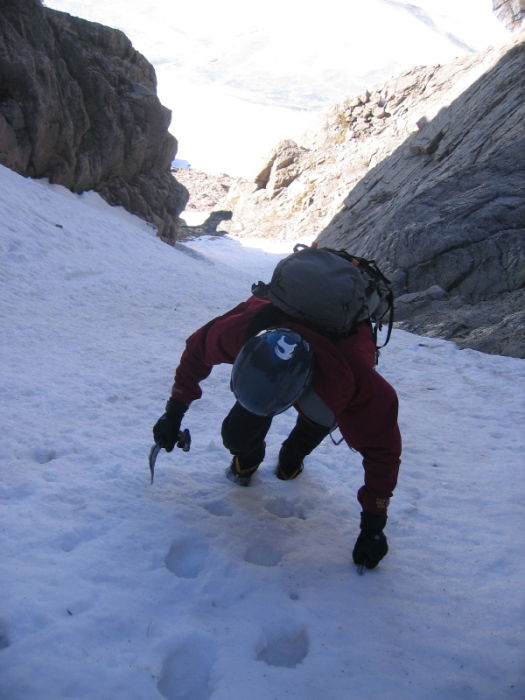 James following Jeff's kicked steps.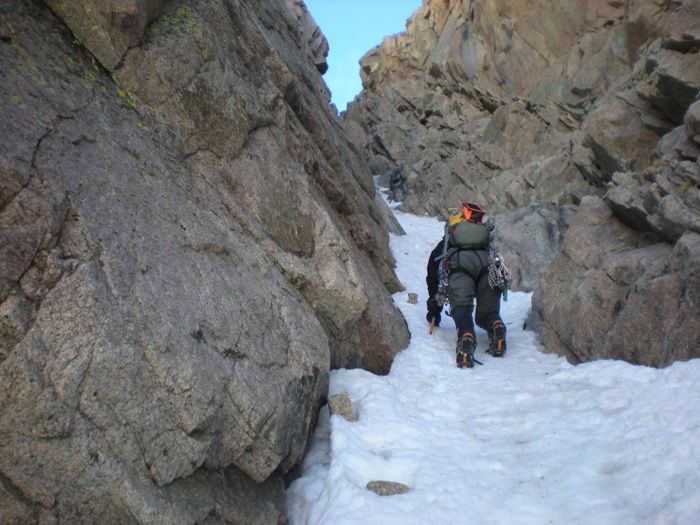 Snow Ribbon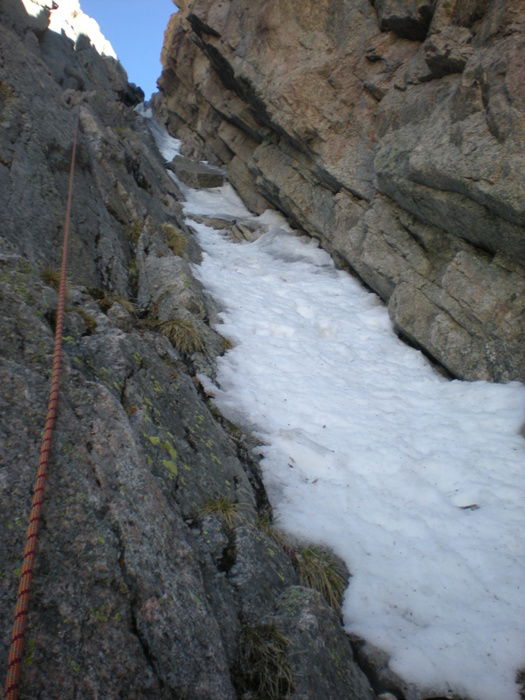 Pitch 1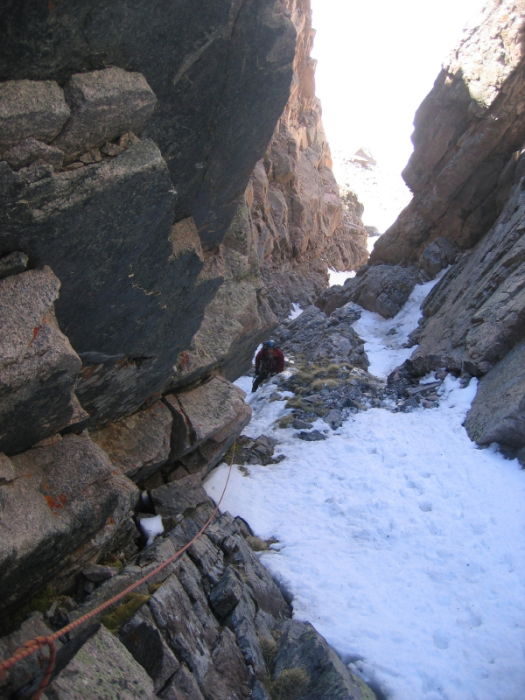 James following pitch 1.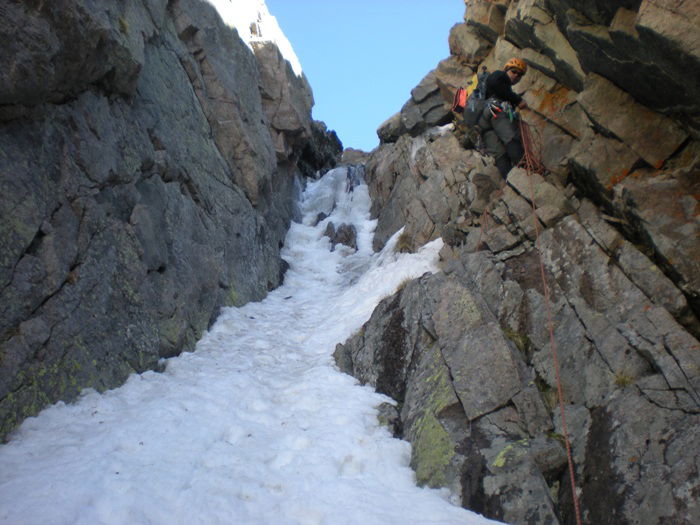 Jeff anchored into the right side of the couloir.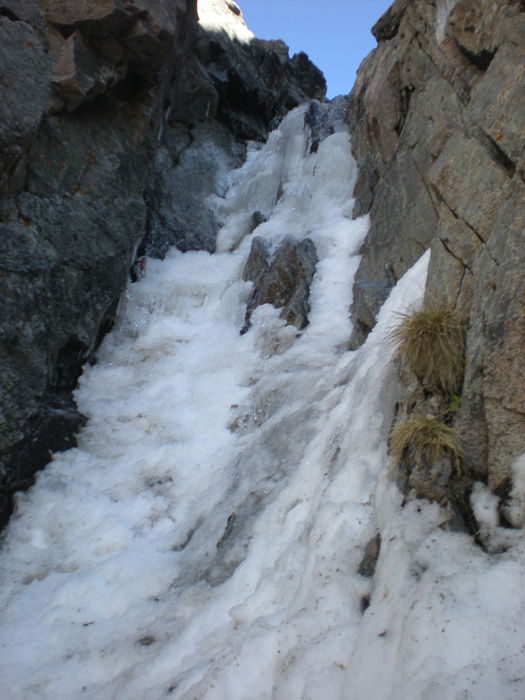 Short Crux Pitch 2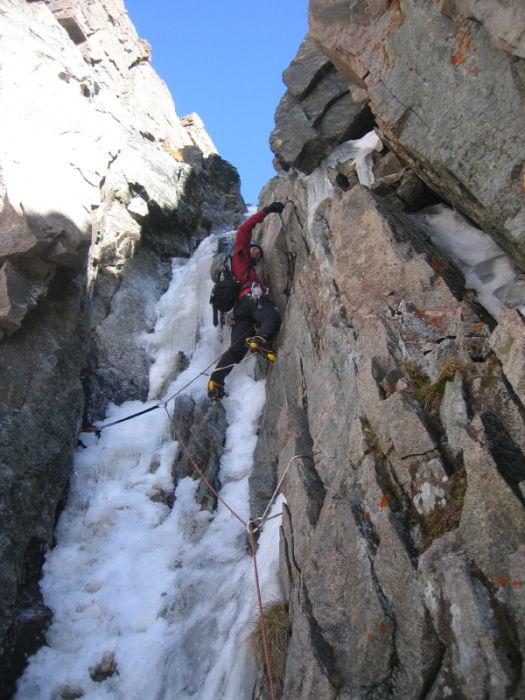 James leading pitch 2.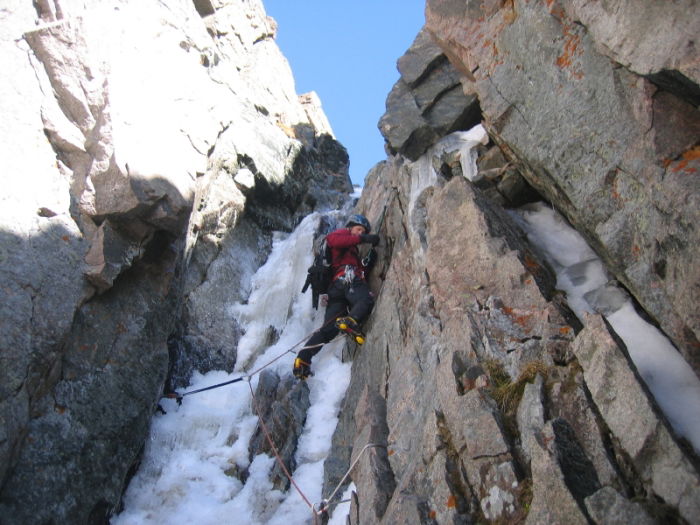 James leading pitch 2.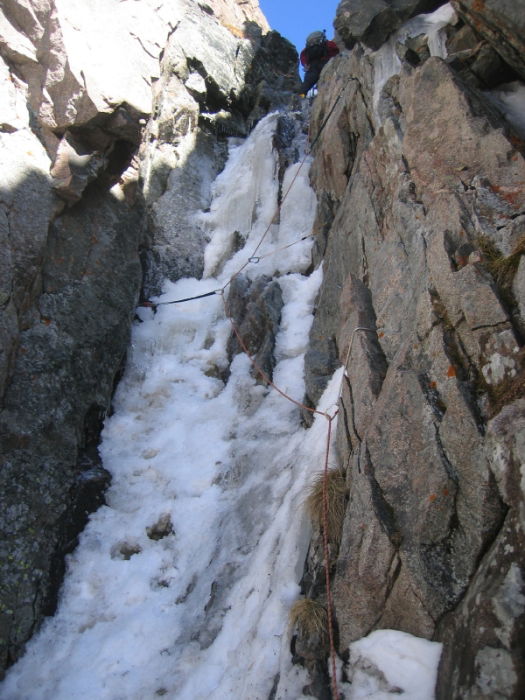 James leading pitch 2.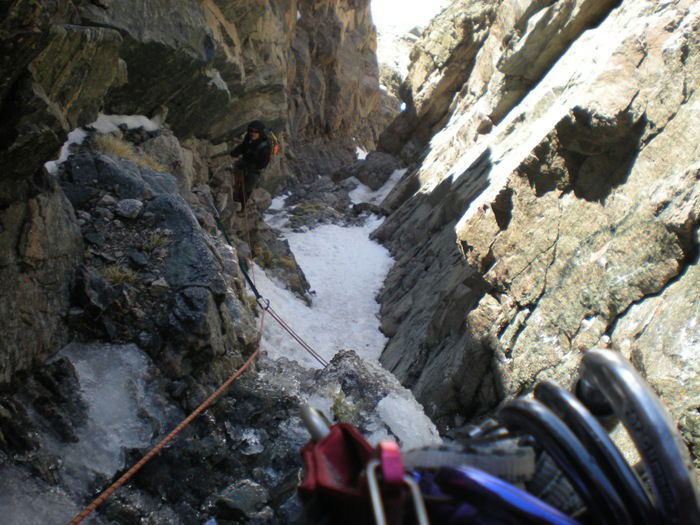 Looking down pitch 2.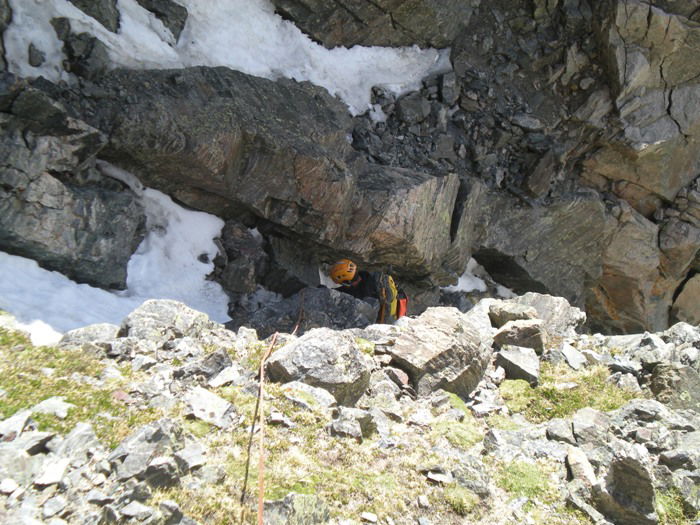 Jeff following pitch 2.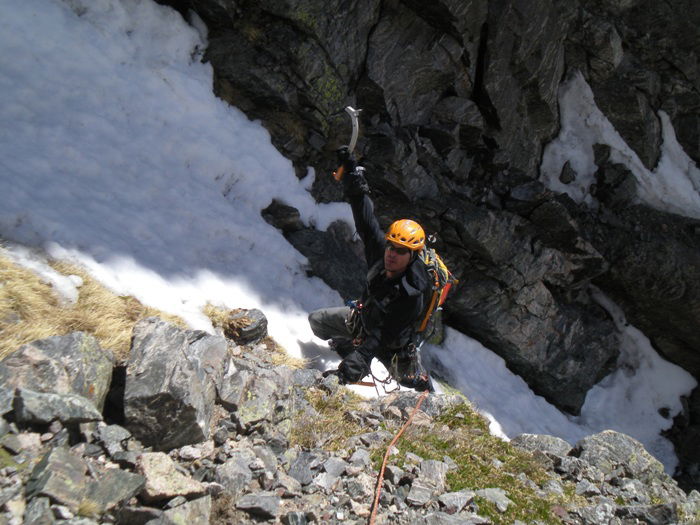 Jeff following pitch 2.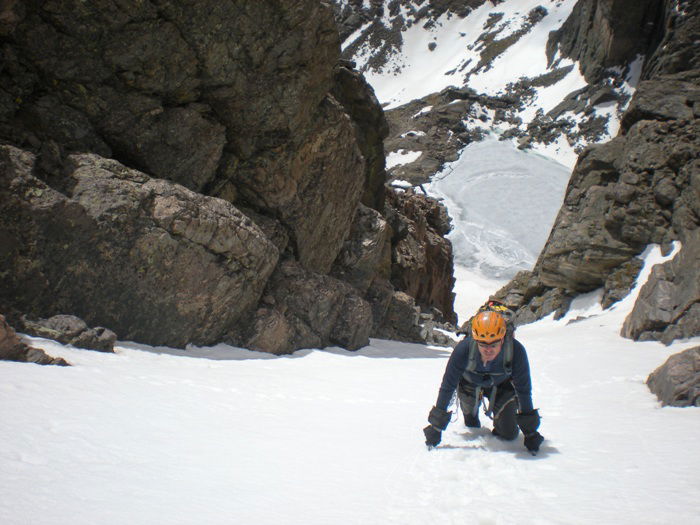 Jeff high above Chasm Lake.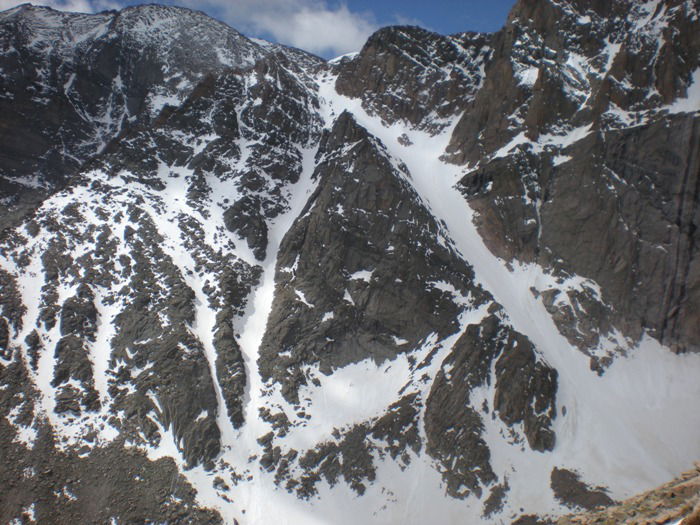 Flying Dutchman and Lambs Slide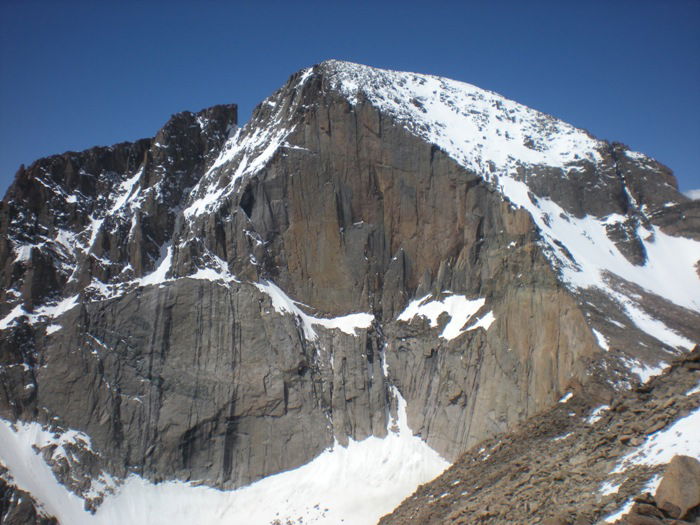 Longs Peak