Statistics
Date - 04/27/2008
Elevation - 13,281'
Route - Martha
Miles - 8.0
Elevation Gain - 3,940'
ACME Mapper - Link
CalTopo - Link
Description
Brian wrote this trip report.
"Extremely narrow bridge...very large bump...speed limit 15mph...we're not kidding!!!" A rather ominous start to the day as I drove up the Big Thompson canyon; the preceding warning flashed to me on a billboard next to the Dam store. In addition to the bridge construction, I had to avoid a couple of deer herds and lots of random rocks littering the road. I rather wondered if Martha was going to let me even get to the trailhead, let alone attempt to climb her. But I arrived safe and sound about 22 minutes past 5:00 on April 27, 2008. James Just was patiently waiting for me at the parking lot; we exchanged greetings for first time meeting, got gear sorted, suited up, and got underway about 5:45.
Martha has been on the tick list for a while and several of us had been trying for her for a while now. We set up a rack of three screws, set of nuts, set of tri-cams, some camalots and even some OP link cams. A bunch of slings/draws and one 8.5mm rope rounded out the gear. We made quick work of the trail as it was well packed snow and didn't require snowshoes. We got up to tree-line, fueled up, and got ready to enter the windy torrents we could hear coming from above us in the tundra below Mount Lady Washington. We flip-flopped leads with a couple of guys heading to Dreamweaver on Meeker and saw some of James' friends near Granite Pass looking to do the North Face of Longs Peak. Aside from the wind, the weather was fantastic. The short term weather profiles got it right; extremely sunny, no clouds, and mildly cool temps. We made Chasm junction, stashed trekking poles, and headed toward the lake. The ever-present avy danger along the route was very minimal with firm, consolidated snow making for easy kick steps.
As we worked around the apron, we noticed a group of three ahead of us taking a high road above the Chasm Cabin and to us it looked like a nice shortcut to the base of Martha. As we approached they suddenly dropped down to the cabin and then went back up to Chasm Lake beyond our view. Getting to their position, we didn't know why they bailed as the snow was great and promptly dropped us on the shelf above the cabin right at the lake. We ran into the aforementioned group of three and they appeared to be gearing up for Martha ahead of us. Shoot, we missed first dips. But wait! In classic Internet drama fashion, they were having issues of their own; one guy didn't feel so good and was offering to head back to the car. The other two could've climbed, but the leader decided they weren't going to climb anything and stormed off pouting back to his car. After asking the remaining two guys to help me clear some confusion, we got some attitude from them and didn't bother them again as they too headed back down. In retrospect, I don't even think they had the gear for this type of climb. As it was, James and narrowly escaped with our very souls!
As we got harnesses on and looked up the snow apron ahead of, we decided we should be able to free solo for a while as it looked like a solid snow climb. Actually, looking around, there wasn't as much snow up in this area as we had thought from viewing on the lowlands. Dreamweaver looked like a solid line of snow, but not as fat as we'd seen it before; the lower part of the Loft had many rocks showing and pretty much no cornice on the upper part; Flying Dutchman looked like it did last June; Notch/Kieners/Broadway were fairly snowed in however. Anyhow, without any clocks on us we guesstimated starting up around 9:00. We zigged, we zagged, we slowly ascended the snow apron to the first "mixed/ice" section. Small little waterfall sections; we made easy work of them and were promptly deposited onto yet another snow apron. This one gradually became steeper and eventually funneled into a tighter alleyway; it was roughly the steepness of the end of the Skywalker couloir, maybe a tad less. We pondered setting an anchor but saw a "step" up above that looked a bit better. Also at that point there was a rib of rock that seemed to split the couloir into two. James went up first (we're still soloing at this point). I turned around to look down and take a whiz, as I finish I hear a noise and turn around in time to see a chest sized rock tumbling down the center of the couloir. I was out of the line of fire, but still was a close call (it popped out from the snow under James' foot); it built up speed down until we lost sight of it.
As I started up towards James, a shout "my sunglasses". Almost instantly Bob Barker was there hovering over the snow; we won a free game of Plinko. James had only won one chit (his sunglasses), which he had sent down the Plinko board. Luckily for him, it chose the right path and bounced invitingly into the $5,000 slot (or my waiting hands, take your pick).
Did I mention the wind? Foul, invisible temptress of the sky. As we approached down lower, it seemed to be coming from the north, which we thought to be fortuitous as our climb faced south. We figured we wouldn't have much of any wind to deal with. What the heck were we smoking?? About the time I got up to James at a very cramped and dicey constriction, the wind was actually whipping up the couloir from the south and behind us. We were in the shade. It became rather bitter. We assessed the situation. We didn't like going up right above us (on the left side of the rib), so we opted to build an anchor and hop over the rib and go up the right side. Some sort of anchor was procured while James flaked out the rope. Due to our position, James was going to have to take the lead.
Did I mention the wind? While we felt pretty good physically, the wind was reducing our morale fast. I couldn't see anything through my sunglasses, so I took them off. I was instantly blinded by spindrift trying to adhere to my contacts. I literally couldn't open my eyes. I decided that seeing through foggy glasses was better than total blindness and put them back on. James' face was literally covered in ice crystals; the wind was freezing our tears to our cheeks. It had been a while since I had trouble and fumbled with gear due to frozen hand; I got in ample practice this day. Yet above us in the skies, clear blue and sunny. The belay sorted out, James hopped the rib (easier than we thought) and proceeded up. I immediately lost sight of him, but we had functioning radios. I could vaguely hear him chipping away and placing all sorts of protection on the climb. After a while I suddenly realized I didn't have a right foot anymore. I mean, I knew I had a right foot, but I sure didn't know where it was. I looked down; still attached. I added foot stomping (very carefully on my tiny snow platform) to my regime of hand waving to try and get circulation going. Rope is nearing the end; I radio James and let him know. After some time I hear an anchor has been built and I can start up.
In reading Eli Helmuth's site we read that the climb is roughly a WI2+/M1/5.6, (James' Note: Mountain Project indicates WI2+/M2-3/5.6 I'm not trying to spray on the M rating or be a "Sea of Posers", just an FYI. Can you really spray about M1/M2? M1 is usually associated with 5.5 rock, so Eli's M1/5.6 is a little confusing as 5.6 is generally compared to M2.) I suppose depending on the conditions. It is also about five pitches; several of them discussed as crossing "blank slabs", fun mixed climbing, big foot ledges. I come onto belay and hop the rib and look up. I see rope going up, huh...where's the pro? I start climbing a manky combination of snow with some kind of ice (alpine neve or water, hard to tell, it alternately frequently) underneath. The width of this section was maybe 4 feet, but it was low angle climbing (30-35 degrees or so). I'm punching through weird stuff and thinking, "what a lead, this guy is good". And he was. James did get in a 3.5 tri-cam on the right side (Yay tri-cams!) right before a small water ice obstacle. I surmounted this and came into view of his belay spot - right under the crux of the climb.
Pitch 5 - "This is what you came all this way for: A seven meter section of thin ice (WI2+) and rock stemming moves (M1) will take a screw or small cams on the left wall to adequately protect this thought-provoking crux." We discussed for a while afterwards if we thought this was "in" or not. I'd say we hit it at about the right time, *maybe* a bit early. However! If it gets too warm and the freeze/thaw doesn't work right, this crux will dissolve. If freeze/thaw happens nicely, the crux could really get fat - something I was beginning to wish for right now. As it was, we won the prize of weak looking chandelier ice to the right and a thin (2-3ft wide) strip of something that looked like rejected alpine ice. At least now spirits were getting a bit better; the wind had died down incredibly, and we were in full sun. Happy!
My turn to lead. I size it up, and then analyze it a bit more. Fuel up, gear up. I have to climb over (almost on) the anchor system to proceed (I think the normally anchor setup is a bit lower). I try an ice screw that doesn't turn well. I sling a horn about 2 inches in height. At this point it would hold a downward fall, but it was far from secure. The ice is manky, crumbly and the best foot hold on the rock just happens to contain key components (cams/nuts) of the anchor system. *sigh* What's a climber to do. I carefully place my foot next to anchor pieces, stem across onto an ice ledge. Finally in reach of what looks like decent ice. Did I mention I'm pretty much standing straight up? Yeah, it was pretty vertical and a fall pretty much sends me onto James. Screw goes in; clip in, and get rid of useless horn sling. Hey, what's this? A fixed nut above in the rock. I manage to backstep and move up to sling that...only about 5 inches above the screw clip in. Another 8 inches up, I get a nut in a questionable looking flake. I sewed it up good but needed to; we wanted as much protection above the anchor for extra safety.
So now I've got about, oh 12-15 feet to go. Big rock outcropping right above me with an off-width jam to the left (yay for Veadawoo practice last week!) and yucky ice barely clinging to the rock to the right. I move tenaciously into the offwidth, manage to find some kind of ax swing into ice around the rock and...sort of get stuck there for a moment, about 6 feet above my last piece in a funky rock jam. Hands quite cold and I try to work my left tool but the lease is all twisted and I can't work the fingers. Somehow it all works and I solidify the stance...still no protection. I find a nut (or was it a tri-cam?) above me to the left. Carefully feeling (I can feel them again) my feet to make sure they aren't moving, sling the nut, clip in. Ahhhh! Much better as the false sense of trad/mixed pro security descended upon me. Now I swung into the snow, somehow found (ice? tundra?) something to stick in, kicked a foot into ice that held and hauled myself up.
It was over. Everything went into slo-mo as the rocks gave way under my feet and a sense of peace fell over me as falling weightlessly became my purpose.
Ok, that really didn't happen. I was on top of the crux with a nice 40 degree snow slog above me. It was the lower apron all over again. Great purchase. I ran it out up to a ledge on the left that just screamed "ANCHOR HERE!" (the neon sign on the rocks helped locate it too). Probably the only anchor that would've held anything this day was made, and I comfortably brought James up. A short slog for about 40ft higher put us on a great picnic bench of rocks and we just collapsed in exhaustion (even though we had been eating/drinking). We were worked. That Martha, she is a dozy in bed for sure. We cheered and celebrated; ate like kings (James fired up an MRE that auto-heated) and basked in the glory of the climb. We just turned a five pitch route into two. Yeah, we were that good. Common sense would say to go down the Camel Coulior (which we were kind of near), but we hadn't had our fill of thin air yet. Packing the gear, we hauled up kickable snow to the head of the camel and shortly thereafter, the summit of MLW. The wind was teasing us again so we didn't tally long, and headed off down the east slopes. A sunny day slog to say the least, but everyone made it back safe to the car. All in all, a 10 hour day car to car.
This was a beast of a climb; dicey but fun. We climbed strategically and carefully making sure each movement wouldn't result in a fall. We worked ourselves over; this was a hard climb. With lots more highly consolidated snow, portions of this would've been easier. A bit more melt out; this would've been a real bitch. I would only recommend this climb for a two-man team; I do not think a three man team would work at the anchor points.
My Notes: If I were asked what I thought of the climb I would say that it was moderately hard and certainly more than I expected. I now realize I didn't prepare myself very well mentally. Based on information from others, guidebooks, and the Internet, I anticipated an easy snow climb, and that's exactly what I got until the spindrift started to fly and we were part way up the narrow gully. I think when we hit the technical climbing and the weather really deteriorated on us for about 30 to 40 minutes a sense of urgency entered into the equation and some of the strength and optimism was sucked out of me. I've never been on Martha before, but I didn't feel we had great route conditions either. As Brian mentioned, we climbed safely and did well on the climb, I was just a little disappointed in my performance. I really need to step back and slow down when climbing. Who knows, if it wasn't so windy/cold and I slowed down a little, I might have looked back and thought it was easier. In reviewing the photos, the climbing looks easy and I can see so many huge holds and placements. I now also think we could have easily climbed the ice on the right in the crux rather than the chimney on the left. It would have taken short screws, allowed for reasonable pick placements in the thicker ice, and would have avoided the rock out cropping. I guess you live and learn. Two other climbing partners of mine climbed Longs Peak on this day also. We ended up at the Jims Grove trail junction at the same time and all hiked out together. Nate and George offered up a celebratory beer at the trailhead which Brian and I were grateful for. They were tested by the wind on the North Face too.
Photos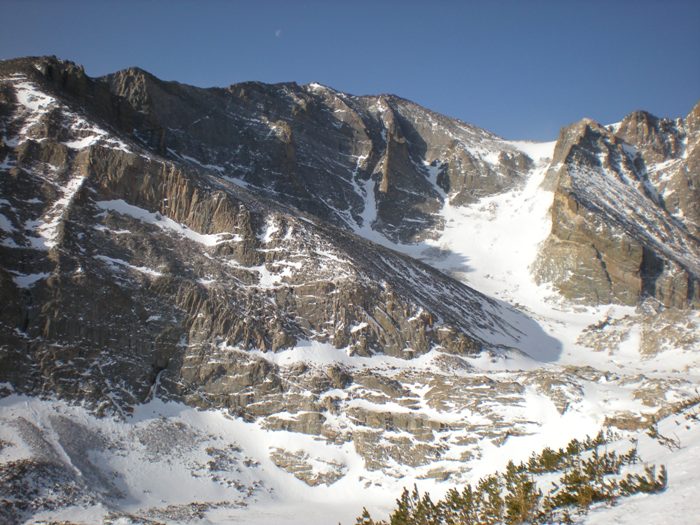 Mount Meeker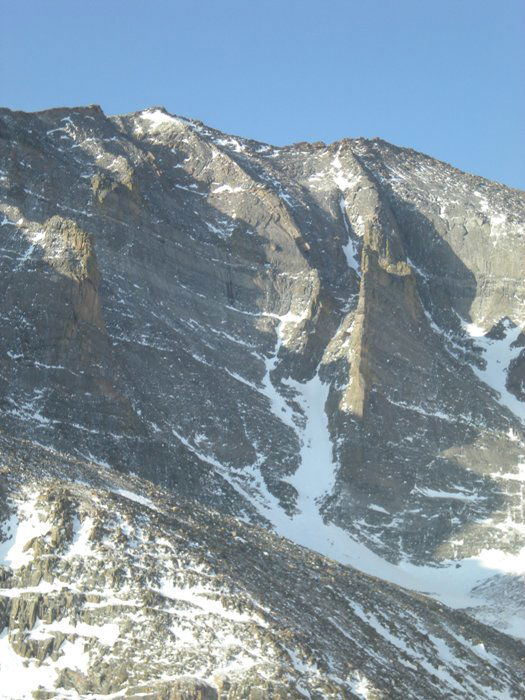 Dreamweaver Couloir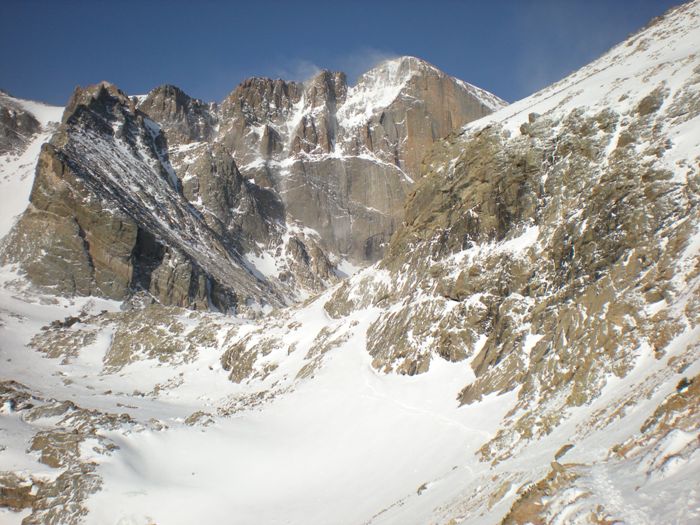 Longs Peak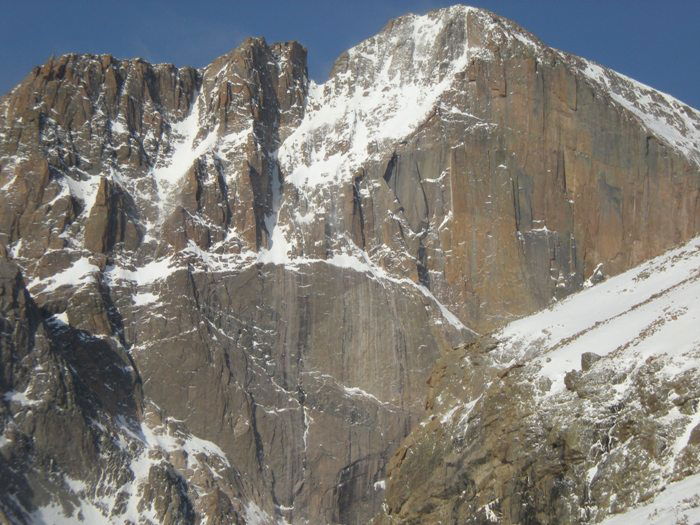 Longs Peak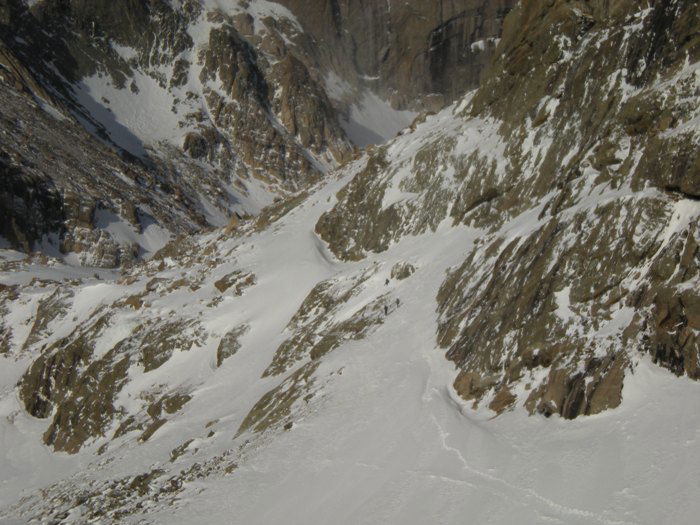 Shortcut to Chasm Lake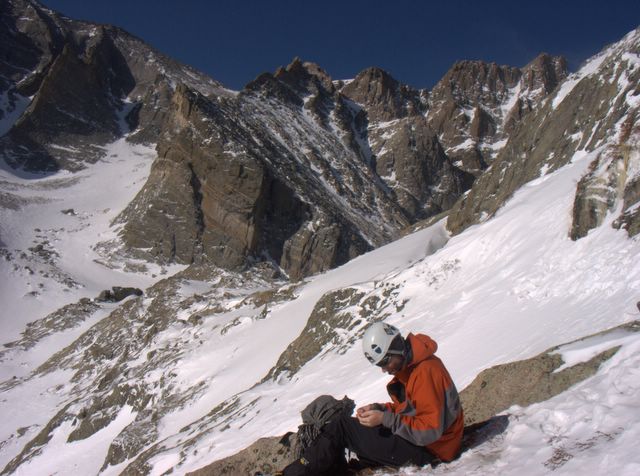 Checking Blood Sugar Levels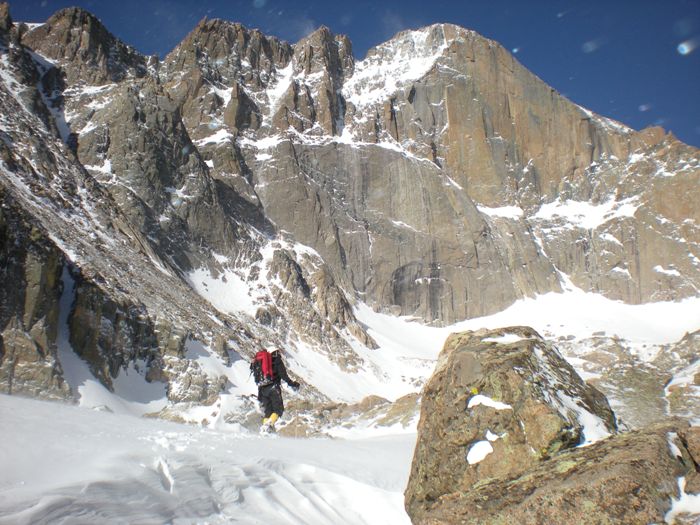 Brian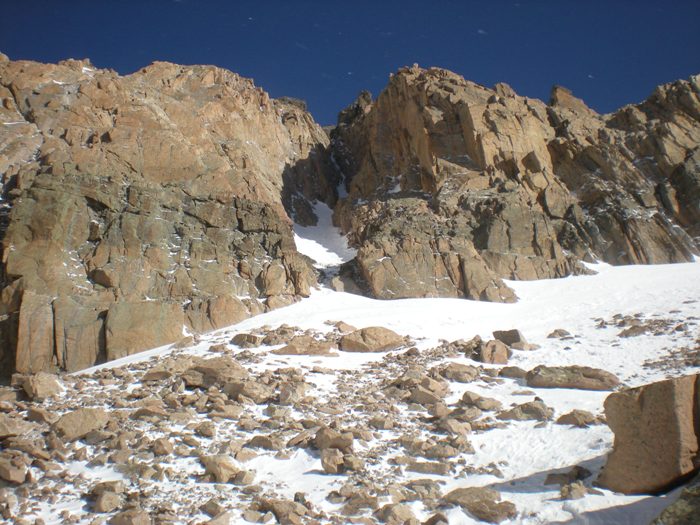 Martha Couloir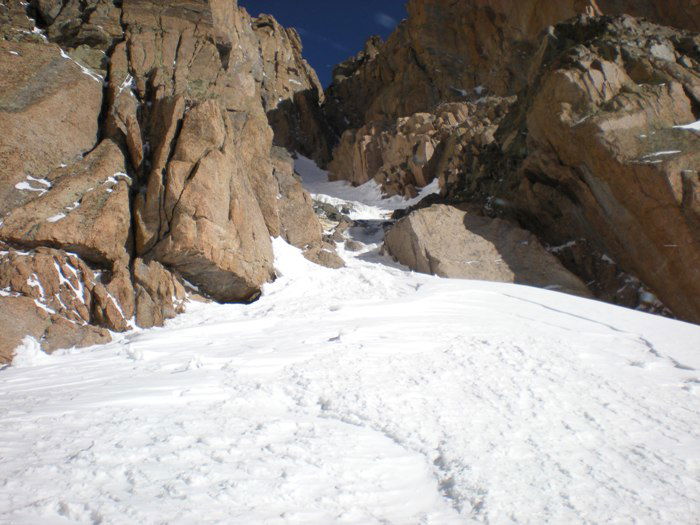 Martha Couloir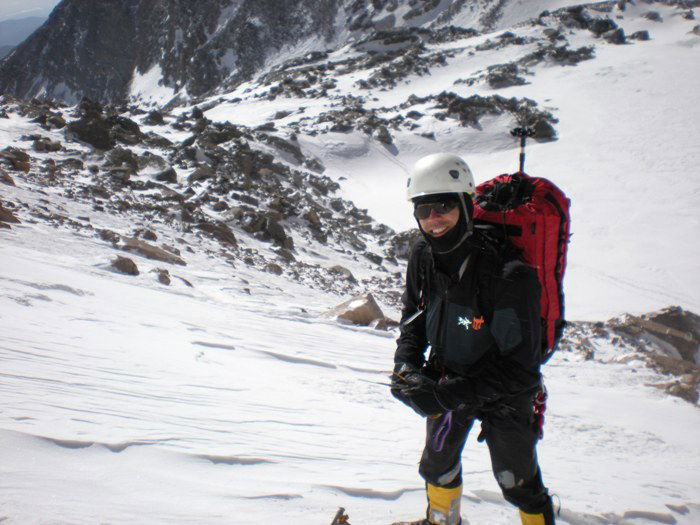 Brian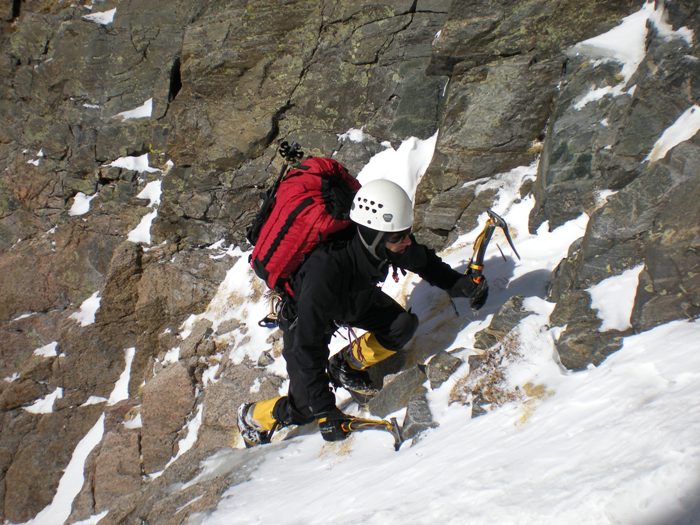 Ice Step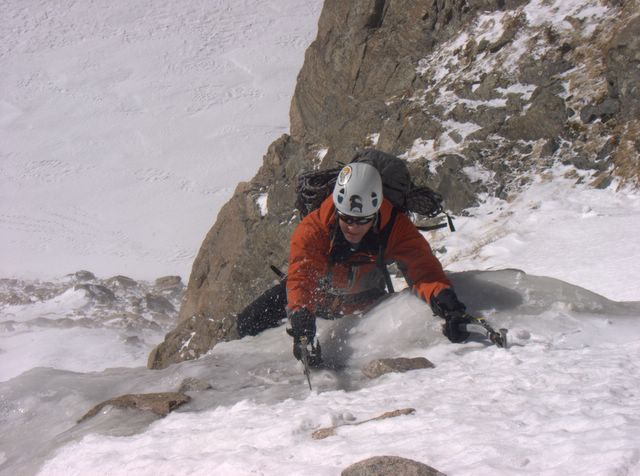 Ice Step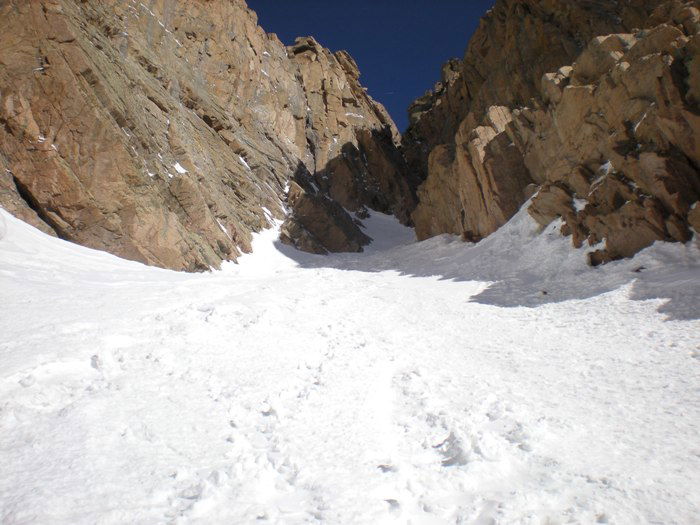 Narrow Couloir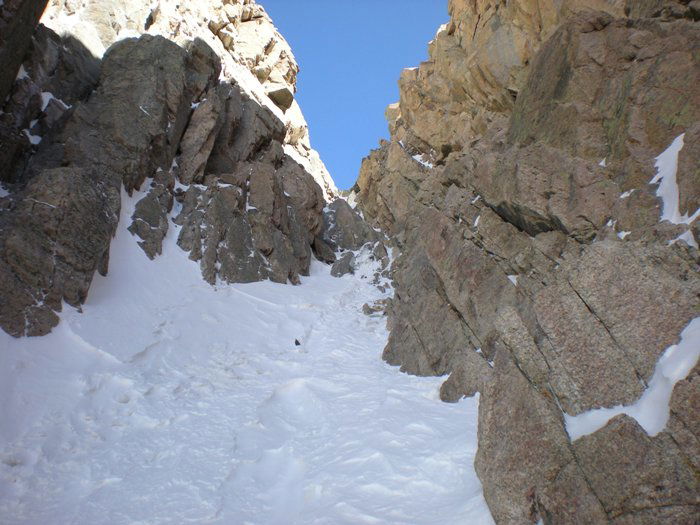 Narrow Couloir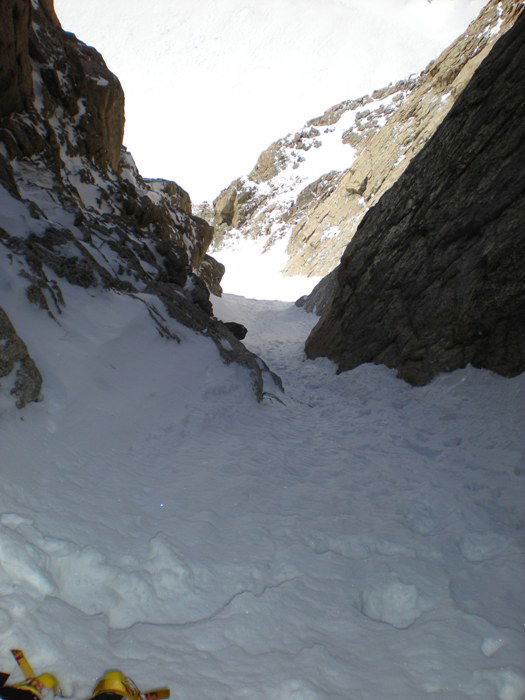 Looking down the couloir.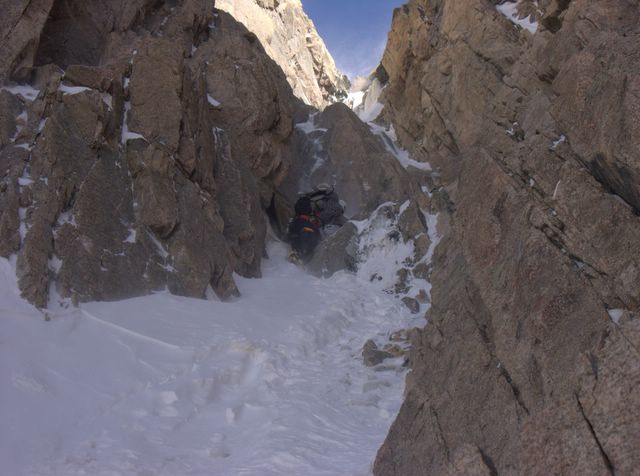 Wind, Snow, and Cold
James leading pitch 1.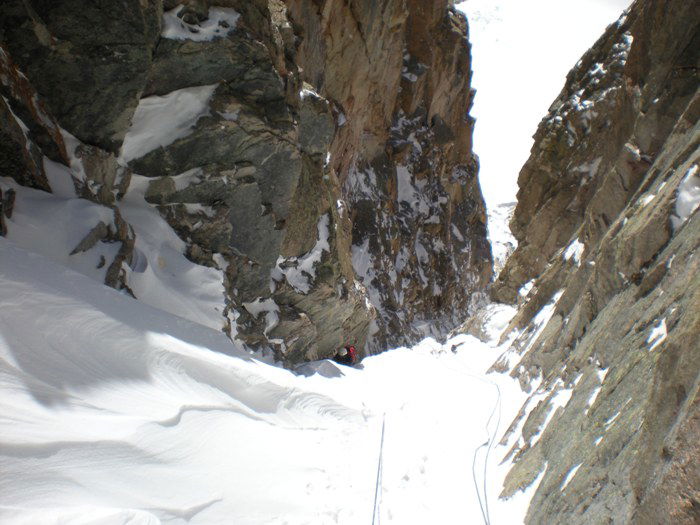 Brian following pitch 1.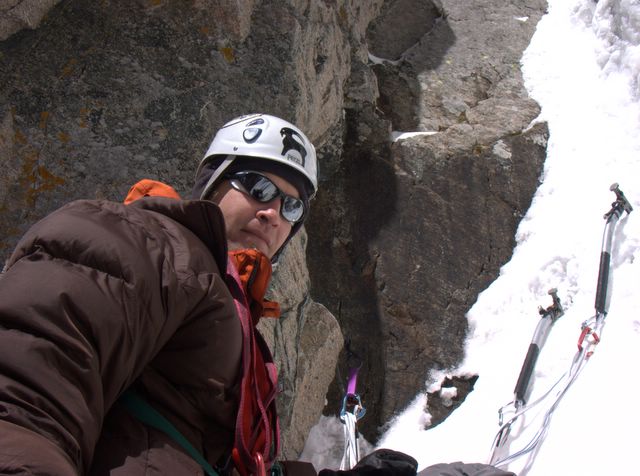 James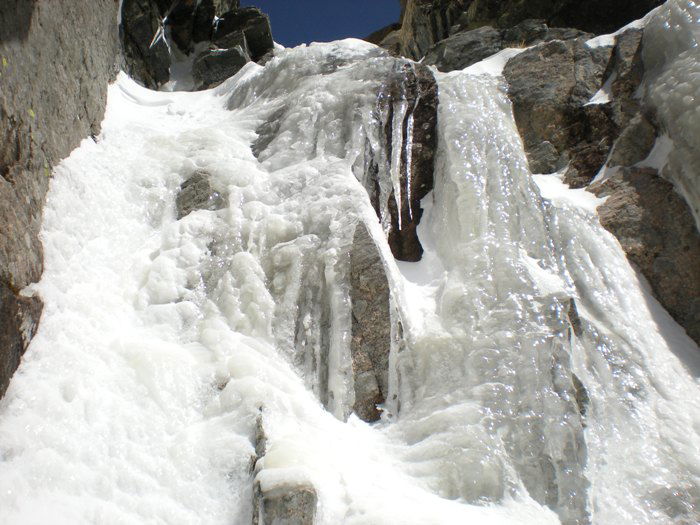 Pitch 2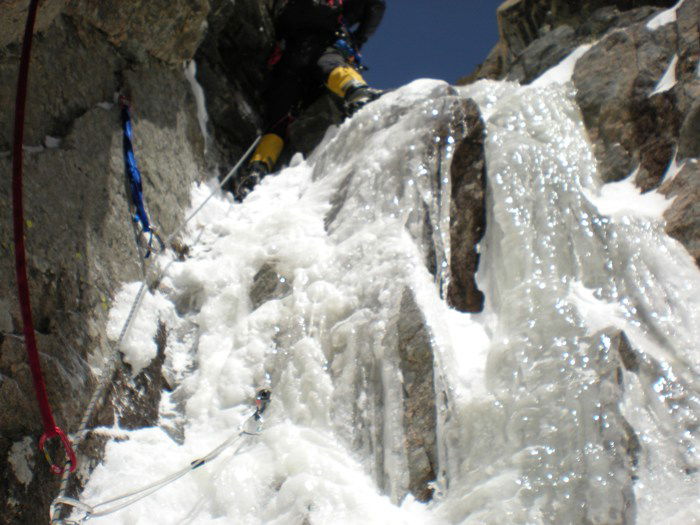 Brian leading pitch 2.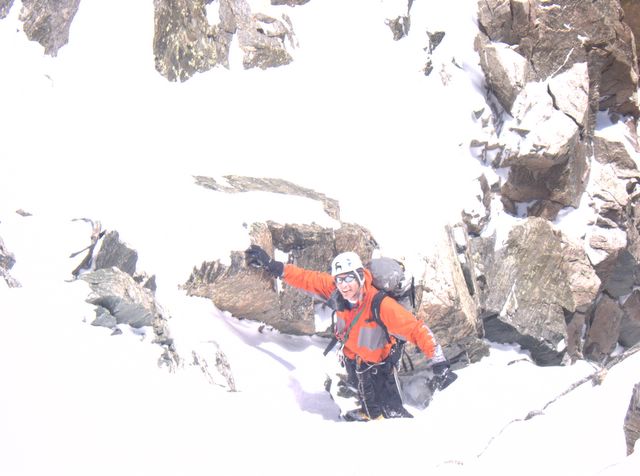 James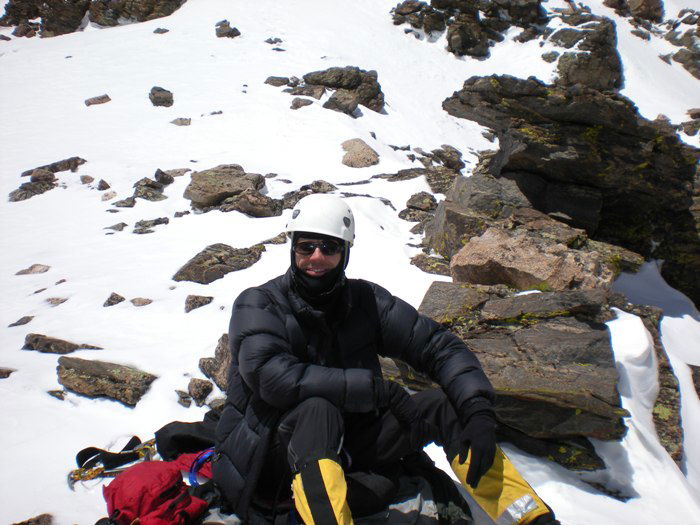 Brian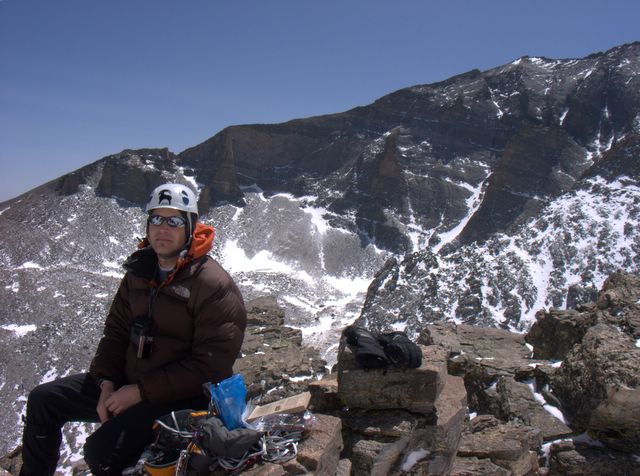 James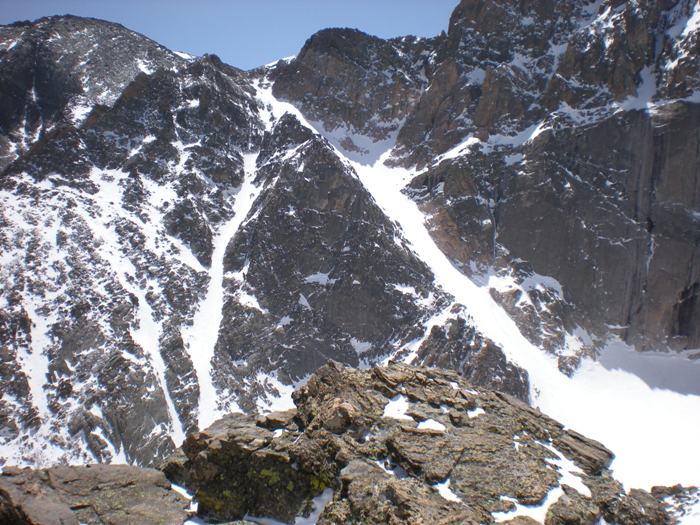 Flying Dutchman/Lambs Slide
Longs Peak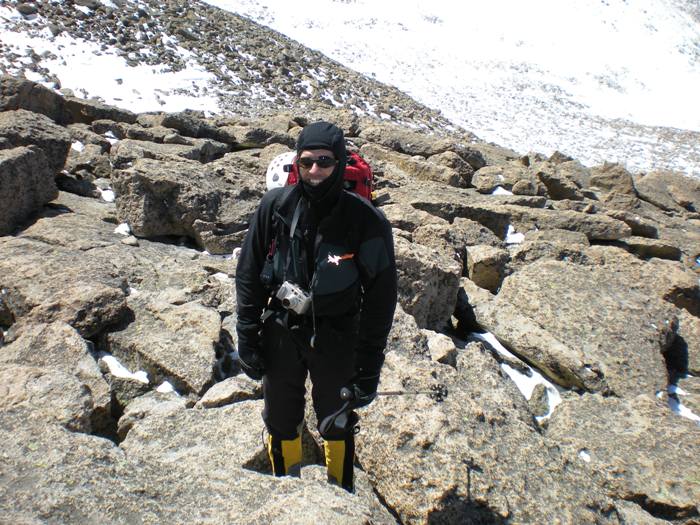 Brian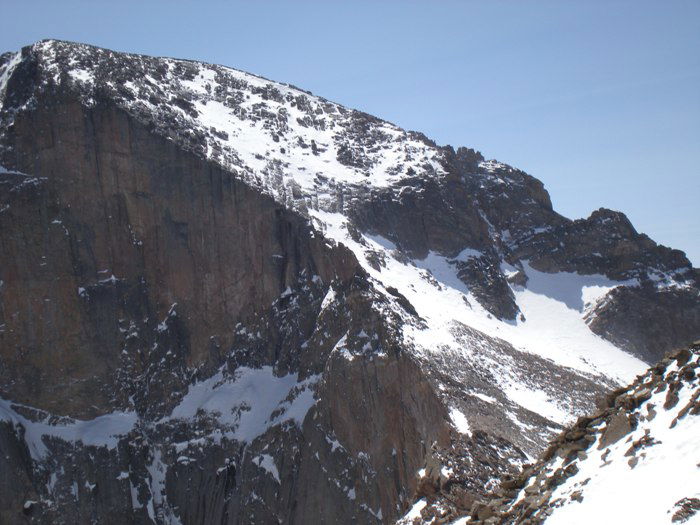 Longs Peak North Face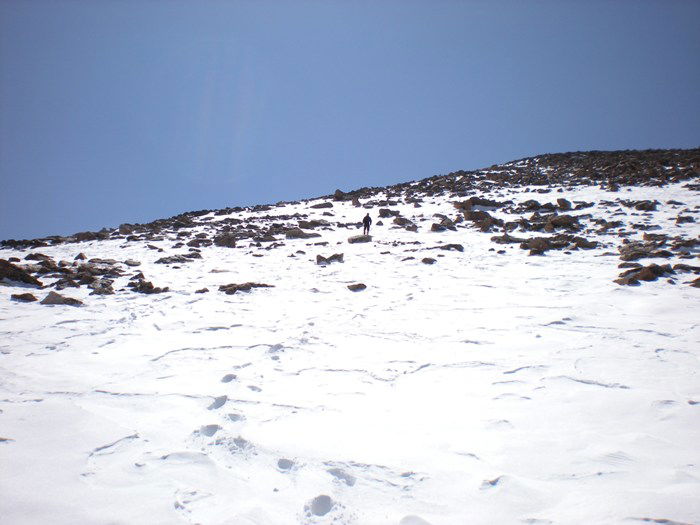 Descending Mount Lady Washington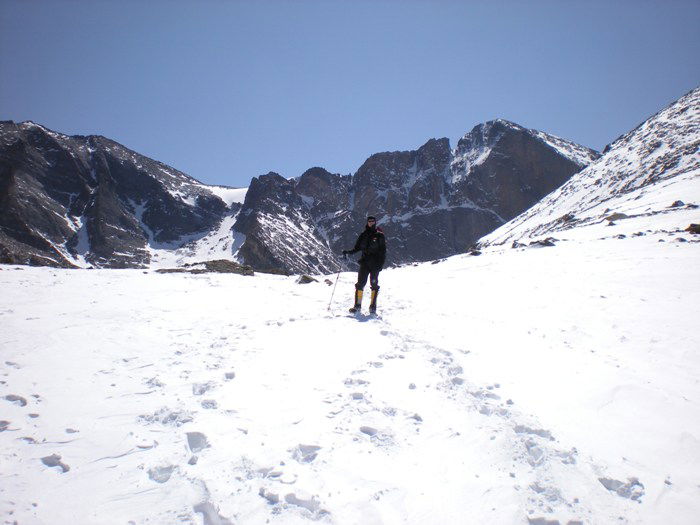 Brian