Statistics
Date - 01/12/2008
Elevation - 7,600'
Route - Legg Creek
Miles - 2.0
Elevation Gain - 1,300'
ACME Mapper - Link
CalTopo - Link
Description
For our final day of climbing near Cody, Wyoming, we opted for a route that is considered to have one of the easiest approaches in the valley. I wanted to be on the road at a reasonable time because we were planning on swinging through Buffalo, Wyoming, to visit a friend. Stringer was the name of the route which is supposed to have three WI3 pitches with a walk off and two sets of bolted anchors for the descent.
The approach took twice as long as indicated in the guidebook. We climbed two easy short ice steps that Brian led to a tree belay that were not mentioned in Winter Dance. We hiked up the creek a short distance to what appeared to be the first pitch of Stringer. Brian stayed on the sharp end and climbed 45 meters of moderate ice with adequate ledges for resting. Approximately two-thirds of the way up there was great area for a no hands rest. As Brian neared the top, I reminded him to keep an eye out for the bolts. He never found them and brought me up on three shallow screws in a narrow gully above the ice.
I scrambled up ahead because the second pitch basically turned into a snow climb up a narrow chute which deposited us in a flat spot in the upper creek main drainage. We assumed the snow slog was the second pitch of Stringer. The route description indicated there was a 20 minute hike to the final pitch. We hiked for approximately 20 minutes before getting a view of any additional ice which was still another 20 minutes away and looked vertical. Neither one of us was confident we'd be able to lead it, so we simply scrambled back down to the top of the 45 meter pitch climbed earlier.
The down-climbing in the creek was interesting. We rappelled a small section we previously free-climbed up, we had to down-climb face in on several short areas in the creek, and we still weren't sure how we were going to get down the long pitch Brian led since the anchor he built was in thin ice. I remembered a log in the narrow gully that I thought might have formed some nice white ice so I suggested we dig through the snow for a location to build a V-thread. We also had about 10 meters of rope to work with since we knew we could down climb the curtain at the base of the flow. After getting back in the chute, I did find some solid ice in the snow near the log with an existing V-thread. It looked solid, but since this was our final long rappel of the weekend, we backed it up with another V-thread. I guess we didn't want to get sloppy since things had gone fairly well over the last three days. We got down easily and then also rappelled the initial two steps we encountered on the approach.
We kept our crampons on almost all the way back to the road by staying in the creek for the walk out. In hindsight, we should have put them on as soon as we got to ice in the creek on the way in too. For some reason, we were reluctant to gear up when in fact ice bouldering up the creek is the easiest method for approaching many of the climbs. We grabbed some fast food in Cody, Wyoming, before making the drive over to Buffalo, Wyoming.
On the drive, I started to read some other route descriptions of climbs on either side of the Slow Turning drainage where Stringer is located. I then compared photos on Brian's camera to a picture in Winter Dance and figured out that we actually climbed the Legg Creek route which is basically the one pitch approach to more difficult climbs further up Legg Creek including Ovisight and Who's Yer Daddy. Despite getting us successfully to our first two climbs, Brian couldn't pass up the opportunity to rip on me for my poor route-finding and navigation skills.
We stayed Saturday night with my high school friend and college roommate Casey Freise. Casey actually took me on my first hike over 10 years ago in northern Idaho when we both moved out there after graduating from college. He and his wife Michelle treated us to a great elk steak dinner with a salad, baked potato, and vegetables. We each had a couple of beers while watching some football and playing cards. Brian and I were on our way back to Colorado by 7:00 the next morning after Casey made us some coffee.
For our first time there, we had a good trip and will likely return to the South Fork. There are probably a handful of routes at our skill level we could still climb. Cody, Wyoming, has so much ice in a concentrated area with much fewer climbers. In fact, we didn't see any other climbers all weekend with the exception of a couple leaving a trailhead in a different direction than us one morning. The climbing is definitely harder, and having a solid WI4 leader would certainly open up significantly more options for different routes to climb. We gained a lot of experience, had fun, remained friends, and got to visit some very beautiful country.
Photos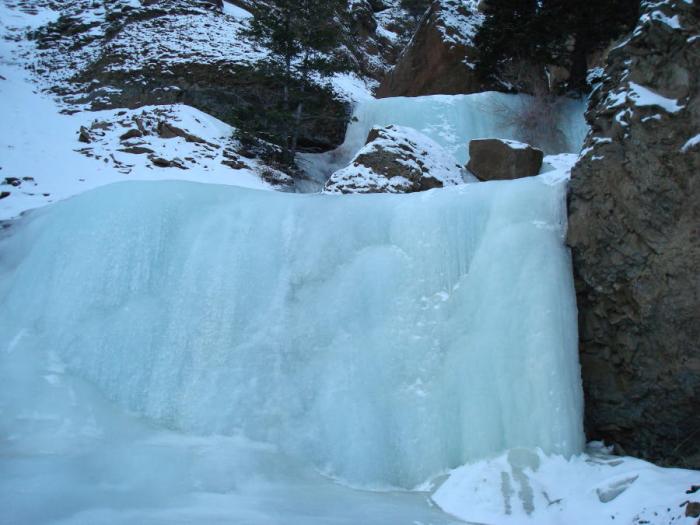 Ice Steps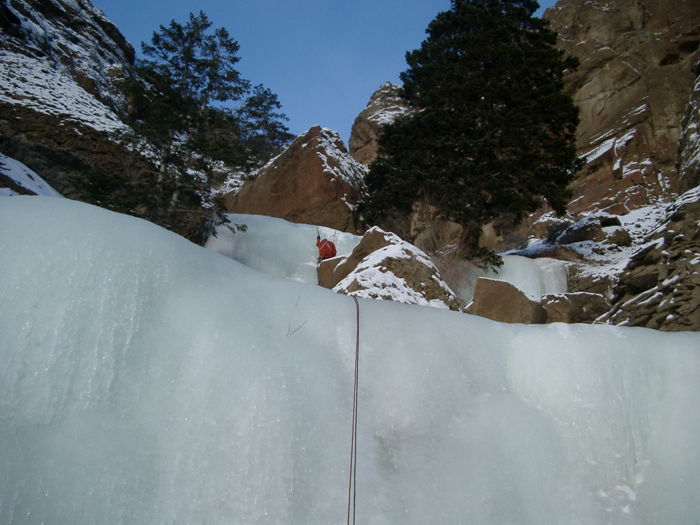 Brian leading the two ice steps.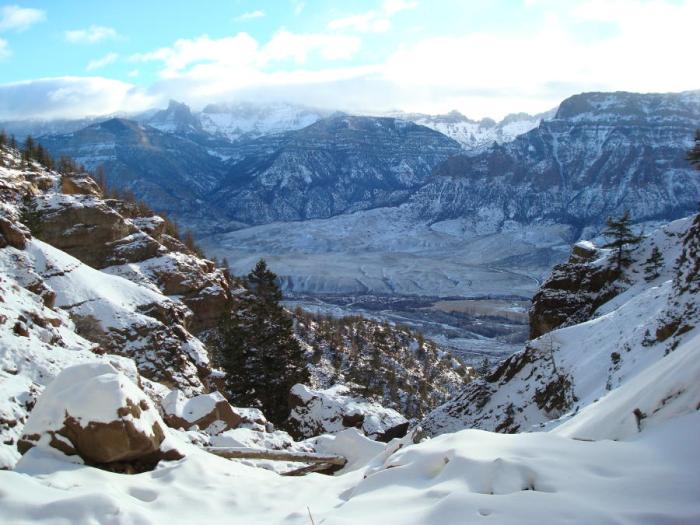 Views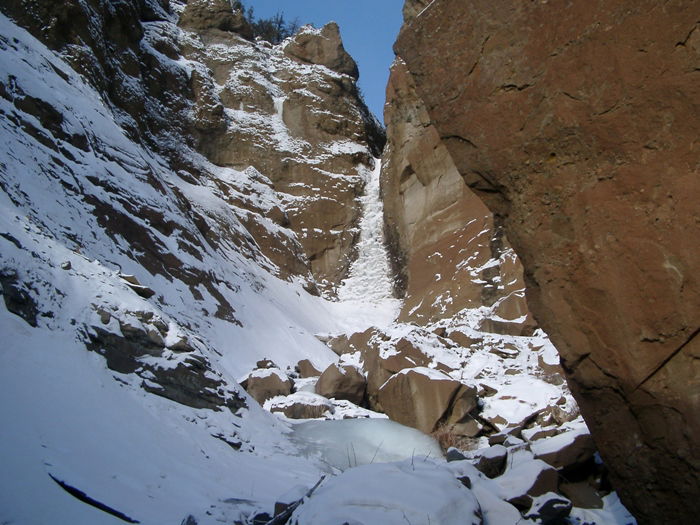 Legg Creek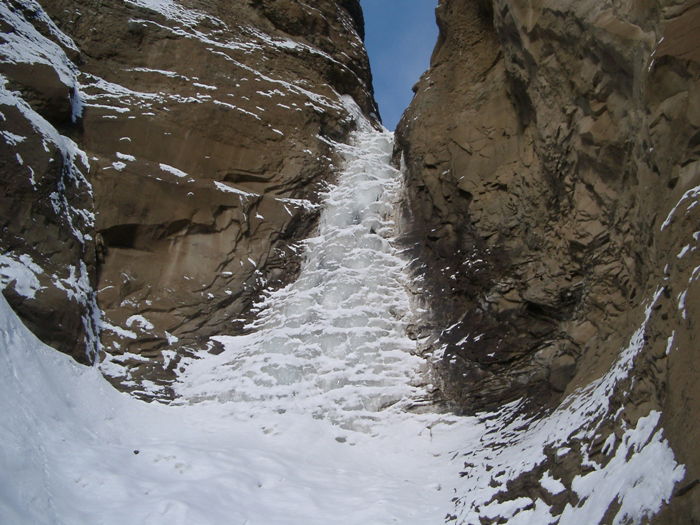 Legg Creek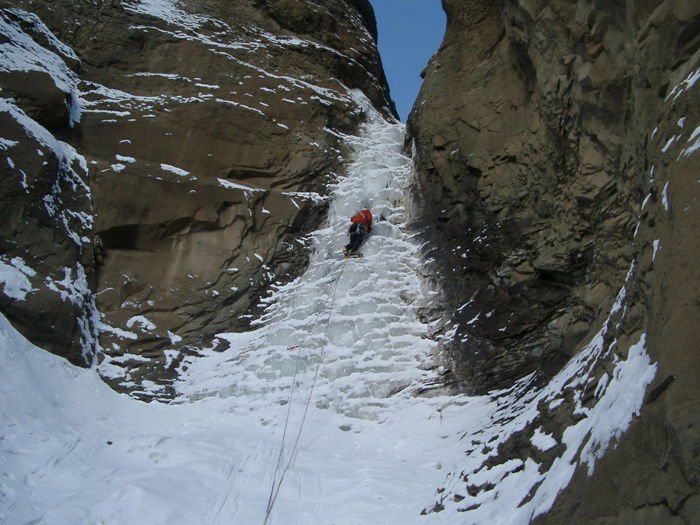 Brian leading Legg Creek.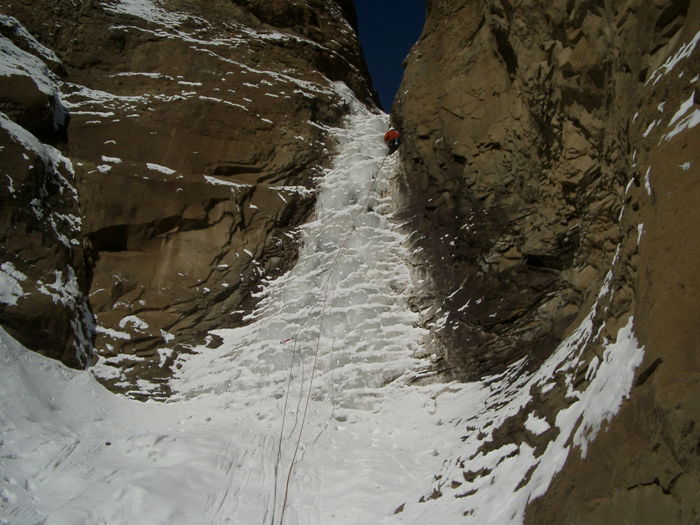 Brian leading Legg Creek.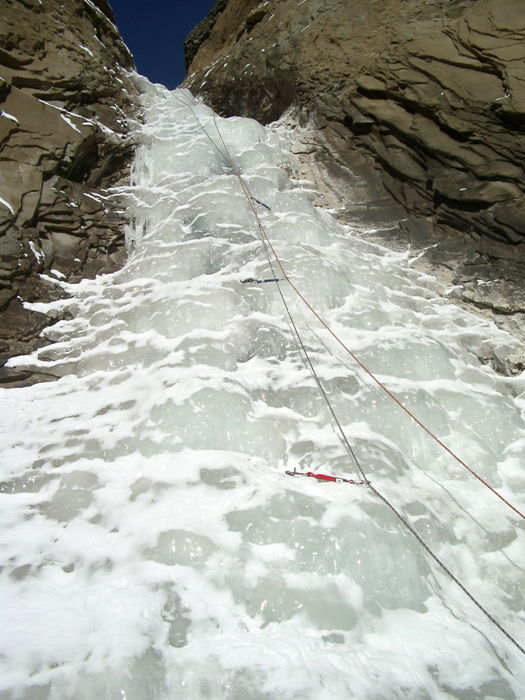 Legg Creek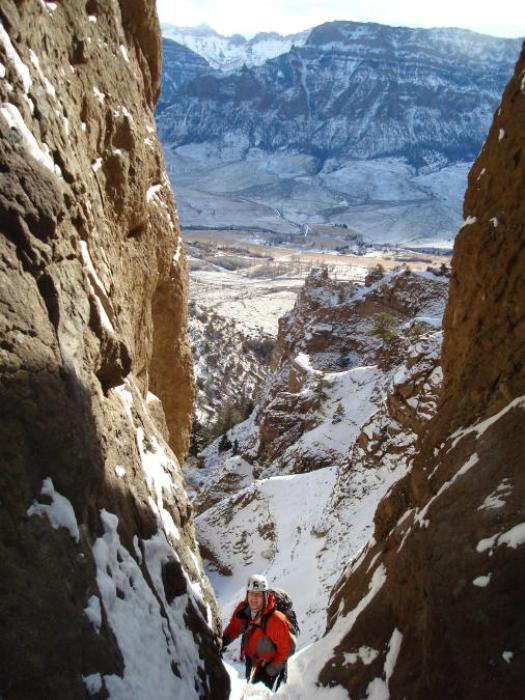 James at the top of the pitch.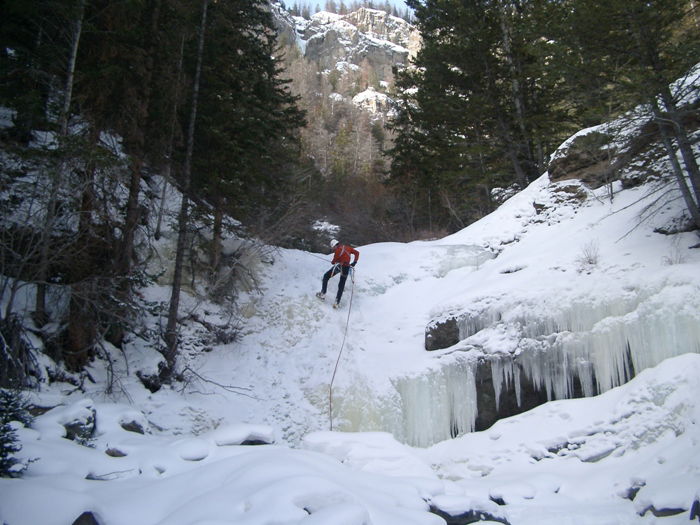 Rappel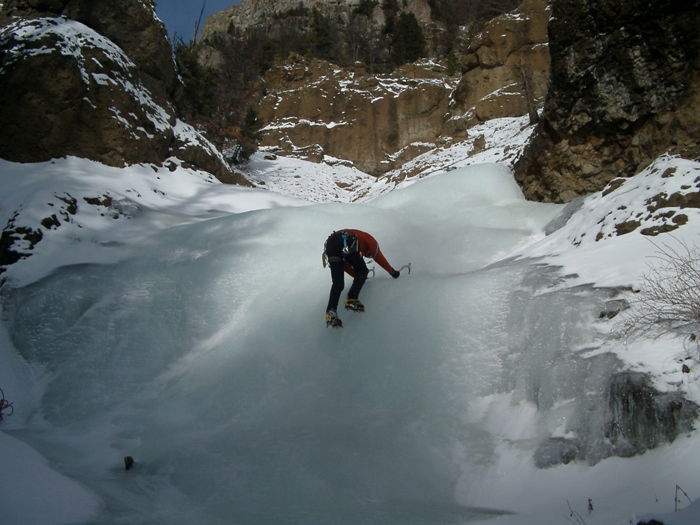 Down-Climbing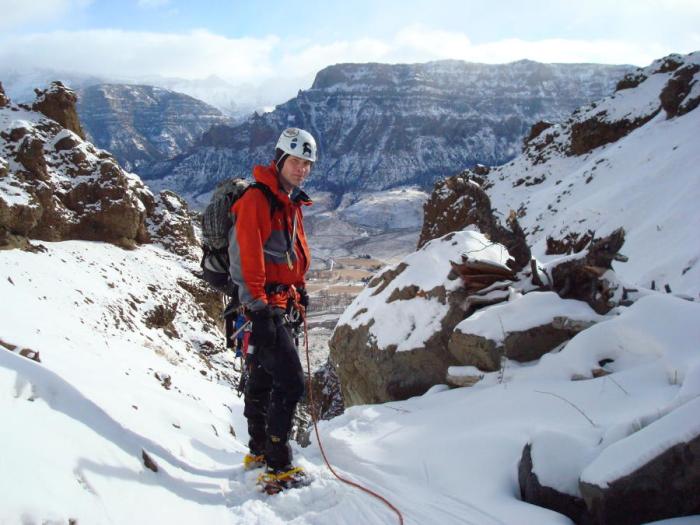 James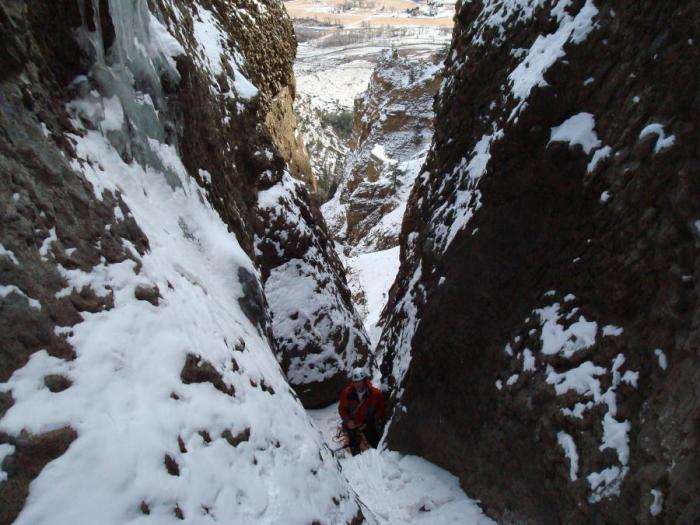 Building the anchor in the narrow chute.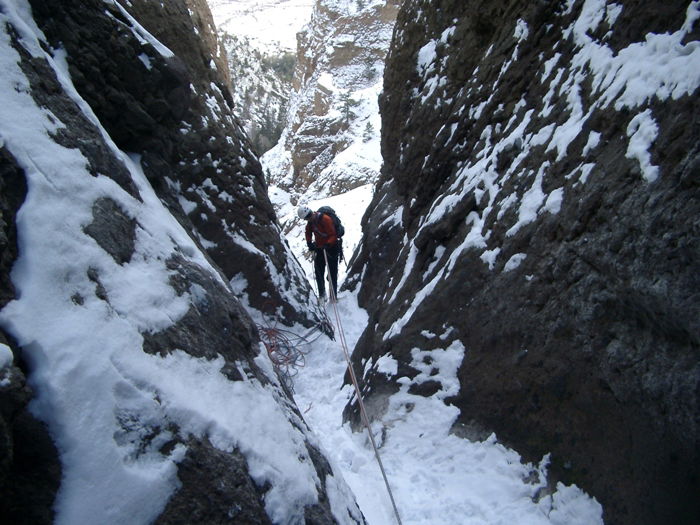 Rappel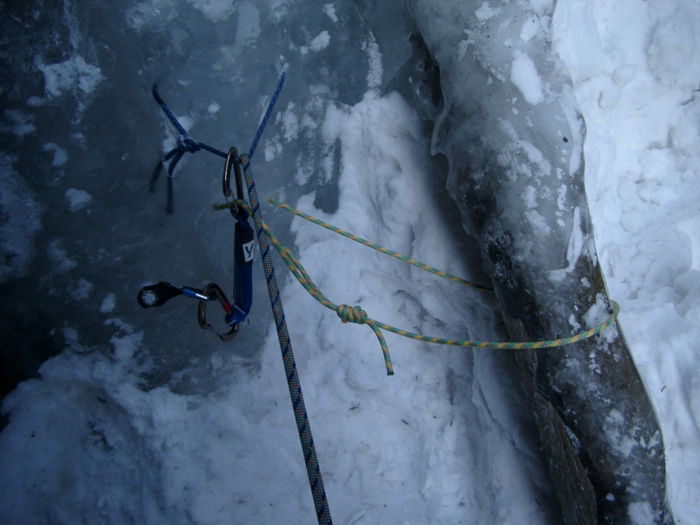 Anchor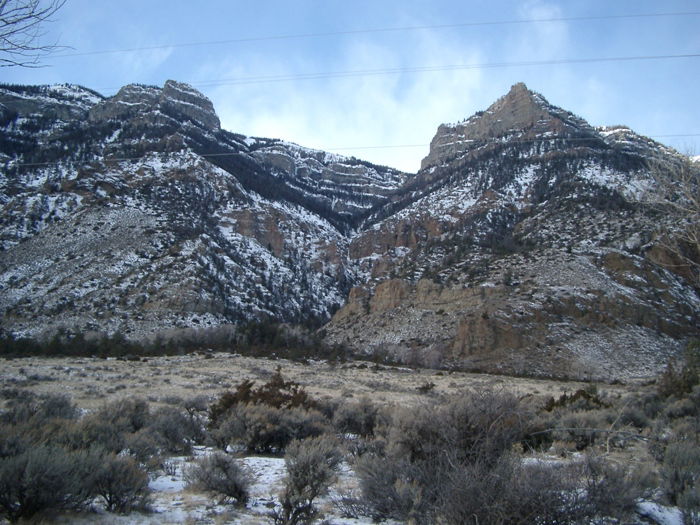 Legg Creek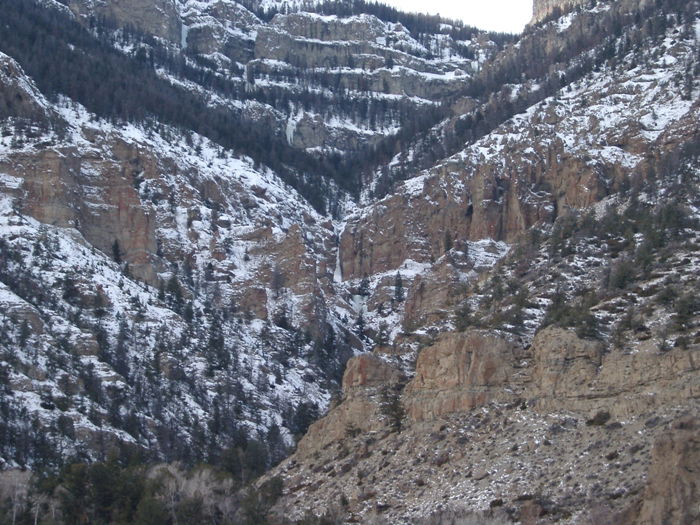 The pitch we climbed in the center of the photo.