Statistics
Date - 01/10/2008
Elevation - 7,600'
Route - Bozos Revenge
Miles - 2.0
Elevation Gain - 1,300'
ACME Mapper - Link
CalTopo - Link
Partners - Brian Kooienga
Description
Brian and I both heard stories of long approaches, difficult ice, benighted descents, and cold weather with regard to ice climbing near Cody, Wyoming, in the South Fork. Nevertheless, we drove to the South Fork of the Shoshone River for a weekend of ice climbing. After checking into our hotel, we went over to Core Mountain Sports to pick up a few final pieces of gear and talk with local climber Aaron Mulkey. Aaron played an extensive role in developing the Cody section of the new ice climbing guidebook Winter Dance. He gave us some good recommendations and we grabbed some dinner in anticipation for our first day of climbing.
We started the weekend with Bozos Revenge. This climb is broken into three pitches. The first is a 20 meter ramp, the second is 50 meters of rolling ice, and the final is another 20 meter bulge. The second pitch seemed harder than the WI3+ rating. In hindsight, we thought all of the routes we climbed were somewhat underrated. However, our experience is limited to only a few places in Colorado.
The drive from Cody, Wyoming, to the end of the South Fork takes about an hour. Climbers can stay at Bison Willys Bunkhouse at the Double Diamond X Guest Ranch in the valley, but we took advantage of a cheap hotel rate and felt that there were other advantages to staying in town. We always got a great dinner, slept well, and the morning drive allowed us to wake up and fuel up for the day.
The approach was about an hour and included a small bit of ice bouldering up the creek to the base of the climb. We left non-essentials in Brian's backpack at the base of the first pitch and loaded mine with a belay jacket, water, food, and first aid kit. Brian took the first pitch and set up a solid anchor at the base of the second pitch. I led the second pitch and quickly realized that all the ledges I had eyed from below were not nearly as defined as I thought they were. I fought my way up this longer pitch having to rest twice and then brought Brian up. There was a 100 meter hike to the base of the final pitch which Brian led. After bringing me up, I realized I forgot the cord we needed to build a V-thread in our backpack at the base of the third pitch. Brian lowered me to retrieve the cord and I quickly re-climbed the final pitch. We built an anchor and rappelled the third pitch. Brian weighs 20 pounds more than me, so he went first with a backup ice screw. I removed the screw and followed him down. We hiked to the top of the second pitch and repeated the process. Our final rappel already had an existing V-thread, so we simply tested and inspected it before using it to get down the first pitch.
We hiked out, had a beer, and drove back to town. The Proud Cut Saloon had a great $12 prime rib sandwich. After dinner, we retreated to our room where we reorganized our gear and made plans for day two. We got their first taste of Wyoming ice and made a successful ascent of Bozos Revenge.
Photos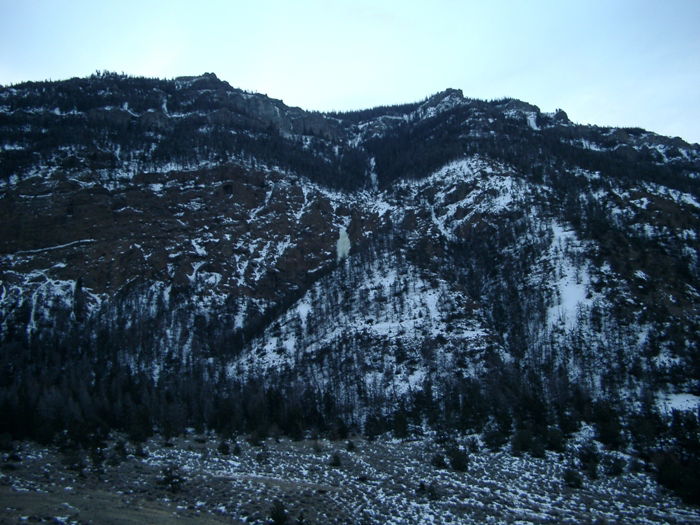 Bozos Revenge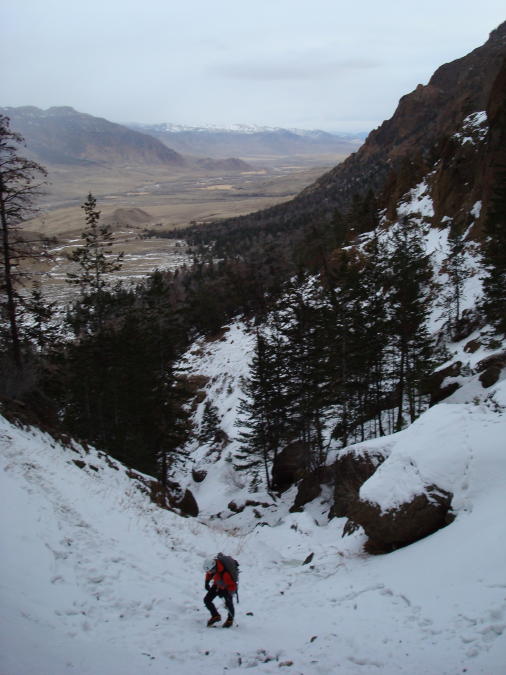 Approach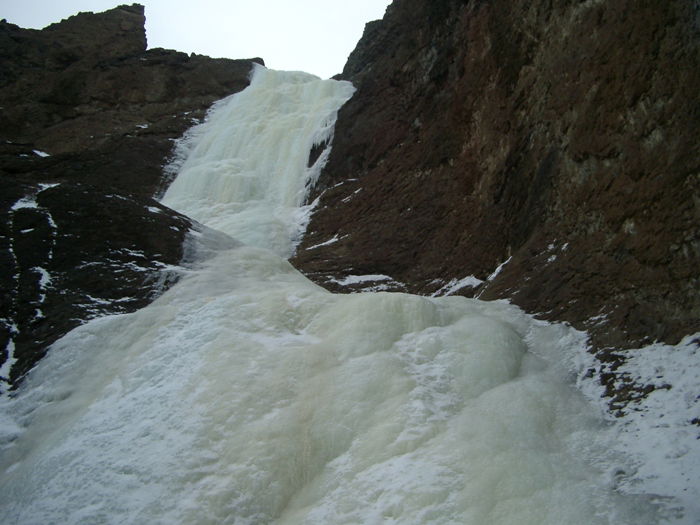 Bozos Revenge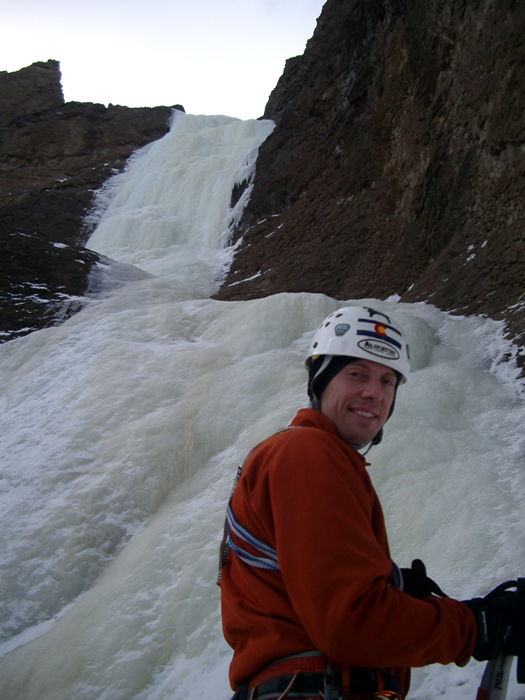 Brian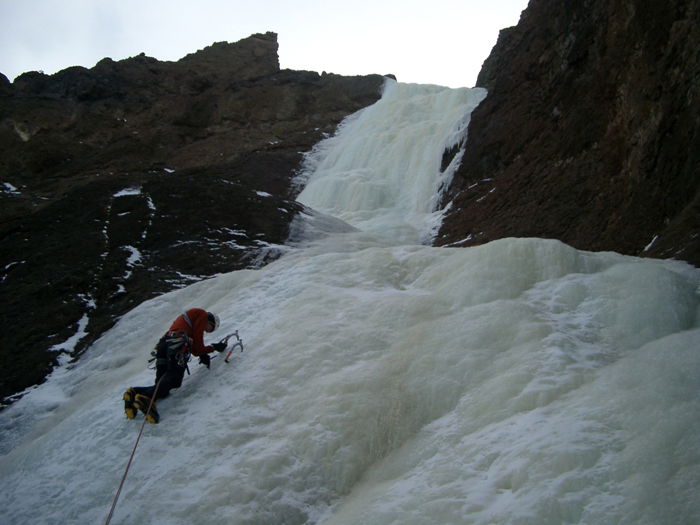 Brian leading pitch 1.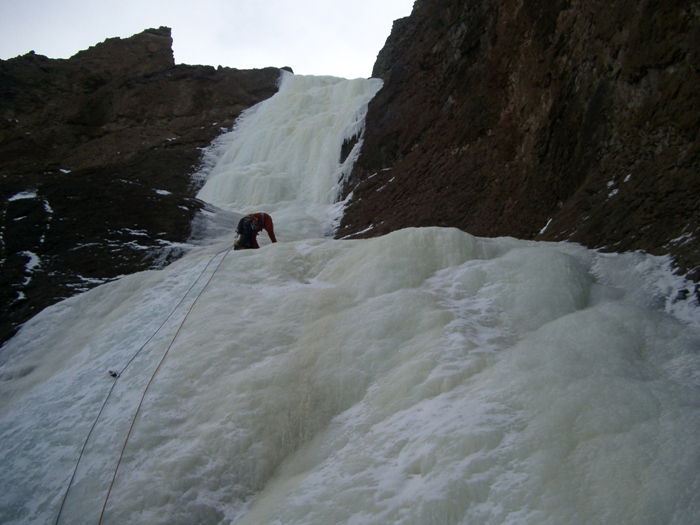 Brian leading pitch 1.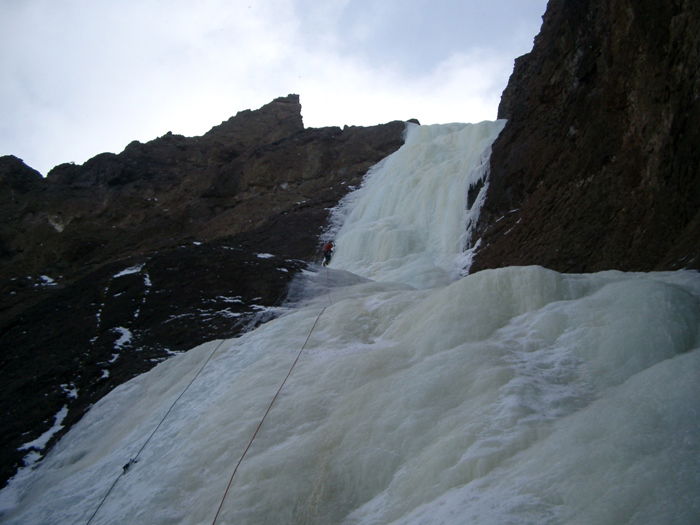 Brian at the top of pitch 1.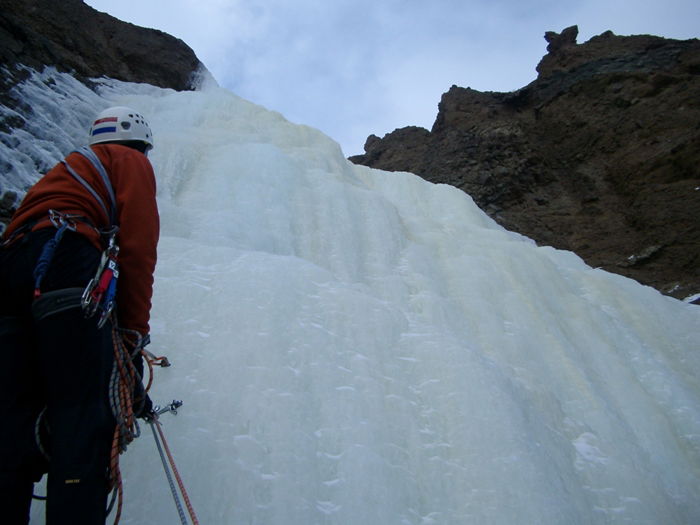 Pitch 2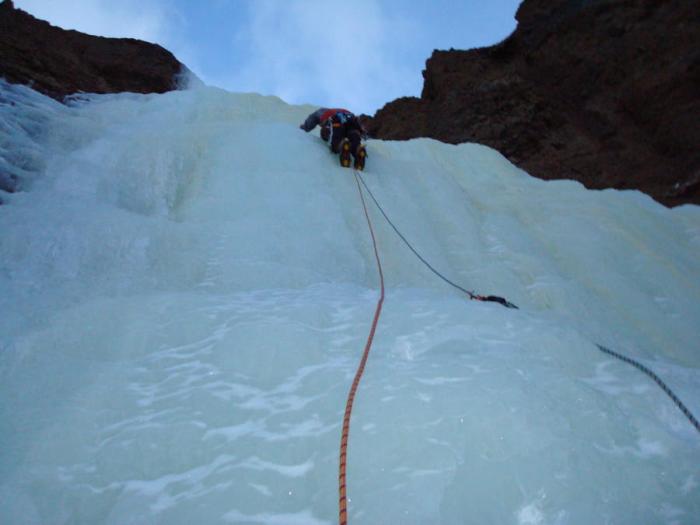 James leading pitch 2.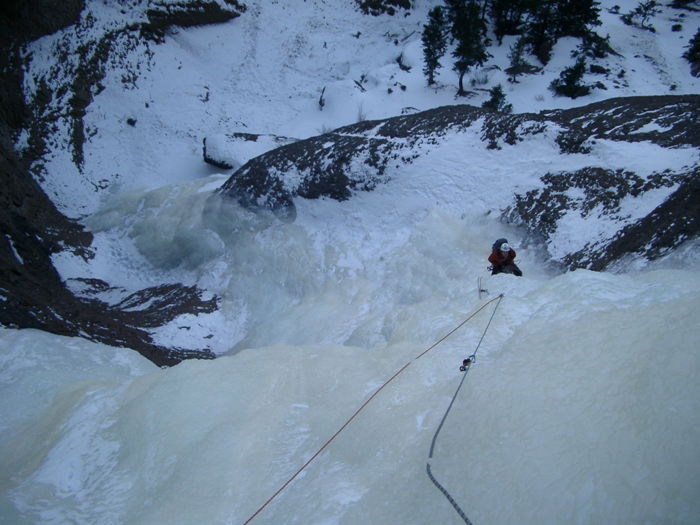 Looking down pitch 2 from about half way up.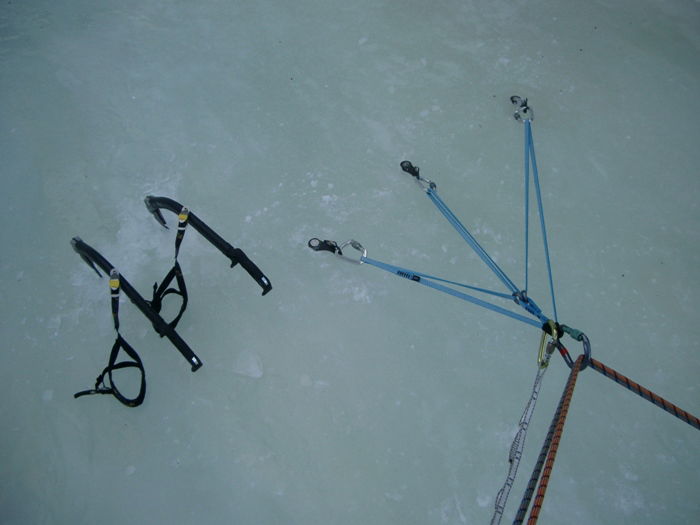 Anchor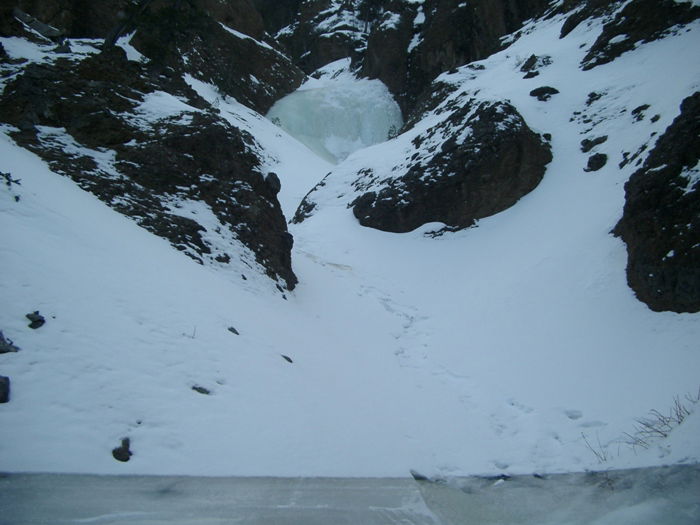 Pitch 3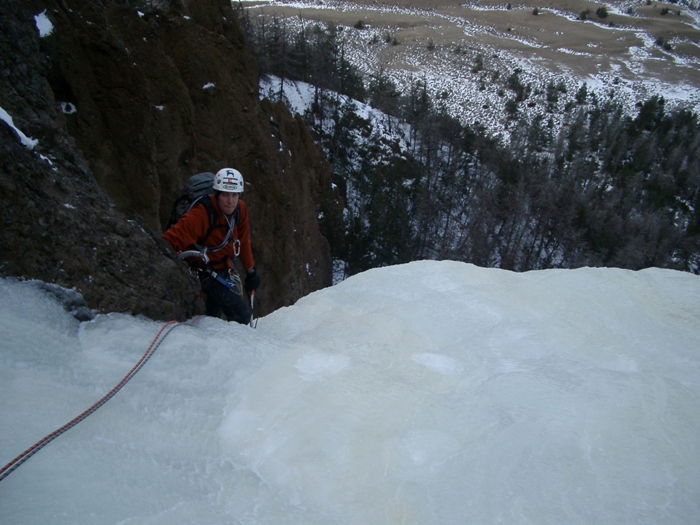 Brian finishing pitch 2.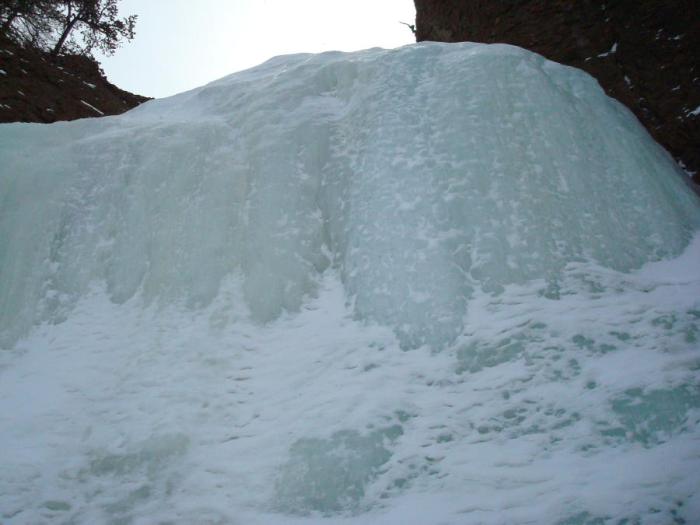 Pitch 3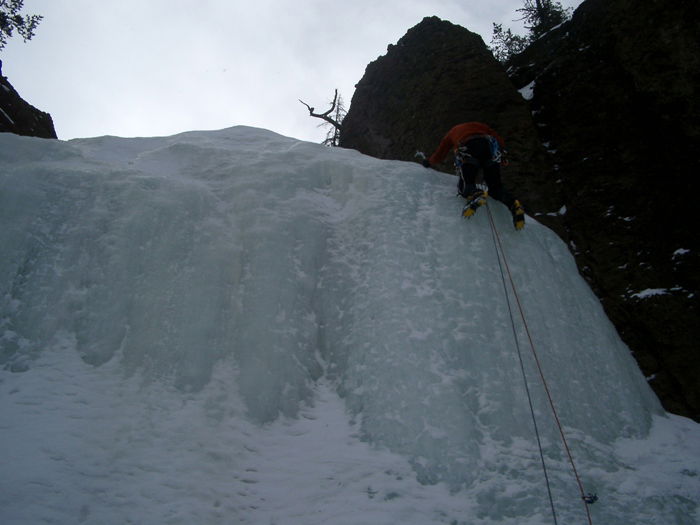 Brian leading pitch 3.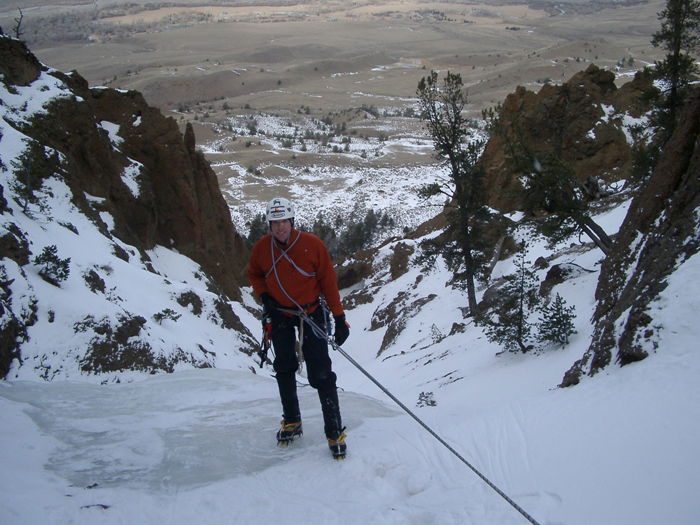 Rappel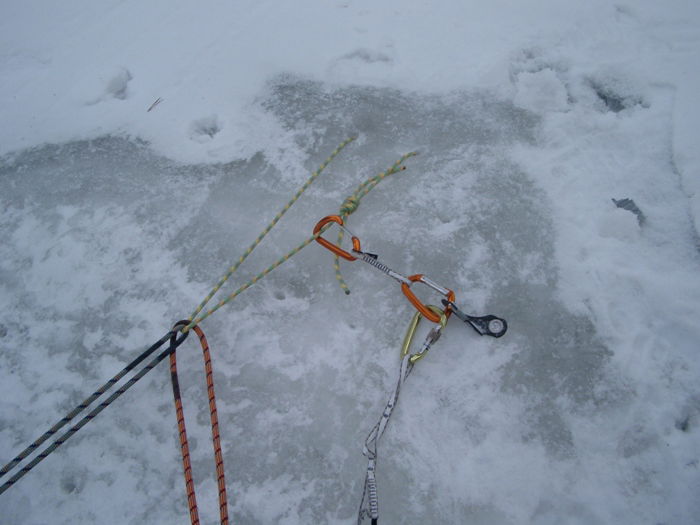 V-Thread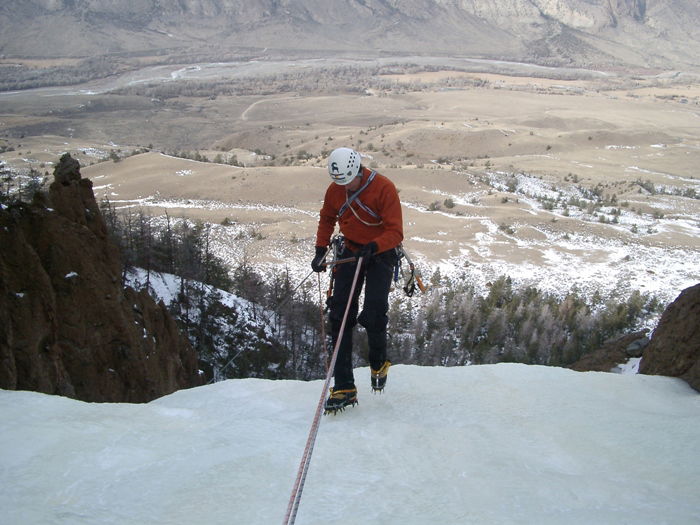 Rappel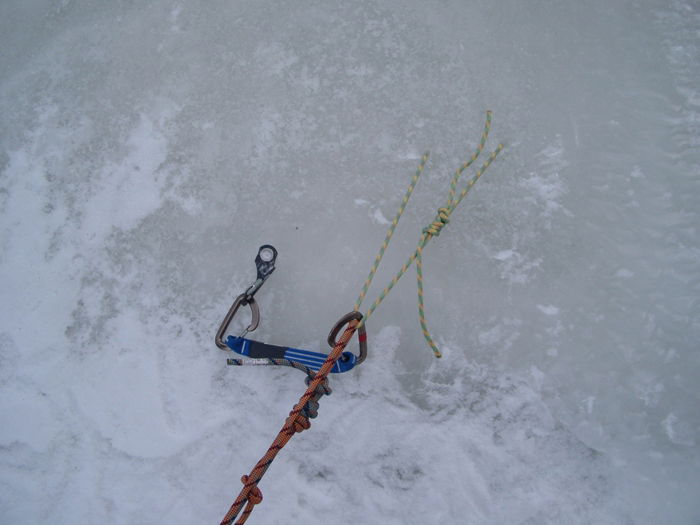 V-Thread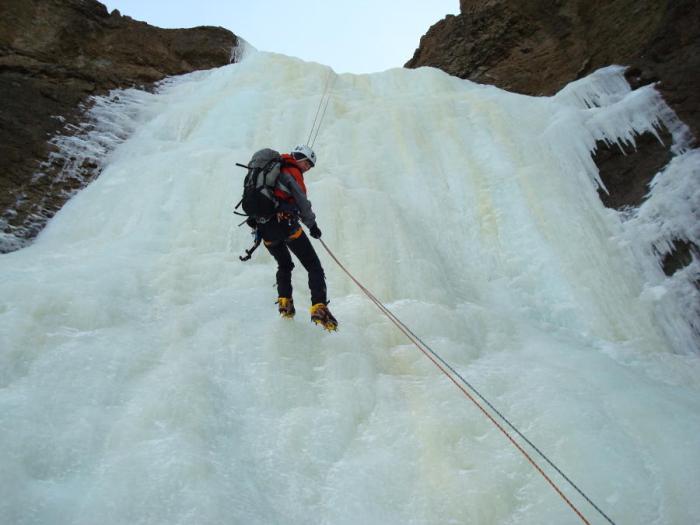 Rappel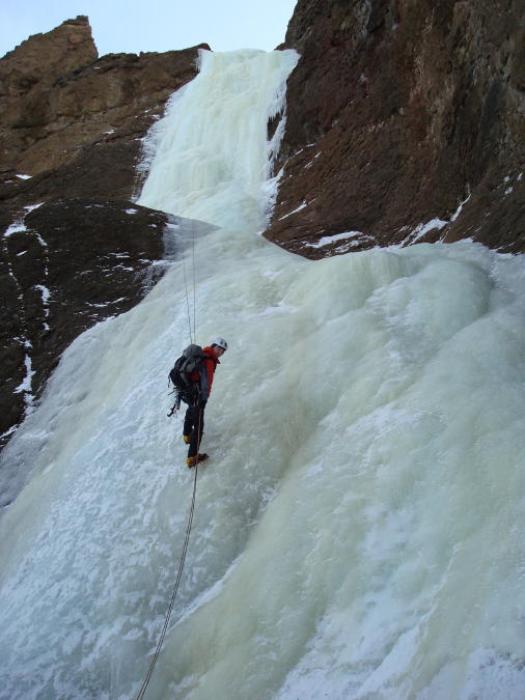 Rappel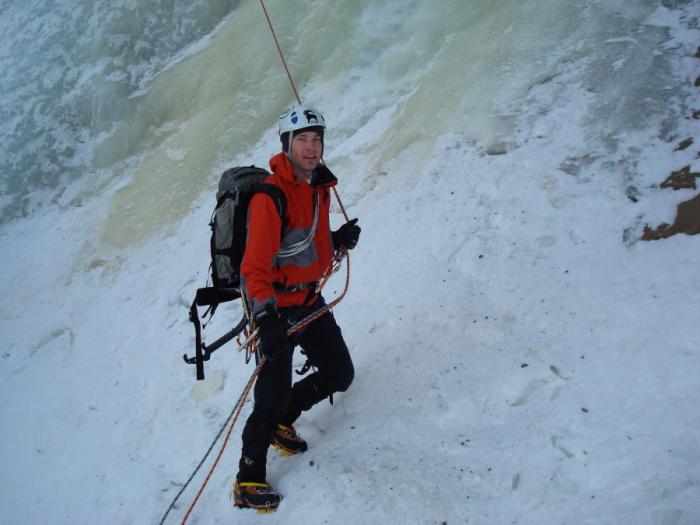 James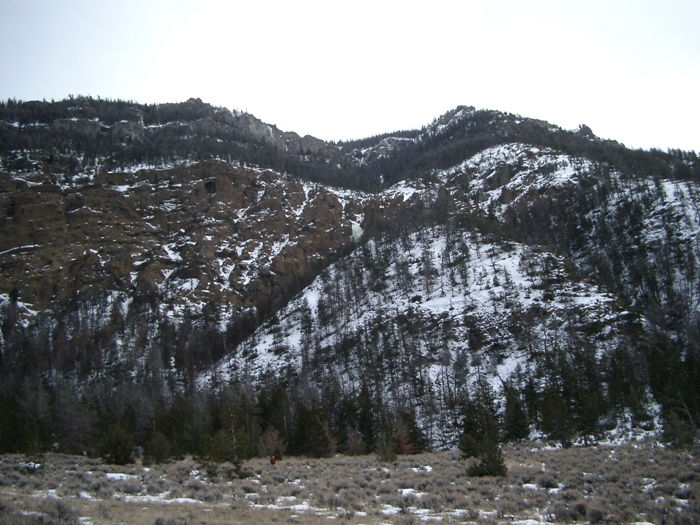 Bozos Revenge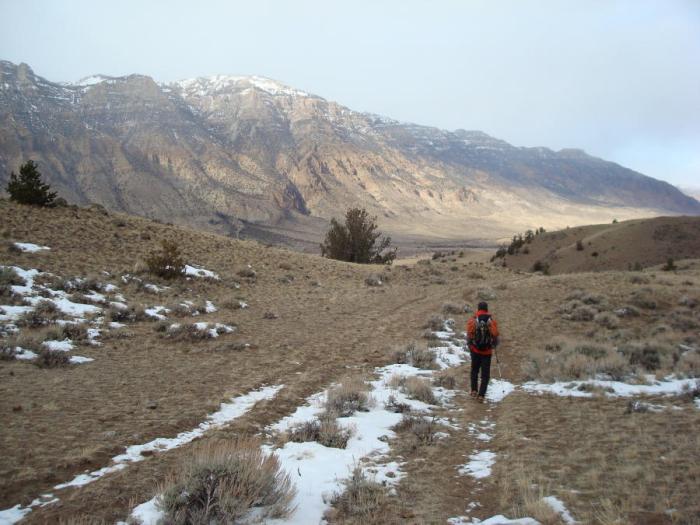 Hike Out