Statistics
Date - 05/19/2007
Elevation - 14,265'
Route - Cristo Couloir
Miles - 2.0
Elevation Gain - 2,600'
ACME Mapper - Link
CalTopo - Link
Description
This hike was Kevin's return to the mountains. Last August while he and I were on a hike, a handhold blew out on him on some exposed terrain and he took a serious fall. Long story short, he hit the deck from 20 feet up and then tumbled/cart-wheeled another 40 feet before all the damage was done. He spent a couple days in intensive care and after several surgeries returned home from the hospital after a week. Kevin broke his back, dislocated a shoulder, cracked ribs, punctured a lung, broke his knee cap, and really messed up the ligaments in his hand. After a winter of rest and rehab, it was time to test out what condition his heart and body were in.
Both Kevin and I wanted a relatively short hike since it was his first time out in a while and I was still recovering from LASIK eye surgery I had a week ago. The Cristo Couloir on Quandary's south face seemed to meet our needs nicely. In addition, after a season of ice climbing Brian has become somewhat of a crag climber and has gotten used to the short approaches. We met at Brian's around 4:30 and were hiking by shortly after 7:00. We only hiked about 10 to 15 minutes before we hit the snow and had to put crampons on.
If you are looking for a hair-raising, spine-tingling, thrill-seeking climb, the Cristo Couloir probably isn't the place to go. However, if you are looking for a fun, moderate, training snow climb, then it qualifies. Snow conditions were acceptable, and we took turns kicking steps in the snow. Everybody enjoyed the morning as we worked our way up the couloir. Kevin did well for his first time out in a while.
We took a break a little over half way up on some rocks to hydrate and eat. I thought the outcropping we rested on would be the perfect place to capture Brian descending the couloir. He was packing his skis along and was going to ski the Cristo Couloir on the way back down. After our break, we continued climbing as the snow softened in the morning sun. The grade increases a bit near the top of the climb before the shallow couloir ends a couple of hundred feet below the summit. We topped out on the couloir and then Brian and I continued on to the summit because Kevin needed some alone time. He was touching cloth and needed to use the restroom.
The weather was perfect and we enjoyed a snack on the top of Quandary Peak. For this particular climb, we tried to implement at least half of Mark Twight's climbing philosophy of alpine style "fast and light". We went light. It took us just over three hours to summit. After a short break, Kevin and I got into position to photo and video Brian dropping off the summit cornice and skiing back to the top of the Cristo Couloir. Kevin and I worked back down to the snow and then glissaded down the couloir to wait for Brian's ski descent of Quandary Peak. Kevin and I finished the glissade, and Brian skied to the base of the couloir.
We had a fun day in the mountains and stopped at the Dam Brewery in Dillon, Colorado, for a couple of pints and something to eat. Brian enjoyed skiing the couloir, and I had a good time trying out my new eyes. Kevin's knee bothered him some on the descent, so being able to glissade for over 1,600' really helped a lot. Despite his accident last year, both Brian and I were glad to see Kevin back in the mountains.
Photos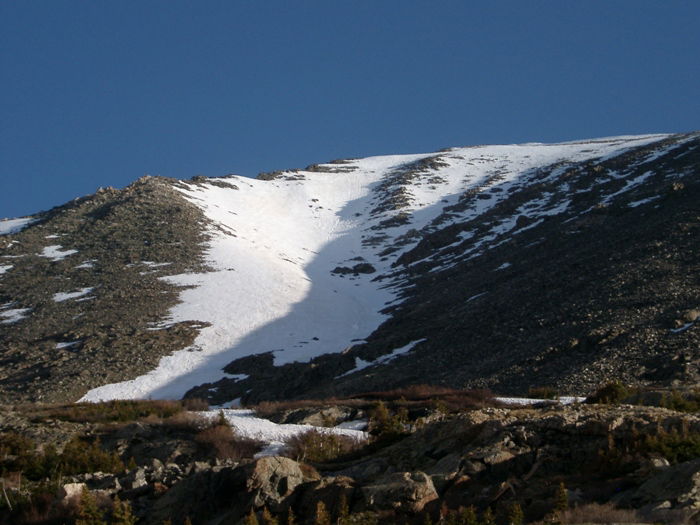 Quandary Peak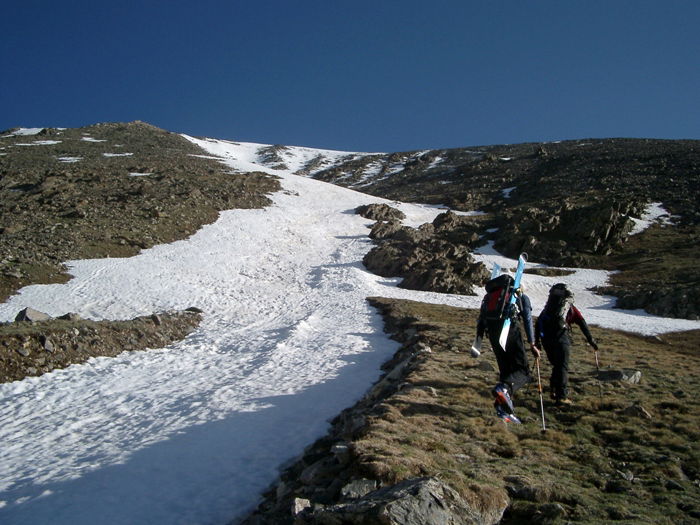 Cristo Couloir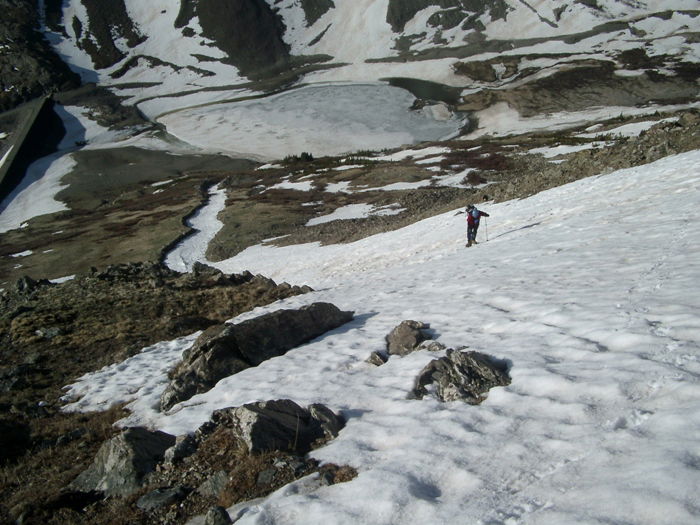 The start of the snow climb.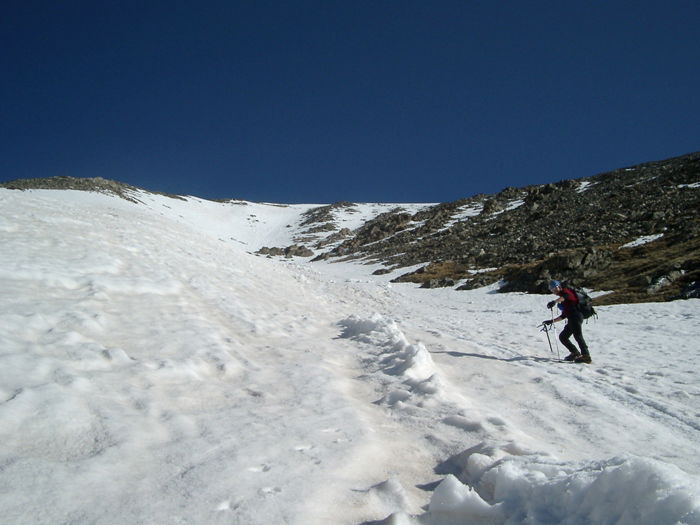 Looking up the couloir.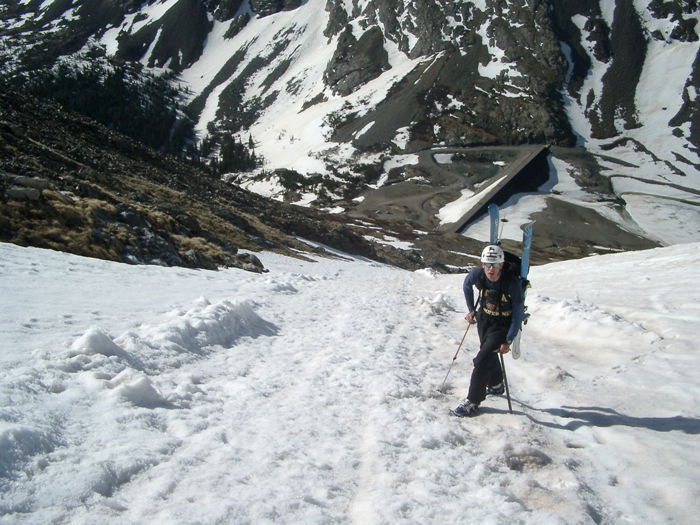 Brian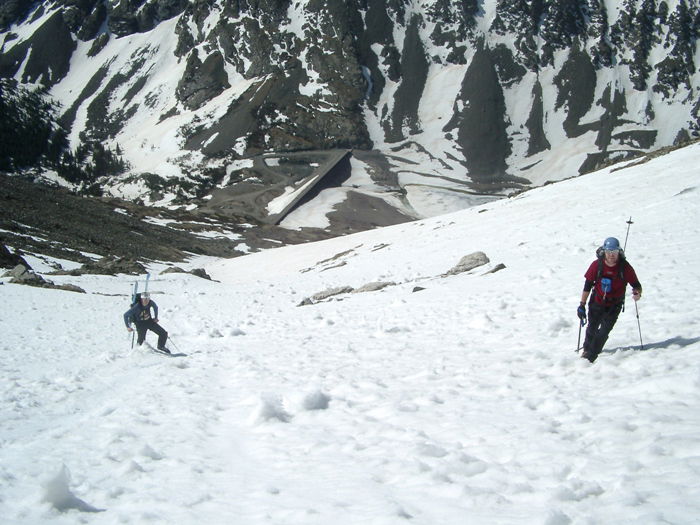 Brian and Kevin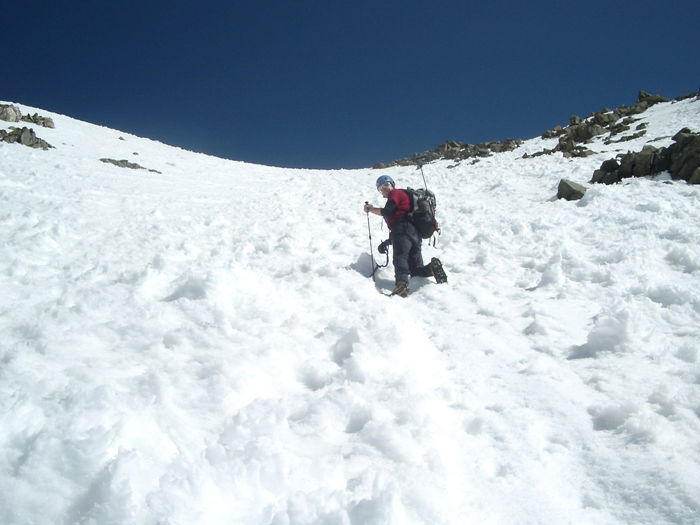 Kevin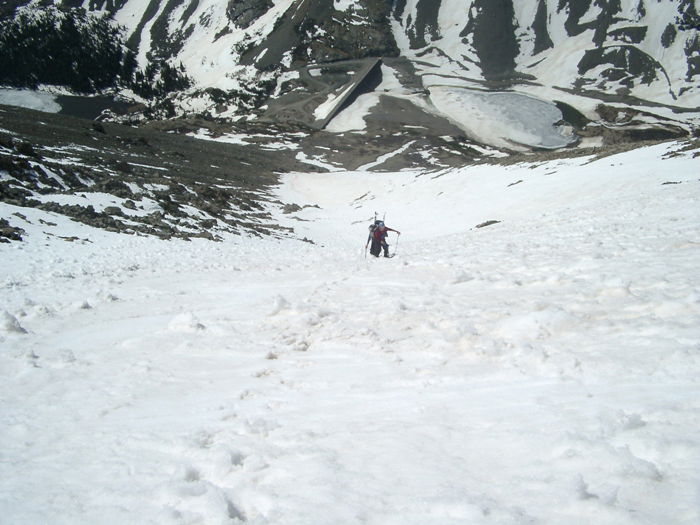 Making progress up the snow climb.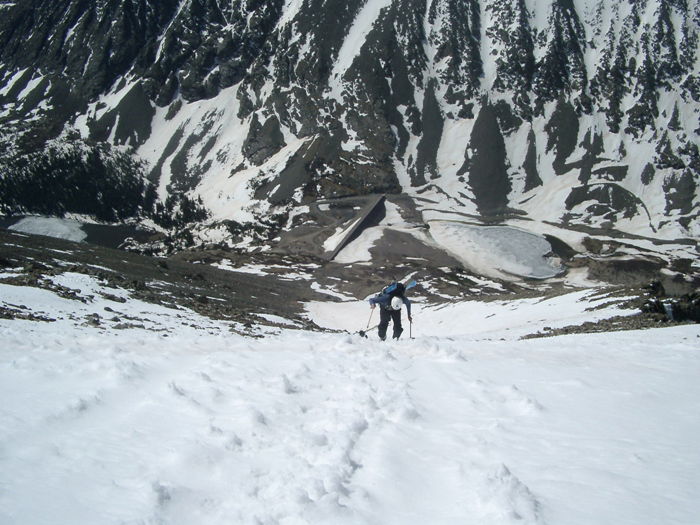 Brian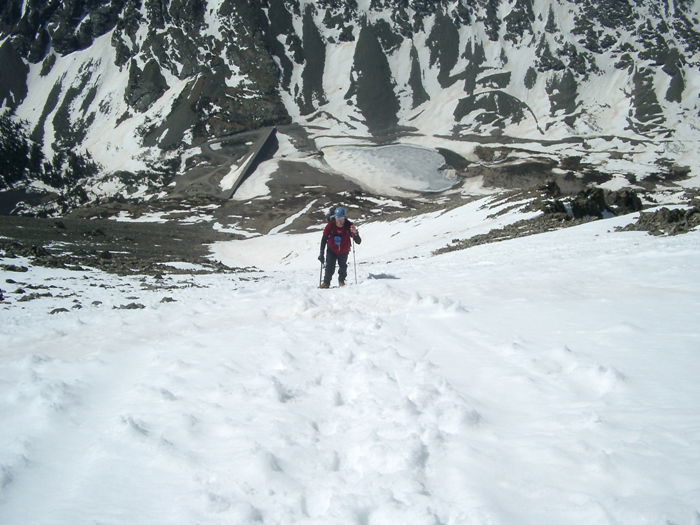 Kevin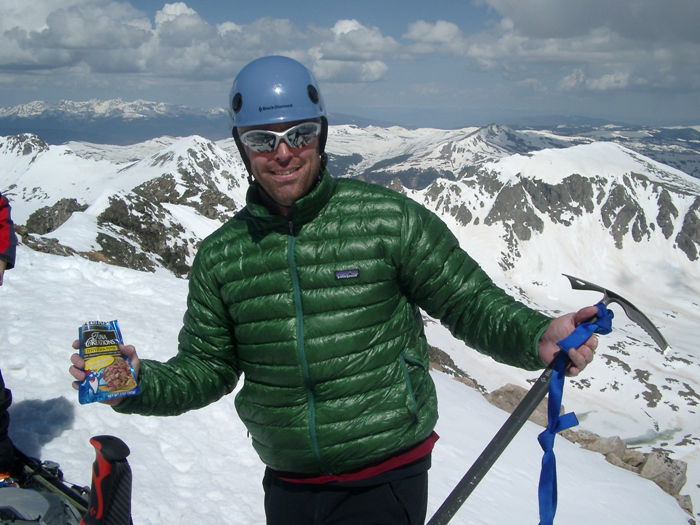 Kevin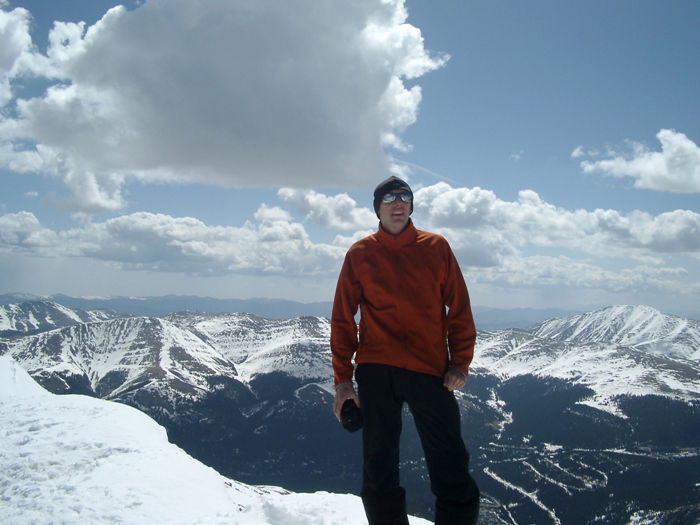 Brian