Statistics
Date - 07/28/2007
Elevation - 7,355'
Route - East Ridge
Miles - 4.0
Elevation Gain - 1,955'
ACME Mapper - Link
CalTopo - Link
Description
I tried to get out Friday afternoon, but was stopped by road closures. After getting frustrated, I just went back to Sandpoint, Idaho, and found another local brewery and had some beers. Saturday morning I got up with intentions of climbing Harrison Peak, the primary objective for my entire trip back to northern Idaho. I had hiked to Harrison Lake several times before I was more interested in peaks and never really gave the actual peak a second thought. I even had updated information on the class 3 route I wanted to attempt. Because of my plans for the afternoon, it made more logistical sense to approach Harrison Peak from Myrtle Creek Road rather than the Pack River Road which is south of the mountain. Unfortunately after driving two miles up Myrtle Creek Road, it was closed for repairs. My plans obviously changed and I decided to hike Pyramid Peak first and then drive all the way around and climb Harrison Peak from Pack River Road.
I drove back down Myrtle Creek Road, headed north for about eight miles, and then took a left up Trout Creek Road to the trailhead for Pyramid Lake, Ball Lake, Trout Lake, Big Fisher Lake, Pyramid Pass, and of course Pyramid Peak. There is a well maintained trail all the way to Pyramid Pass and the off-trail hiking before treeline was fairly easy to negotiate. If fact, there is a faint climbers trail for part of this section of the hike. The east ridge of Pyramid provided an enjoyable scramble. The rock was solid and the climbing was on large boulders. I stayed directly on the ridge which never exceeded and rarely reached class 3. I feel it would be fairly easy to keep the hiking to class 2 if you ventured further to climber's right. I reached the summit in 1 hour and 25 minutes with a round trip time of 2 hours and 30 minutes after 5 minutes on the summit. If you are in this particular area hiking or backpacking, I would highly recommend this short scramble to the summit of Pyramid Peak.
Photos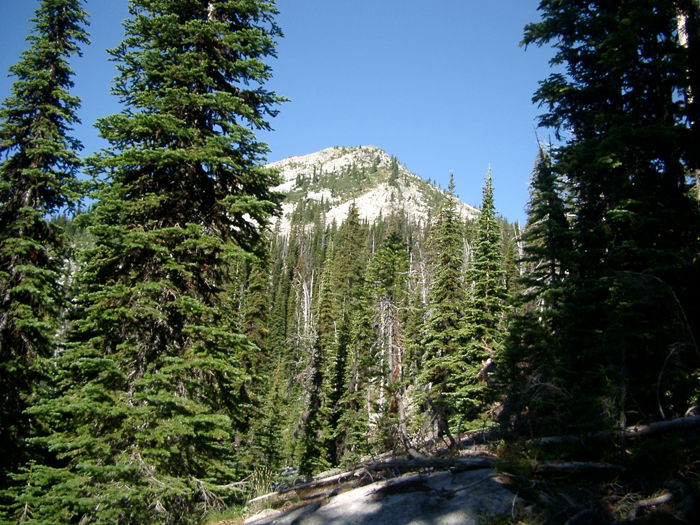 Pyramid Peak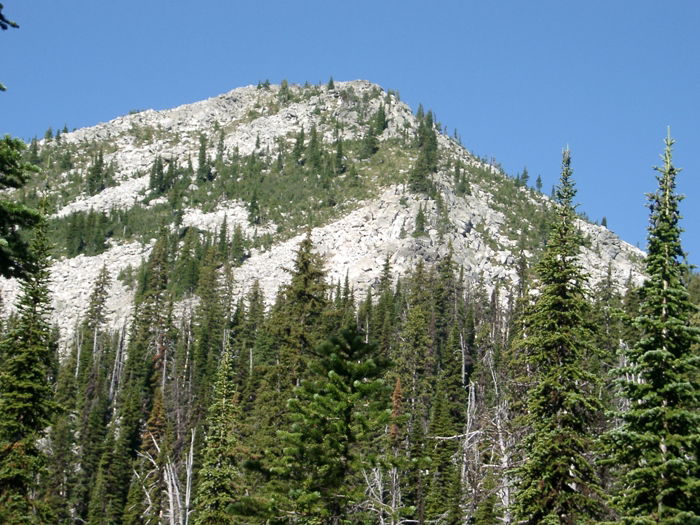 Pyramid Peak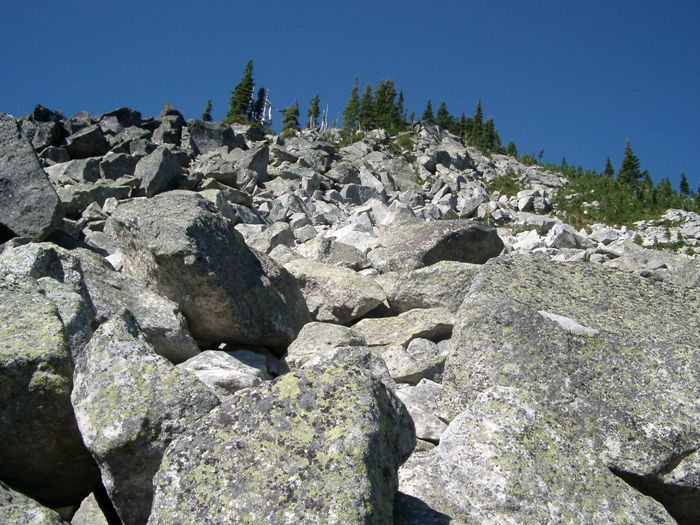 Scrambling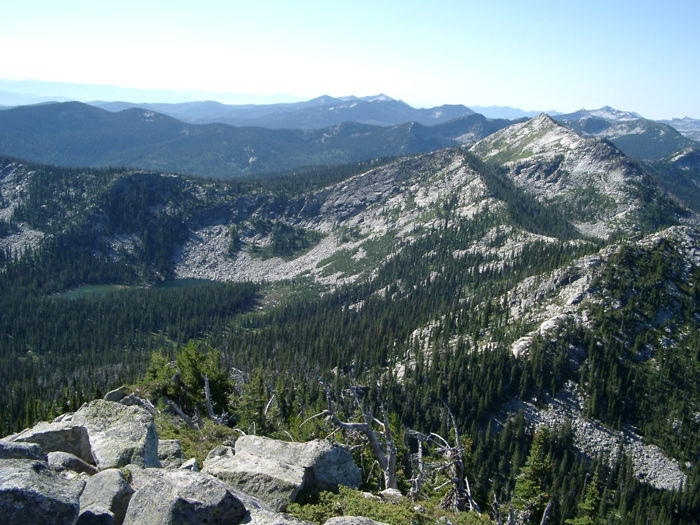 Views with Pyramid Lake in the valley below.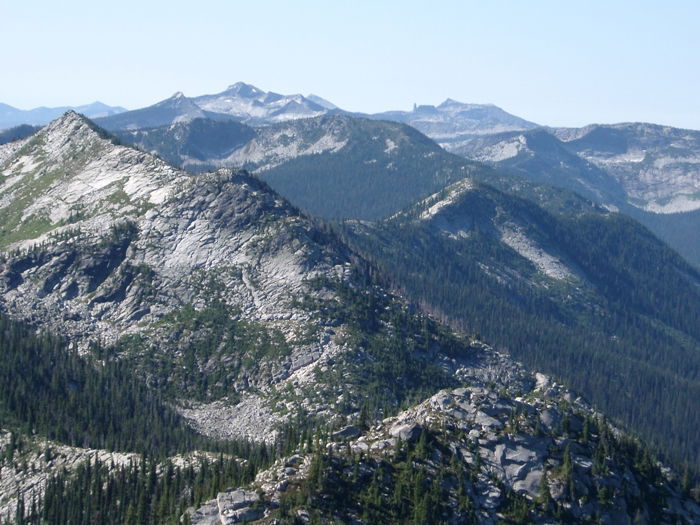 Views with Chimney Rock in the far distance.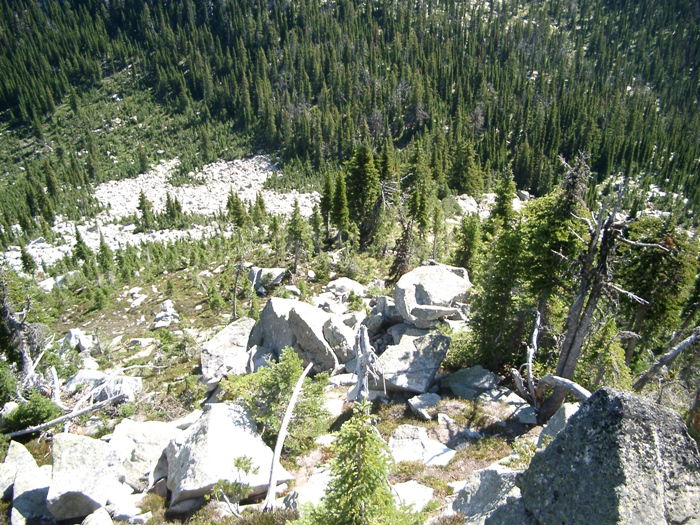 Pyramid Peak East Ridge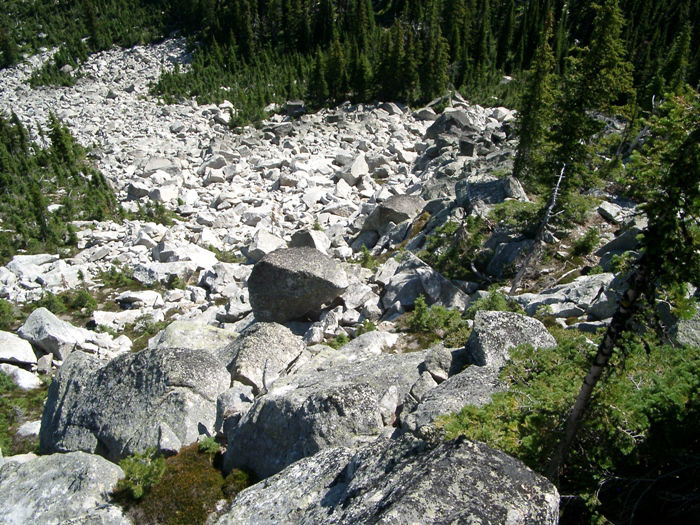 Boulder field above Pyramid Pass.