Statistics
Date - 11/17/2007
Elevation - 12,234'
Route - Northeast Face Route (Notchtop)
Miles - 8.5
Elevation Gain - 3,100'
ACME Mapper - Link
CalTopo - Link
Description
George, Nate, and I went to Rocky Mountain National Park to check out the ice on the northeast face of Notchtop Mountain that many people had been climbing over the past three weekends. We pitched it out with four sections of ice and one snow pitch sandwiched in the middle. I hadn't been out doing anything for a month and the last time I swung an ice tool was back in the beginning of April, so this climb was intended to shake out the cob webs for me. In an email to Nate and George earlier in the week, I nonchalantly referred to it being quite some time since I've had a good beat down in the mountains. Surprisingly, it was the descent down the Flattop Trail that more than adequately supplied my beat down.
We left the Bear Lake Trailhead early and made acceptable time to Lake Helene east of Notchtop Mountain. We knew to stay high and left at the lake to access the northeast bowl. Above Lake Helene, we finally realized the strength of the wind and worked our way to a small chimney that contains the low class 5 rock climbing section needed to gain access to the start of the climb. After a quick jump and hump move over a chockstone in the chimney, we did a little more scrambling before resting on a shelf to gear up and have some breakfast burritos that George's wife made for us. The wind relented here, but we watched all day as the clouds whipped by above us and spindrift flowed down the mountain.
George made short work of pitch 1 (WI2) and then brought Nate and I up together on two pitons and a nut to the right of the base of pitch 2. Pitch 2 (WI3+) has two vertical steps and is considered the route's crux. George led this pitch and then Nate and I climbed it separately as it is fairly constricted. George's anchor was built on a small cam and two pitons he placed. From here, there is a section of snow that you need to climb to the base of pitch 3 where George made an anchor with three ice screws. Pitch 3 (WI2) was a good warm up for me to lead. Reportedly, there are a couple more pins to the right of the base of pitch 4, but with the snow accumulation, I only dug around for a short period of time before settling on a couple of cracks to build my anchor with three cams. Similar to pitch 1, George and Nate followed together as there was enough room and the climbing was easy.
At this point, a team of two caught up to us so we told them to continue by us. Although we lost some time, we didn't want to hold them up since they were moving faster. In addition, we were entertained by the wild swinging the leader did on pitch 4. It was a good lesson on inefficiency. We decided to dedicate the Static X song Destroyer to early season ice climbers with over zealous swings. Anyway, after getting up pitch 4 (WI3), I slung a boulder and then brought George and Nate up individually. We did some scrambling to reach a level and sheltered area to collect ourselves.
In recent reports, there was no mention of a significant cornice, so when George pointed it out to Nate and I we were fairly surprised. Since we had approached in the dark, we weren't able to view it from a distance. We stayed roped up and simply hugged the rock on the right as we snow-climbed to our exit on the Continental Divide. Although we had completed the climb safely, we were now greeted by the blasting wind that we had experienced on the approach of the northeast face.
Since it was late in the day, we didn't summit Notchtop Mountain. We packed up some gear and trudged our way south to Flattop Mountain as the sun set and the wind continued to blow fiercely. We stopped occasionally to make sure everyone agreed on the direction we were heading and to see if we were all in good condition. After finding the trail, we picked up the pace some and worked our way near the top of Dragons Tail Couloir. We simply continued down the Flattop Mountain Trail to the Bear Lake Trailhead. The trail hiking below tree line was unpleasant due to the icy conditions. It seems ironic that we go out of our way to seek out ice to climb on the side of a mountain, and it's the ice we curse on the descent. I fell four or five times, and Nate said he fell a couple of times on some rocks and into the bushes. I think we were more sore from the falling than actually swinging tools and kicking ice.
Photos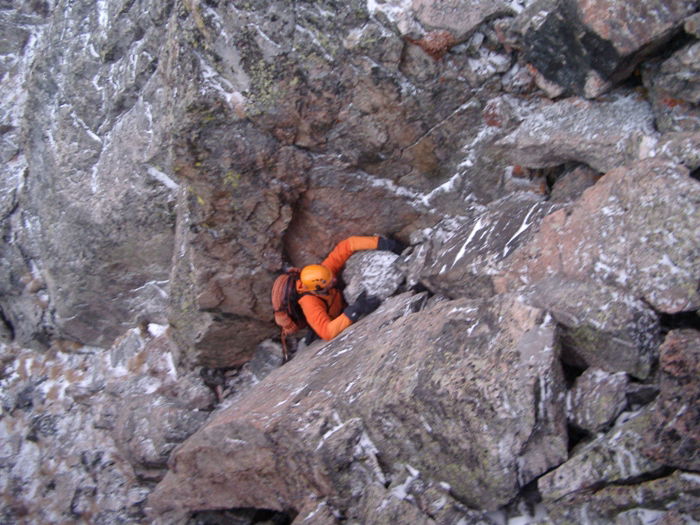 Scrambling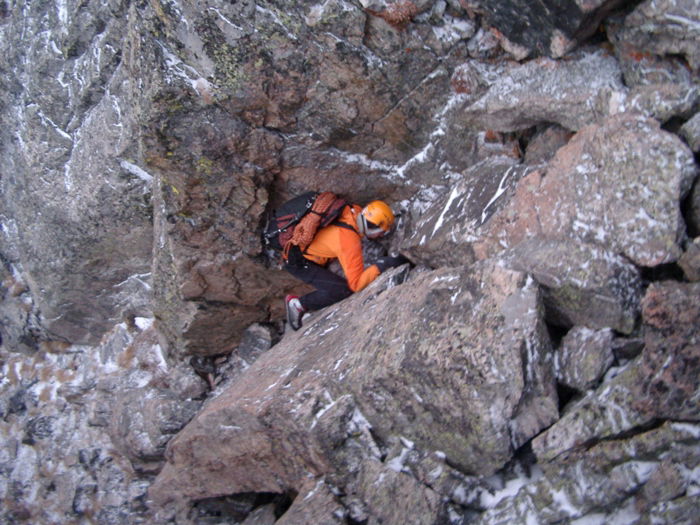 Scrambling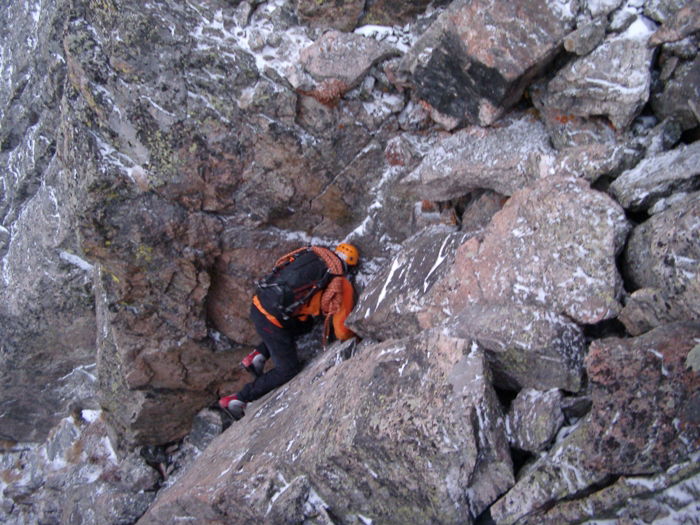 Scrambling
Nate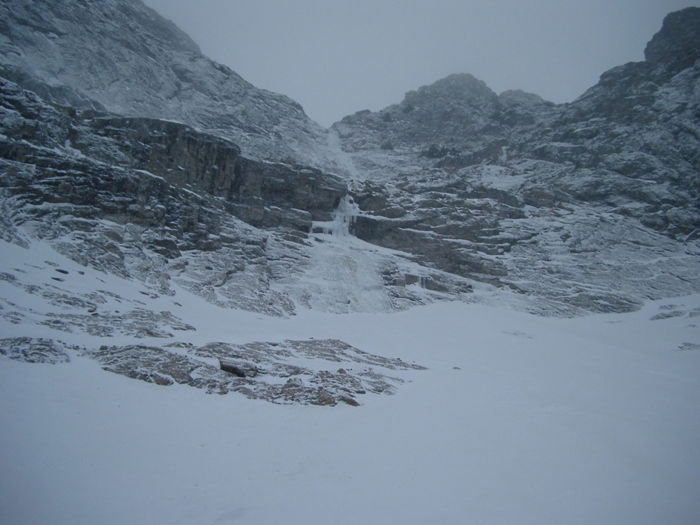 Northeast Face Ice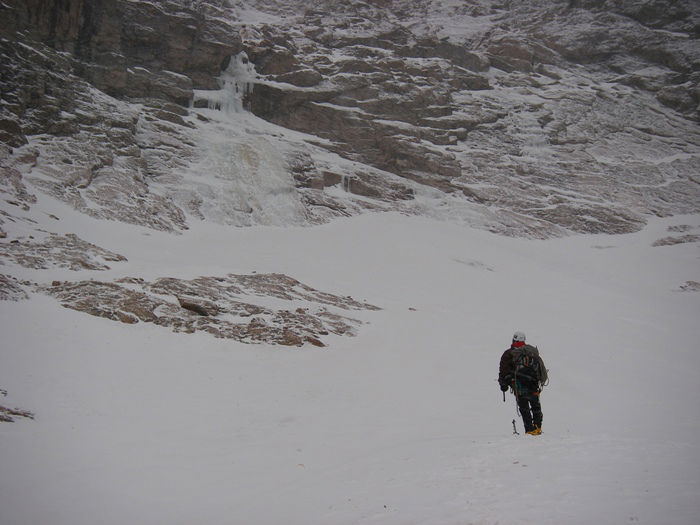 Approach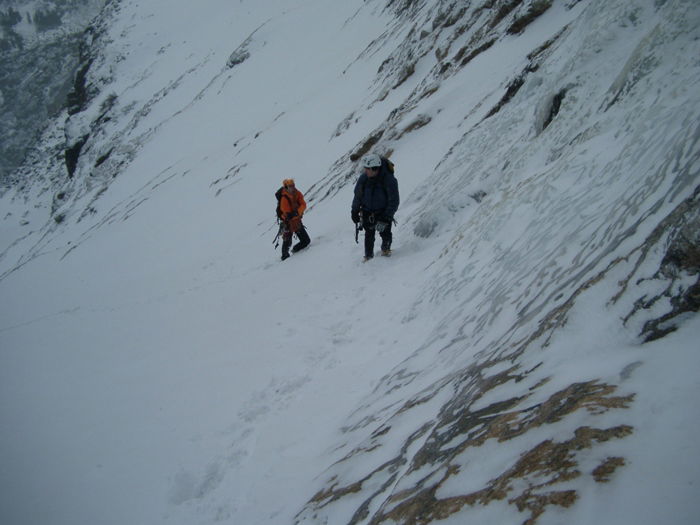 George and Nate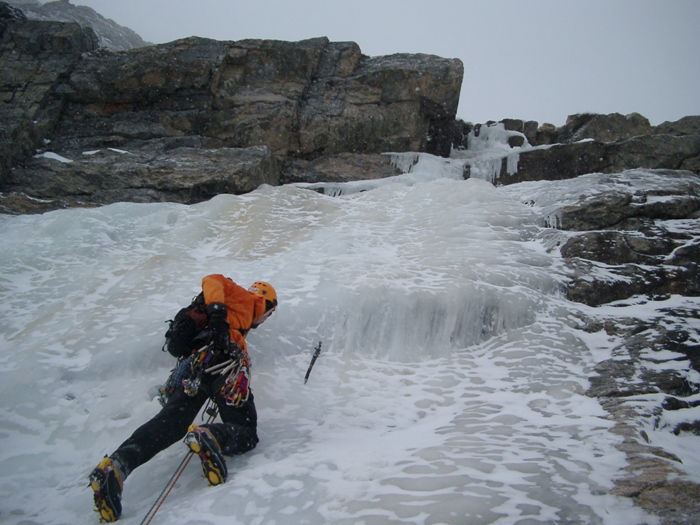 George leading pitch 1.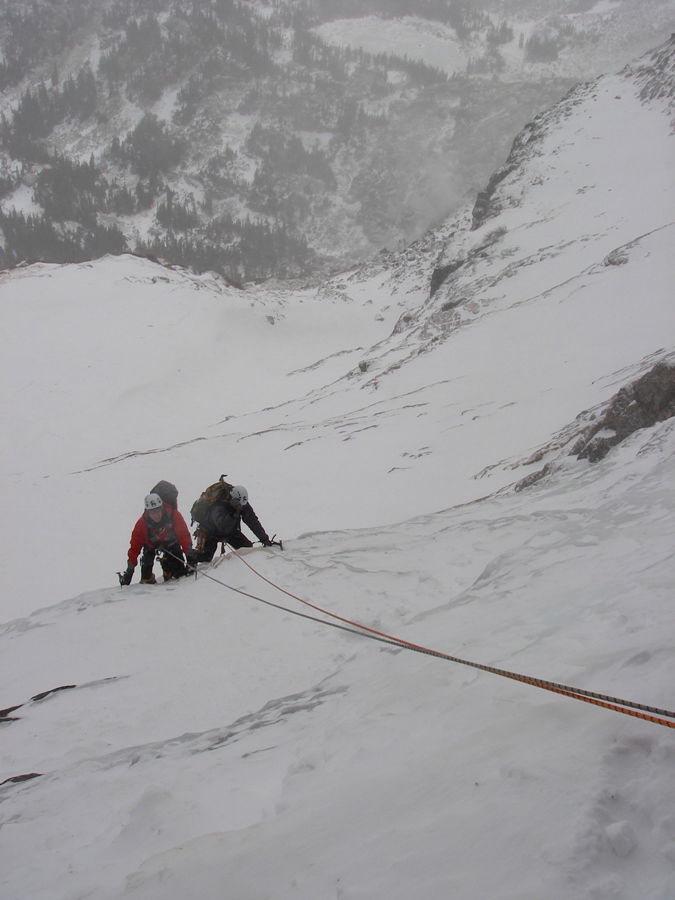 James and Nate following pitch 1.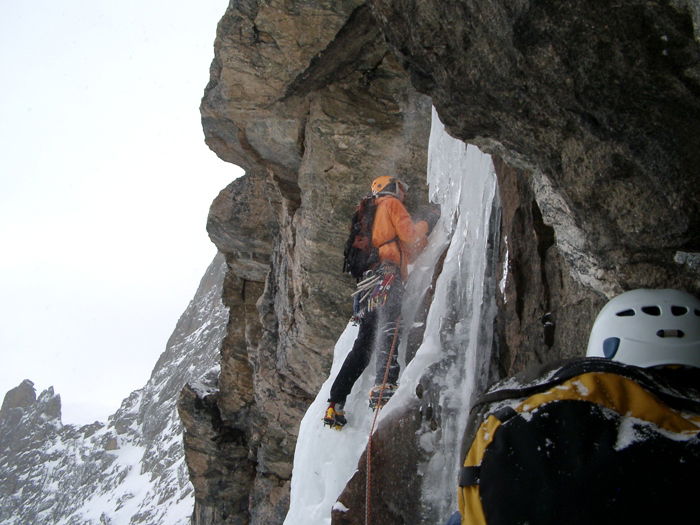 George leading pitch 2.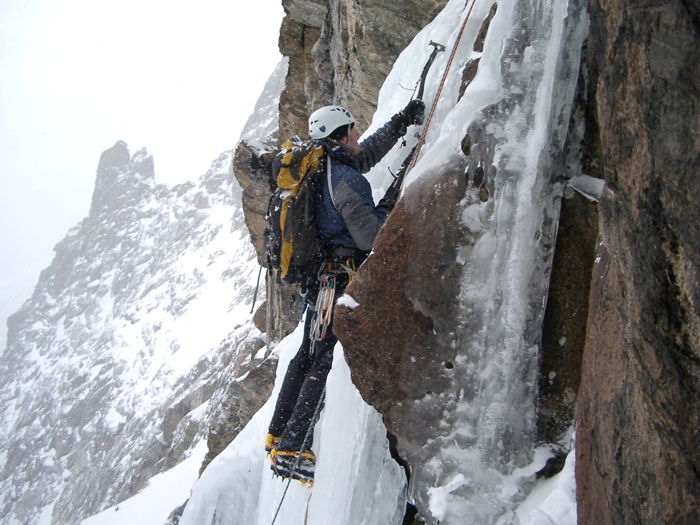 Nate following pitch 2.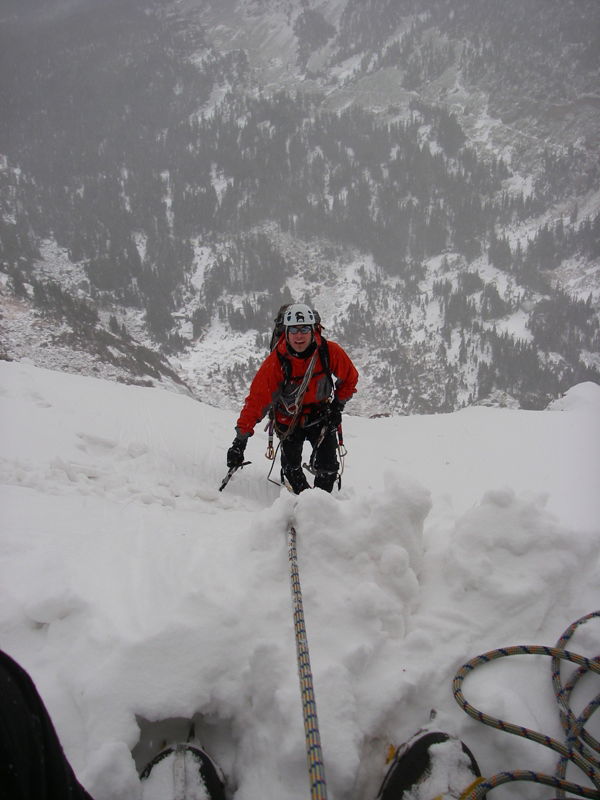 James nearing the top of pitch 2.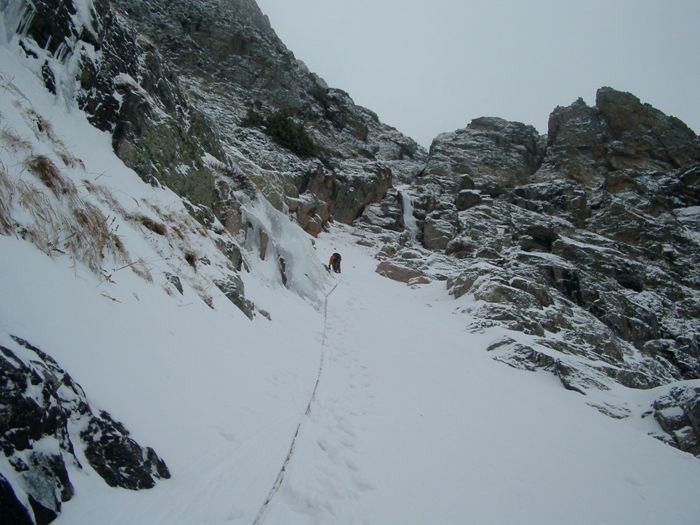 Snow Pitch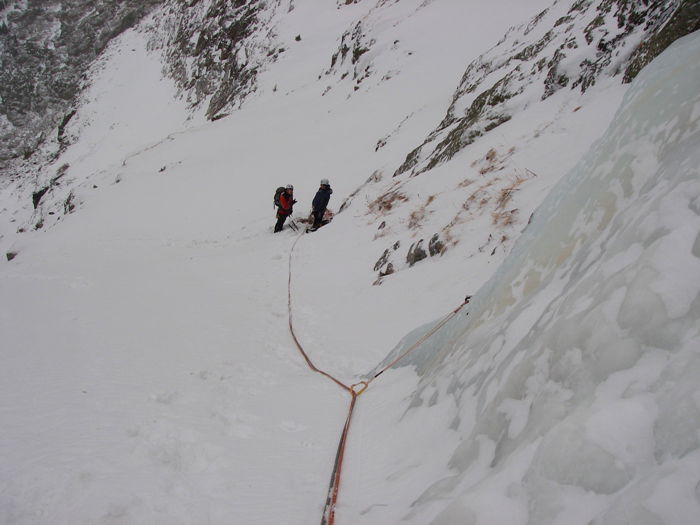 Looking down the snow pitch.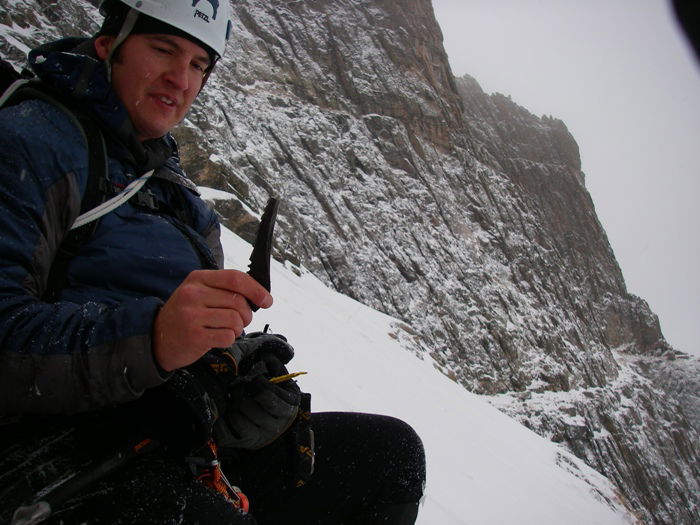 Broken Pick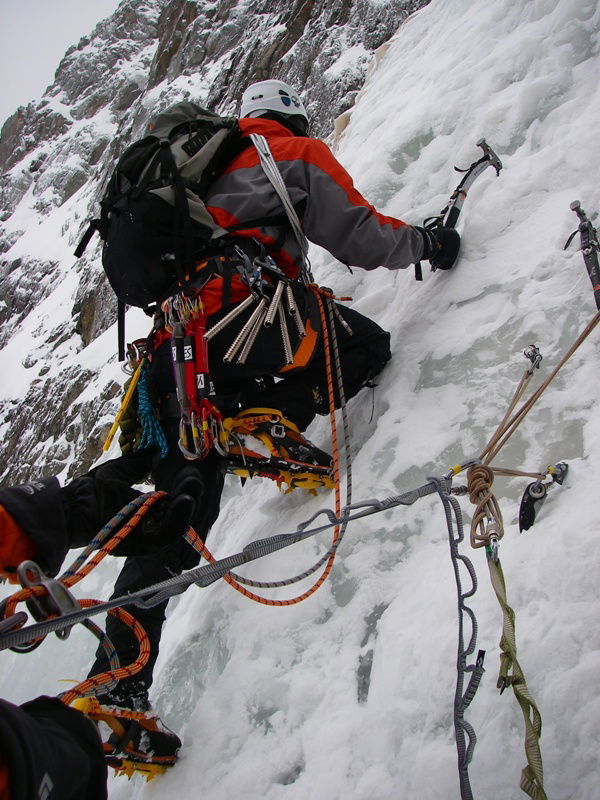 James leading pitch 3.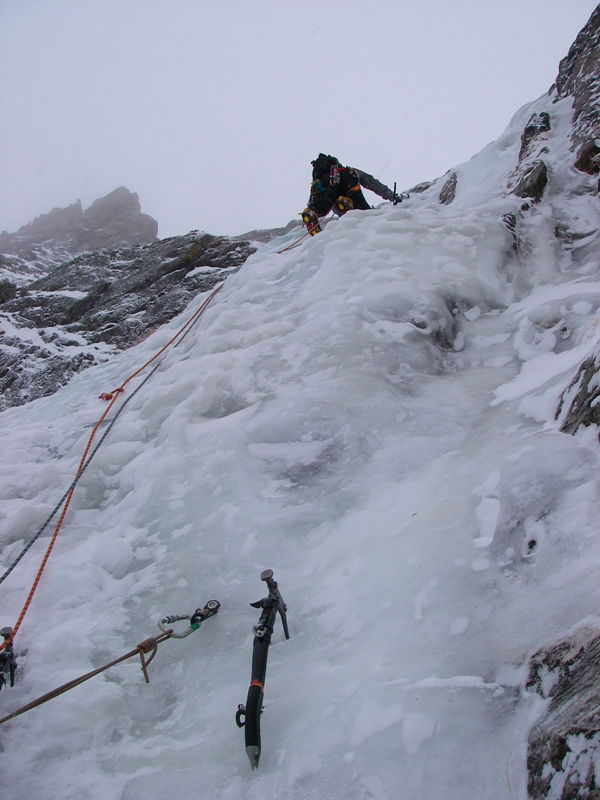 James leading pitch 3.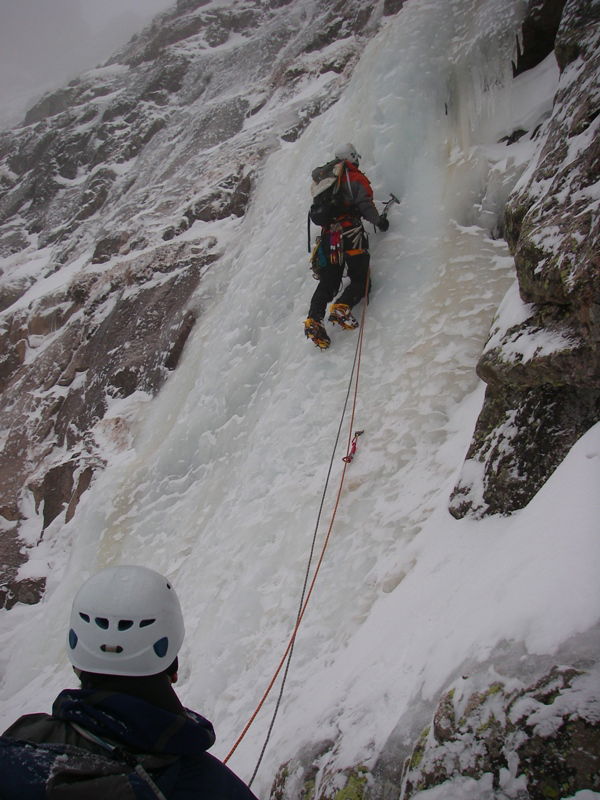 James leading pitch 4.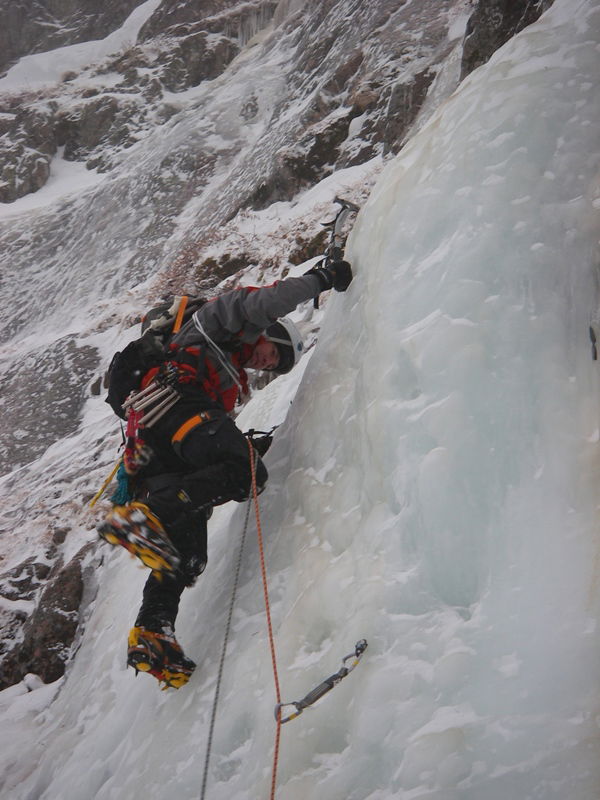 James leading pitch 4.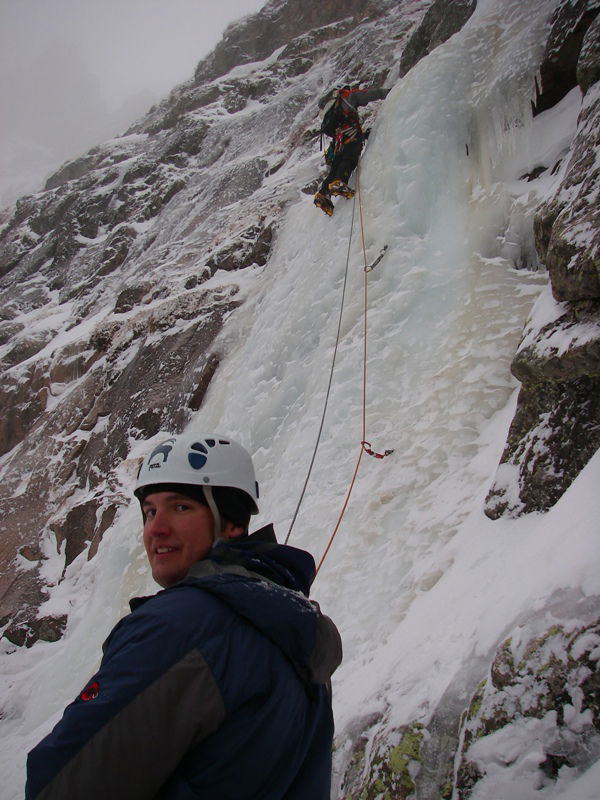 James leading pitch 4.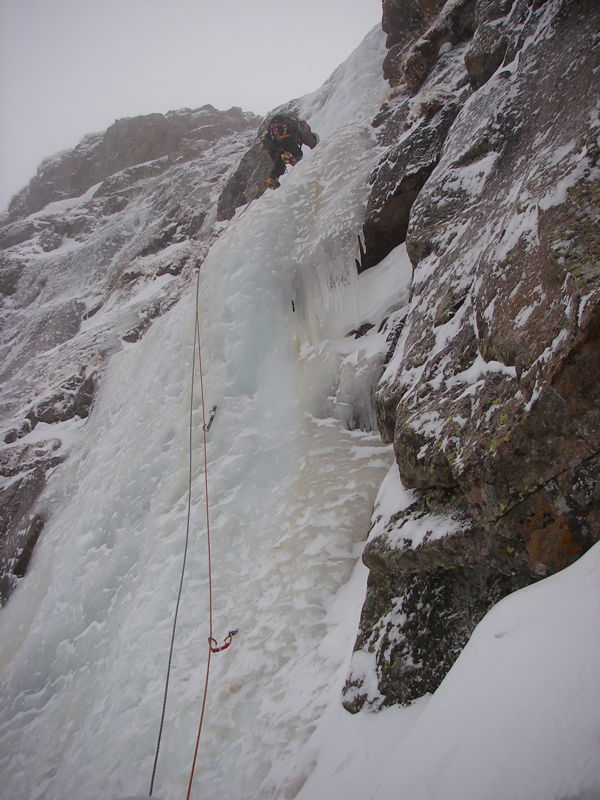 James leading pitch 4.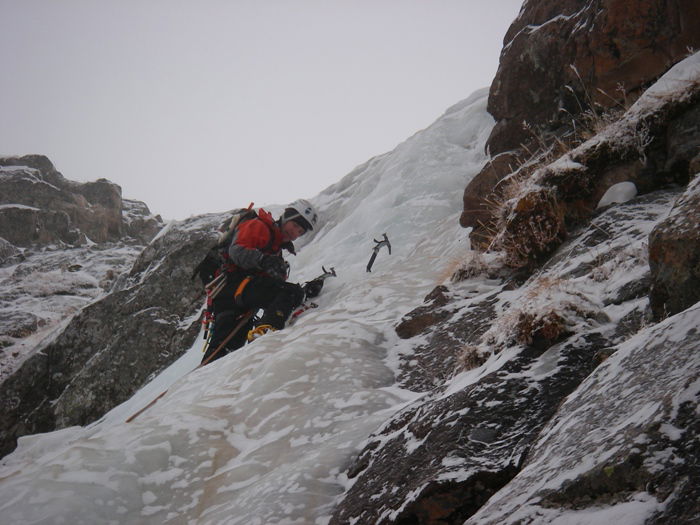 James leading pitch 4.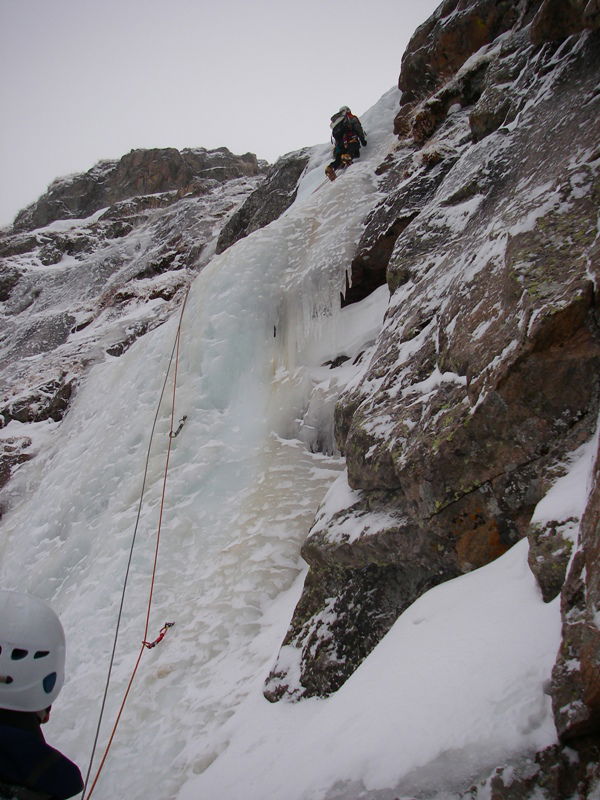 James leading pitch 4.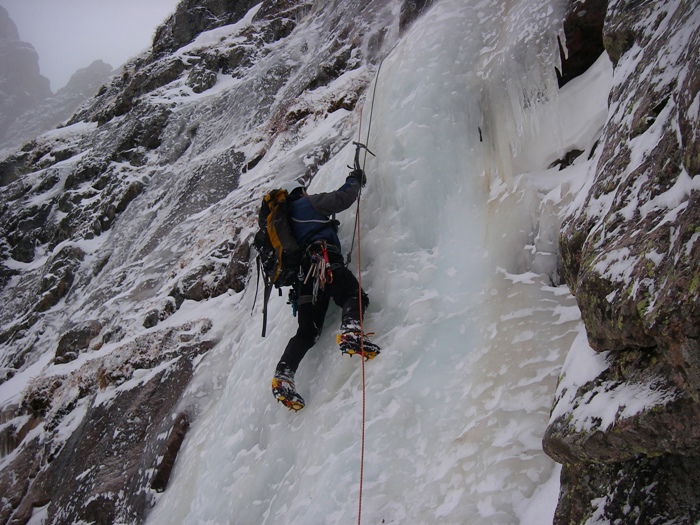 Nate following pitch 4.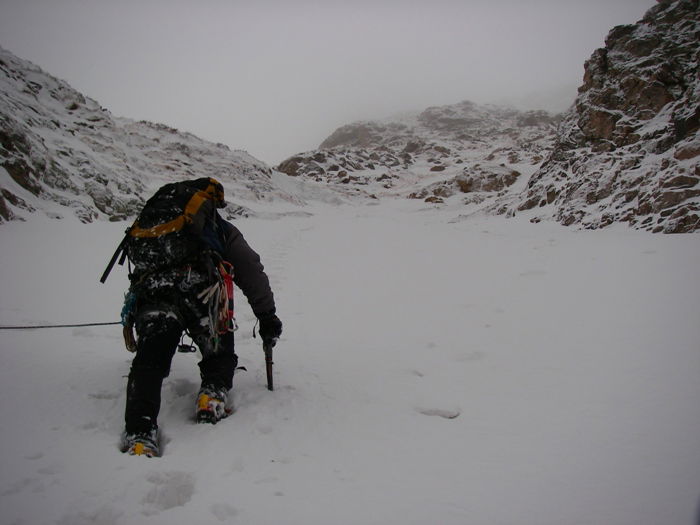 Snow climb to the summit ridge.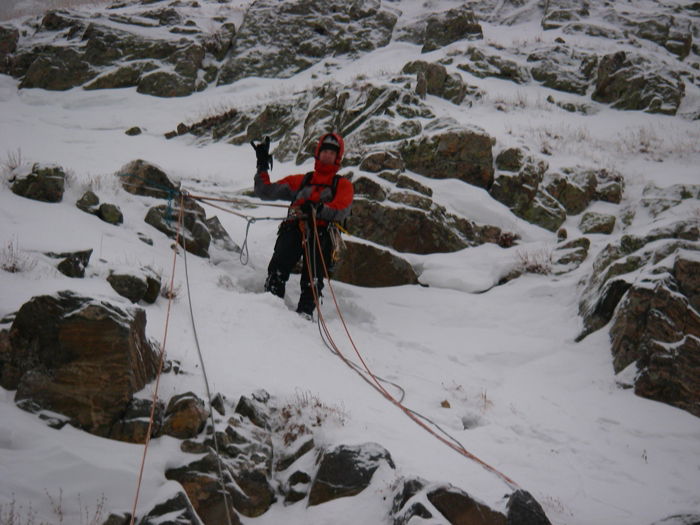 James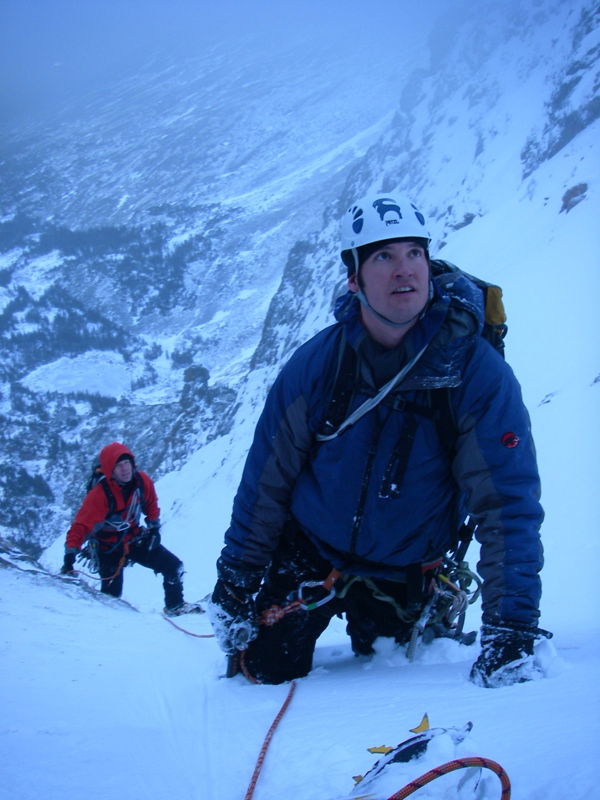 James and Nate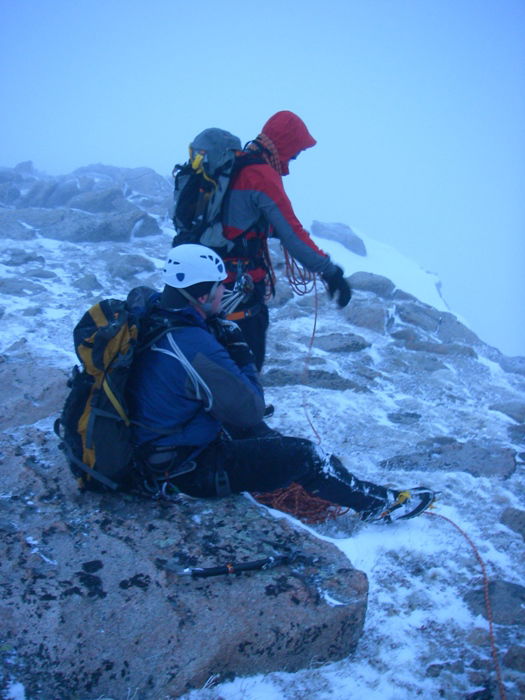 Topping out and gearing down.