Statistics
Date - 07/28/2007
Bottleneck Peak - 6,923'
Route - Northeast Ridge
Miles - 8.0
Elevation Gain - 2,403'
ACME Mapper - Link
CalTopo - Link
Description
After climbing Pyramid Peak in the morning, I had to drive back down Highway 95 and up Pack River Road to approach Harrison Peak from the south since I had found out that Myrtle Creek Road was closed. I got 13 miles up Pack River Road and I couldn't believe what I saw. This road was also closed. A line of cars had accumulated, but most of them had bike racks so I assumed they were biking the road with a few simply hiking on the road. However, the actual trailhead was still 7 miles away, so there was no way I was going to climb Harrison Peak. It was now approaching 1:00 in the afternoon and both roads to Harrison Peak were closed. I pulled out my map and looked for something in the area. The best thing I could come up with was Bottleneck Peak. However, this meant driving back down Pack River Road and back towards Naples and Bonners Ferry. I was getting really sick of road closures and driving, but I didn't want to waste the afternoon so I continued on.
I made it to Bottleneck Lake in less than an hour. I circled around the southeast side of the lake for 20 to 30 minutes of nasty bushwhacking. When I reached a large boulder field the fun began. This particular boulder field was longer than the one on Pyramid Peak earlier in the morning but it comprised similar rock. As I reached the base of the mountain, I felt that I was going to cliff out; however, just at the last moment a small chute appears to climbers left that allows access to Bottleneck Peak's more exposed northeast ridge. This chute is the ridge's weakness and isn't visible until you are nearly to the base of the cliffs. After gaining the ridge, it is a steep 800' scramble to the summit. There are a couple of exposed moves and the climbing is steep which makes this last 800' go quickly. Since it was getting late, I didn't stay on the summit long and worked my way back down to Bottleneck Lake. The trail is relatively flat so I alternated between hiking and trail running on the way out. My round trip time was 4 hours and 15 minutes.
Photos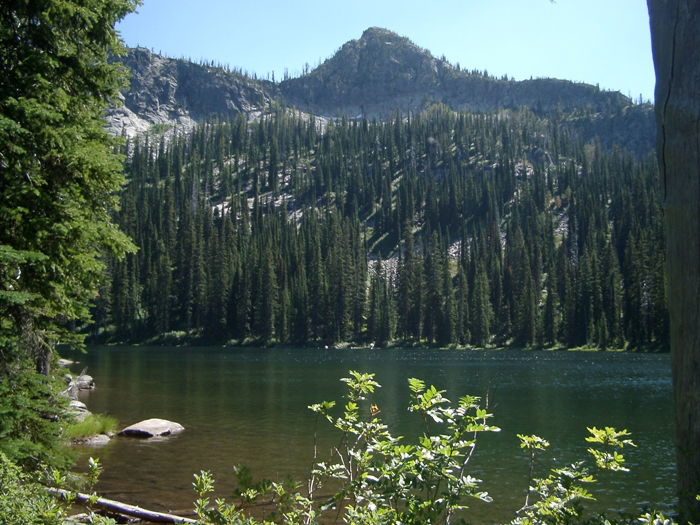 Bottleneck Peak from Bottleneck Lake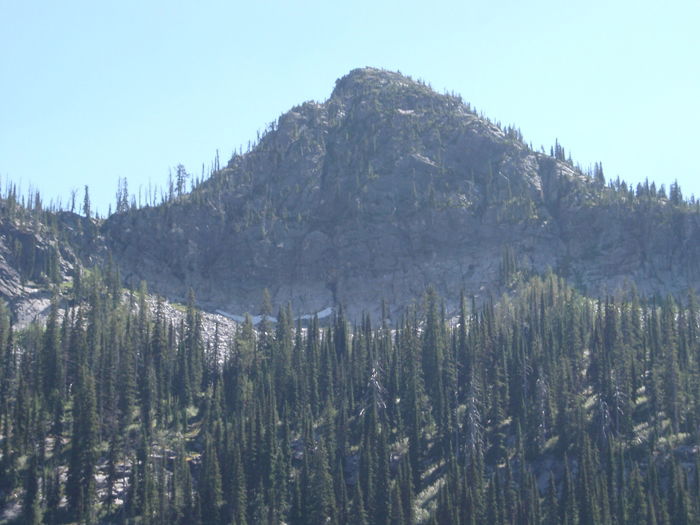 Bottleneck Peak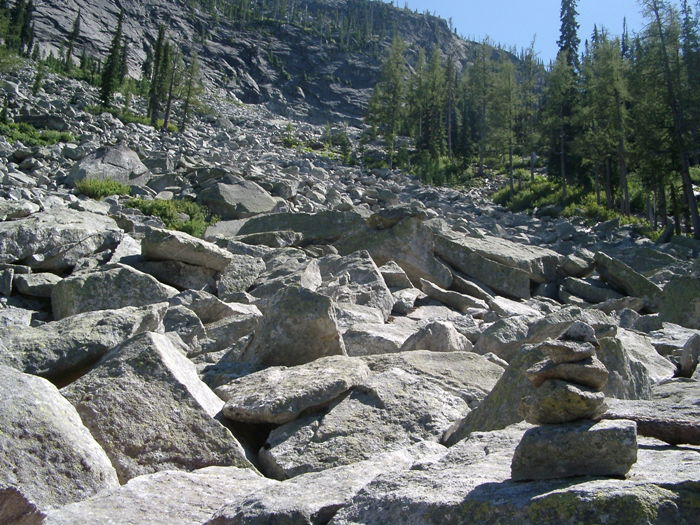 Boulder Field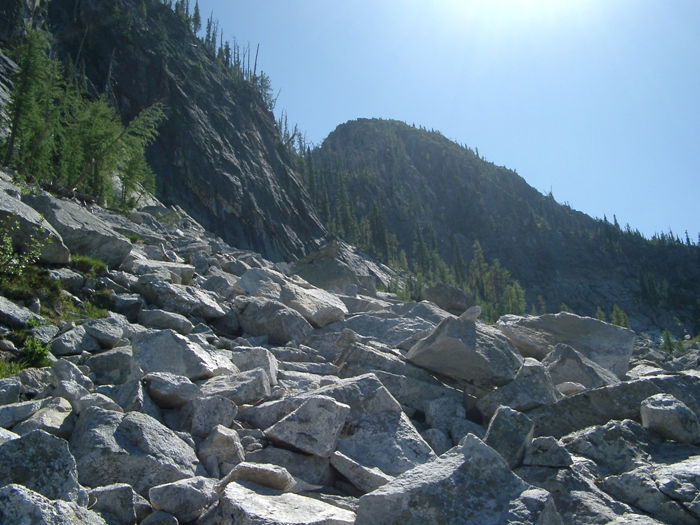 Scrambling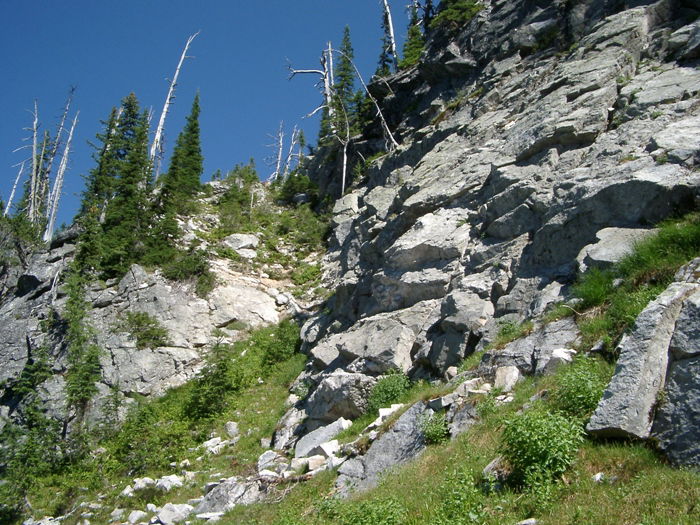 Access to the ridge.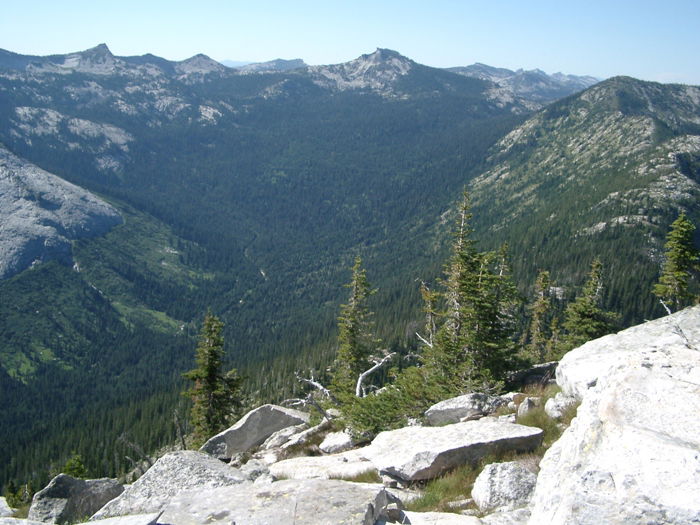 Harrison Peak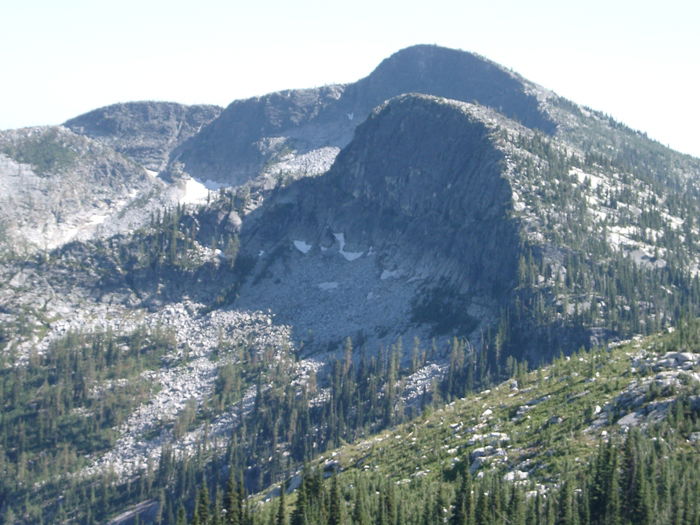 Roman Nose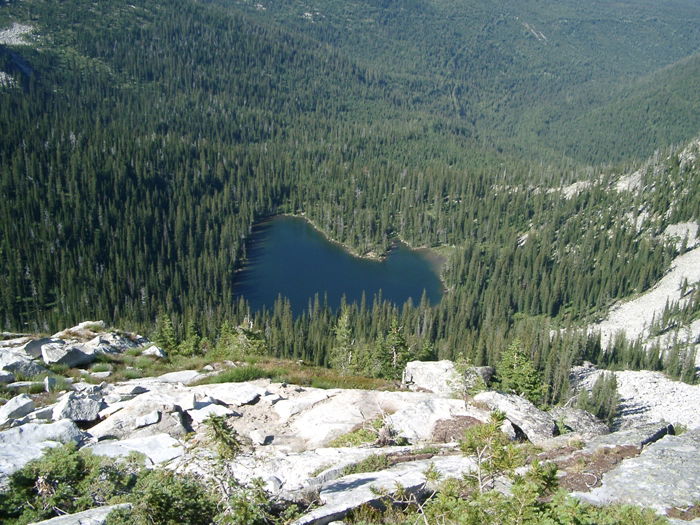 Bottleneck Lake from Bottleneck Peak