Statistics
Date - 07/08/2006
Elevation - 14,267'/14,270'
Route - Kelso Ridge/Northeast Slopes
Miles - 8.2
Elevation Gain - 3,600'
ACME Mapper - Link
CalTopo - Link
Description
I didn't have a lot of time to work with and I was fairly sick of driving, so I needed to hike something fairly close to Denver, Colorado. In addition, it has been monsoon season for the past two weeks and the weather forecast was questionable. As a result, I decided to make the drive up to Stevens Gulch and hike Torreys Peak via Kelso Ridge. This would be my fourth time up Torreys Peak and third to Grays Peak.
When I reached the trailhead around 6:30, I was surprised to see three of my wife's coworkers preparing to hike Grays Peak. I thought they picked a rather peculiar day for their first 14er, but they said the date had been set for quite a while and they couldn't change it. I hiked with them to the point where I needed to leave the Grays Peak Trail and gain the Torreys/Kelso Saddle. The weather was gloomy to say the least and the cloud ceiling was very low. Because of this, there were no views on Cindy, Mary, and Tracy's first 14er.
I had considered just hiking Grays Peak with the rest of the group because of the wet rock I was sure to encounter on Kelso Ridge, but when I saw two other parties starting up I decided to stick with my original plan. As expected, the rock was definitely wet on the climb, but not bad enough to turn me around. I passed three other parties en route to Torreys Peak and had a fun time scrambling up the ridge. The route-finding wasn't an issue with use trails along much of the ridge.
I reached Torreys Peak 2 hours and 10 minutes after leaving the trailhead and stopped only long enough for a quick photo. I had not prepared well for the constant drizzle, cold, and wind so I simply continued on to Grays Peak. I was hoping to meet Cindy, Mary, and Tracy on Grays Peak. When I reached the top, a group of hikers said I missed them by five minutes and they had already started to descend the Grays Peak Trail. After taking a photo for the group I talked to, I snapped a quick picture of myself and was off after five minutes.
I caught up Cindy, Mary, and Tracy and finished the hike back to Stevens Gulch Trailhead. The weather deteriorated on the way out and we were fairly soaked by the time we got back. I was surprised at the number of people still continuing up through the cold and rain. We stopped off at Tommy Knockers in Idaho Springs, Colorado, on the way home for a warm meal and cold beer. Although the weather didn't cooperate and no views were taken in, I think Cindy, Mary, and Tracy can still consider their first 14er hike a success. They were fairly prepared for the conditions encountered and they made great time.
Photos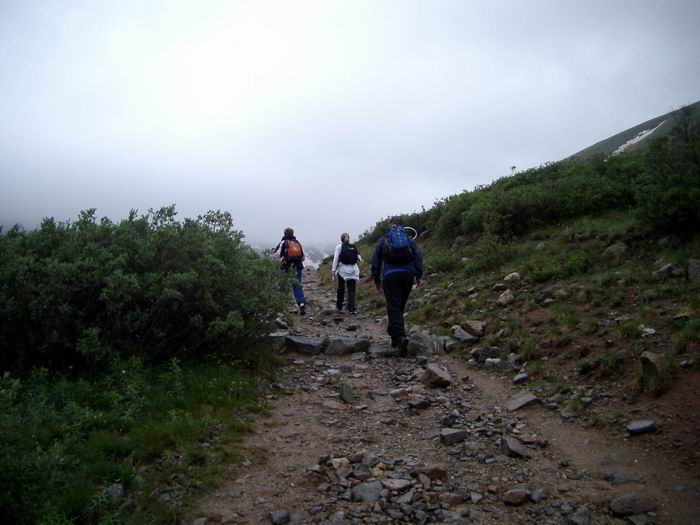 Grays Peak Trail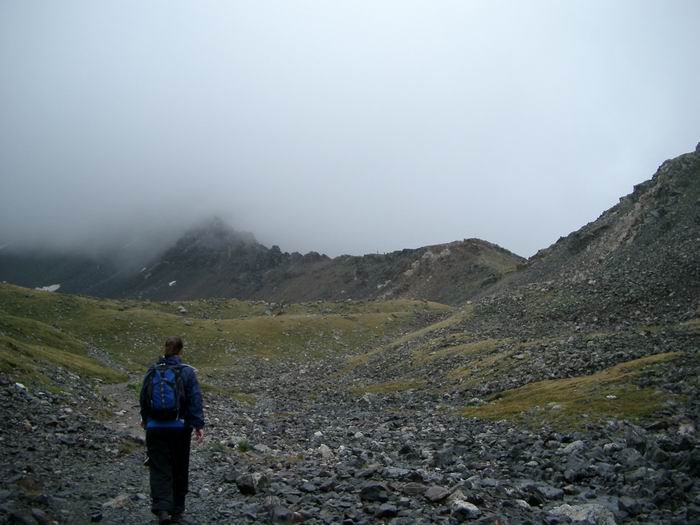 Beginning of the Kelso Ridge scramble.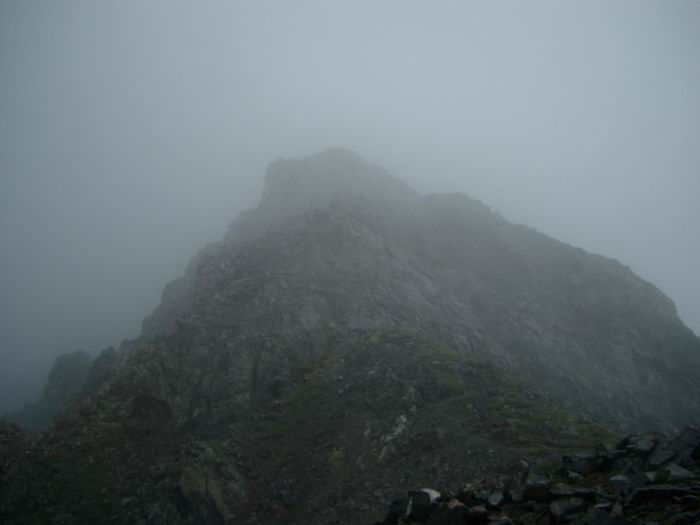 Poor Visibility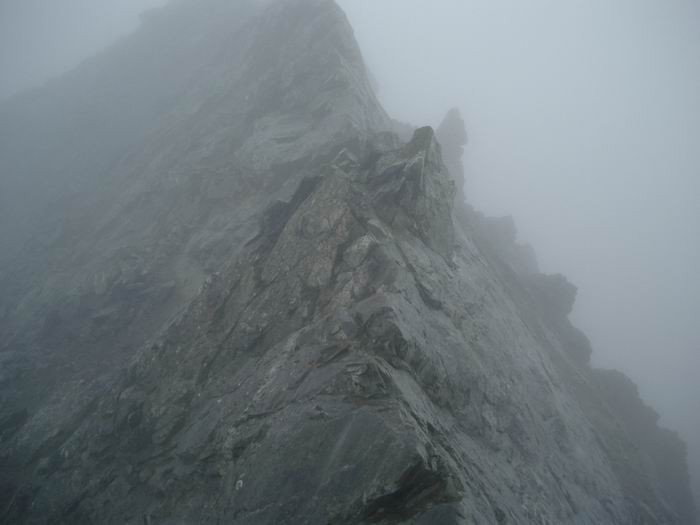 Knife-Edge Ridge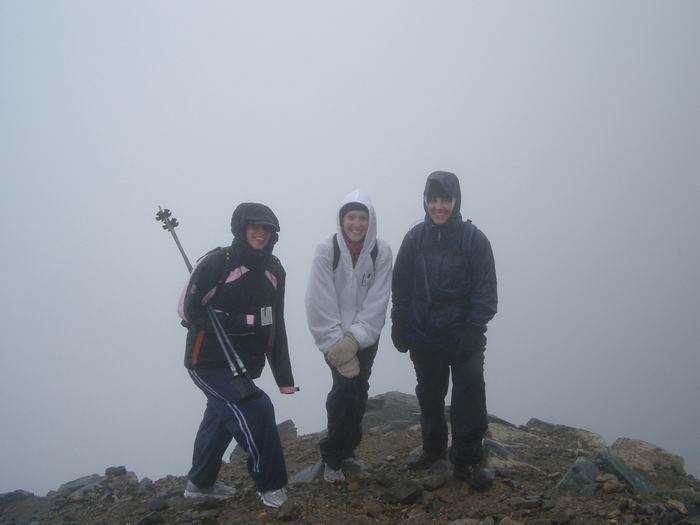 Cindy, Tracy, and Mary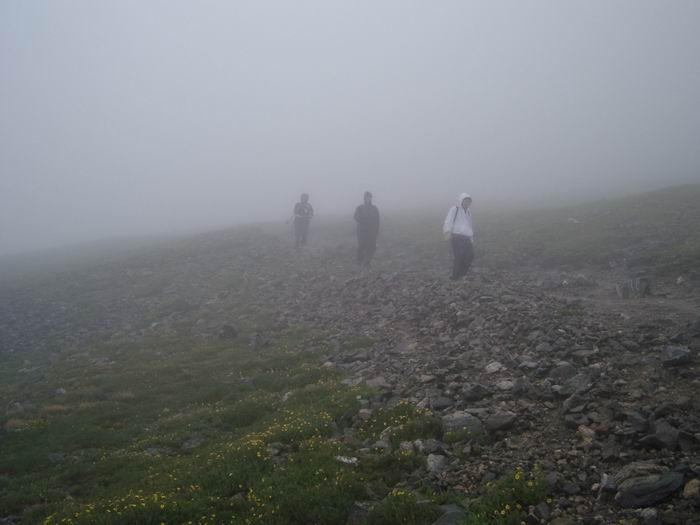 Descent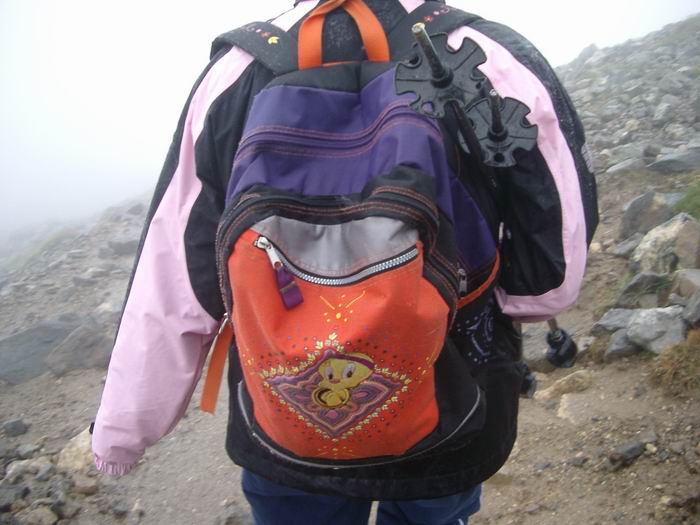 Tweety Bird Backpack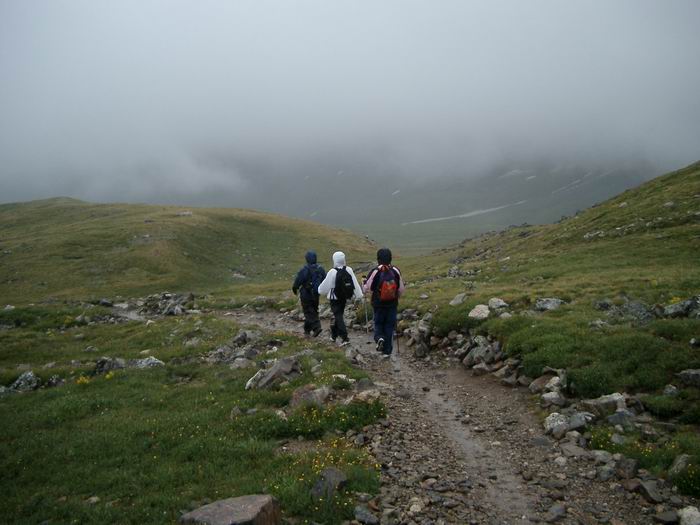 Mary, Tracy, and Cindy