Statistics
Date - 12/02/2006
Elevation - 9,475'
Route - Three Tiers
Miles - 2.0
Elevation Gain - 600'
ACME Mapper - Link
CalTopo - Link
Description
Although we had intended to climb ice, Three Tiers ended up being a combination of snow and ice climbing. Before, between, and above the three short sections of ice, we were wallowing in snow anywhere between six inches to two feet deep. The ice sections were thin and placing protection was difficult.
Three Tiers is located in Ten Mile Canyon/Officer's Gulch on I-70 west of Frisco, Colorado. The approach is about a mile with about 200' of scrambling and then 400' of climbing. We were a little disappointed, because once at the top of Three Tiers, it was apparent that an even better ice curtain was above us; however, we didn't have time to continue.
As we started the approach, I had my doubts as to whether we would actually climb anything. My face and legs were freezing and I started hiking in my belay jacket. Fortunately, I warmed up as we started to gain elevation towards the climb. Two climbers were starting up The Shroud to the east of Three Tiers. As I said earlier, there was a fair a amount of snow in the gully, but I convinced Doug to climb it anyway since we had made the approach.
Doug led the first two pitches. Finding screw placements was difficult as the ice was thin. Often times you had to dig through snow just to get to the ice. In addition, anchor placements at the top of the pitches were not ideal. At the top of the second pitch, we swung leads and I took the sharp end of the rope. I only had two screws, but it was adequate to get to the next belay station. From here we traversed to some trees to the east and began our descent.
After finding a solid tree and tying our ropes together, we rappelled simultaneously on each strand to speed up the descent. The last two raps were in the dark, so we donned our headlamps for the hike back out. Although the climbing was fairly easy, we had a good day and were glad to be in the mountains. This was the first time either one of us had led and it was my first experience climbing with double ropes.
Photos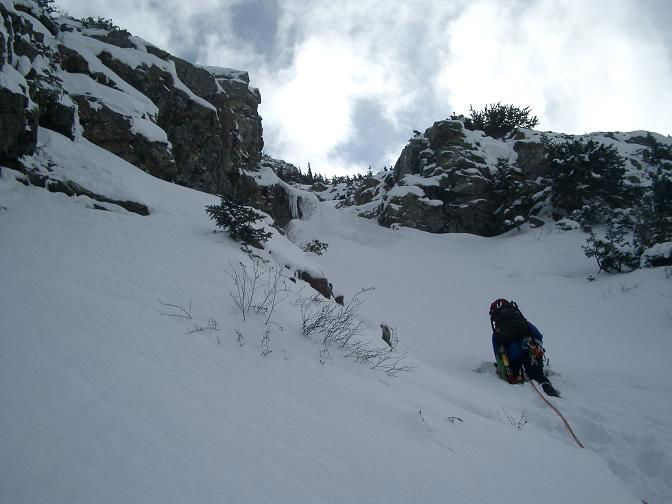 Starting up the snow.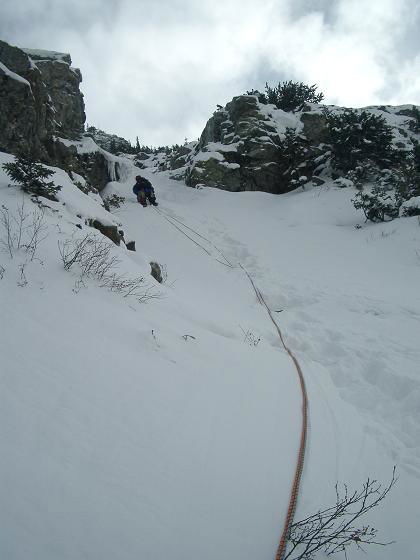 Reaching the ice.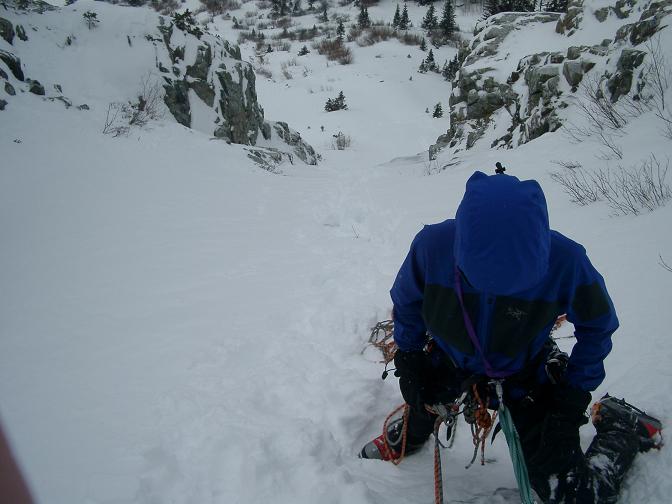 Looking down Three Tiers.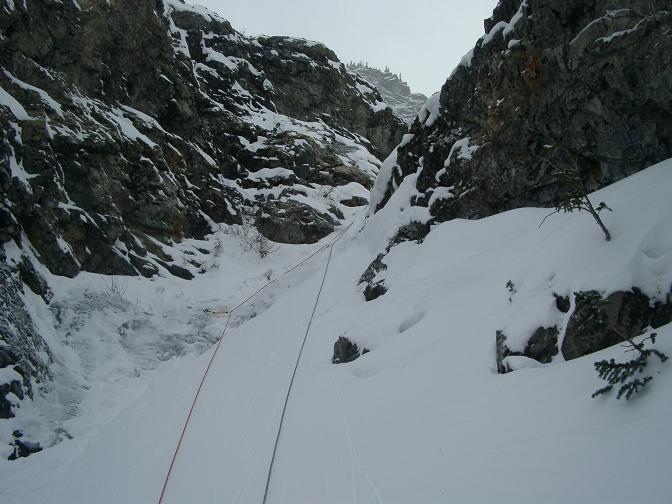 Second Pitch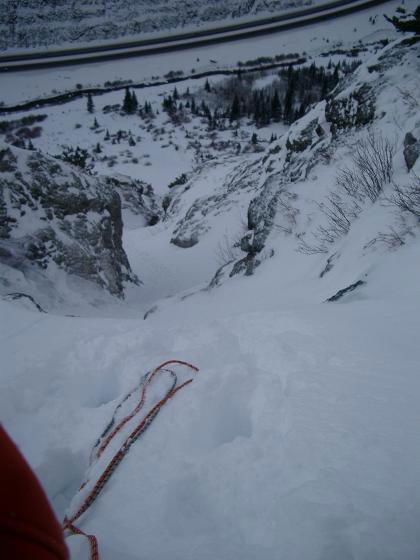 Looking down Three Tiers.