Statistics
Date - 08/09/2005
Elevation - 13,285'/13,180'/13,155'/14,014'
Route - Northwest Slopes/Southwest Ridge/Southwest Ridge/South Ridge
Miles - 10.6
Elevation Gain - 4,364'
ACME Mapper - Link
CalTopo - Link
Description
The next few reports are a result of a weeklong road trip to the central San Juan Mountains around Lake City, Colorado. Although the following hikes didn't contain any difficult technical climbing, I did manage to have some fun on the continental divide near San Luis and finish the last 20' of Wetterhorn via a more direct route. This trip was really more a test of endurance and stamina. I had never attempted anything like it before, so I was interested to see how my body would react and how I would perform over five straight days of hiking. In addition, managing my diabetes over an extended period of time hiking was also going to be a challenge. I was pleased with the results and can honestly say I felt pretty much the same on day five as I did on day one. My blood sugars bounced around a bit more than usual, but I was generally able to avoid any severe hypoglycemia. All but one day of these hikes were with an old climbing partner from Idaho Daniel Robbins. By keeping our breaks, slowing the pace, and taking care of ourselves on the trail, Dan and I were able to hike efficiently for an extended period of time and really enjoy ourselves despite the strenuous schedule. When it was all said and done, I covered 44.1 miles and 20,258' during my time in the San Juans. Since I was going to be in my vehicle quite a bit over the next few days, I decided to reach back into the archives and pull out some old music. The tape player in my Trooper still works, so I ended up listening to Motley Crue, Bon Jovi, Poison, Skidrow, Cinderella, Def Lepard, AC/DC, Aerosmith, Warrant, Trixter, Fire House, and Guns and Roses.
I started the trip with San Luis Peak. Tom and I had planned on meeting at the Equity Mine Trailhead the night before our attempt. Nolan simply rolled out of his vehicle the same time as we did the following morning and accepted an invitation to ride with us the final 1.6 miles to the four-wheel-drive parking area above the mine. The three of us made our way to the saddle at 12,300' above the Colorado Trail where we caught our first views of San Luis Peak. I said goodbye for the time being and started southeast towards Point 13100 while Tom and Nolan descended to the trail. Although a false summit, Point 13100 has a huge cairn on it. I continued southeast and noticed that Point 13285 has two large cairns, neither one at the actual summit. From this ranked 13er, the fun really began. You change directions and descend northeast towards soft ranked Point 13180. The climbing between these two points is definitely the most difficult of the route. If I dropped off the ridge, it was to the south. I finally made it to Point 13180 after a couple of difficult moves and rested.
I continued northeast skirting Point 12935 on its south side. This section of the hike was mellow with the exception of a hundred feet below Point 13155. Again, I dropped off the south side of the ridge when I needed to. As I circled around the large blocky formation atop the summit, I found the short scramble that would take me to the summit. From Point 13155, I looked across the saddle at 12,620' and viewed my remaining peak for the day. I could see Tom and Nolan approximately half way up San Luis Peak.
Dropping to the saddle, I started climbing the 1,500' of the south ridge. Although this was my longest ascent section of the hike, I actually felt fairly strong as I got into a good rhythm. Prior to this extended leg, my body couldn't figure out what I was doing and I had a somewhat difficult time adjusting to the ups and downs. I made the summit about 15 minutes behind Tom and Nolan just as the weather was making a turn for the worse. It took me 4 hours and 30 minutes to summit, I spent 20 minutes on top, and our descent was 2 hours and 25 minutes. We decided it was a good idea to descend and went down the south ridge and took the Colorado Trail back to the saddle at 12,300'. We experienced some rain and sleet on the way out, but nothing too serious. Tom and I checked out Clear Creek Falls on our way to Lake City, Colorado, where we ate at Poker Alice's.
Photos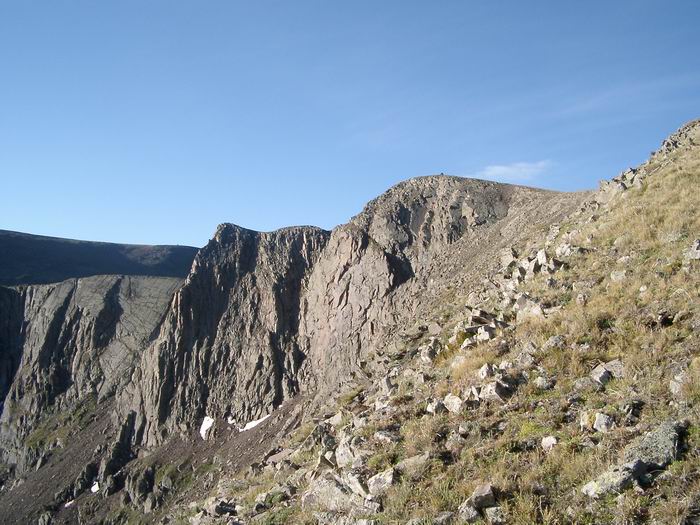 Point 13100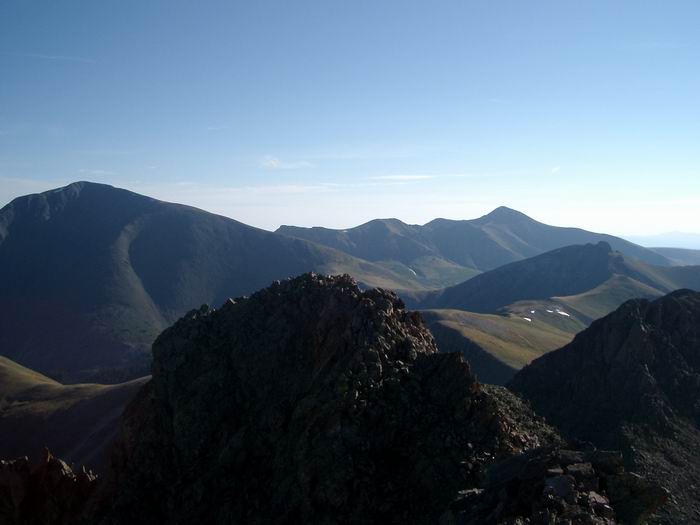 Views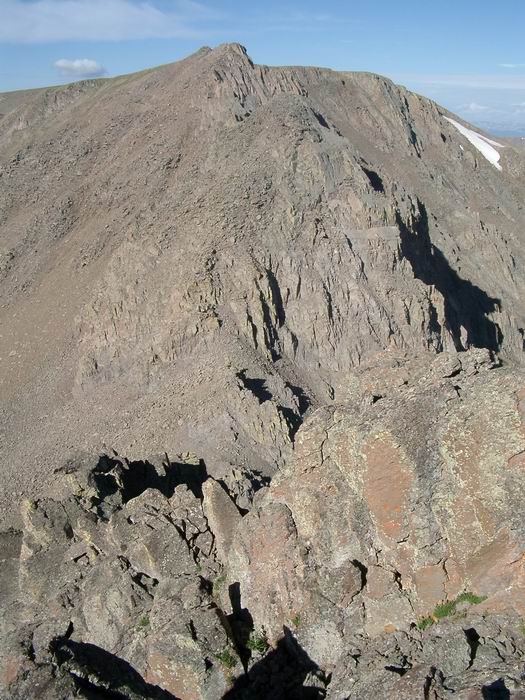 Ridge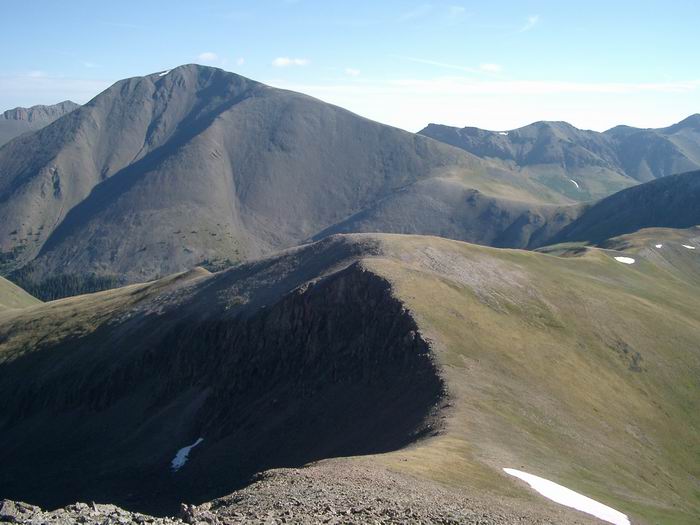 San Luis Peak from Point 13155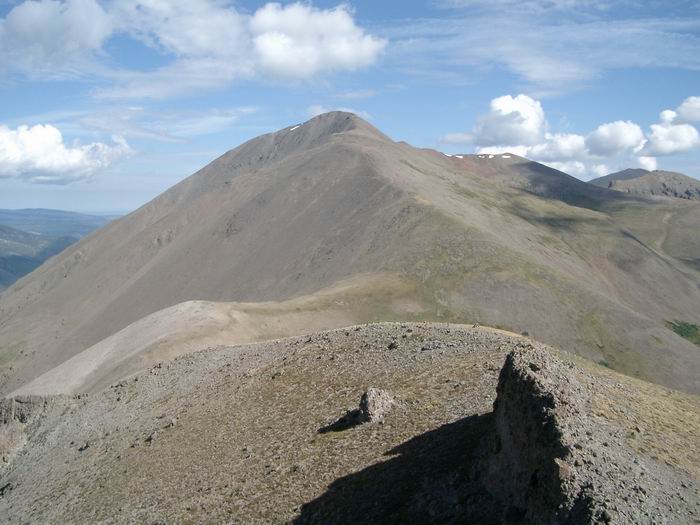 San Luis Peak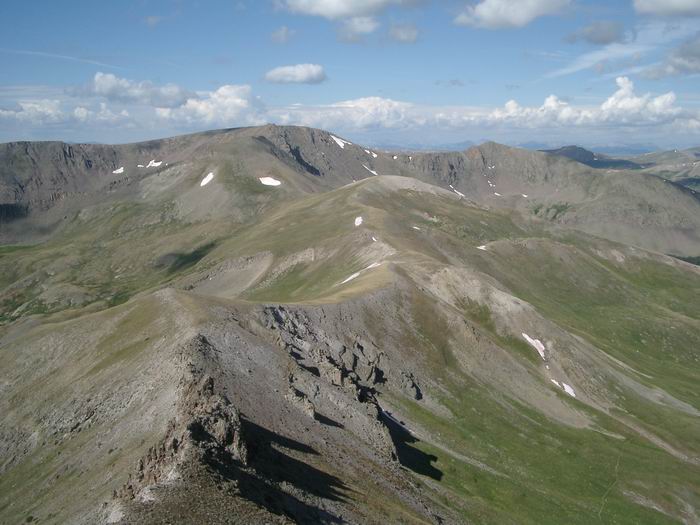 Views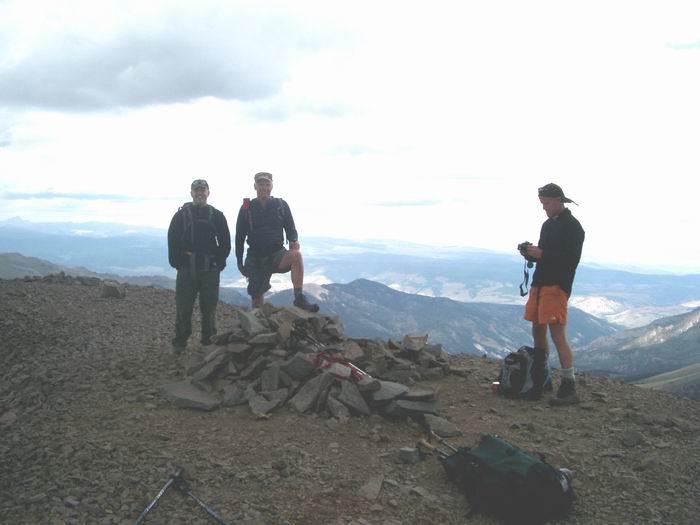 Group Summit Photo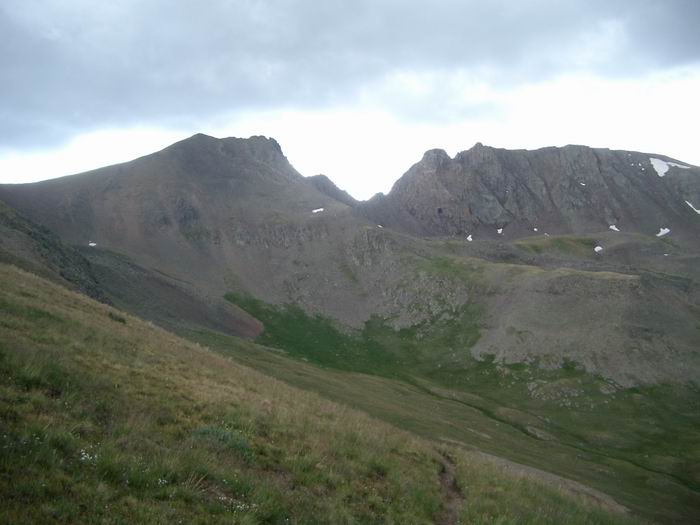 Views