Statistics
Date - 10/01/2005
Elevation - 14,092'
Route - S Ridge
Miles - 9.0
Elevation Gain - 5,000'
ACME Mapper - Link
Cal Topo - Link
Description
This particular trip isn't an epic, but the start of it was certainly an epic blunder. You would have thought that this was the first 14er for the three of us the way some decisions were made. It ended up being a situation where we were all vaguely familiar with directions and routes, but none of us studied them like we would have if we were solo. We were all relying on each other for information when none of us were as prepared as we should have been. Fortunately, we did make the summit using our preferred route; however, just getting to the trailhead was a nightmare that cost us time and unneeded mileage and elevation gain.
The initial plan was very simple. Kevin, Brian, and I were going to meet Mark Brown at the alternative trailhead for Snowmass Mountain that is described in a guidebook on Friday night. We assumed that by starting at this point we could possibly save between 800' and 1,000' of gain and then attempt the traverse to Hagerman Peak if we were up to it. In the darkness, we took a wrong turn and ended up on a terrible road that went up the northwest slopes of Sheep Mountain. As the road rattled Kevin's vehicle, I finally told him not to sacrifice his car simply to get us a little closer to the trailhead.
We stopped and I volunteered to hike up to Mark whom we assumed was waiting for us up the road to explain to him our situation. Despite my opinion that we were on the wrong road, I laced up my hiking boots at 11:15 at night and started up towards Mark. According to Kevin's GPS, we only had about 800' and a mile to go, so I said that if I don't run into him within and hour, I was going to come back to Kevin's vehicle. I hiked for an hour and didn't see Mark. Even worse, the road came to a dead end on what I thought was a point. I contemplated a bivy at 12:15, but decided that breaking into three parties wouldn't be a good idea. I returned to the vehicle by 1:00. Kevin and Brian were sleeping inside the car, so I blew up my pad, climbed into my sleeping bag, and fell asleep under the stars shortly thereafter.
A slamming door woke me around 5:30 the next morning. I watched Brian and Kevin get organized for a while before saying good morning. I explained to them what happened the previous night and restated my concerns about possibly being in the wrong place and the road coming to an end. However, based on our first turn onto forest service road 315, we just assumed I didn't quite make it to Mark the previous night and I possibly lost the road. Unfortunately, I wasn't able to make a definitive call and turn us around. Although things didn't feel right, I couldn't say for certain we should go back down based on my limited familiarity with the area and my late night hike in the dark.
So believe it or not, we started hiking up the road again. We gained about 700' when all of us got the sneaking suspicion of being in the wrong place. We went back down and decided to start all over again. Nobody remembers seeing a fork in the road, but that was the only plausible explanation for our ridiculous fiasco.
About a mile back down the rough road, we saw the fork that would take us to our prescribed trailhead. I think we were all relieved to be on the right track, but disappointed at the same time due to missing the turn. We got to the correct trailhead by 8:00 and started up the only obvious trail. After 15 minutes Kevin stops us to look at the map. We quickly determined we were on the wrong trail. Instead of heading east from 10,800' on the road, we went north towards Meadow Mountain. We decided to head east from our current location rather than backtrack and hopefully pick up the traverse trail on the other side of a small ridge.
Fortunately, we did and finally made it to Geneva Lake on a good use trail that traverses below Point 12465. From Geneva Lake, a great trail took us to Little Gem Lake where we started to size up the route we were going to take to gain the S Ridge. There were two narrow gullies at the base of the ridge. We dropped down to the creek below Little Gem Lake and began to ascend a large boulder field. As we got closer, we all decided the right gully presented the easiest option for climbing. The rock was fairly rotten, but we managed to gain the ridge.
Brian and I agreed that from this point to the summit, the ridge was a blast. There was approximately 1,600' of sustained class 3 scrambling with a little class 4 climbing if you wanted it. We stayed directly on the ridge the entire time and didn't traverse to the climber's left at any point. The rock is tight, the holds are awesome, and the exposure is airy. Kevin was admittedly sketched out in a couple of areas, but performed well with Brian and I climbing above and below him.
The views were great, but the summit was cold. After the ceremonial photos, eating, and hydrating, we started down the west face route. Once again, little research was completed on our descent route, so we were floundering a bit. We gained limited beta from some people coming up, so we just started down. We followed tracks at first, and then started to catch a sporadic cairn. Brian and I basically came down what I would consider the west ridge. There was less snow in this area and the rock seemed more stable. I think Kevin came down the right route more down the center of the face. Either way, we met back up at a snowfield at the base of the west face where we filtered some water and started to hike back to the trailhead.
The traverse trail on the way out ended abruptly about 0.5 miles away from the vehicle. We put our headlamps on and bushwhacked the final leg. I think it was around an 11.5 hour day ending at 8:00. Since we were going to be getting back so late anyway, we decided to stop and grab some mexican food at Tequila's in Glenwood Springs, Colorado, on the way home. Although missing the fork in the road was an honest mistake because the sign was obscured by a bush and it was dark, we all learned that you should study the directions and route diligently regardless of whether you are hiking solo or with a group. We felt lucky to have still accomplished our goal in light of the mishaps experienced prior to the hike.
Photos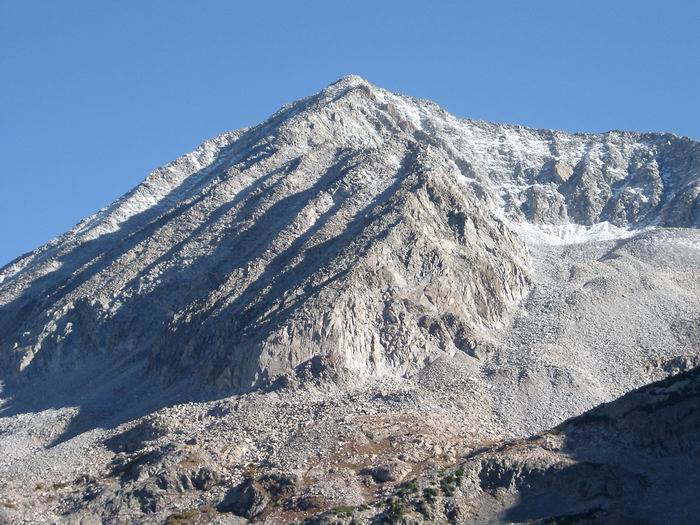 Snowmass Mountain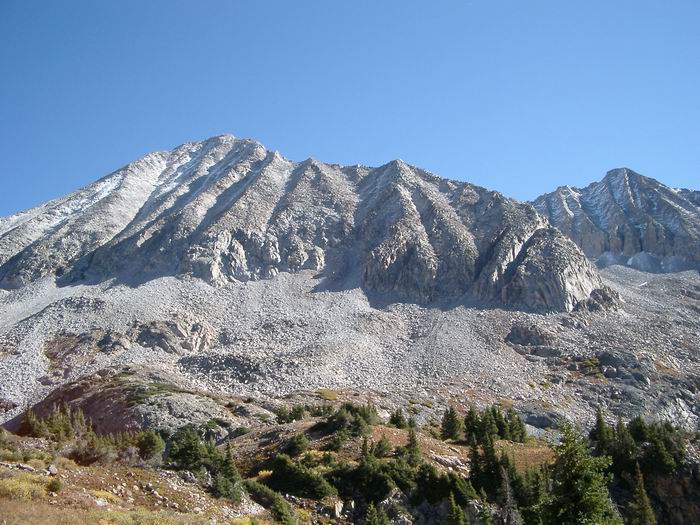 Snowmass Mountain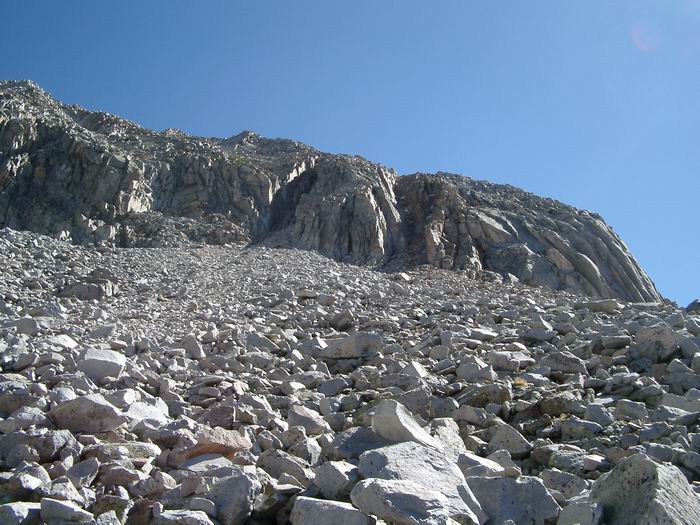 Gully on the right we used to access the S Ridge.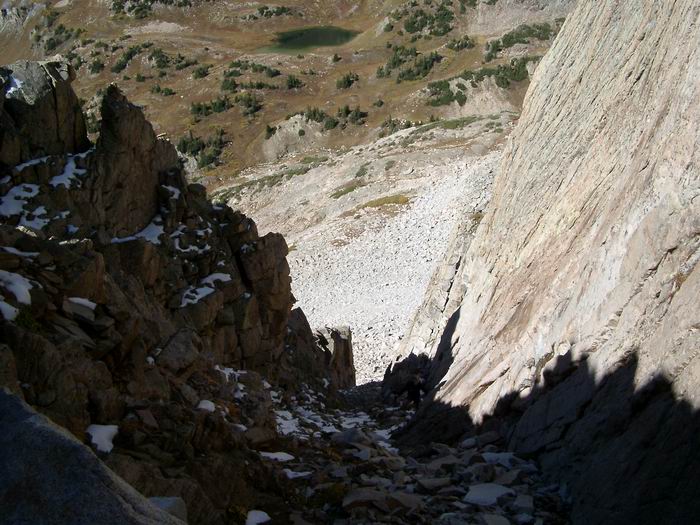 Access Gully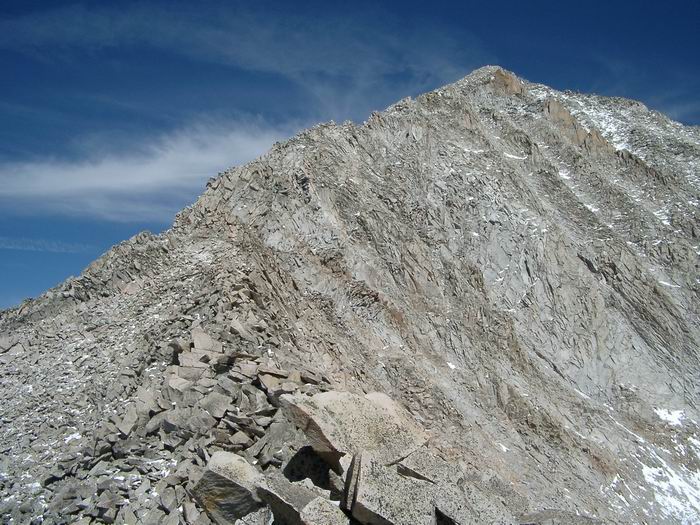 S Ridge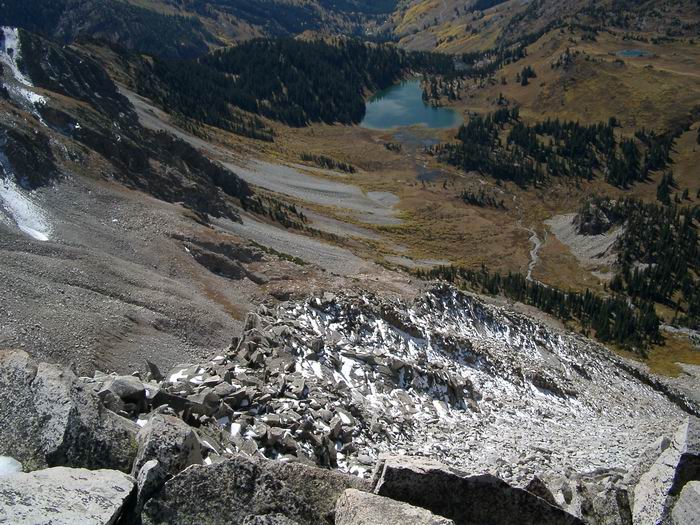 Geneva Lake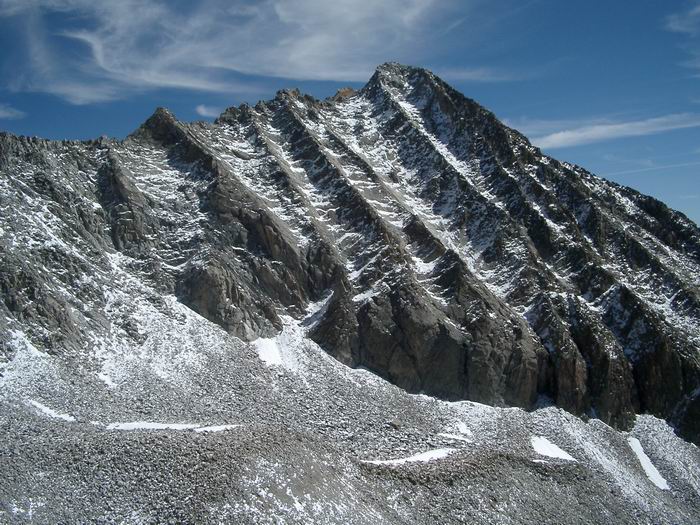 Hagerman Peak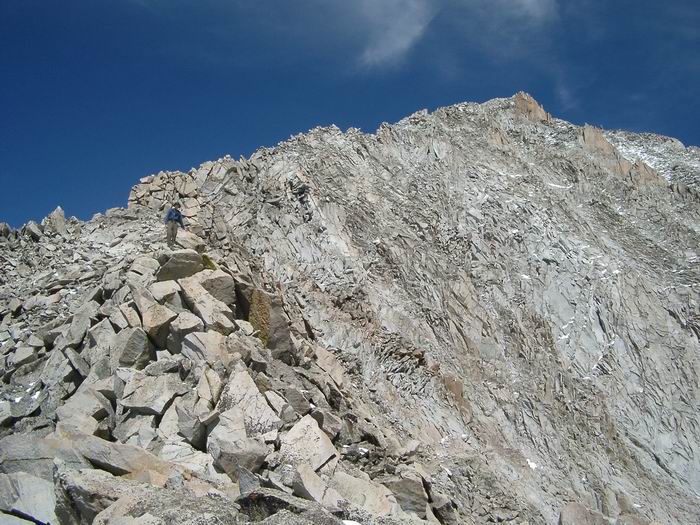 Brian on the S Ridge and the summit of Snowmass Mountain.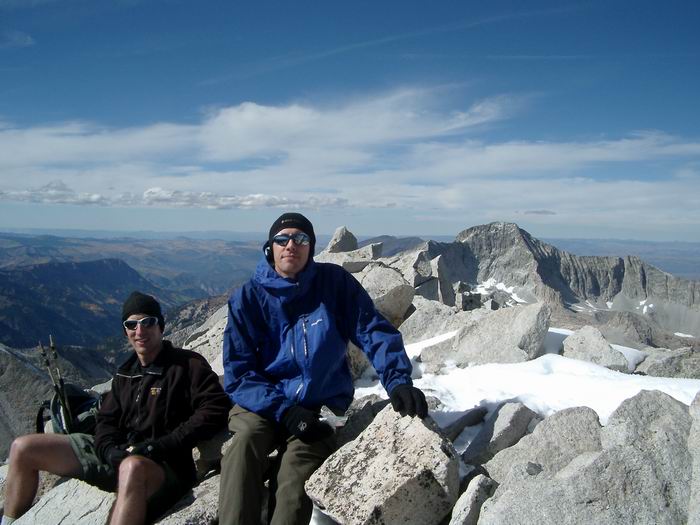 Kevin and Brian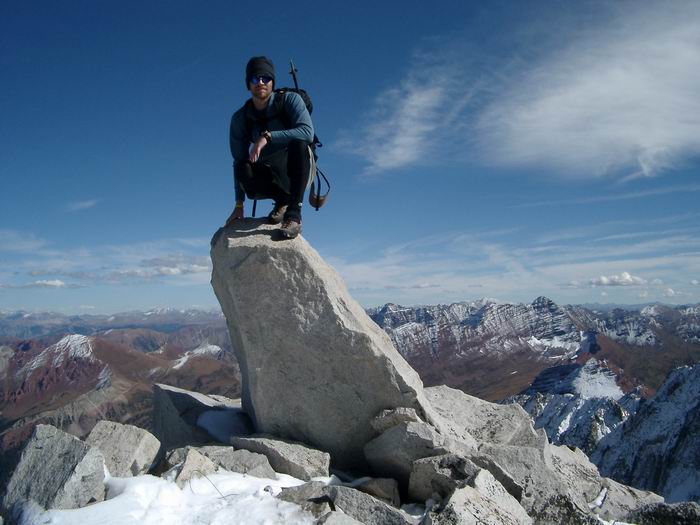 Summit Photo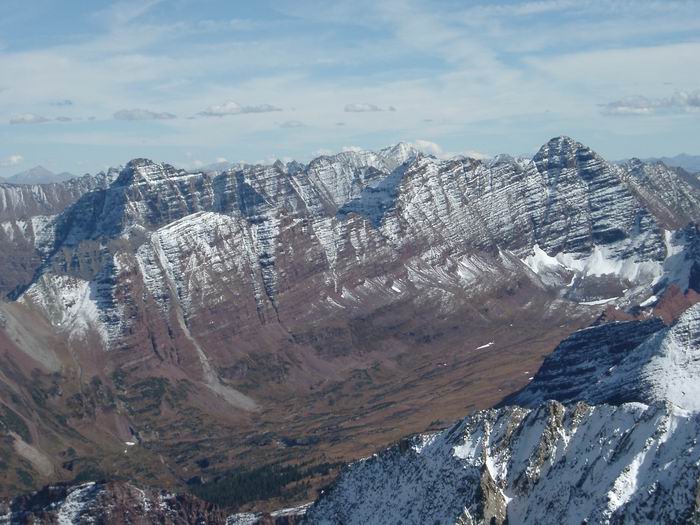 Maroon Bells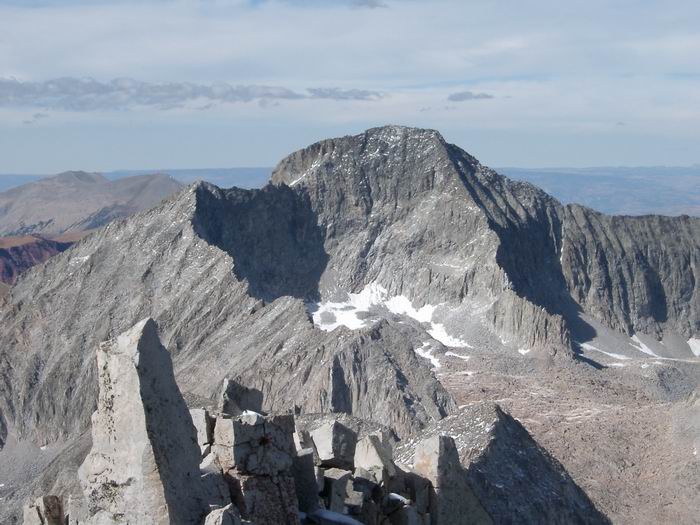 Capitol Peak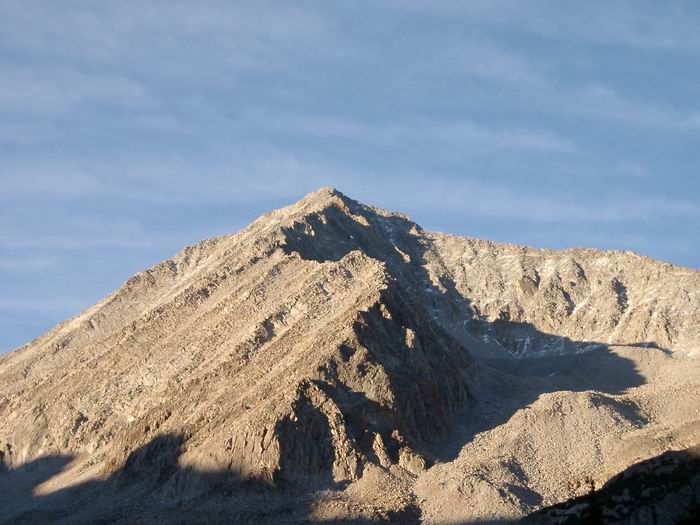 Snowmass Mountain and the S Ridge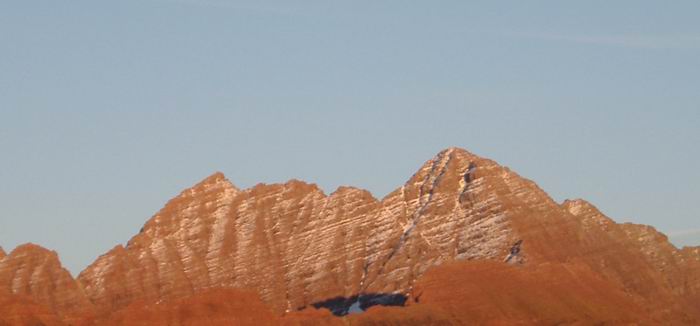 Maroon Bells