Statistics
Date - 08/11/2005
Elevation - 14,034'/14,001'/13,432'
Route - Northeast Ridge/North Slopes/Southeast Ridge
Miles - 10.5
Elevation Gain - 4,462'
ACME Mapper - Link
CalTopo - Link
Description
I woke around 5:15 to dreary weather. I wandered around outside for a while as Dan wondered if it was time to get up or I was just relieving myself. After he spoke up, I told him it was time to get up, but the mountains were socked in and fog was starting to infiltrate the valley. We assessed the situation with pessimistic opinions. We are both pretty much fair weather day hikers, so a day getting soaked didn't appeal to either one of us. Nevertheless, we were here to hike so we started up the trail at 5:45.
The previous day, we contemplated our route to Redcloud Peak and Sunshine Peak and initially discussed going up Sunshine Peak's north slopes to eliminate some distance. However, with the questionable weather, we decided to play it safe and stay on a trail as much as possible. As we hiked up Silver Creek, the distance and elevation went slowly in the thick clouds. We took our first break not making nearly as much progress as we had anticipated. The next leg was extremely quiet as we felt the drizzle continue to weigh us down physically and mentally.
The conditions and our spirits improved slightly as we turned the corner and started to ascend towards the saddle northeast of Redcloud Peak. We quickly gained the saddle at 13,020' where we took our second break and put on our shell jackets. The air was thick now and visibility was limited. The next 1,000' to the summit went fast because the trail becomes fairly steep. We made the summit in 3 hours and 25 minutes and only stayed 10 minutes because the views were terrible. I remembered my pack cover, and Dan used a wind jacket of mine to cover his pack. We were wet, but not bad enough to stop us. We made short work of the traverse to Sunshine Peak where we stopped for 30 minutes. The weather was still palatable, so we decided to drop off Sunshine Peak's northwest ridge and head over to Sun Dog. The descent was straight forward with a climbers trail and cairns to point the way. Sun Dog's southeast ridge looks more menacing than it actually is, but it was still the highlight of the hike. After a short section of class 2+ scrambling, you find yourself on the flat, moderately exposed ridge. It is easy hiking on the undulating ridge before reaching the summit.
Once on top, the rain really started. We put our shell layer on both top and bottom. We rapidly dropped off Sun Dog's north ridge and tried to avoid the rain. However, it was impossible and we both got pretty soaked. The rain let up as we reached tree line. We worked our way back to Silver Creek through the trees and the rain started in once again. We put our shells back on and simply slopped our way back to camp. After hastily packing all of our gear into the vehicles, we drove into Lake City, Colorado. It took us 3 hours and 25 minutes to hike to Redcloud. The traverse to Sunshine Peak was 55 minutes. It was 1 hour and 10 minutes to climb Sun Dog, and the descent to the trailhead was 1 hour and 50 minutes.
After a pizza at Poker Alice's, we decided to get a cabin in order to dry all our gear. With the rain still falling consistently throughout the afternoon and into the evening, we felt it would be difficult to dry out the equipment for the next day outside. Town Square Cabins charged us $50 for a modest room, but it was good enough for us. We turned up the heat, turned on the fans, opened the windows, and hung our gear from every possible hook in the room. Dan even set his tent up in the middle of the room. Getting a room was a wise decision as the rain continued to fall. We hung out all evening watching television.
Before going to sleep, we had to plan the following day. We had originally planned on Wetterhorn Peak and Matterhorn Peak for day four. This would leave a quick hike up to Uncompahgre Peak on day five which would allow us to get on the road early. However, Dan called a co-worker to check the weather and Saturday was supposed to be better. With this information, we thought we'd hike the easier Uncompahgre Peak first in case of more rain and leave the more difficult peak for clearer weather.
Photos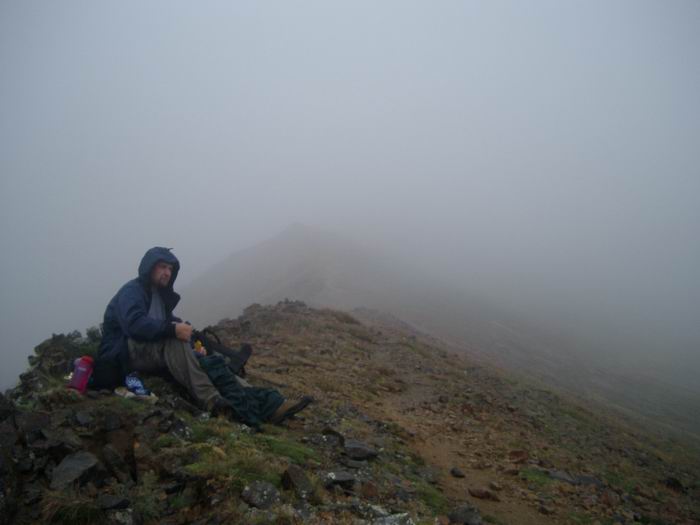 Dan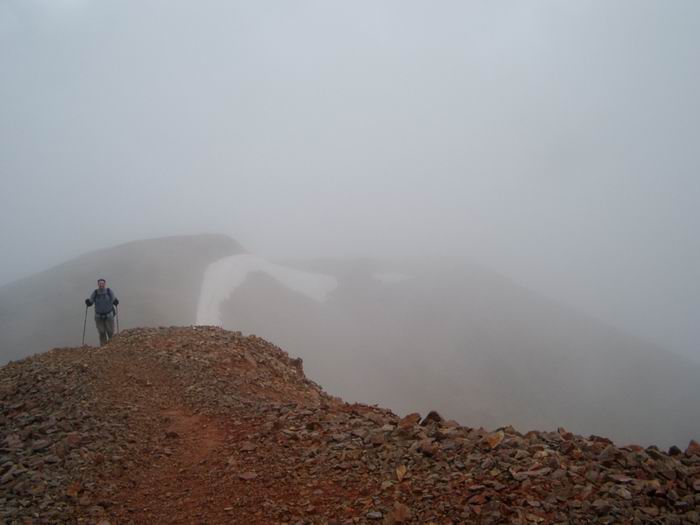 Nearing the summit of Redcloud Peak.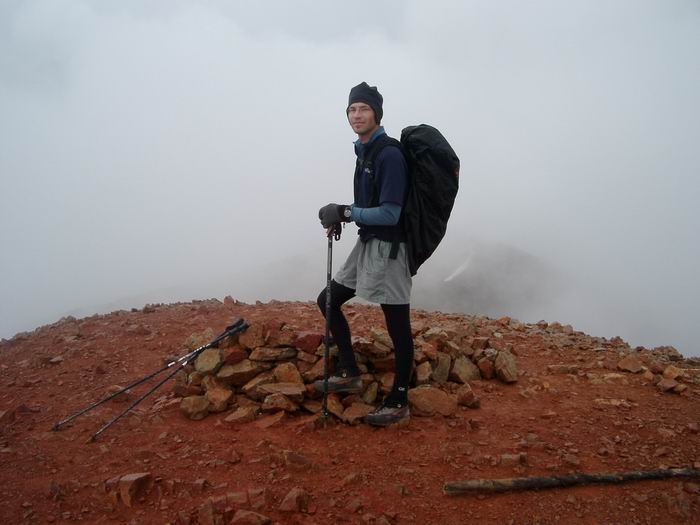 Summit Photo (Redcloud Peak)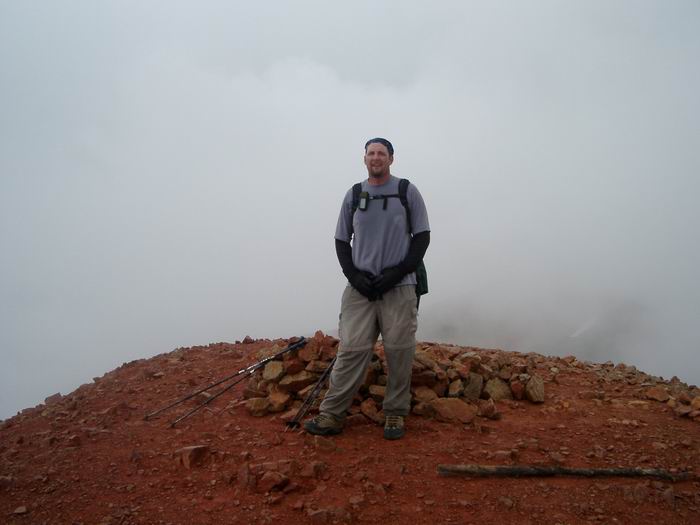 Dan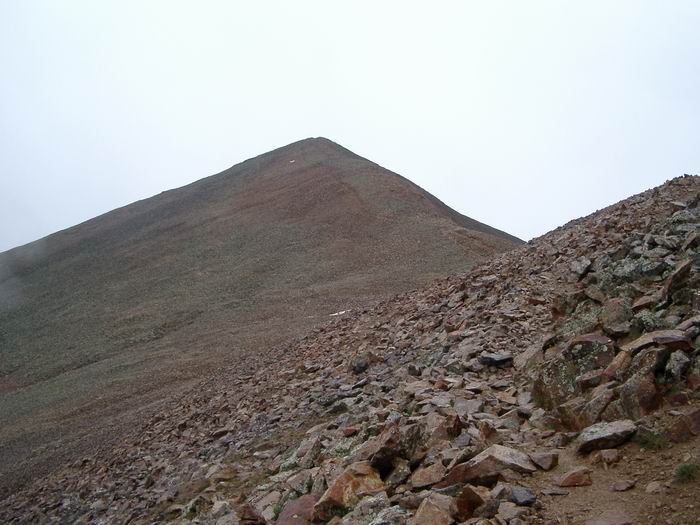 Sunshine Peak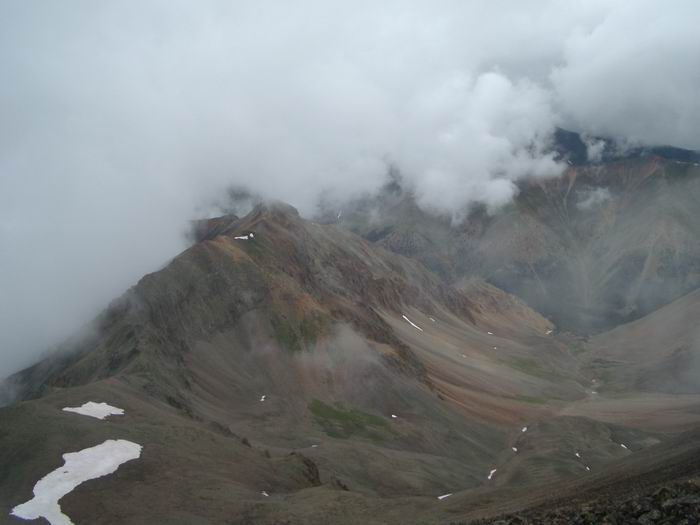 Sun Dog from Sunshine Peak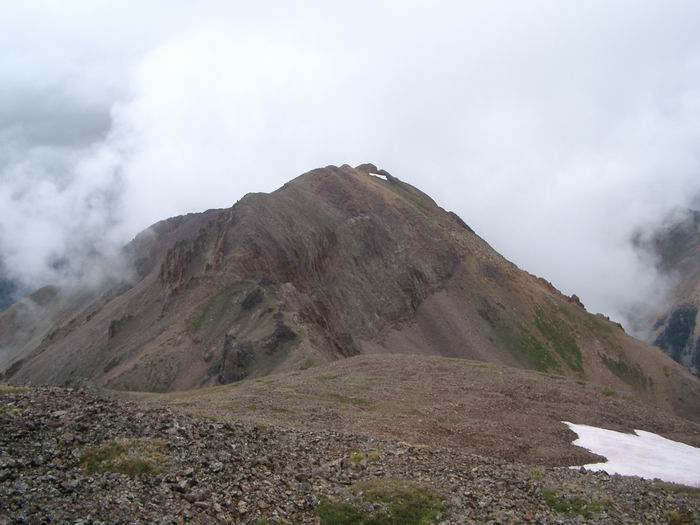 Sun Dog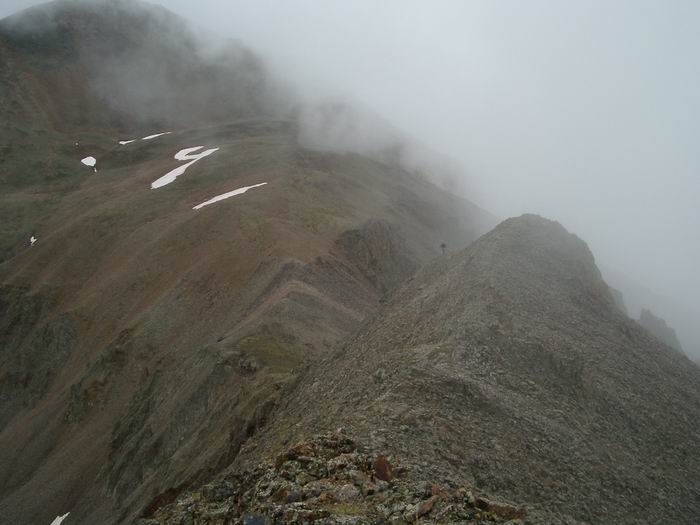 Sun Dog Southeast Ridge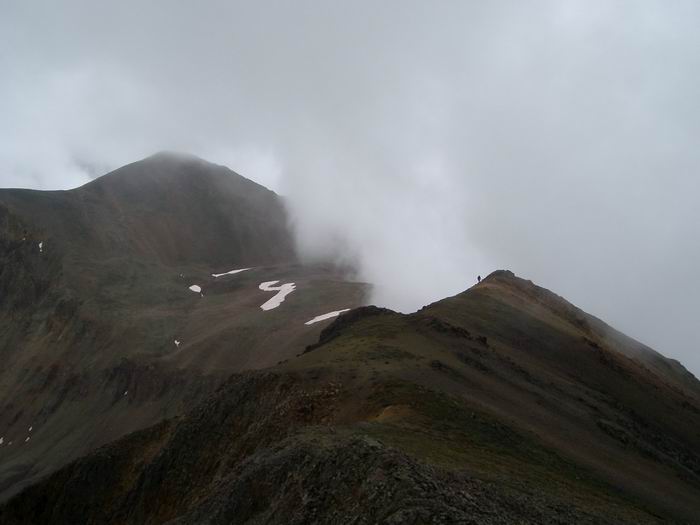 Sunshine Peak from Sun Dog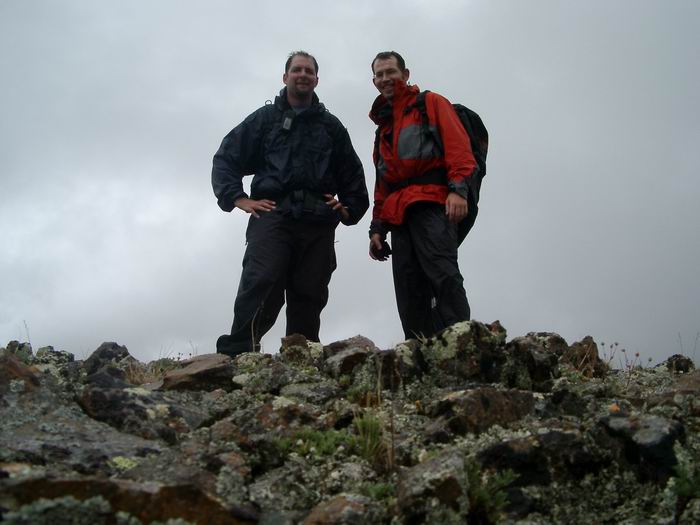 Group Summit Photo (Sun Dog)