Statistics
Date - 01/17/2005
Elevation - 12,147'/10,921'
Route - South Slopes/Northwest Ridge
Miles - 3.2
Elevation Gain - 1,978'
ACME Mapper - Link
CalTopo - Link
Description
After doing a bit of research, I've determined that I have likely climbed most of the 14ers that can be done in a single winter day. There are several with reasonable statistics, but then trailhead access becomes an issue. If I want to do anymore 14ers in the winter without repeating ones already climbed, I'll have to commit more time to the trips. Kingston Peak was plan was an alternative after determining that I could only get within four miles of the Mount Belford trailhead. As with 2004, I started the new year's hiking season off on Martin Luther King Jr. Day.
Considering the conditions I hiked in, I'm fairly certain that I probably couldn't have gone much more than 3,000' for the entire day, so I guess I'll have to take what I can get. Kingston Peak is nothing spectacular, but at least I got out and made a summit. Fox Mountain is a really weak peak to add to my list, but it is in several guidebooks, and it is a named peak that required an additional 231' from St. Mary's Lake. Anyway, I think I'll have to start researching some 13ers or other peaks with better accessibility if I want to hike in the winter and climb different mountains.
When I reached the trailhead, there was only one other vehicle present. This was surprising given the holiday and the area's popularity. I strapped my snowshoes to my pack and headed up to the lake. This didn't take long and I saw the other individual heading up the glacier. I could tell conditions up higher were much worse, so I stopped and added a layer. By the time I was dressed, Mark was heading back down. I knew the wind was blowing hard and visibility was limited, but I started up regardless.
When I reached him, we introduced each other and he changed his mind and decided to go back up with me. The wind was blowing strong down the glacier and the snow was wind packed. Snowshoes were not required, but I carried them along with a lot of other gear I didn't need. I figured Kingston Peak wasn't that far and I would use this more as a training opportunity. When we reached the top of the glacier, Mark was complaining about a cold face and decided to turn around. He pointed me in the right direction since he was more familiar with the area, and when I indicated I was going to continue, he changed his mind.
As we turned toward Kingston Peak, we now had a cross wind which helped a little. We worked our way across the frozen tundra and finally made the summit. We hid behind a rock shelter for about five minutes before deciding we better get back down. Of course the descent was much easier going down and with the wind to our back most of the way. When we reached the lake, I told Mark I wanted to scramble to the top of Fox Mountain at which point we bid farewell. Although not far, the scramble to Fox Mountain was fun with a short section of class 3 towards the top. The wind wasn't nearly as strong now, so I removed the layer I had previously put on and enjoyed what views I had for about 10 minutes.
Photos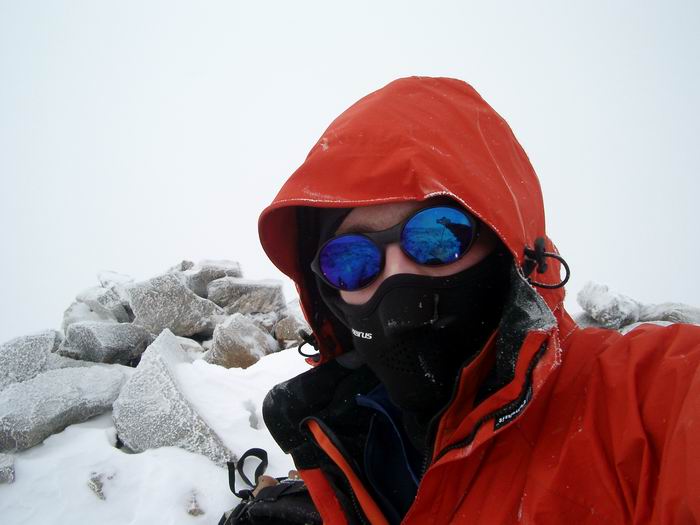 Summit Photo
Mark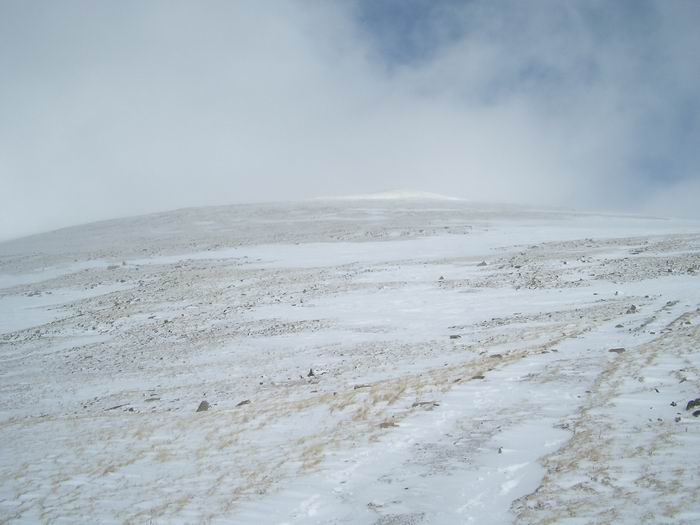 Kingston Peak
Looking down St. Marys Glacier.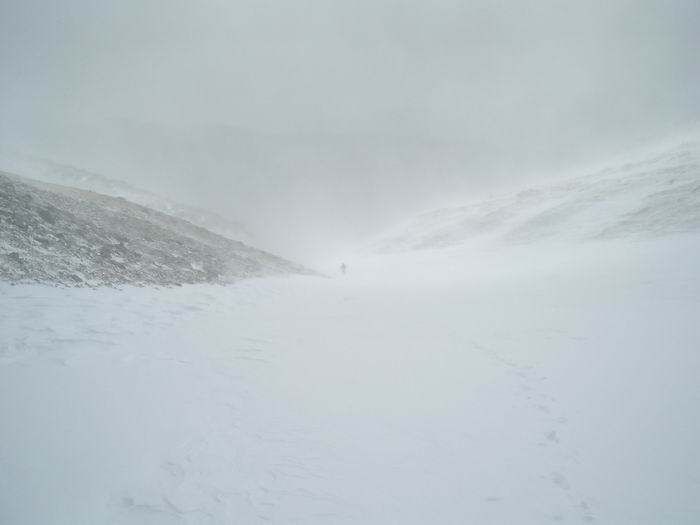 A climber in the distance on St. Marys Glacier.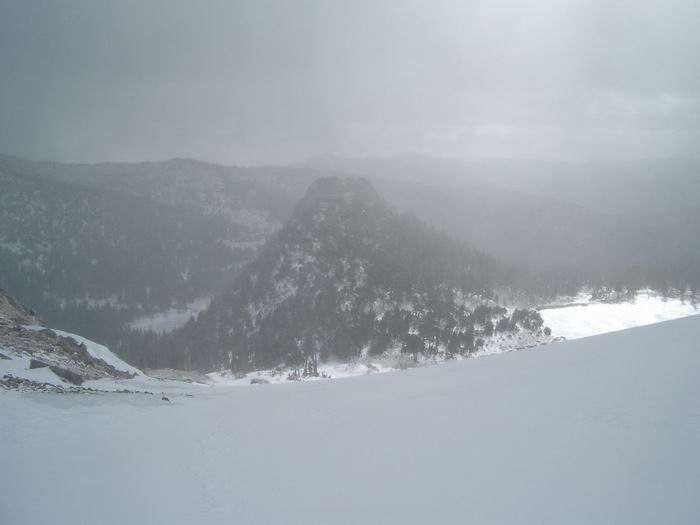 Fox Mountain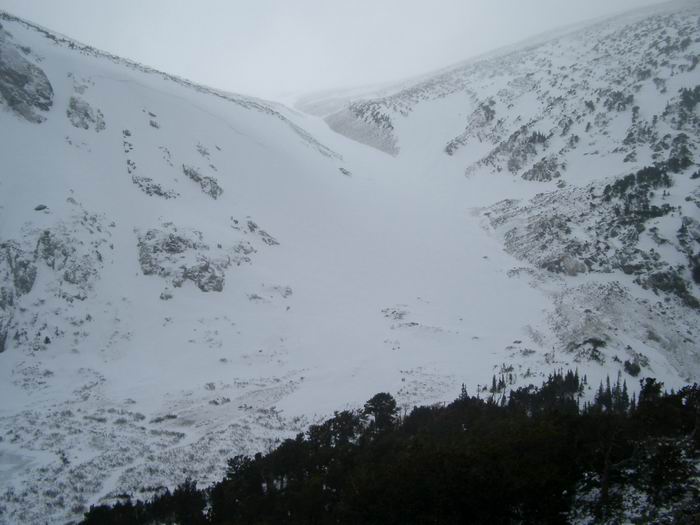 St. Marys Glacier