Statistics
Date - 07/29/2004
Elevation - < 7,000'
Route - Not Applicable
Miles - 2.5
Elevation Gain - 1,300'
ACME Mapper - Link
CalTopo - Link
Description
In order to climb Mount Rainier with Rainier Mountaineering Incorporated, you are required to take a one day climbing course. This course is designed to teach you the basics of mountaineering, and nothing more. The instructors made it perfectly clear that the students in the course are there to learn how to climb Rainier safely with a RMI guide. They stated that nobody can gain the skills required to climb alone in a one day introduction course.
Although the primary reason for the course is to teach the fundamentals of mountaineering, it also serves another purpose. It allows the guides to size you up both on the hike out to the snowfield where the course is held and during the course. At first it seemed odd to go on a hike the day before attempting Mount Rainier, but after thinking about it, it does begin the weeding out process. We later found out that historically, the hike was much more difficult and faster. Individuals were assessed and then graded on a pass/fail basis. This process has changed and weaker climbers are now gently convinced that they are not likely ready for the summit climb. One guy in our course backed out of the climb after the school.
The course was somewhat similar to the one I took from Timberline Mountain Guides last year. We went through plunge stepping, glissading, cramponing, rope travel, use of an ice axe, and self-arresting. I was relatively familiar with everything covered in the class, but I did find an appreciation for two climbing techniques that I have used, but not as effectively as possible. Pressure-breathing and rest-stepping were emphasized a lot throughout the day. These two techniques are small but make a big difference in your endurance and stamina if you use them efficiently and consistently throughout a climb.
Photos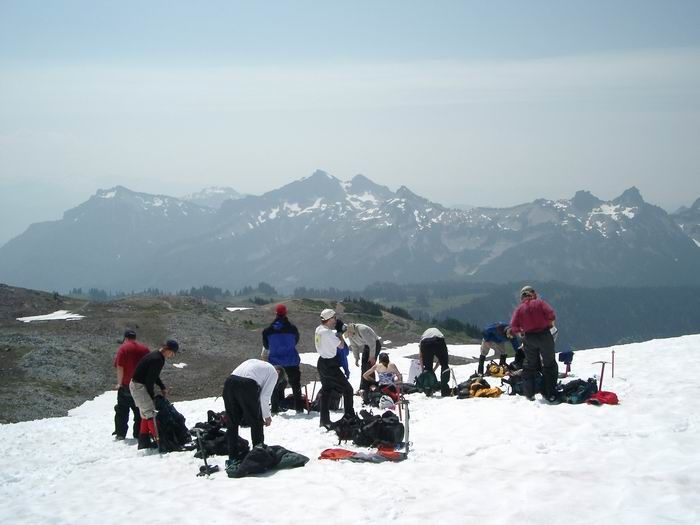 RMI Climbing Course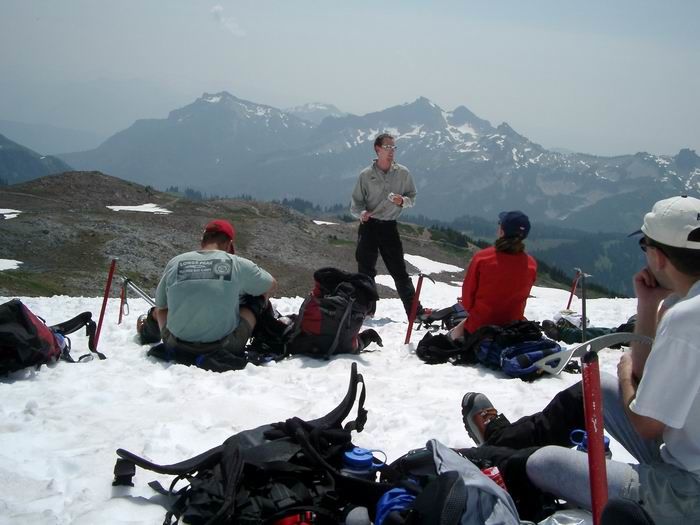 Instruction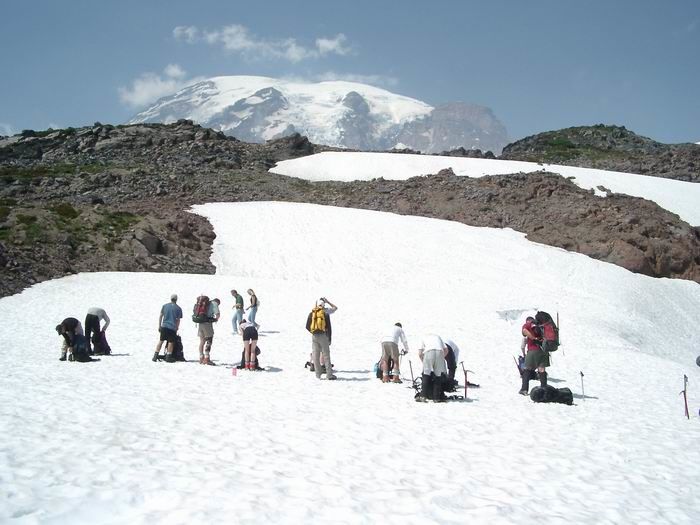 Mount Rainier