Statistics
Date - 04/27/2004
Elevation - 14,196'
Route - Southwest Slopes
Miles - 7.0
Elevation Gain - 4,300'
ACME Mapper - Link
CalTopo - Link
Description
Although we knew we weren't going to make it Mount Yale only three days earlier, I was still disappointed in the trip. We did a lot of work without the reward of a summit. I had some extra leave at work, so I checked the forecast and saw that Buena Vista, Colorado, was going to have clear skies Tuesday. I decided to give it another try with my current knowledge of the trail conditions. I figured that if I started early enough, the trail would be hard and I could avoid having to wear snowshoes for much of the trip and make much better time.
I drove to the trailhead Monday night and promptly fell asleep around 11:00. I slept right through the alarm that went off at 4:00 and finally woke at 6:00. Disappointed with my extended sleep, I contemplated calling it quits and heading home after loosing a couple of hours of valuable time. Instead, I quickly packed up and started down the trail. I knew I had to make up some time, and my correct assumption about the crusted trail expedited my efforts. Before I knew it, I hit the fork in the trail and was hiking next to Delaney Creek.
I made it to 11,800' below Mount Yale's southwest shoulder in 1 hour and 45 minutes. I continued up a small rib above tree line that leads to the actual shoulder. Although there was no trail from this point, the snow was hard enough to allow me to float reasonably well with snowshoes on. The small crampon was just enough to keep me from slipping. Once I finished climbing this steep slope and reached the crest of the southwest shoulder, I pulled out my GPS to check my elevation for the only time of the day. According to route descriptions, the actual trail gains the rounded ridge at 12,200' and I was at 12,900'. With only 1,300' to go, I was certain I had a chance to make it.
I took my first extended break while reviewing the remaining route. The saddle at 13,900' looked close with an easy grade; however, looks can be deceiving and I knew better than to underestimate this section of the hike. I previously made this mistake on the west side of Pikes Peak and was sorely disappointed. Even the photos make the hike to the saddle look gentle and trouble free, but it was still relatively steep. The slope of this section approaches 30 degrees and I felt as though the avalanche potential was nominal. It was still mid-morning and the snow appeared to remain in good condition. After my break, I continued for a couple of hundred feet before the small crampons didn't suffice any longer and I began sliding with poor traction.
Although switching to crampons assisted with footing, I was now post-holing. To mitigate this problem, I started planting my ice axe and keeping three points on the snow at all times to more evenly distribute my weight. Plant, step, step; plant, step, step; plant, step, step was the recurring theme. By doing this, I was able to limit my steps to only sinking approximately six inches. Nevertheless, the next 500' to the saddle was by far the most difficult of the climb. I was basically crawling up the snow as the slowing progress, increasing winds, and fatigue took their toll.
I took another break approximately 30' below the 13,900' saddle. As previously mentioned, the wind was considerably stronger now. The excursion kept me warm, but it was at this point where I added an insulating layer to my legs. The balaclava and goggles also went on. This was the first time in a while that I actually used everything in my pack. One positive note is that my pack was basically empty as I added clothes and cached water and snowshoes on the way up. The final ridge and 300' to the summit looked much more difficult than expected. Given the cross wind, snow filled rocks, and additional exposure, I approached with caution. I stayed right on the ridge the entire way and didn't want to give the snow any opportunity to slide away from beneath me. I was poised for an arrest over the couple of small snow bridges that I crossed. I was finally on the summit after an exciting scramble. I stuck around only long enough to take a few photos, take in the awesome views, and grab a drink of water. It was noon and I knew the snow would be softening down below. I wanted to get back to tree line as fast as I could.
The hike down went well and after picking up the trail of gear and water I left on the way up, I was at 11,800' in 1 hour and 20 minutes. Once back in the trees, I stripped down to a base layer and loaded everything else in my pack. The weather was beautiful and the snow was rapidly turning to slush. Despite this, I was able to avoid having to put snowshoes back on. This was a true alpine hike for me. The combination of wind, snow, technique required, and elevation gain made it a trip to remember. After becoming familiar with the mountain and trail, I was able to improve the time dramatically from the previous time I was in the area. In addition, the trail was broken over half way to the summit the previous Saturday and there was no new snow. My total trail time was 8 hours and 5 minutes.
Photos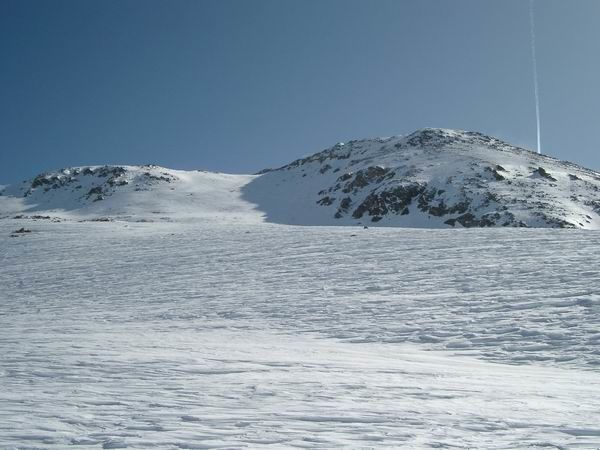 Mount Yale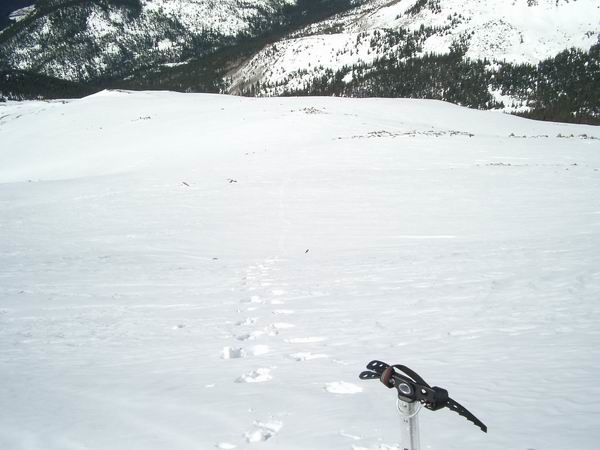 Route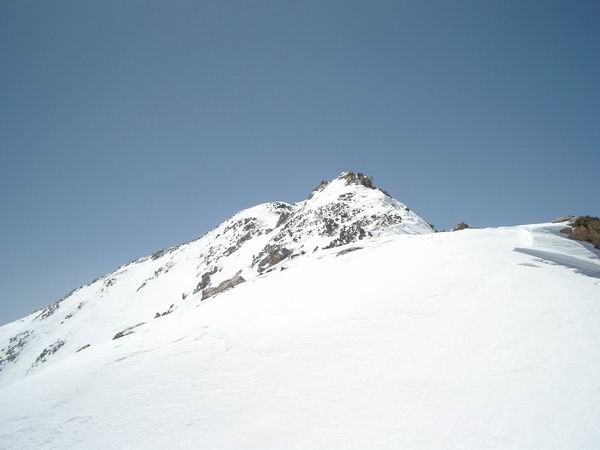 Mount Yale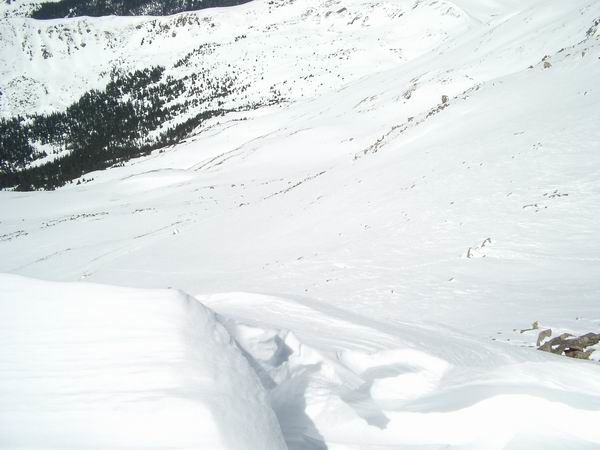 Denny Creek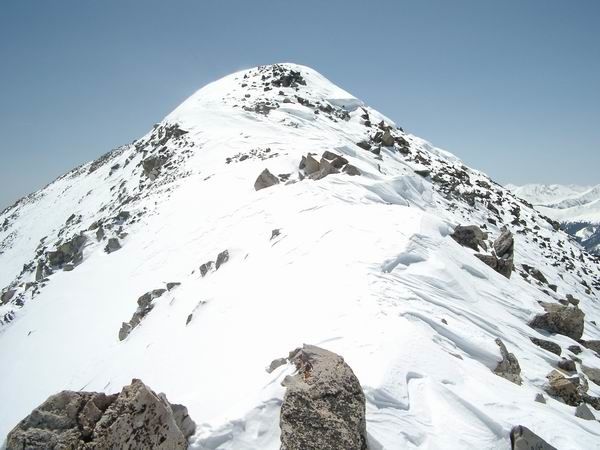 Mount Yale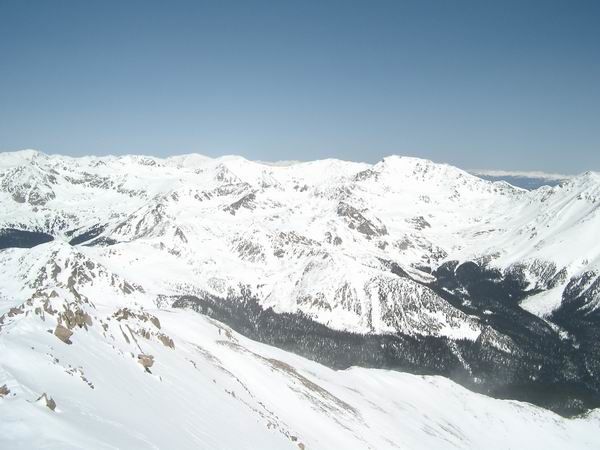 Views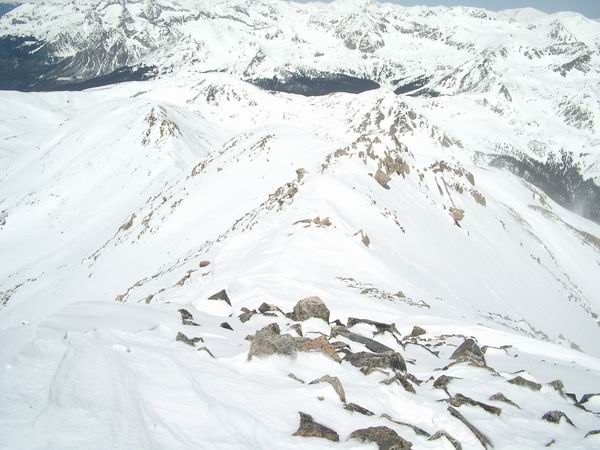 Views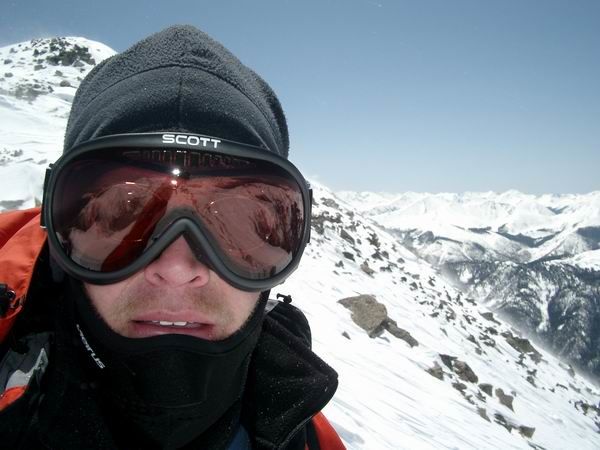 Summit Photo