Statistics
Date - 08/27/2004
Elevation - 14,130'/13,664'
Route - Northeast Ridge/East Slopes
Miles - 17.0
Elevation Gain - 5,800'
ACME Mapper - Link
CalTopo - Link
Description
Greg emailed me out of the blue looking for a partner to attempt Capitol Peak in the Elk Range. As a result of Capitol Peak being considered one of the hardest 14ers, Greg preferred not to go solo and neither did I. After a few more emails and receipt of spousal approval, I agreed to join him. Although Capitol is a hard class 4 14er, I feel as though it is even more difficult as a day hike, which is how we decided to climb it. The length of the hike, elevation gained, sporadic weather, and technical nature of the route made for a memorable day in the mountains. Detailed preparation, a strong game plan, and a little luck allowed us to climb Capitol Peak successfully.
My watch alarm was still set for 2:00 from my previous hike to Ellingwood Point and Blanca Peak, and we decided this would also be a good start time for Capitol Peak. I slept reasonably well from 10:00 to 2:00, but Greg wasn't as fortunate and only got a couple hours of sleep. When the alarm went off, we awoke quickly needing only to lace up the boots, pound some water, and throw on our packs. We were hiking by 2:15 descending the 400' to Capitol Creek. I forewarned Greg that I have a very systematic approach to hiking, especially longer hikes like Capitol Peak. I generally like to hike/scramble/climb for 45 to 50 minutes and then break for 10 to 15 minutes regardless of how I feel. By requiring myself to hike at least 50 minutes before breaking, I am forced to keep the pace slow. Instead of starting too fast and running out of energy too soon which ultimately leads to too many breaks; I hike slowly but surely. I don't want to break because I'm tired; I want to break to avoid getting tired. In addition to helping me manage my pace, the breaks force me to eat, drink, and assess my condition. Anyway, Greg didn't have a problem with my approach and allowed me to lead and keep an eye on my watch. The regular breaks also allow me to check my blood and remain on top of my sugar levels because I'm diabetic.
Before going to bed, the clouds were dark and thick. When we awoke, there wasn't a star in the sky. Not telling Greg, I gave us a 50/50 shot at making the summit. The difficulty of the climb and questionable weather forecast raised some valid doubts. The approach to the climber's route junction near Capitol Lake was on a flat and well maintained trail. Despite my previously described hiking methods, I set a reasonable pace that I think Greg was satisfied with. We reached the trail junction to the K2/Daly saddle in 2 hours and 45 minutes. It was at this point when we made some water and took a slightly longer 20 minute break.
We had actually planned to take an extended break of 30 minutes or more at Capitol Lake to rest for the climb after the 6.5 mile approach and allow the sun to rise. However, it was simply too cold to sit around so we started up the climber's trail. We decided to just go very slow in hopes that we would have sunlight by the time we reached the Daly/K2 saddle. Almost immediately after leaving for the saddle, a thick fog moved in. We could not see beyond a few feet in front of us. Fortunately, the trail remained easy to follow and we did not have any route finding problems.
We reached the saddle 35 minutes after departing from the basin. The wind was stronger and it was still fairly dark. Again, we would have liked to wait for more sunlight, but we got cold and wanted to keep moving. Initially we had discussed taking the class 4 ridge directly to K2 as a warm up for the ridge from K2 to Capitol Peak. However, this option was quickly eliminated because of the lack of quality light. We started to traverse south/southeast towards the Clark Peak/K2 saddle. Route finding was more difficult than it should have been because of the low light and thick cloud cover. In hindsight, we were reluctant to give up elevation and probably traversed too high from the recommended route.
Regardless of the difficulty in this section of the climb, we persevered and reached K2 after 5 hours and 50 minutes of hiking. We had anticipated another extended break on K2 to look at the ridge, fuel up for the final push to the summit, and cache any gear that was unnecessary for the traverse. At this point, the clouds raised a bit, and we could actually see some of the surrounding area. It was weird to just get our first glimpse of Capitol after hiking for nearly six hours. Many of the trip reports I read in researching the peak discussed how you can see the mountain during much of the approach. Here we were, approximately 0.5 miles away from the summit getting our first look.
The down climb to the infamous knife-edge didn't take long at all. I read a lot about the 100' knife-edge of the climb and was fairly prepared for what to expect. I won't say it was easy, and I won't say it was hard; I will say that it took me exactly one minute to cross it. Greg had no problems getting across this section in a short amount of time either. From this point on, it was pure fun for Greg and I. We stayed directly on the ridge much of the way and even found ourselves in a section of low class 5 climbing. We continued making good time and having a blast on the ridge. We reached the summit of Capitol Peak after seven hours and five minutes.
The views were reasonable, and we quickly took a number of photos to document our climb. Despite being happy with our accomplishment, we knew there was a lot of work left so we started back down after only 20 minutes. The clouds were a constant reminder of the fact that weather remained an issue for us. The down climb back to K2 was slightly faster than the ascent, and it was at this point where we congratulated ourselves once again. Although we anticipated a long hike back out, we assumed it would be routine. Five out of seven people we encountered on K2 aborted their summit bid of Capitol.
After 25 minutes on K2 resting and collecting our gear, we decided to try and take the ridge directly back to the Mount Daly/K2 saddle. Shortly after leaving K2, the temperature dropped and some snow flurries began to fall. Before long, the snow was accumulating and the rock was becoming wet. Because of this, we decided to drop off the ridge to the east and pick up the standard route back to the Mount Daly/K2 saddle. By the time we reached the saddle, the snow was falling relatively hard and the wind had picked up. We had caught the other climbers that were retreating from K2 and we all descended from the saddle to Capitol Lake together. The wind seemed to have teeth as the snow stung our faces. Once again, Capitol Peak was not visible.
Back down by the lake, Greg and I made clothing adjustments and prepared for the arduous hike back to the trailhead. Conversation was limited as the long day was beginning to wear on us. At 10,000', we started shedding clothes and were heating up rapidly. Although we were much warmer, whenever we looked back at Capitol it was often still shrouded in clouds. The 400' climb to the trailhead from Capitol Creek was difficult, but we finally made it back to our vehicle after almost 13 hours of hiking. In hindsight, both Greg and I felt that backpacking to Capitol Lake and climbing Capitol Peak from there the following morning would have been much easier. I had a great time and Greg was an awesome climbing partner. If you are comfortable with class 3 climbing, don't let this peak intimidate you. You definitely have to be in shape and remain focused, but I don't think it is difficult as some people claim.
Photos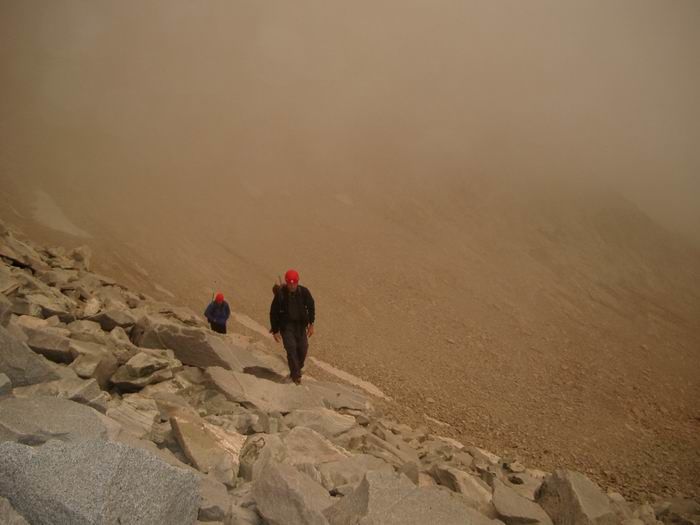 Approach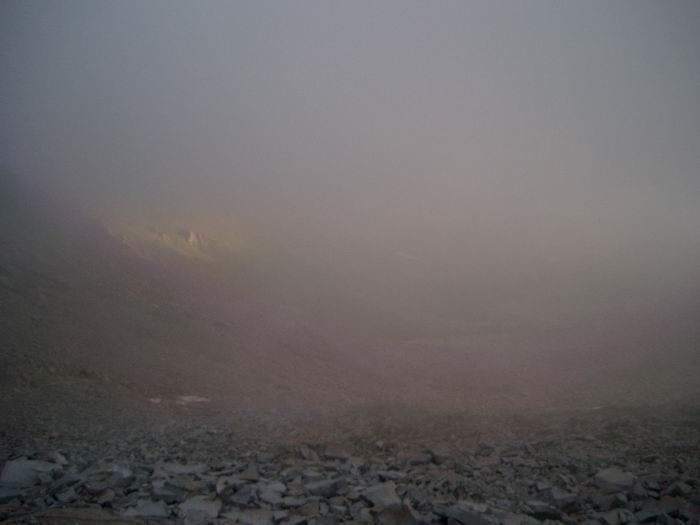 Poor Visibility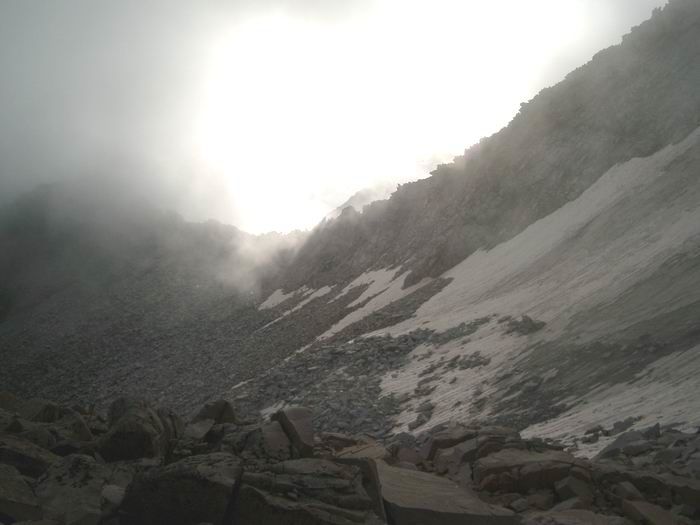 Sun Breaking Through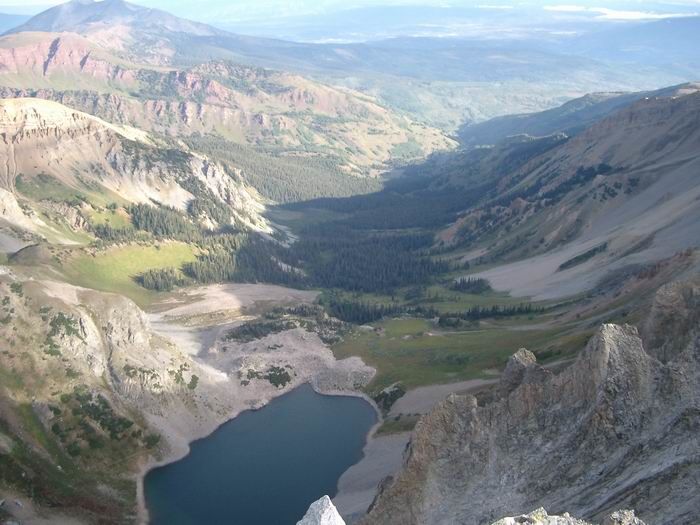 Capitol Lake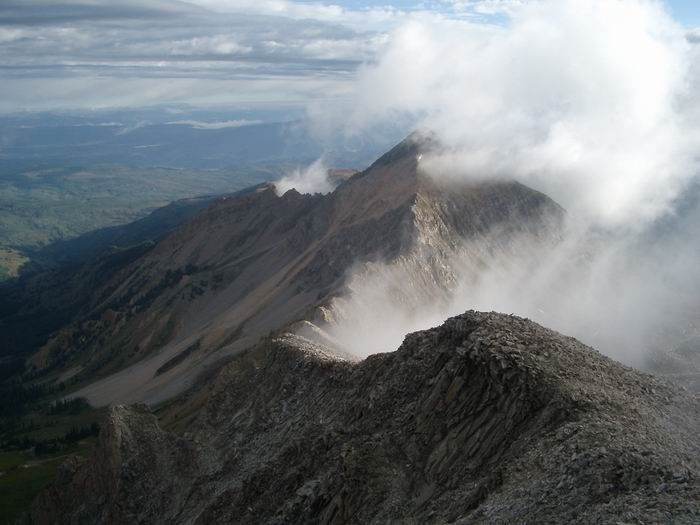 Mount Daly from K2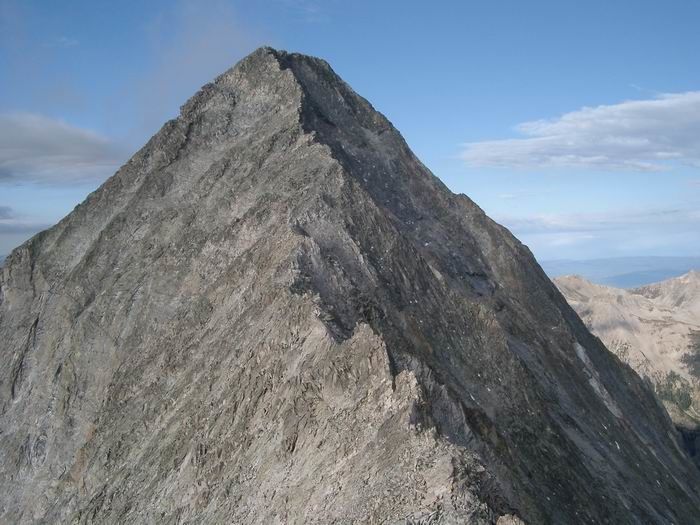 Capitol Peak from K2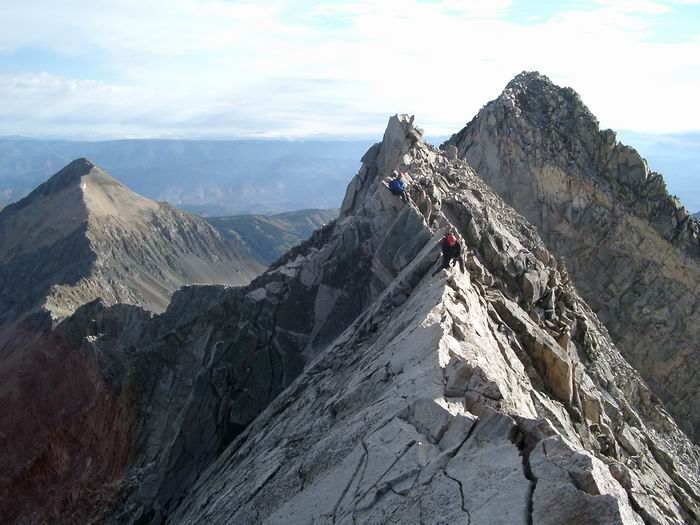 Greg on the knife-edge ridge.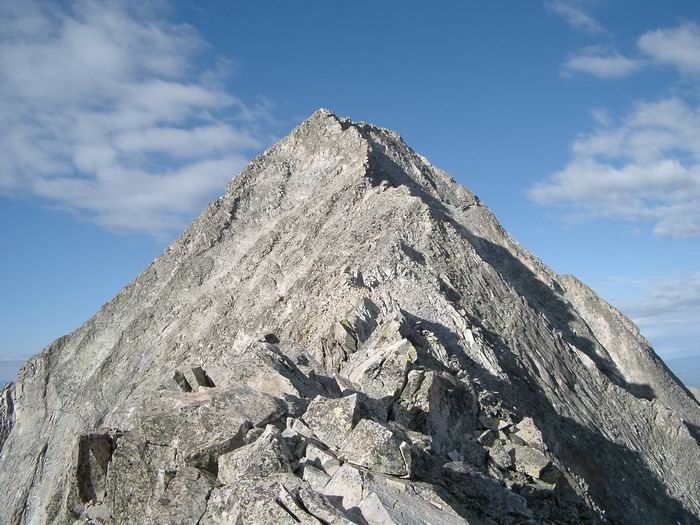 Capitol Peak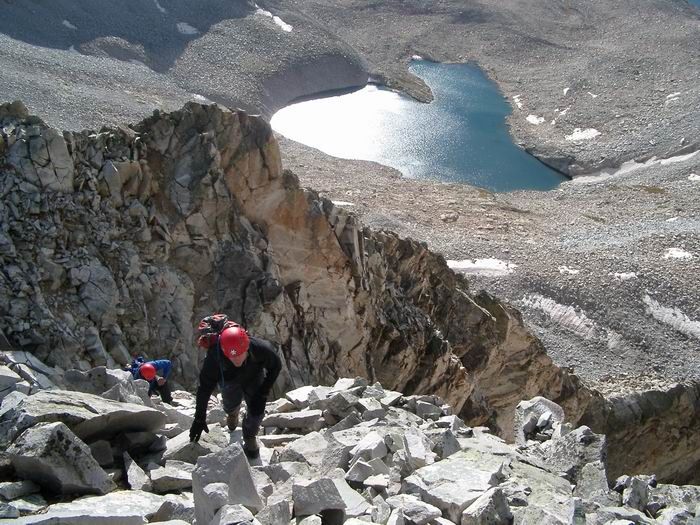 Pierre Lake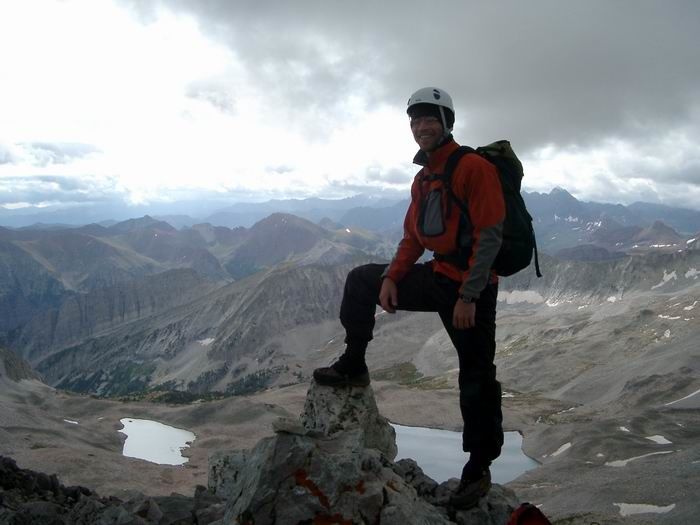 Summit Photo (Capitol Peak)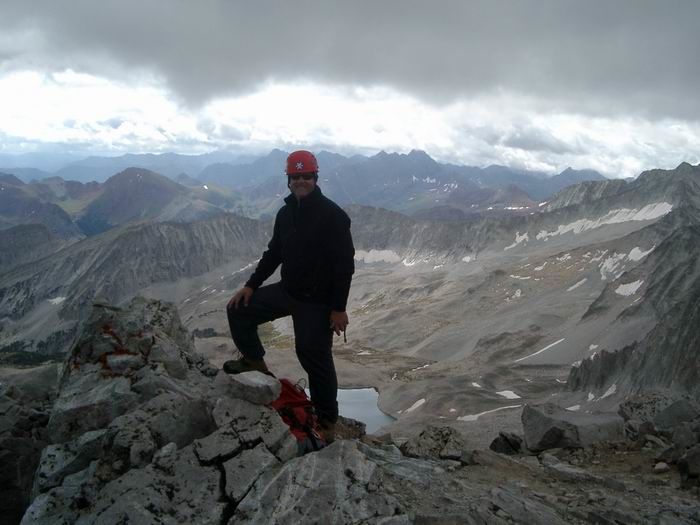 Greg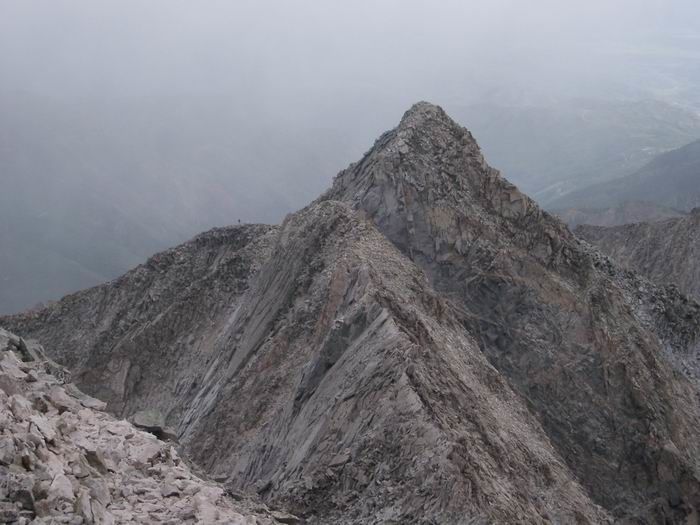 Views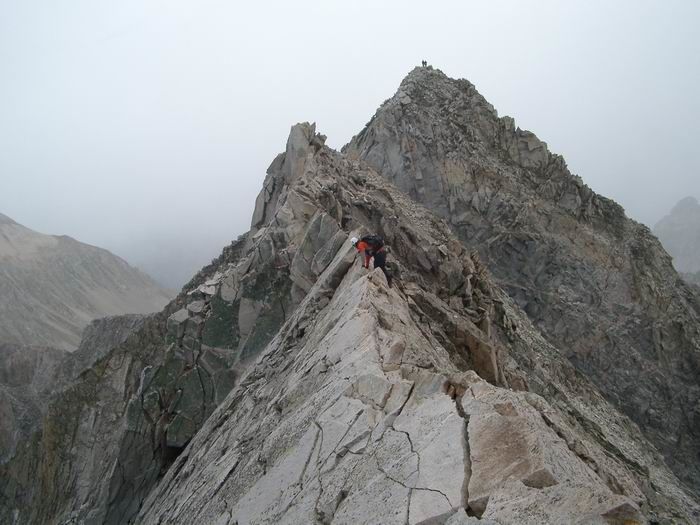 James crossing the knife-edge ridge.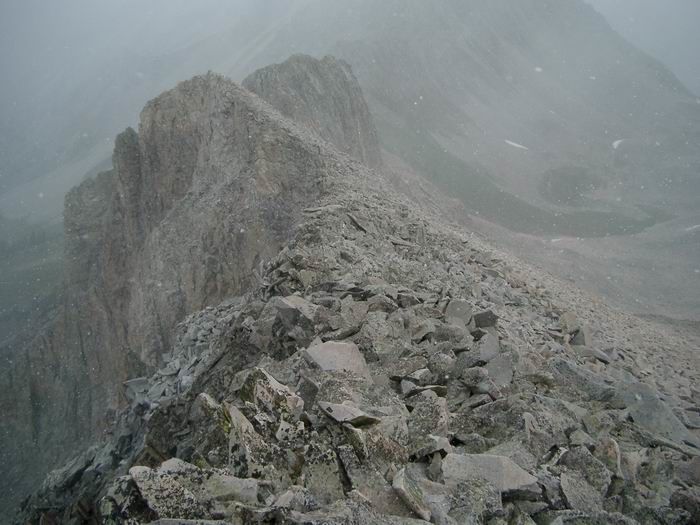 Descent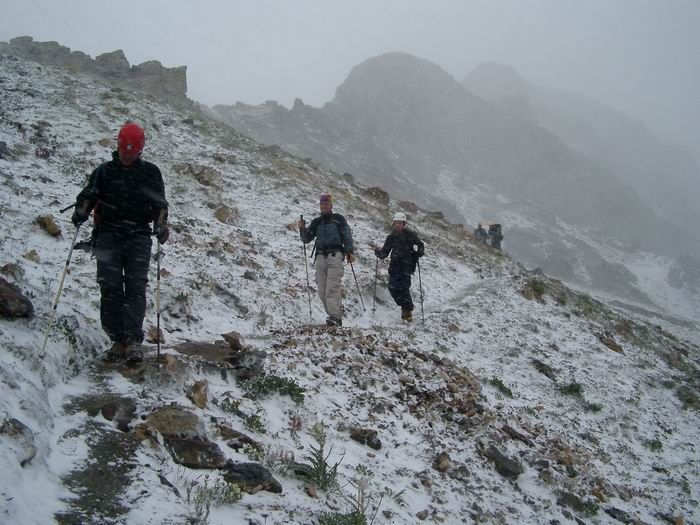 Deteriorating Weather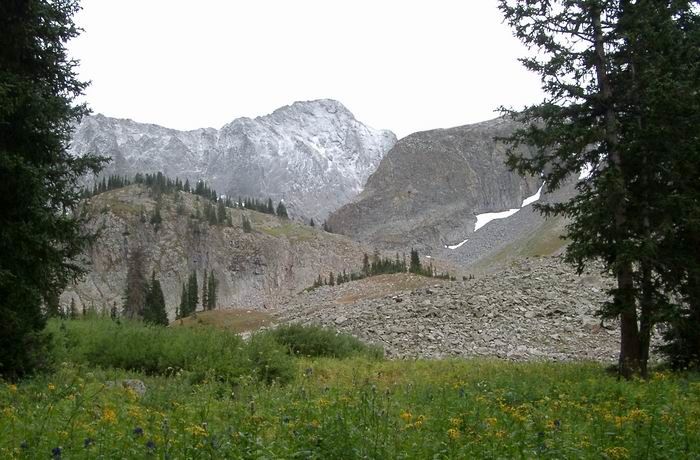 Capitol Peak