Statistics
Date - 12/20/2003
Elevation - 14,060'/11,990'
Route - West Slopes/Northeast Slopes
Miles - 7.0
Elevation Gain - 3,090'
ACME Mapper - Link
CalTopo - Link
Description
Unlike Veterans Day last month, this time Tom and I had full intentions of making a summit bid on Mount Bierstadt. We watched the weather on Thursday and Friday, and if things looked bad we would opt for Chief Mountain, otherwise we would return to Mount Bierstadt. Georgetown, Colorado, was showing low precipitation and high temps, so we made our way back to Guanella Pass to give it another attempt. After reaching the trailhead and surveying the situation, we decided to leave our snow shows in the Trooper as the snow conditions appeared favorable. The skies were not clear, but at least we weren't in a blizzard of snow with excessive wind. We hiked the first mile quickly and began ascending the western slopes of Mount Bierstadt. After reaching our turn around point from a month ago, we were feeling pretty good and thought we could make it. Although Bierstadt looks relatively close, even from the trailhead, we still had our work cut out for us at this point.
The trail wasn't evident, so we just followed the northwest ridge up and by the time we reached 13,000', it was time to add some layers. The wind had picked up considerably, and we were both experiencing cold feet. I decided at the trailhead not to wear my plastic boots, so all I had on were my light hiking shoes and Tom had mid-weight hikers on. I threw on my shell jacket and we both put another layer on our legs. As the route steepened, the pace slowed. Adding elements like wind, snow, and route-finding increased the difficulty of a hike. When we were done, I think we both felt as though we had done 5,000' and 10 miles. Anyway, by the time we gained the west ridge and could see Frozen Lake below, the wind had picked up considerably. We took a short break at the notch before going the final 350' to the summit. On a few occasions, the wind gusts were extremely fierce, and we had to brace ourselves and let it die down before continuing. Once on the summit, it was much calmer and actually gave us the opportunity to warm up.
We took several photos, had a bite to eat, and congratulated one another. From the summit, you could see Mount Evans, The Sawtooth, Pikes Peak, Grays Peak, Torreys Peak, Abyss Lake, Frozen Lake, the trailhead, and many other mountains to the west. The wind and blowing snow was sporadic and didn't subside until back down to around 12,000'. If you want to avoid the crowds and have a bit more solitude on this mountain, I'd definitely recommend a winter ascent. On the way back down, I made a side trip to Point 11990 south of Guanella Pass to make sure I gained 3,000'. In conclusion, this was a great hike where we both felt like we had climbed a mountain at the end of the day.
Photos
The Sawtooth and Mount Bierstadt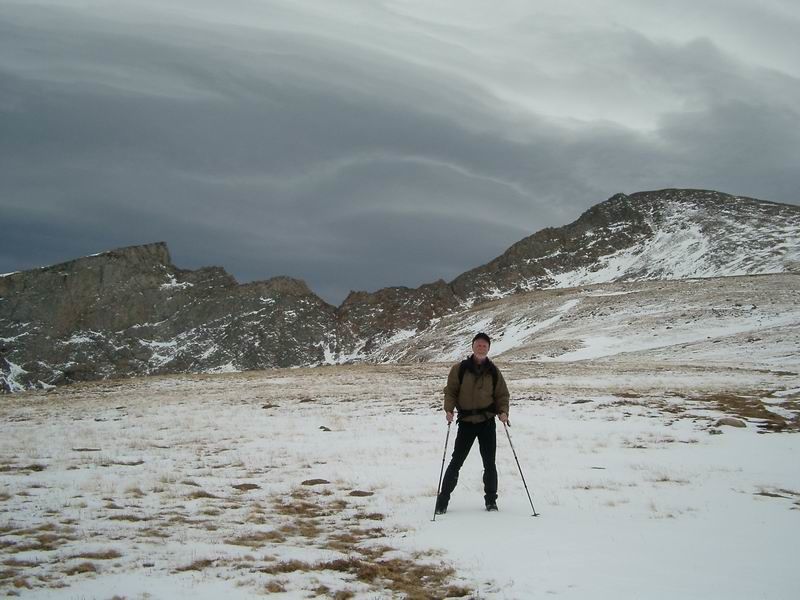 Tom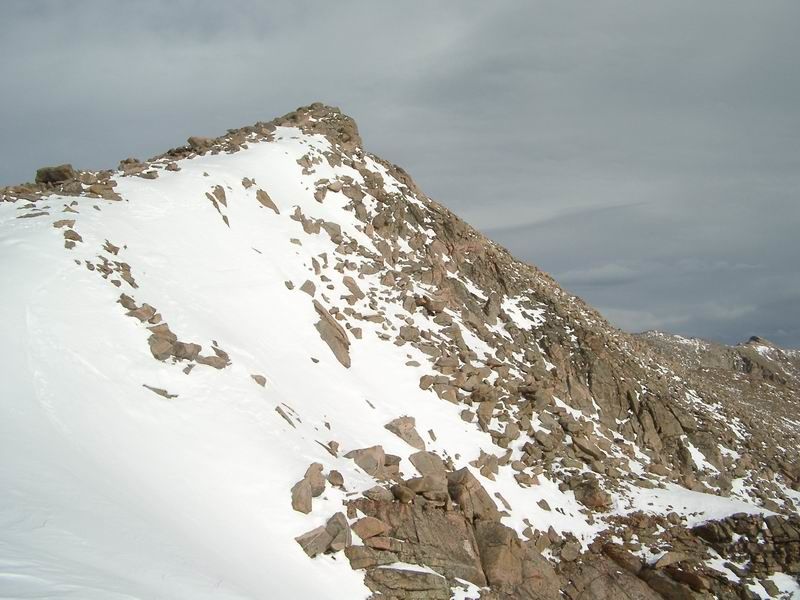 Mount Bierstadt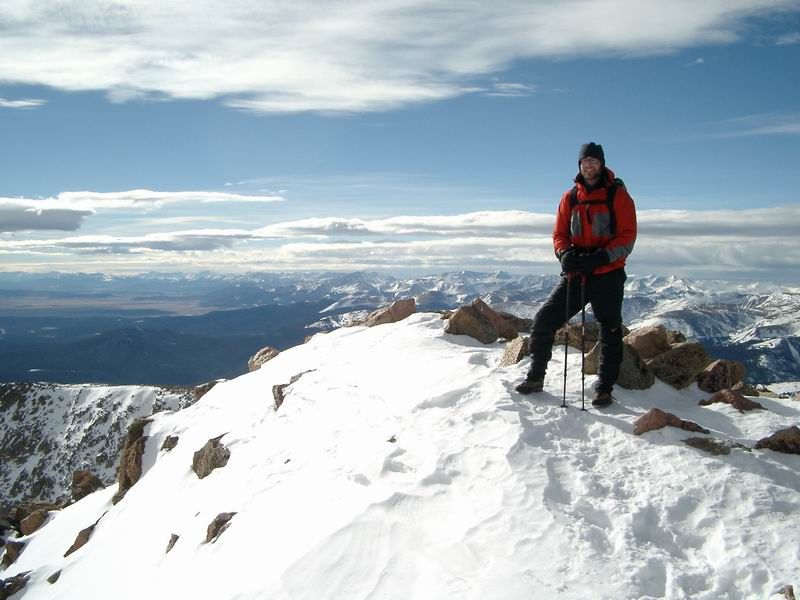 Summit Photo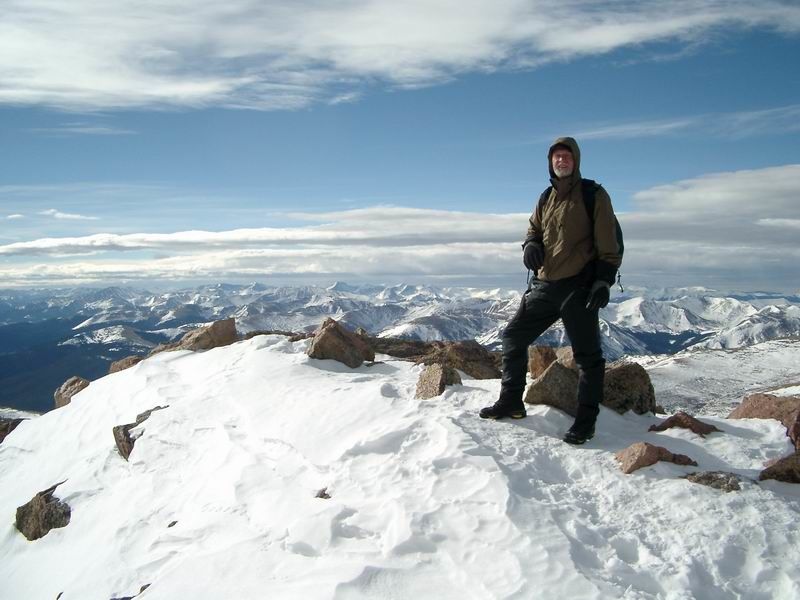 Tom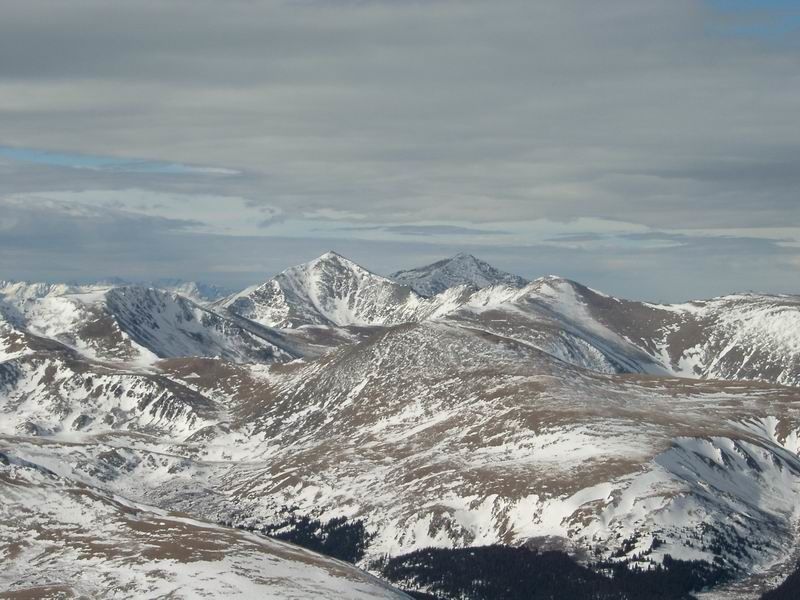 Grays Peak and Torreys Peak