Statistics
Date - 07/28/2003
Elevation - 9,860'/9,820'/9,709'
Route - East Ridge/West Ridge/North Ridge
Miles - 13.0
Elevation Gain - 4,700'
ACME Mapper - Link
CalTopo - Link
Description
I hadn't been in the Sawtooth Mountains since last July, so I decided it was time to return for a hike. I had a great time in the northern part of the range on a beautiful day with the mountains to myself. McGown Peak, one of the most photographed peaks in Idaho, is two miles south of Stanley Lake and stands 9,860' tall. Peak 9820 is McGown's twin to the southeast and is 40' shorter at 9,820'. Peak 9709 falls 151' short of McGown and sits one mile south of that peak along the main crest of the Sawtooth Mountains.
I wasn't sure if I was going to be able to make it to the summit of all three peaks, but I had visions of grandeur and decided to give it a shot. I was simply going to play it by ear and see how I felt as the day went on. Making your way to the McGown cirque requires a bit of stamina and some route finding skills. I left Boise, Idaho, at 5:00 and was on the trail by 8:00. An earlier start would have been nice considering the long day. This would have easily been possible given the well-defined trail that you are on for the first few miles which eliminates any route finding problems the dark might cause.
The large trailhead parking lot is located just northwest of Stanley Lake which is about four miles off of Highway 21. After signing the trail register, I started off to the west on a flat trail. After approximately one mile, you make a sharp left onto the Alpine Way Trail and head directly south into the Sawtooth Wilderness. You should be due north of McGown Peak. Once you approach the base of the mountain, the trail turns left again as you head towards the east. At this point you actually start gaining some elevation. As you approach a creek, you head back south for a while, cross the creek, and then slowly climb the west facing slope of Point 7925 as the trail eventually turns permanently south. Continue south until you reach a small pass to the southwest of Point 7899. From here, you leave the trail heading west and climb steeply up to a ridge. Follow this ridge until it intersects with a creek flowing out of Lake 8609 at approximately 8,200'. It was here were I stashed a quart of water and some extra clothing that I didn't feel was necessary to pack along. Depending on the line you choose, this short ridge can be a little tricky. I opted to stay directly on top of the ridgeline and had a couple of short sections of class 3 scrambling to contend with.
I followed the creek up to the lakes that sit in the McGown Peak cirque. Although the topographic map only indicates two lakes, there are actually a couple of other bodies of water standing in the area. I worked my way between the two primary lakes to the east rib on the south end of McGown Peak's east face. The pace slowed considerably as this portion of the hike became extremely steep. I climbed slightly to the left of the rib utilizing trees and large rocks as safe havens from exposure. I don't know if this was the best route, and I found myself on pebble scree quite a bit rather than solid rock. From the base of the summit block, I circled around to the right on several shelves and ledges to gain the summit from the northeast. There was an excellent summit register in a metal canister, although I got the impression from the log that McGown Peak isn't frequently climbed. The views on top were great with a blue sky and no smoke. Now I had to figure out what I was going to do next.
I decided to make my way over to the saddle at 9,200' between Point 9604 and Peak 9820 where I would determine how to proceed. In order to avoid losing significant elevation and dropping all the way down to Lake 8609, I opted to try and negotiate McGown's south ridge. The going was fine at first, but I quickly ran up against several towers and pinnacles that exceeded any low class 4 climbing I was willing to attempt. I was required to drop as much as 200' or more off the ridge to the east in order to make it past these areas. Because of the jagged ridge, I ended up traversing around the west side of Lake 8609 and descended to around 9,000' to steer clear of technical climbing. Although I couldn't stay directly on top of the ridge, I did save myself around 400' of climbing.
After making it to the saddle, I looked south at Peak 9709 and east to Peak 9820. I felt pretty good so I continued on. The ridge between Point 9604 and Peak 9709 is much more manageable than what I previously encountered, so I regained the ridge to the south of Point 9604 and started up again. It didn't take long to reach the summit of Peak 9709 on good footing and relatively solid rock. There was a small cairn on top but no summit register. I quickly descended from Peak 9709, crossed a permanent snowfield, and traversed back to the saddle at 9,200'. I was pretty spent at this point, but realized I would be disappointed if I didn't finish with Peak 9820. The climbing was straightforward, and I was on the top after being frustrated by a couple of false summits. From each peak I took photos of the other two and simply enjoyed my time in the mountains. There was a tiny metal canister on top of Peak 9820 with one sheet of paper in it. There were two signatures on the paper from the 1990's, one being Tom Lopez on October 2, 1994.
Looking south at the rugged Sawtooth Range is truly amazing as you see so much more than you can from Stanley, Idaho, or the highway. I came back down Peak 9820's west ridge and followed a gully back to my water stash, which was needed at this point. I made it back down to the trail and returned the way I came in. About two miles from the trailhead, I bonked and had to stop and finish my peanut butter and jelly sandwiches. I regained some strength and finished my walk out.
Trailhead - McGown Peak 3:25
McGown Summit Time 0:25
McGown Peak - Peak 9709 1:15
Peak 9709 Summit Time 0:15
Peak 9709 - Peak 9820 0:45
Peak 9820 Summit Time 0:25
Peak 9820 - Trailhead 2:40
Total Trail Time 9:10
Photos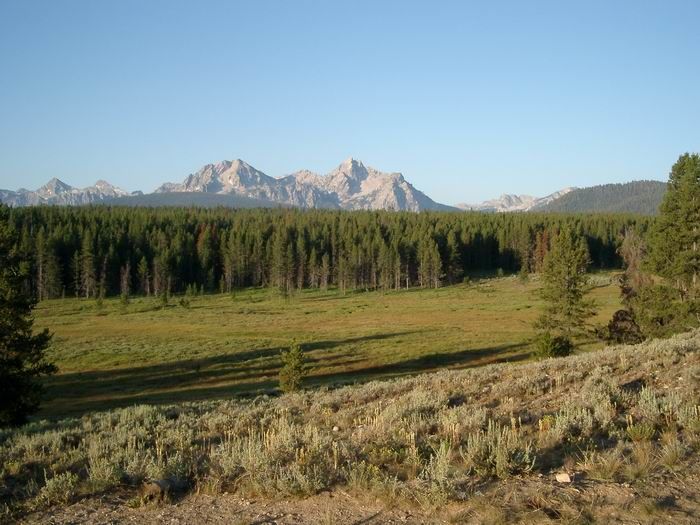 Peak 9820 and McGown Peak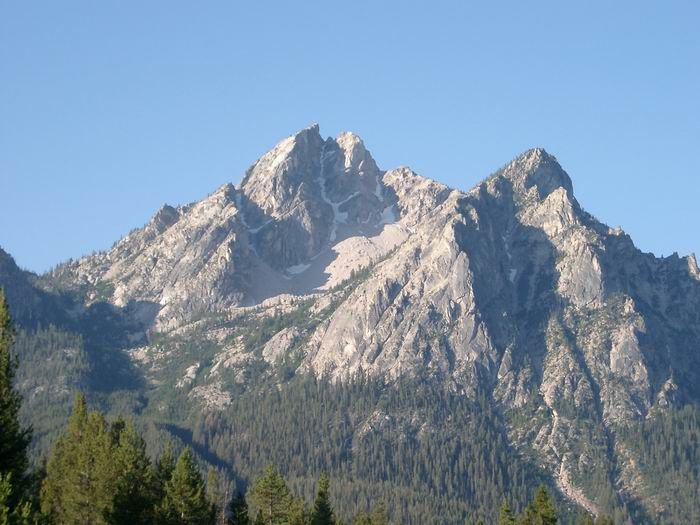 McGown Peak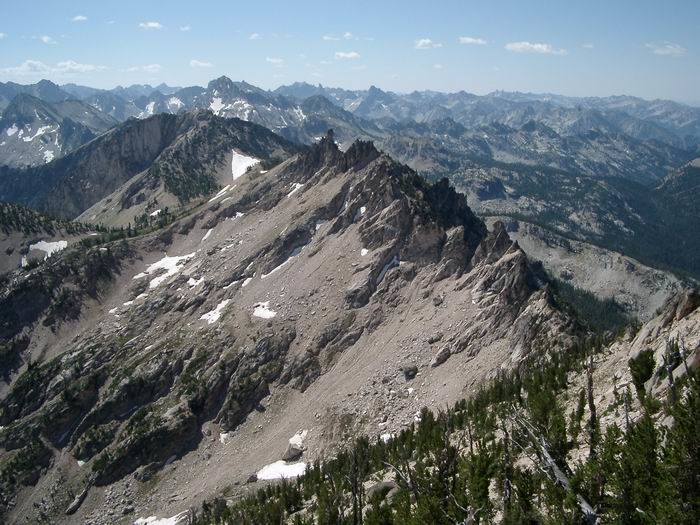 Views to the south from McGown Peak.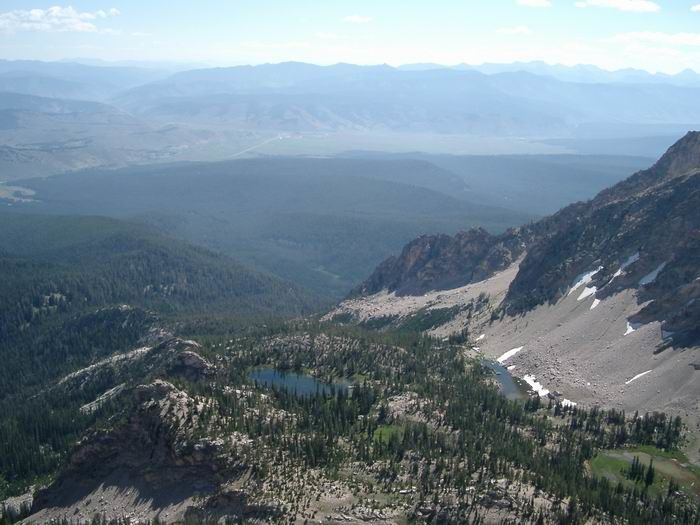 Lake 8575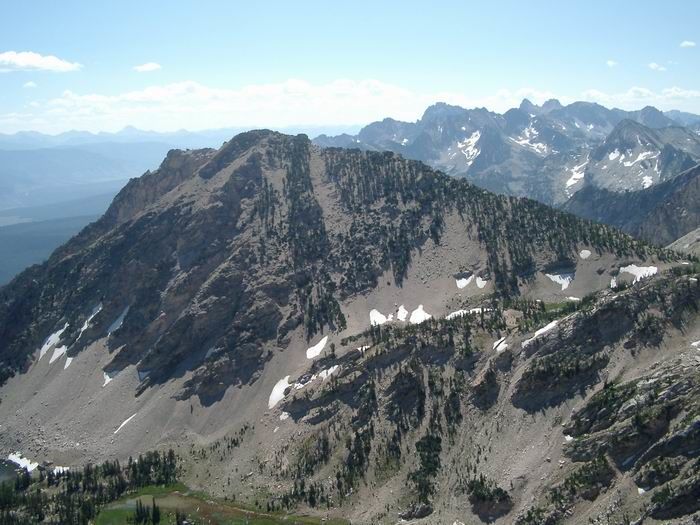 Peak 9820 from McGown Peak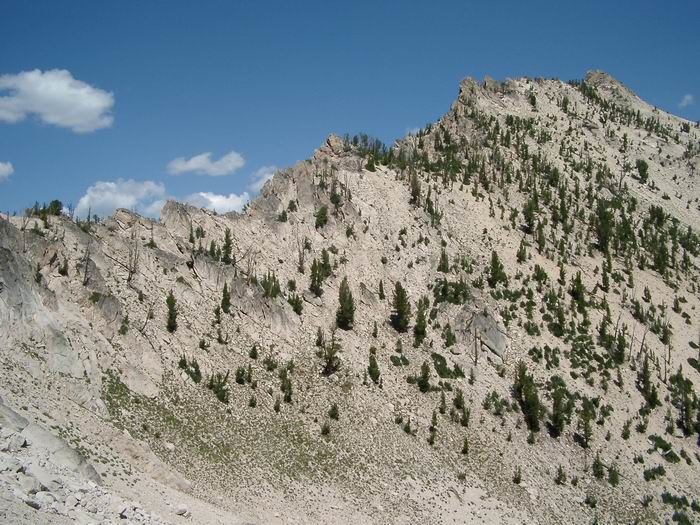 McGown Peak South Ridge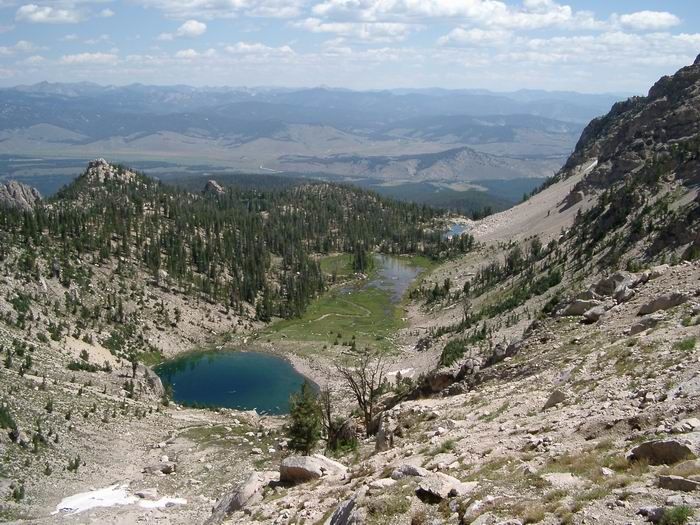 Lake 8609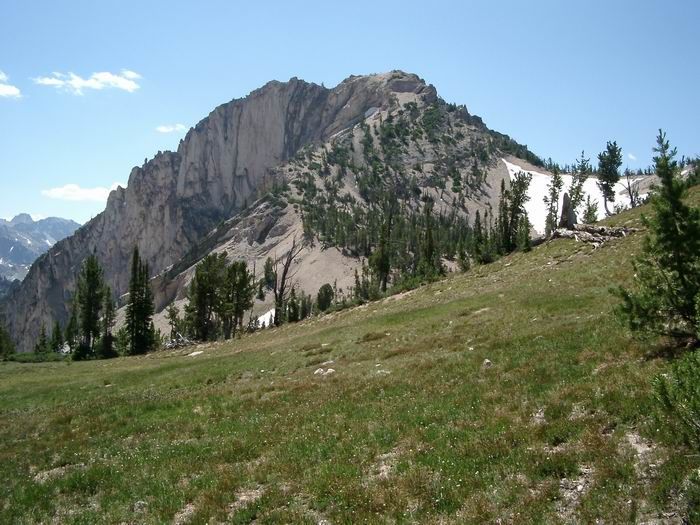 Peak 9820
McGown Peak from Peak 9709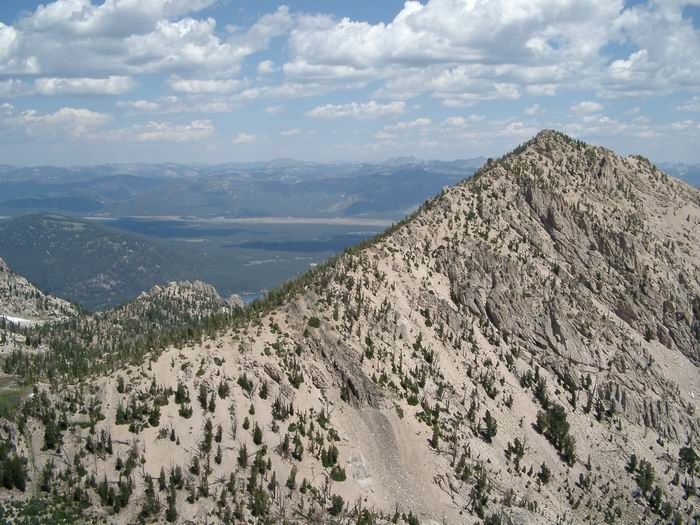 Peak 9820 from Peak 9709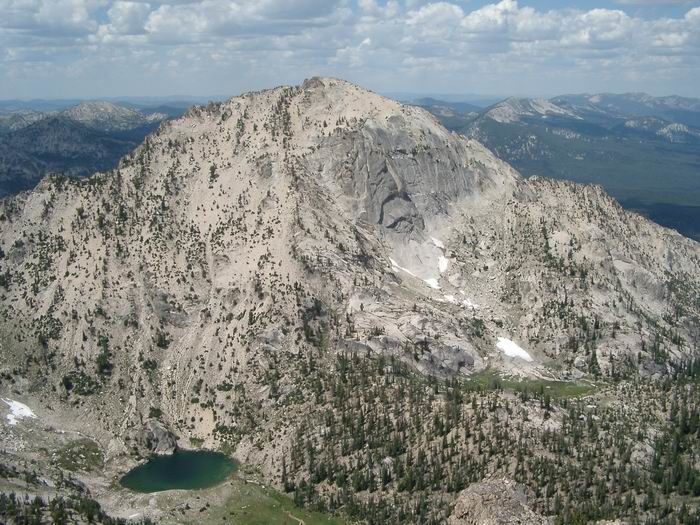 McGown Peak from Peak 9820

Views

Route