Statistics
Date - 08/16/2003
Elevation - 12,228'
Route - West Ridge
Miles - 7.3
Elevation Gain - 5,028'
ACME Mapper - Link
CalTopo - Link
Description
There are nine peaks in Idaho over 12,000'. Leatherman Peak is number two on the 12er list at 12,228'. Eight down, one to go.
This weekend had been planned for quite some time with a slightly different itinerary and various routes proposed. My first suggestion was to use the east route of Leatherman on Saturday and then approach Mount Idaho from Merriam Lake attempting the north ridge on Sunday. Dan passed and wanted to use the west route of Mount Idaho. I then suggested we approach both peaks from the west in order to save driving time. Dan again passed and wanted to drive to the Pahsimeroi for Leatherman. It was decided that we'd use the east route for Leatherman Peak and west route for Mount Idaho when once again; the plan changed after Dan and Zack's scheduled hike to Mount Breitenbach was postponed. As a result, this left both Dan and I with two 12ers left to complete all nine and only one of them being the same. After a few emails, we determined that we would simply hike separately on Saturday (Dan to Mount Breitenbach and myself to Leatherman Peak) and then finish with Mount Idaho together on Sunday.
We left Boise, Idaho, Friday afternoon and stopped for some pizza in Mackay, Idaho. Dan encouraged me to climb the west ridge of Leatherman Peak since I would now be alone and this is initially what I wanted to do. I took his advice and after checking the west route road, I asked Dan to verify where 7,200' was with his GPS on the drive out. I wanted to make sure I gained 5,000' on both days to see if I was up to it. He told me where to start, and then we drove over to the Mount Breitenbach trailhead where we visited for a while and Dan set up camp. I returned to my starting point, prepared for my hike, and was sleeping at 10:00.
I didn't sleep well and was up at 3:00 so I decided just to get start hiking at 3:20. The alpine start was fine with clear skies and a road to begin the trip. Before too long, I was off the road and on what appeared to be a rarely maintained trail. In my opinion, the west route and west ridge, which was previously considered the standard route, has now become the classic or climbers route. I would contend that the east route is now more heavily used and should appropriately be considered the standard. I lost the trail a couple of times on the way in as the weather deteriorated during the morning. Approaching the top of Sawmill Gulch, Leatherman Peak and the steep west ridge began to look intimidating. With a small amount of light rising from the northeast behind the peak, its outline looked dark and ominous. I picked up the trail again and traversed both under and over a couple of different sets of cliffs on my way to Leatherman Pass.
When I got to the pass the sun still hadn't risen, but I was too cold to wait for the view. I was already wearing all the clothes I had packed along, and the stiff breeze wasn't letting up so I started up the west ridge. From the pass, there is a faint trail on loose steep scree that leads to the right of the ridge for a couple of hundred feet. When the trail faded, I found myself just slightly past a white band of rocks looking up or north at the ridge. Here is where I dropped my sticks and the fun started. From this point on, the climbing and scrambling began and didn't relent until the summit. This is the longest stretch of sustained class 3 climbing (approximately 1,600' from the pass to the summit) that I have done to date. The exposure was relatively high in some places and the rocks I kicked off the mountain went a long way.
After gaining the ridge, I attempted to stay right on top of it or to the left of it. Not only was this recommended in the guidebooks I used, moving to the left protected me from the wind as it was still relatively cold and overcast. As I worked up the ridge, I ran into several sections that were clearly beyond class 3 or low class 4. At these points, I would work my way to the left, usually across scree, until I found a ledge or chute to climb and regain the ridge. I simply repeated this process of moving to the left whenever I got too uncomfortable with the ridge.
Although somewhat demanding, it was a fun climb I would definitely recommend. I had planned on hanging out on top for a while and try to radio Dan, but I was too cold and had to start down. I took a few photos, drank some water, and enjoyed the views. Of course the climb down was much faster, but you still had to concentrate. I found myself wandering too far from the ridge a couple of times to routes that looked easier, only to realize that I would have been hung up by some serious cliffs had I continued. Other than a few minor slips, the descent was fun and fast. The hike out was uneventful and I was back at my vehicle by 10:00.
Trailhead - Leatherman Pass 2:30
Leatherman Pass - Leatherman Peak 1:40
Summit Time 0:30
Leatherman Peak - Leatherman Pass 0:45
Leatherman Pass - Trailhead 1:15
Total Trail Time 6:40
Photos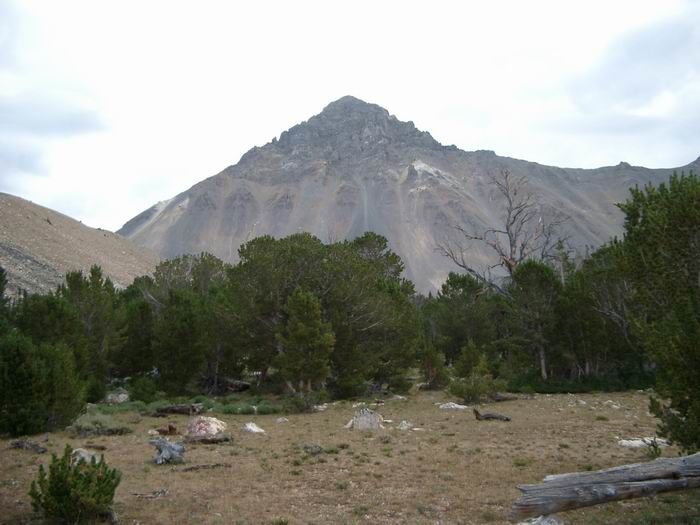 Leatherman Peak
Sunrise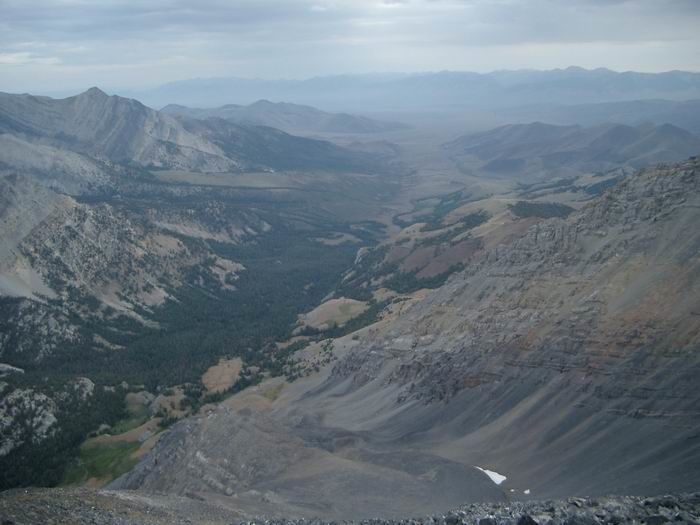 Views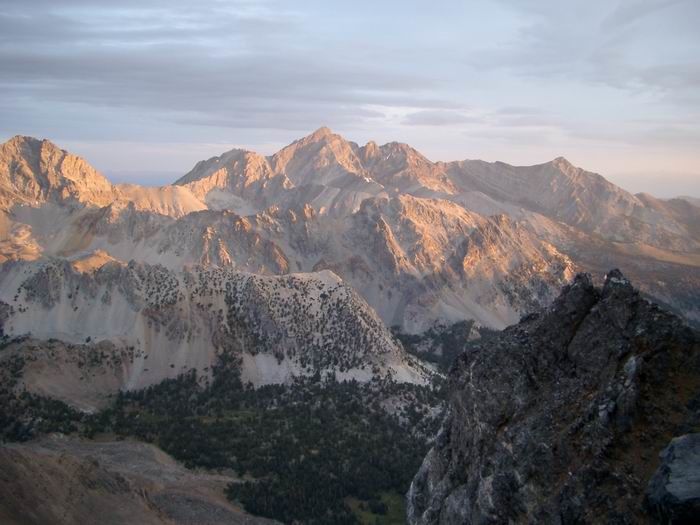 Mount Borah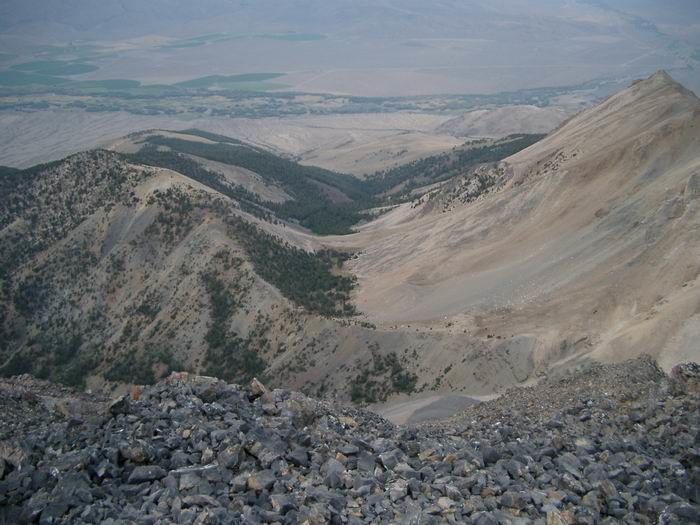 Sawmill Gulch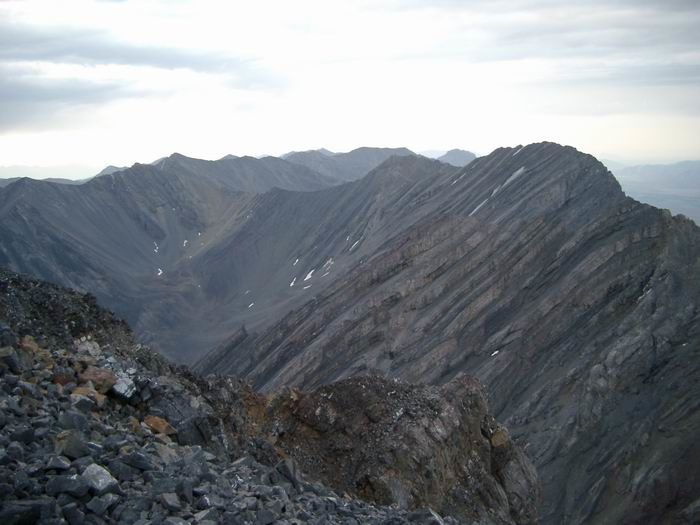 Views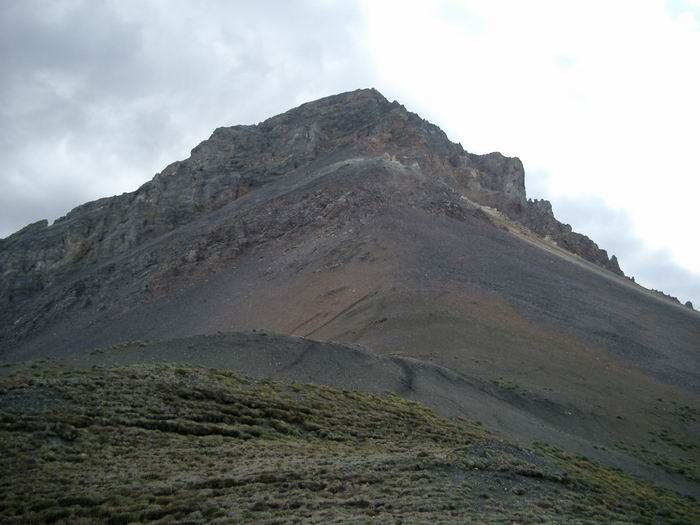 Leatherman Peak West Ridge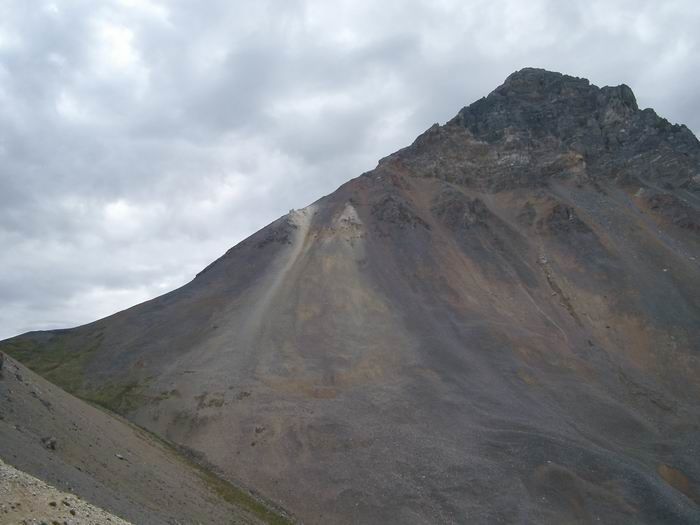 Leatherman Peak West Ridge