Statistics
Date - 08/06/2003
Elevation - 14,148'/14,238'/14,286'/14,172'
Route - Decalibron
Miles - 7.0
Elevation Gain - 3,600'
ACME Mapper - Link
CalTopo - Link
Description
There are 54 peaks in Colorado over 14,000'. There are 5 additional peaks over 14,000' that are considered "unofficial" 14ers because they don't meet the criteria for a 14er, but are named on USGS maps. This was one, two, and three of 54 and one of five for me. I don't know if I'll ever climb them all, but I'm keeping track just in case.
I happened to be on vacation in Colorado at the same time as Dan, so we decided to go hiking together. This was my first hike in Colorado and my first time over 13,000' and 14,000'. We wanted to summit several peaks so we opted for the Decalibron, a loop hike that starts from Kite Lake outside of Alma, Colorado, that reaches three official 14ers and 1 unofficial 14er. Mount Cameron only rises 138' above the saddle between it and Mount Lincoln, which is what disqualifies it from official 14er designation. We left Denver around 5:30 and were at the trailhead in a couple of hours.
Generally, people first hike to Mount Democrat (14,148'), then backtrack a bit and cross over Mount Cameron (14,238') on your way to Mount Lincoln (14,286'). After hiking Lincoln, you backtrack again just for a short distance before hiking to Mount Bross (14,172') and then descending back down to the lake. This was an enjoyable hike with some beautiful views. In spite of the number of people and the vehicles that were driving to the top of Mount Bross, it was still a worthy hike. Dan complained about an occasional headache and a few spells of lightheadedness, but otherwise we handled the elevation adequately. I'd definitely like to return to hike more Colorado peaks.
Trailhead - Mount Democrat 1:50
Mount Democrat Summit Time 0:20
Mount Democrat - Cameron Peak - Lincoln Peak 1:50
Lincoln Summit Time 0:20
Lincoln Peak - Mount Bross 0:50
Mount Bross Summit Time 0:10
Mount Bross - Trailhead 0:40
Total Trail Time 6:00
Photos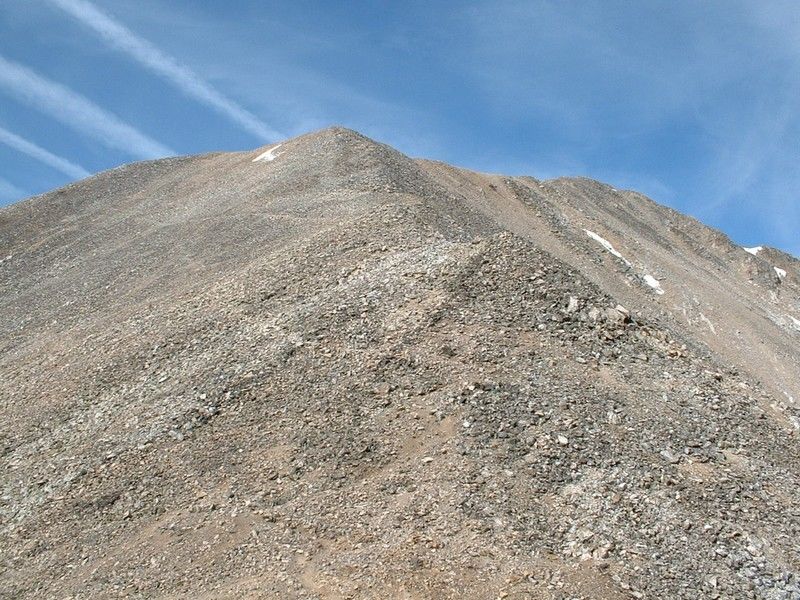 Mount Democrat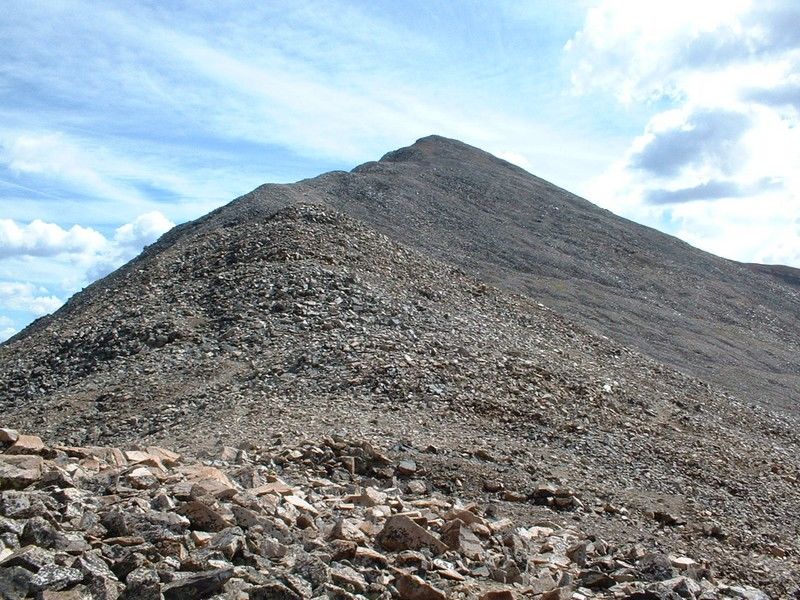 Mount Cameron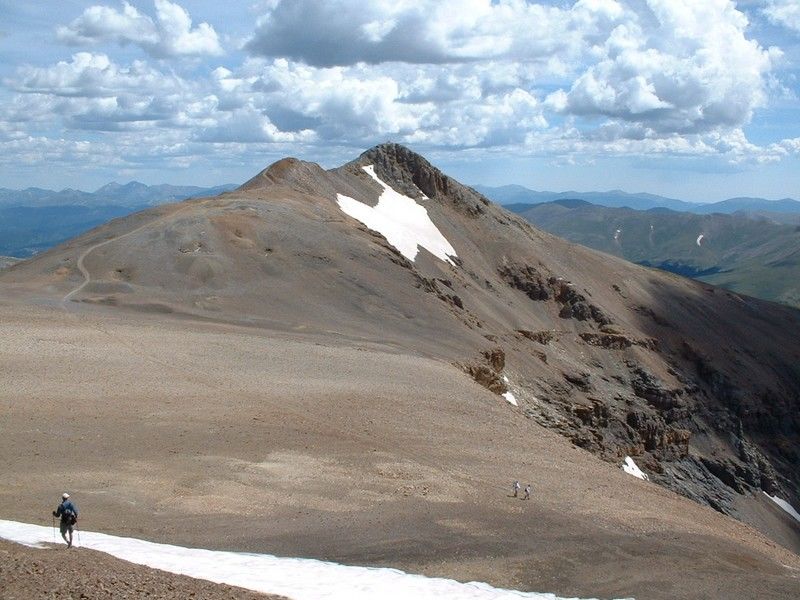 Mount Lincoln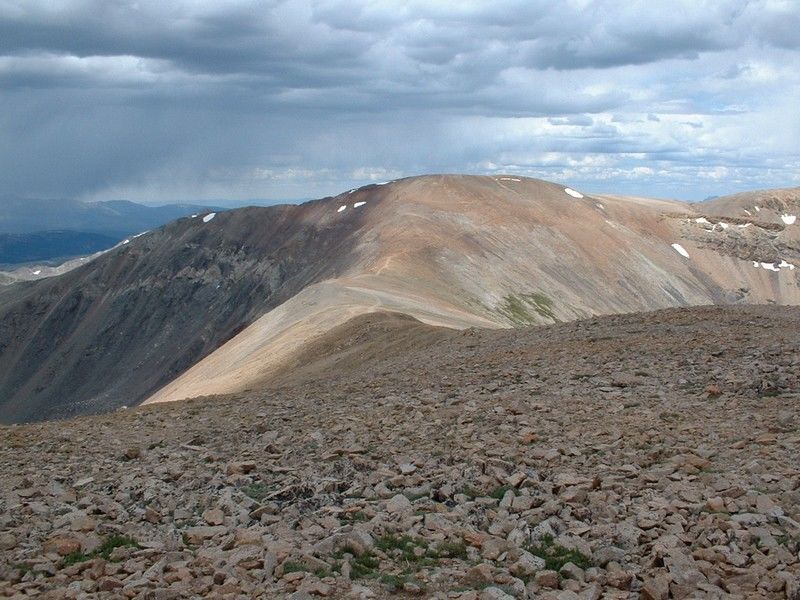 Mount Bross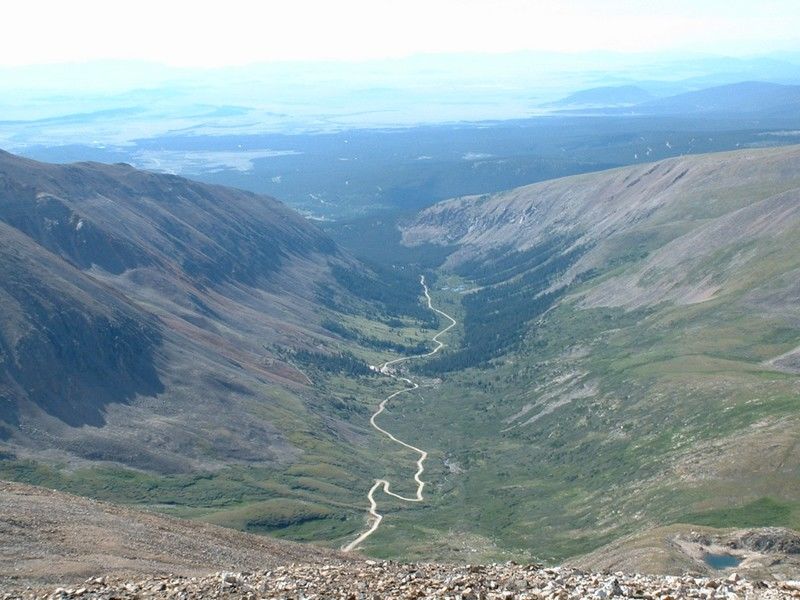 Cameron Amphitheater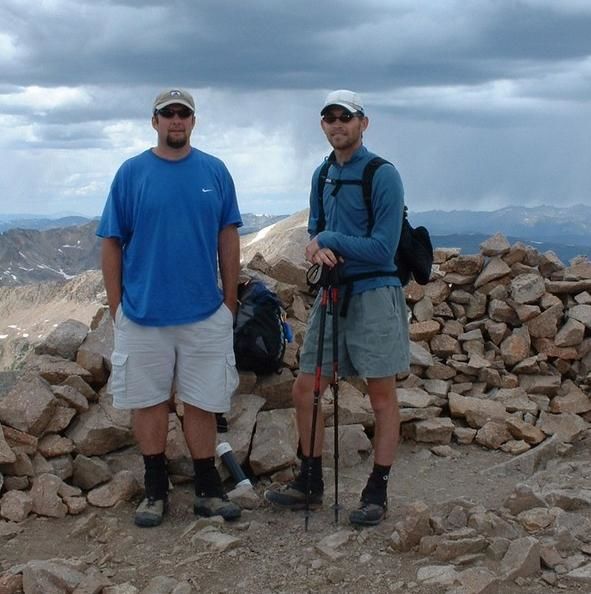 Summit Photo (Mount Bross)