Statistics
Date - 10/26/2002
Elevation - 8,522'
Route - Northeast Ridge
Miles - 5.1
Elevation Gain - 2,590'
ACME Mapper - Link
CalTopo - Link
Description
The Snowslide Lake/Peak trailhead is located approximately 13 miles northeast of McCall, Idaho, on Lick Creek Road. It is about one mile past the Box Lake trailhead. The road is in relatively good shape with the exception of a few washboard areas. This was the first time I had been hiking in this area. I wanted to get an easy late season trail hike in before the snow started to fall. Although this hike was short, it wasn't that easy and there wasn't a trail the entire way either. With the exception of a portion of the Thompson Peak and She Devil hikes, I haven't seen a true hiking trail since May. I essentially spent the summer bushwhacking, scrambling, and climbing rather than trail hiking.
There was a trail to Snowslide Peak and up to Snowslide Summit saddle, but from here I was on my own. The northeast ridge to the peak was class 3 if you stay right on the ridge. It is possible to stay on the southeast side for easier hiking and then find a gully to the ridge, but the rock was solid and it was a fun scramble along the top of the ridge. The mountain dropped several hundred feet on the north side of the ridge. It took me 45 minutes to get to the lake, another 30 minutes to the saddle, and an additional 35 to the summit for a total of one hour and 50 minutes of travel.
I spent 20 minutes on top where you could see Snowslide Lake, Maki Lake, and the Cascade Reservoir. There was no summit register. After taking a look at the terrain to the west, I decided to make a small loop and descend down the northwest ridge to a small unnamed pond and back to the lake where I picked up the trail. This route seemed to be much shorter and less technical than the way I came up; however, the brush and bushwhacking was more difficult from the pond to the lake. I was down to the lake in 45 minutes and back at the trailhead in another 35 minutes. Another option on this hike would be to go north at Snowslide Summit and climb Sawtooth Peak. Since it is relatively late in the year and I didn't leave Boise, Idaho, until noon, I didn't have time to make it to Sawtooth Peak. I would suggest starting early in the day and hiking both mountains.
Photos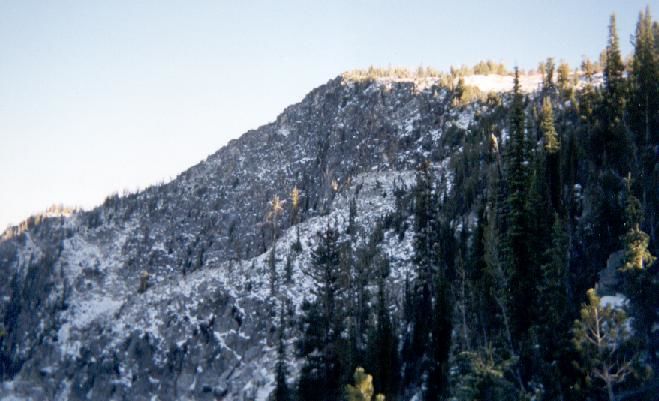 Snowslide Peak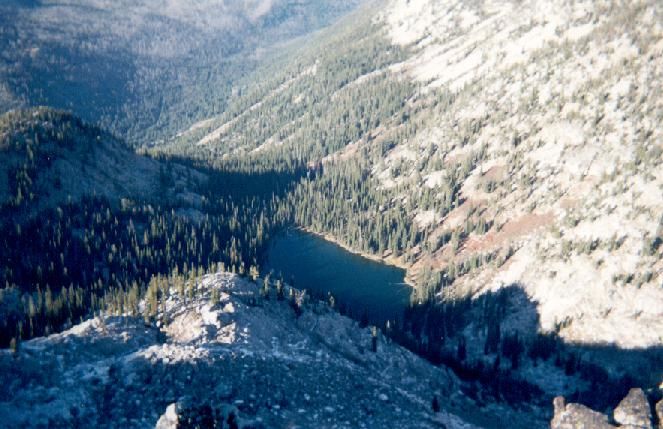 Snowslide Lake from Snowslide Peak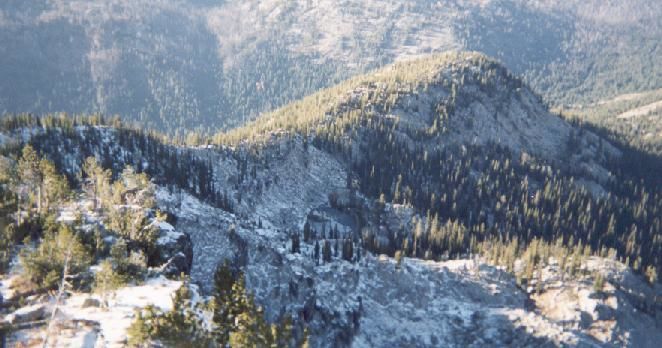 Snowslide Peak Northwest Ridge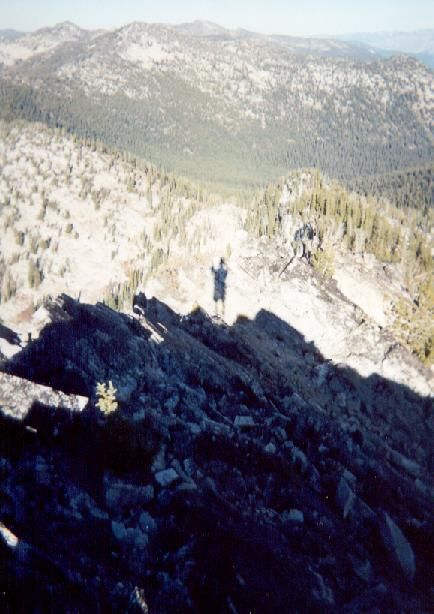 Views