Statistics
Date - 09/08/2001
Elevation - 12,009'
Route - East Ridge
Miles - 12.6
Elevation Gain - 5,009'
ACME Mapper - Link
CalTopo - Link
Description
There are nine peaks in Idaho over 12,000', and Hyndman Peak is number nine on the 12er list at 12,009'. Two down, seven to go.
I felt a little defeated after my escapade in the Pioneer Mountains a couple a weeks ago and failing to summit Hyndman Peak. As a result, I talked Chuck into returning to the Hyndman Basin with me. To reach the trailhead for Hyndman Peak, drive south of Ketchum, Idaho, on Highway 75 for 5.5 miles and turn east on East Fork Road #118. Then go 7 miles to Hyndman Creek Road #203 and turn left continuing another 4.7 miles to a gate where the hike begins. Chuck and I left Boise rather late on the evening before our hike and got to the trailhead in time to have a bedtime snack and crawl into the back of his pickup for some sleep. We awoke to a chilly morning and a frost-covered landscape. We packed our gear, had some oatmeal, and started heading due east.
The first 2.5 to 3 miles of the path were relatively easy and gave us a chance to warm up and drop off the extra clothes we started with. At the base of the west face of Cobb Peak, the trail splits right into Big Basin, and left into Hyndman Basin. We had our first serious elevation gain here as we took the trail north to a small dried pond at 8,700'. If I were to do this hike over, I would definitely make it a backpacking trip and set up camp at this pond with a day hike to the summit. From here the trail faded in and out as we climbed more and got above the tree line. You pass a couple of small lakes as you pick you way through Hyndman Basin towards the second major goal of Hyndman Saddle at 5.5 miles. After scrambling to this saddle between Hyndman and Old Hyndman, we were able to get some excellent views to the east of the Lost River Range and Mount Borah which was covered with snow.
With the summit in sight, we had 0.8 miles and 1,200' to go. This last section was a total scramble with no clear trail at all. Although there was a little snow to deal with, the loose rock proved to be more of an obstacle. You simply had to select your steps wisely and make your way through the boulders and talus. We decided to leave one of our packs at the saddle and take turns carrying our cameras and water to the summit. We finally reached 12,009' and the top of Hyndman Peak after a tough scramble. It was a grueling hike that tested me similar to Borah. The 360 degree views were spectacular and we both bagged our second 12,000' peak. We spent about 30 minutes on the summit taking photos and enjoying our accomplishment before going back down the way we came up. We stopped in Haley, Idaho, on the way home for a quick bite to eat and drove back to Boise, Idaho. Unfortunately, I forgot to put sun screen on and my face peeled badly over the next week.
Photos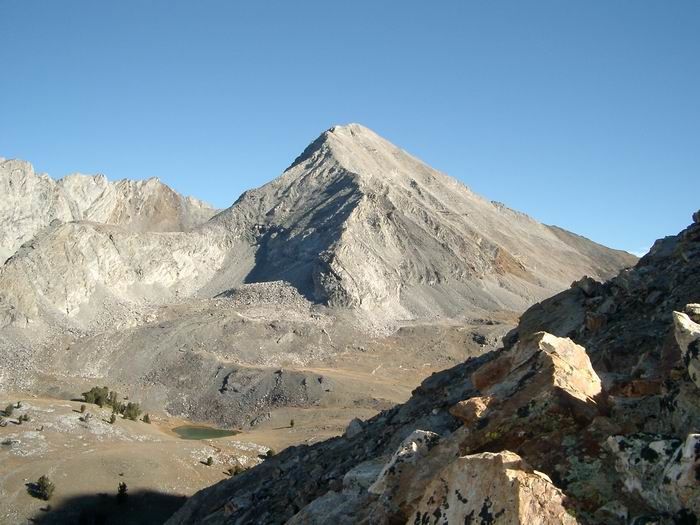 Hyndman Peak from Cobb Peak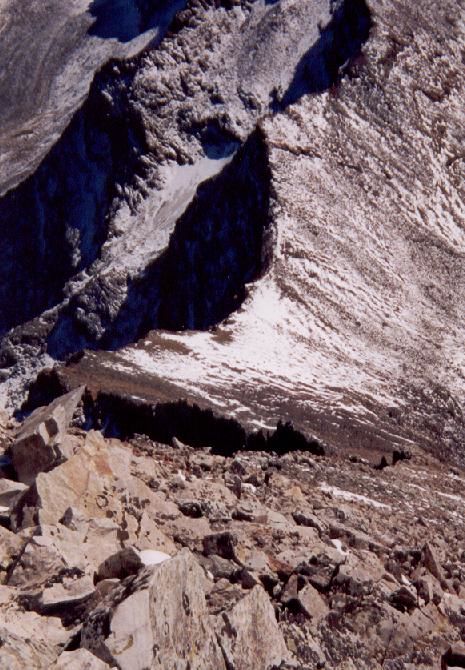 Saddle between Hyndman Peak and Old Hyndman Peak.

Views of the Lost River Range in the distance.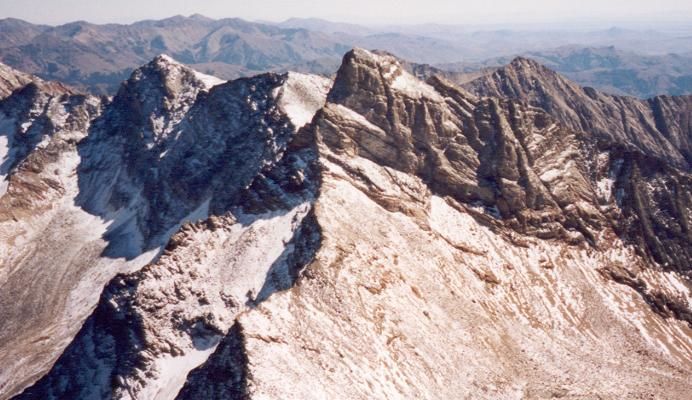 Old Hyndman Peak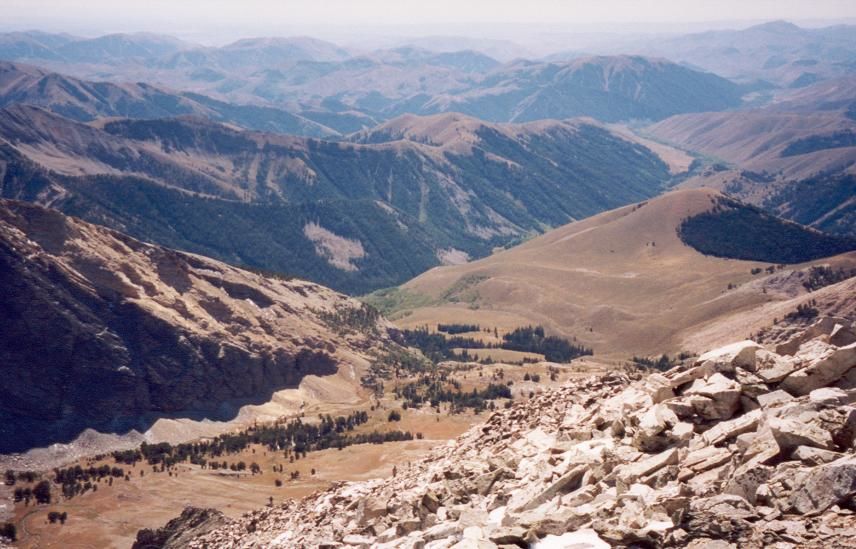 Hyndman Basin