Statistics
Date - 06/10/2000
Elevation - < 7,000'
Route - Trail No. 302
Miles - 10.0
Elevation Gain - 200'
ACME Mapper - Link
CalTopo - Link
Description
The Trapper Creek trail is located in the same general area the Navigation Trail. But, rather than hiking up the west side of Upper Priest Lake, you hike down a portion of the east side of the lake. Trapper Creek Campground and Navigation Campground are located across from one another on the north end of the lake. In order to save some driving time on Saturday, Doug and I left Sandpoint, Idaho, at 7:45 on Friday night to drive to the Stagger Inn Campground approximately 25 minutes from the trailhead. We confronted a moose on the road and scared it off before arriving at the campground. We had a cup of tea and a small snack before turning in for the night using Doug's old VW Bus for shelter.
We awoke to an overcast sky and decided to have breakfast to see what the weather would do. After some organic oatmeal, eggs, a bagel, and a hot cup of coffee, we drove to the trailhead and decided to start walking. The trail meanders through the trees most of the way to Trapper Creek with several foot bridges to assist with crossing creeks. We made it to the campground after five miles of enjoyable hiking. We were very fortunate not to get wet all day as we watched showers pass to the north and south of us. After having a bite to eat and taking in the views of Upper Priest Lake, we headed back to the bus noting the array of wild flowers growing on the east bank of the lake.
It took us two hours to reach Trapper Creek, and the same amount of time to return. Overall it was a very enjoyable day hike through a fairly remote area. There are several other hikes located near Upper Priest Lake that would be worth exploring, but the Upper Priest River trail is the most appealing with American Falls located at it terminus.
Photos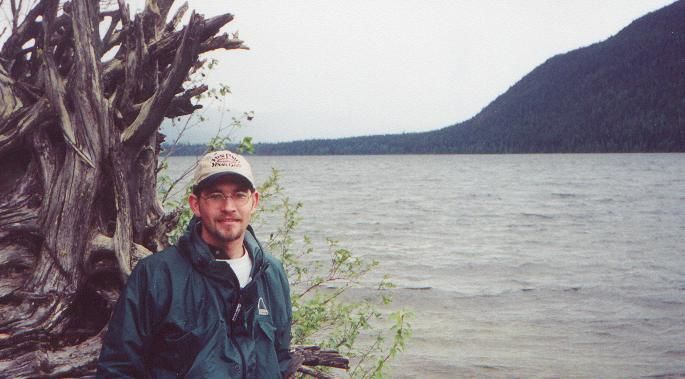 Upper Priest Lake
Doug