Statistics
Date - 06/26/2000
Elevation - 8,300'
Route - Trail Nos. 123/124
Miles - 16.0
Elevation Gain - 5,920'
ACME Mapper - Link
CalTopo - Link
Description
You certainly couldn't ask for much more on a day hike, but I would recommend that you opt for less. The Seven Devils are located approximately 20 miles west of Riggins, Idaho, in the Hells Canyon National Recreation Area. This recreation area is on the Idaho/Oregon border with the Snake and Salmon Rivers nearby. The weekend started off with some car camping on Thursday night with the family in Lewiston, Idaho. Aside from Taylor trying to tear the tent down and the inoperable inflatable mattress, we had a pretty good time. From there, we finished the drive to Riggins, Idaho, by dropping down into the Salmon River Canyon. We watched some rafters on the river and salmon fishermen on the shore before meeting Chuck and Kathy Bauman who drove up from Boise, Idaho.
Friday evening we drove up to the Seven Devils campground where we grilled chicken, corn on the cob, and potatoes after taking a short walk into the Seven Devils Lake and spotting a mountain goat. We returned to our room at the Salmon River Motel and called it a night. Chuck and I awoke the next morning, had some breakfast at a local diner, and headed back up into the mountains. We hit the trail around 10:00 and very quickly covered the first two miles of our trek. It was at this point where we made our major descent into the Sheep Creek Canyon not realizing what we were getting into. As we dropped down the west facing slope, we got our first glimpse of the Devil's Tooth, She Devil, He Devil, and The Tower of Babel. At this point, we were still fresh. The scenery was magnificent with extremely cooperative weather.
We started the climb up the opposite side of the canyon deciding to take the long way around rather that try to bushwhack up a creek and cut the hike down a few miles. We made it up the other side with little difficulty since we both still felt good. After reaching the other side with approximately 5 miles behind us, the hike flattened out for one mile past Lily Pad Lake. We made it to Basin Lake at 1:00 and decided to stop and have something to eat. After an hour, it was back on the trail and back to gaining more elevation. We slipped past Shelf Lake and Gem Lake before running into snow and losing the trail. I took the high road while Chuck bushwhacked the low road, and we basically both picked the trail up again in the same location. From here we were a mere 5 minutes away from the saddle below He Devil and above Sheep Lake.
When we reached the saddle, we dropped our packs and picked up the cameras and camcorders. We were at 8,300' surrounded by rugged mountains and alpine lakes. Since the clock was ticking, we only stayed long enough to click a few photos and record a few frames of video. Then it was back down the way we came. At this point we were both still feeling fine because we had accomplished our goal and were going to be dropping in elevation for about four miles. Chuck started a snowball fight, and I decided to go sledding on my belly down a snow field. Chuck got in on video but decided not to take a turn at my extra curricular activity. We weaved our way through the lakes and back down to Sheep Creek.
Once on the bottom, we filled our water bottles one last time and started the ascent back up the canyon. As we started climbing, my joy was all but gone and I began to try and figure out how in the world Chuck talked me into a hike that gained over 5,000 cumulative feet. Although Chuck was like a mountain goat running circles around me, I hit a wall about half way up and really started feeling the affects of the day. I struggled with that last thousand feet while Chuck wasn't even breathing heavy. We made it back to the top and stopped for a rest and snack.
From here, we finished the remaining two miles back to the trailhead and had a Heineken to celebrate our accomplishment. Actual hiking time for the day was 8 hours and 35 minutes. We drove down to McCall, Idaho, where we spent the night and met our wives. After taking a shower and inhaling a pizza, we called it a day and sent to bed. This was an exceptional hike that would be worth returning to. We took in towering mountains, boulder fields, alpine lakes, green meadows, dry trails, forested hillsides, wild flowers, and flowing creeks. Although this hike left us tired and sore, it took us into a very remote and rugged area that many people don't even have the opportunity to see.
Photos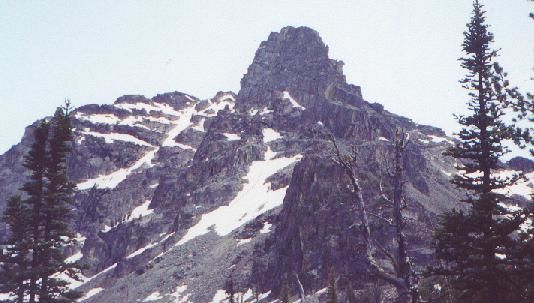 He Devil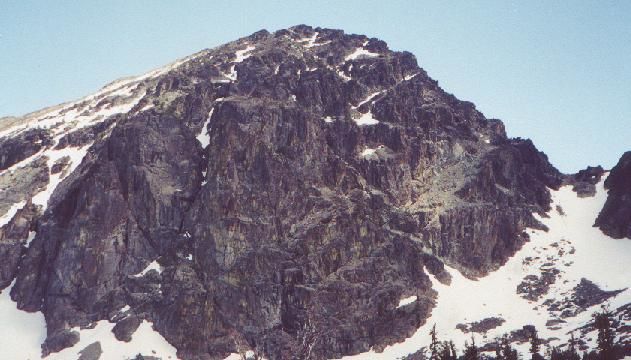 She Devil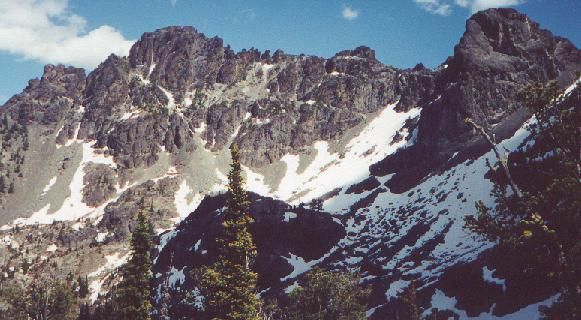 Tower of Babel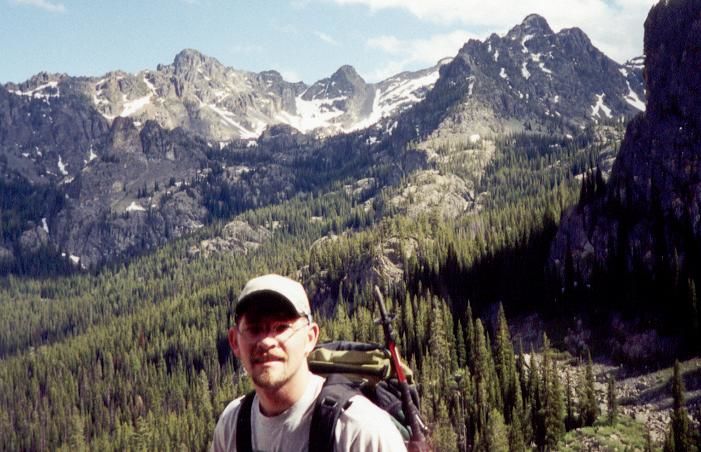 Seven Devils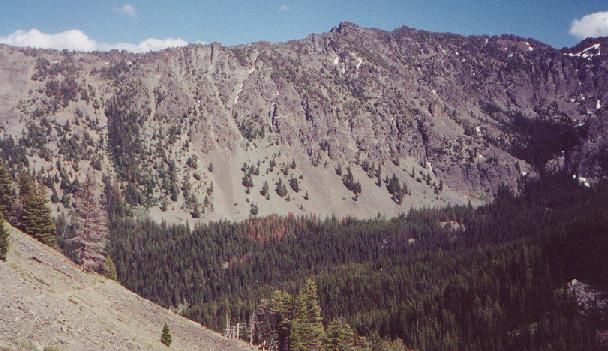 Views