Statistics
Date - 07/31/1999
Elevation - 7,090'
Route - Southeast Slopes (Trail No. 286)
Miles - 10.0
Elevation Gain - 1,850'

ACME Mapper -

Link

CalTopo - Link
Partners - Payton (Dog)
Description
The Trooper and I took some abuse on this trip. The last two miles to the trailhead were certainly more suited for a four wheeler or horseback, and the Trooper has the scratches to prove it. Myrtle Lake and Myrtle Peak are located up the Myrtle Creek Road which is west of Bonners Ferry, Idaho. After going on a safari drive, I finally made it to the trailhead and started my hike.
The grade began fairly steep on an overgrown trail. I climbed for approximately two miles before the trail leveled off a bit before the peak. From Myrtle Peak, you could see Chimney Rock, Harrison Peak, Kent Lake, and of course Myrtle Lake. I glissaded down the opposite ridge I came up, and then quickly dropped down into timber where I managed to bushwack a good portion of the way to the lake. After picking up the trail again, I got to the lake where I had my lunch and took in the views surrounding the lake.
I didn't realize how fast the trail dropped down to the lake until I had to start back out. I followed the trail until it was unidentifiable and then Payton and I started climbing the side of the snow ridge that we slid down. The going was rather slow and although Payton had four wheel drive, I was sensing that he was even becoming tired too. We finally made it back to Myrtle Peak and it was all down hill from there. I got back to the house and began waxing my vehicle in hopes that I could remove some of the damage I had done.
Photos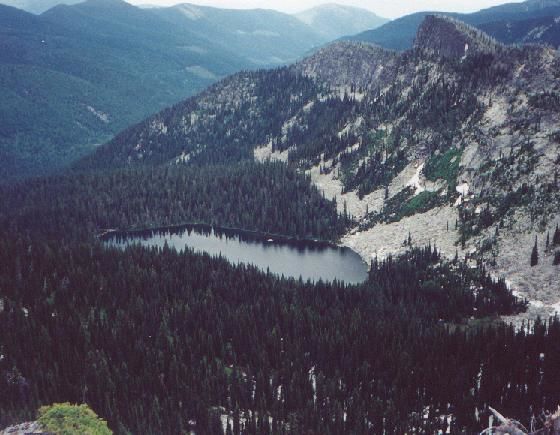 Myrtle Lake from Myrtle Peak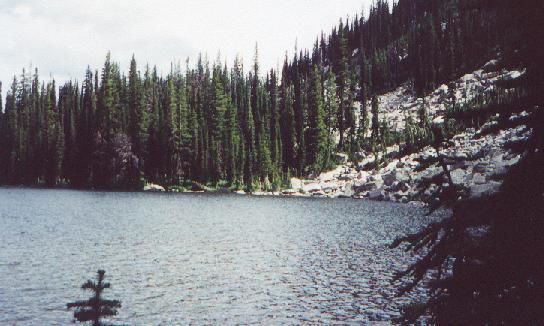 Myrtle Lake