Statistics
Date - 10/24/1999
Elevation - < 7,000'
Route - Trail No. 217
Miles - 5.0
Elevation Gain - 1,440'
ACME Mapper - Link
CalTopo - Link
Description
The weather had been great to not get a little more hiking in this year. I don't typically repeat the same hike, but I wanted to stay relatively close to Sandpoint, Idaho, because of the limited daylight and the world series was taking place. Beyond this, when I made it to Harrison Lake earlier this year, I never really got to see the lake because it was still frozen over. As a result, I decided to go back up to Harrison Lake which is 20 miles up the Pack River Road north of Sandpoint, Idaho.
There was very little snow this time with only small amounts accumulating on the north sides of the mountains. The fall colors were excellent to view, and the trail is well maintained. There were signs at the trailhead and at the lake restricting camping sites at the lake. It appears as thought Harrison is actually a very popular hike and the area around the lake has been abused for several years.
I made it to the lake in 1 hour and 5 minutes where it was a little colder and the wind was blowing slightly. As I ate my lunch, Harrison Peak at 7,292' looked awfully tempting to scramble up to. I decided just to relax and not attempt to climb the peak. It was already late in the day, and with no established trail, I could see myself having route-finding issues. On the way back down, I backtracked at the junction of the north route trail to see if I could locate my turnaround location from October 3, 1998. I found the rocks that we had our lunch after less than a quarter of a mile, so we were very close.
Photos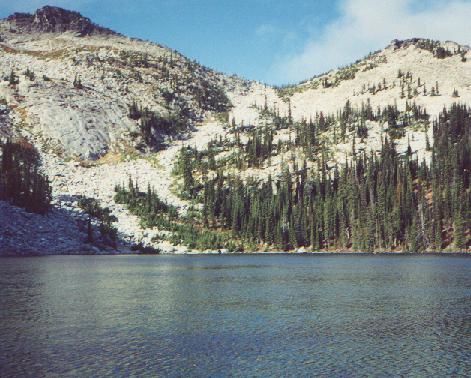 Harrison Lake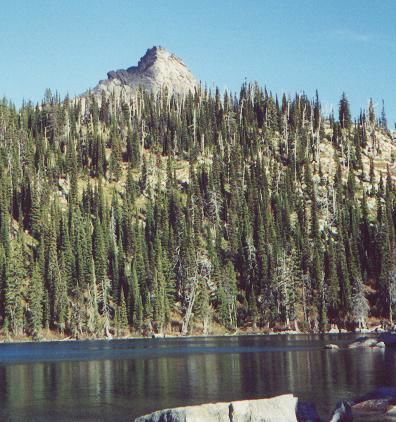 Harrison Peak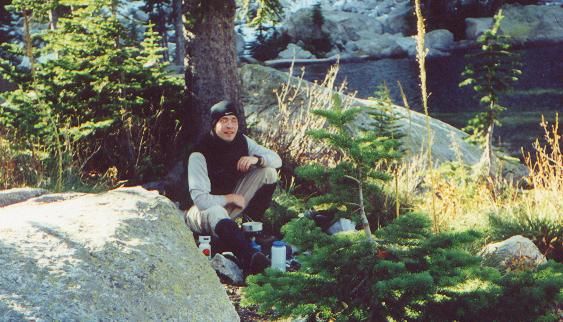 Lunch at the lake.